October 2, 2018
Stallan-Brand Designs Dramatic 56-Foot-Long Cantilever for a School in Scotland
Soaring 34 feet above an outdoor play area, the Broomlands Primary School's larch-clad canopy was inspired by the pitched roofs of local vernacular architecture.
---
Near the divide between Scotland and England, one building appears ready take flight across the border. Or, at least, its roof does. Cantilevered 34 feet above an outdoor play area, the Broomlands Primary School's larch-clad canopy was a bold move designed by Scottish firm Stallan-Brand and inspired by local vernacular architecture.
Granted, dramatic cantilevers aren't common in the region's building tradition. Rather, the firm says that steeply-pitched roofs, commonly found in the many towns that dot the Scottish-English border, served as their inspiration. (The school is located in Kelso, near the River Tweed and 21,300 feet from the English border.) Furthermore, the project's rugged stone-filled gabions—stocked with cobalt-hued rocks mined from a local quarry— are another abstracted reference: they're meant to recall the ruins of Kelso Abbey, also located nearby.
---
In contrast to the gabions—which are meant to appear massive, says the firm, "rooting [the building] in the landscape"—the school's interiors are light and airy. A large 32-foot-tall atrium, lit by skylights, opens the building's insides to the sky above. This dramatic entryway also plays a pedagogical role: Its many common areas serve as spaces for inter-grade activities, including crafts, games, play, or quiet reading.
---
More from Metropolis
---
The school's emphasis on these shared areas is rooted in Scotland's progressive educational policy, dubbed the "Curriculum of Excellence," which says "not all children learn in the same way or at the same rate, and consequently the environments for education should provide a variety of settings for learning," according to Stallan-Brand architect Alan Garland. The atrium, consequently, is where students can mix and engage in the activities they chose.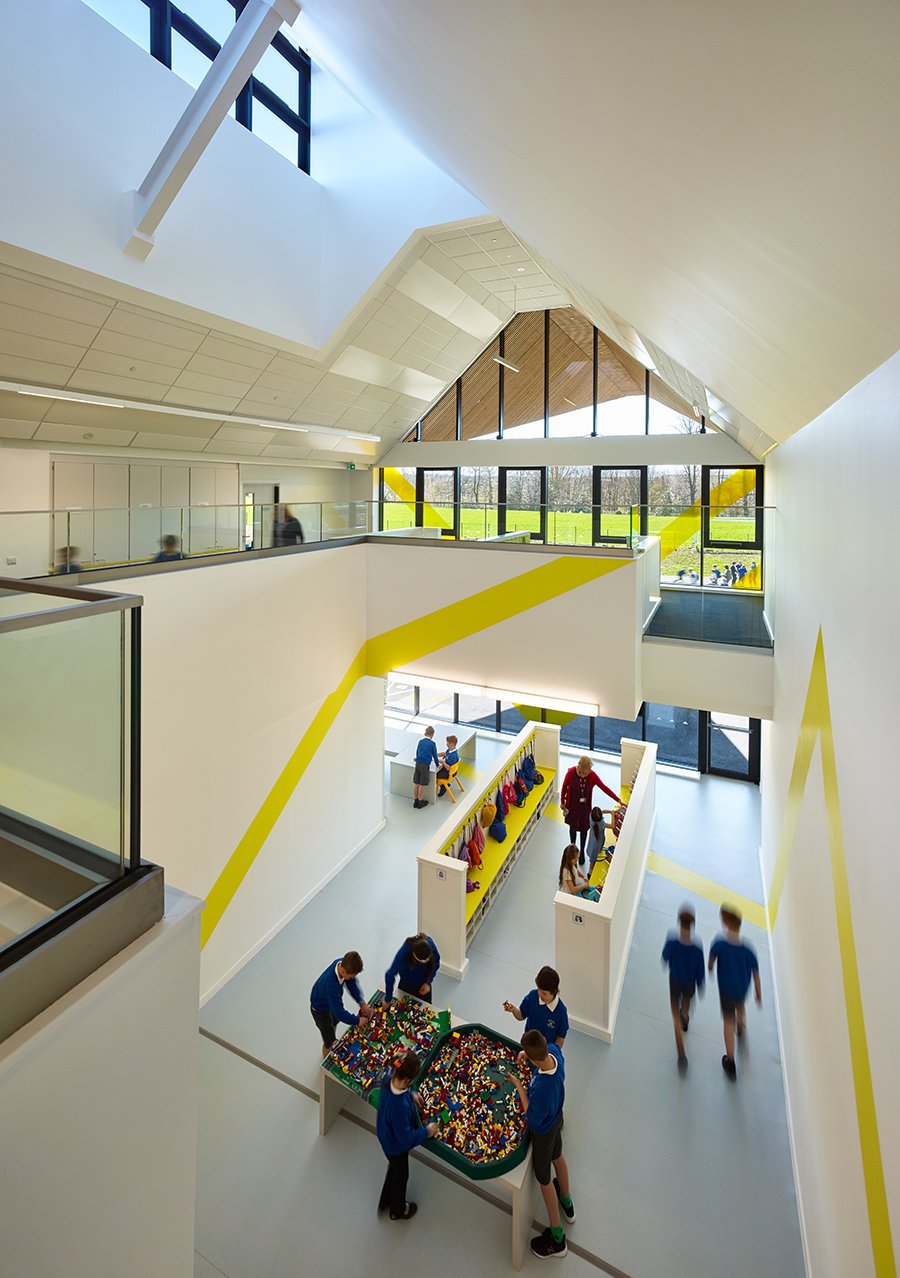 ---
To further accentuate the free flow of students and daily learning activities, and at the the request of the school's headteacher, none of the building's 12 classrooms have doors. This ensures they all open to the atrium without constraint. "A door defines and space and confines the learning to a room," says Alan Garland. "If you start from the point of view that the whole building or even entire site is a teaching environment, the possibilities and opportunities for learning are greatly expanded."
By removing doors, students receive a clear signal they can shape their education. "The goal," says Garland, "is to provide an educational journey tailored to the individual learner."
You may also enjoy "New Renzo Piano–Designed Building Opens at Columbia University."