June 22, 2022
Steven Holl's Architectural Archive Preserves His Firm's Designs and the Landscape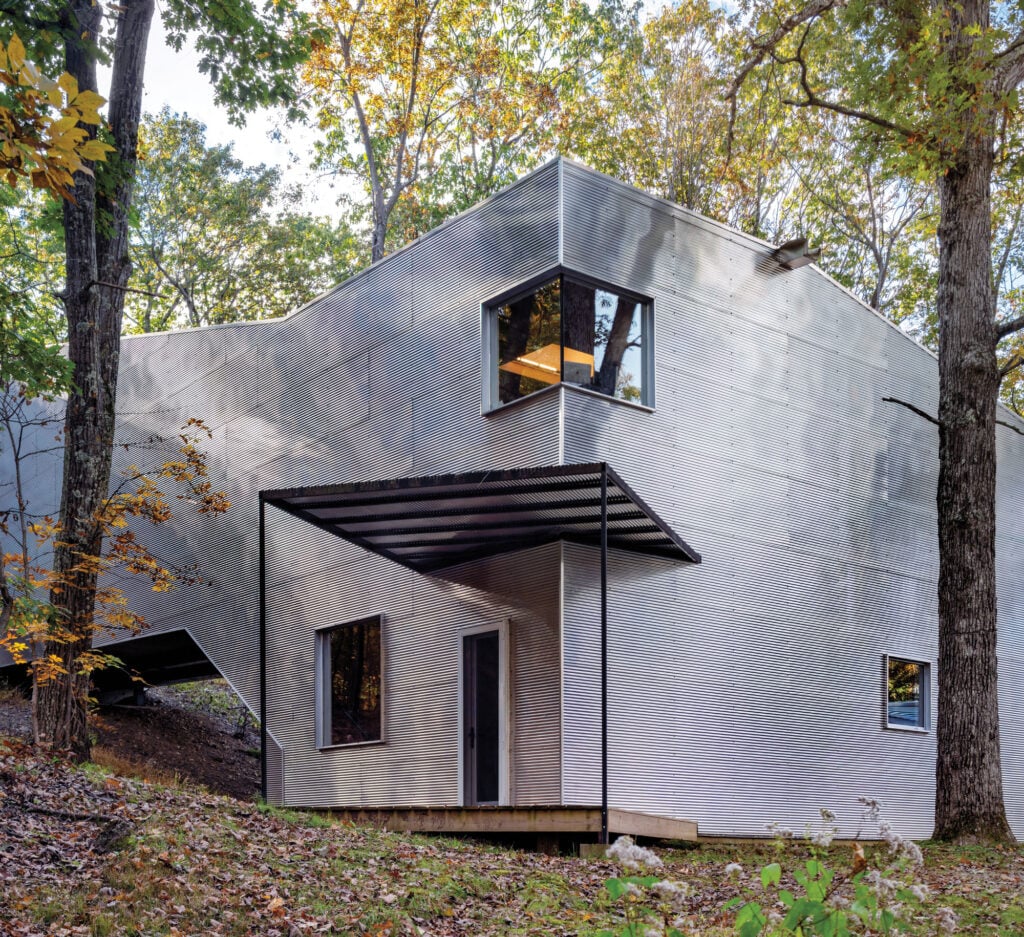 The library contains 3,700 published volumes that have influenced Holl since the start of his career, alongside rows of sketchbooks containing 20,000 watercolor drawings and artworks by architects like Louis Kahn, Zaha Hadid, and Lebbeus Woods, and artists like Richard Tuttle and Kiki Smith. Tall white aluminum shelves display architectural models—1,200 in all—dating back to 1977.
"People are excited to see the creativity of the models and many iterations of a concept displayed in the archives," says 'T' Space curator and director Susan Wides. "It's really been inspiring to artists and the general public. They come away with an expanded view of the art of architecture."
---
More from Metropolis
---
It's a special place for the architecture cognoscenti and public to gain a greater appreciation for Holl's iterative process and the influence of a variety of aesthetic media on his designs. It is also a verdant site that prioritizes local ecology. "I left all the trees. I never cut a tree down," Holl says. "The branching form has to do partly with saving the trees."
Inside, unfinished birch ply forms an interior shell that encloses a super-insulated wooden structure. The walls are punched through with high-tech insulated glass skylights and eye-level apertures opening to the wilderness.
"It's unlike when you're in an urban situation, where you can't really experiment with sunlight like you can here in a landscape," Holl says. "We make [the residents] work in models and natural light. This is really important today because students are completely polluted by the internet."
Having just moved the models to the library before the pandemic hit, the team has been organizing the archive since then. "It brought momentum for this space," says Dimitra Tsachrelia, Holl's wife and associate at the firm. Instrumental in overseeing 'T' Space, she notes, "The models had just arrived in December in boxes, and because we were here it brought a push to bring the books and all the watercolors."
Holl also began running his office in Rhinebeck full-time, albeit while maintaining offices in New York's Chelsea neighborhood and in Beijing. He doesn't want to go back. "I really like it, and everything was connecting fine with Zoom, so we just keep going," Holl says. "It's a gift from heaven to be able to go outside all the time."
Would you like to comment on this article? Send your thoughts to: [email protected]