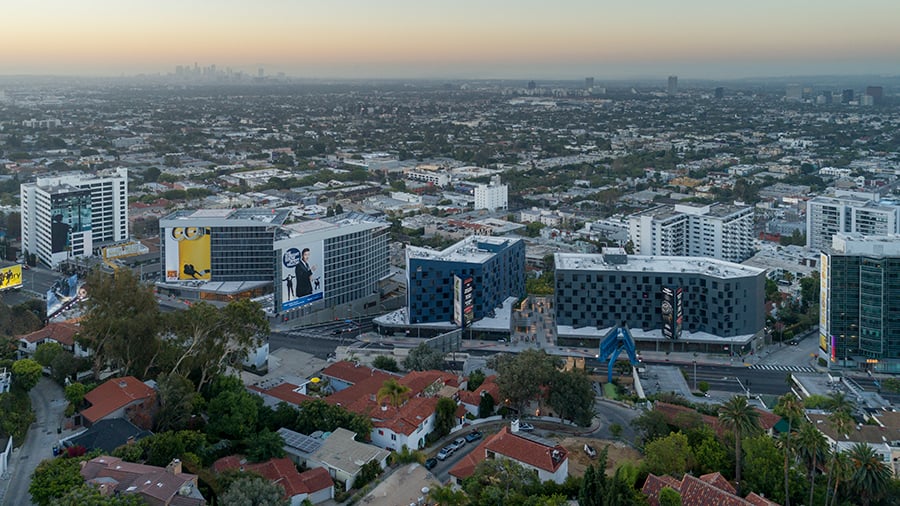 May 8, 2018
Lorcan O'Herlihy's New Mixed-Use Project Brings Walkability and Permeability to the Sunset Strip
Los Angeles's slow but visible transition to "carless living" helped shape this pedestrian-friendly development in West Hollywood.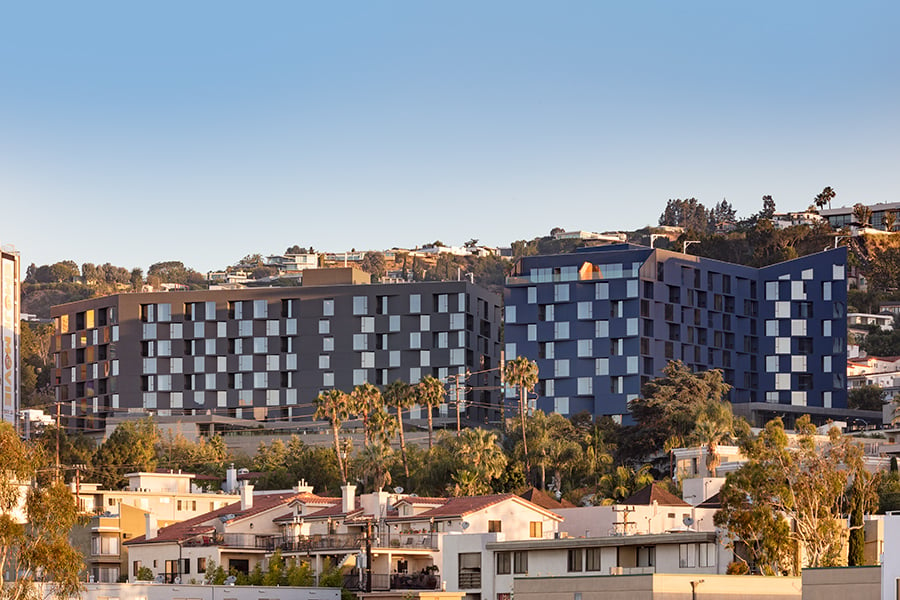 ---
Despite the long Los Angeles traditions of hot rods, two-car garages, and endlessly congested freeways, the City of Angels is undergoing a cultural movement toward the unthinkable: independence from the automobile. The city's light-rail system, which only recently connected downtown Los Angeles to the beach, continues to expand, while a crop of new arts-district communities tout walking-distance amenities— shops, bars, and restaurants—as major selling points.
Following suit and wooing potential carless residents is AKA West Hollywood, a newly completed mixed-use apartment complex. Its centerpiece is a pedestrian thoroughfare that cuts through two wedge-shaped eight-story buildings that occupy an entire two-acre city block. Designed by L.A. firm Lorcan O'Herlihy Architects (LOHA) in collaboration with SOM, they angle toward each other, framing a walkway bordered on either side by ground-floor retail and dining destinations.
"It's an active space day or night," says LOHA's eponymous founder Lorcan O'Herlihy, "and a key issue was making the pedestrian experience very open. There's been a paradigm shift from single-family homes and the legacy of front and back yards, and this building represents an interest in engaging more urban culture. The people in these units would be excited to not depend on a car, but to live in an area that's a hub of urban life."
---
More from Metropolis
---
With more than half of AKA West Hollywood's 190 units designated for short-term occupancy—that is, a month or more—the mixed-use buildings and their accompanying urban intervention were designed to support freedom. The built-in 30,000 square feet of glass-enclosed retail space provides a walkable alternative to the archetypal isolated house in the hills, where owning a car has always been an absolute necessity.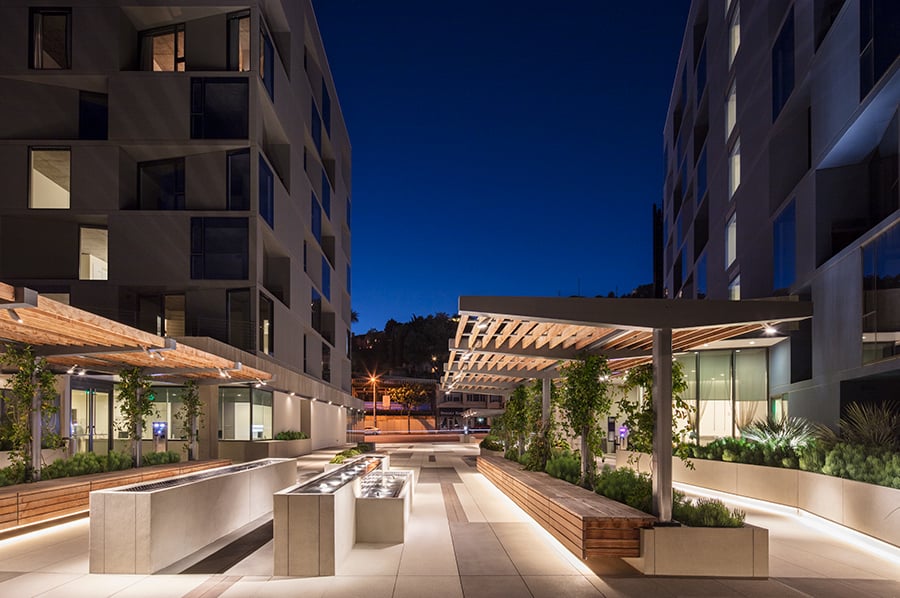 ---
Against the backdrop of a new demographic pushing Los Angeles toward denser city living, the complex represents a transition between old and new, retaining a few of the features valued in Southern California—first and foremost, a view. Like the region's midcentury Modern predecessors, each unit features nearly floor-to-ceiling glass, with eight-by-eight-foot windows that overlook either the hills or the city below. The windows form a checkerboard pattern with the facade, which is made of smooth dark trowel plaster that O'Herlihy praises for its "slickness."
"The building is taut and flush," he says. On the exterior, every other window recedes into the building at a strategic angle to hide air-conditioning units installed in the resulting ledges. The pleated surfaces catch different colors of daylight as the sun shifts throughout the day, creating a kinetic composition of light and shadow.
Inside, units vary from one- to two-bedroom and single- to double-height configurations. Each space features a simple, California-friendly palette of concrete ceilings, white walls, and hardwood floors, with the occasional cylindrical load-bearing column running the height of the building. The standardized luxury amenities include name-brand fixtures such as Bosch cooktops, Caesarstone counters, and Toto toilets. In particular, what distinguishes the interiors is their flexibility: Walls pivot and fold to adjust the scales of rooms for various uses, so that a living room can transition into a studio or a home office. "In this day and age," O'Herlihy says, "people work at home."
---
Sunset La Cienega is just one of several new high-end developments slated to transform the Sunset Strip into a luxury hotspot: These include John Pawson's forthcoming outpost of Ian Schrager's Edition hotels, a mixed-use megaplex by Frank Gehry, and a Gensler-designed Arts Club on the former site of Larry Flynt's Hustler store. The area has come a long way from the seedy strip O'Herlihy encountered when he first arrived in L.A. in 1990, which the architect compares to "Times Square in the '80s and '90s."
But if there's one prominent vestige of L.A. car culture that the AKA insists on maintaining, it's the billboard. Large-scale ads for movies and TV shows will stand perpendicular to the facade, so that its residents—literally—never lose sight of the strip's heritage, based so squarely on the automobile. "This is the heart of the Sunset Strip," says O'Herlihy. "The billboard— advertising, promotion, engaging with the car—is part of its cultural legacy."
You may also enjoy "Take a First Look at OMA's New Mixed-Use BLOX Project in Copenhagen."