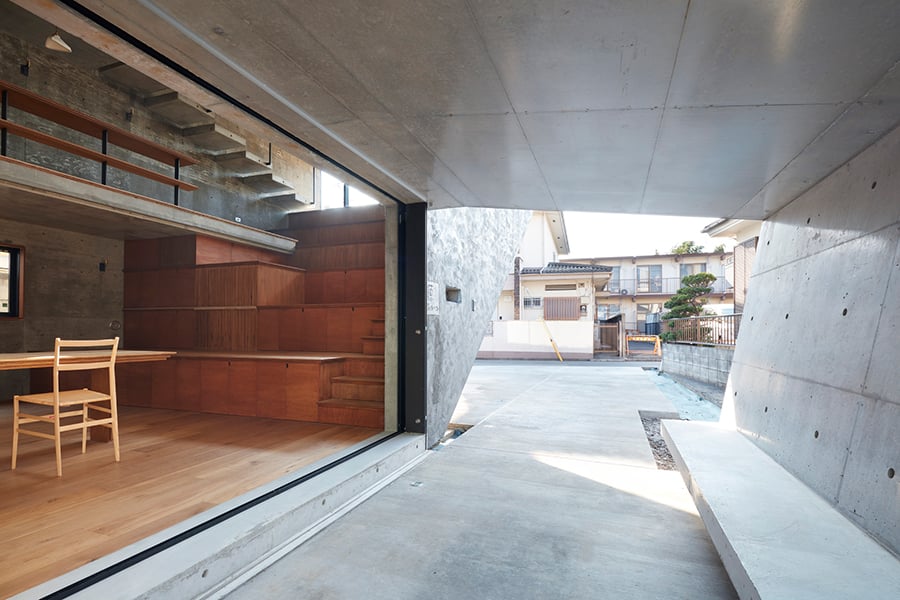 November 27, 2018
In Tokyo, a Formidable Concrete Shell Protects an Intimate Family Dwelling
Japanese firm Suppose Design Office was tasked with creating a communal, yet private, house for a family of five on a compact site.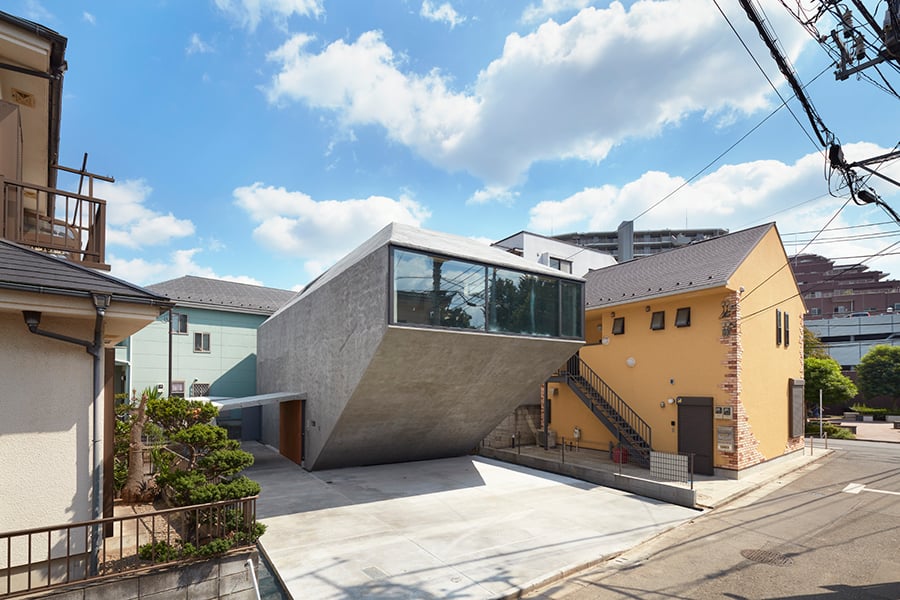 Hiroshima and Tokyo–based Suppose Design Office is known for dramatically juxtaposing indoor and outdoor space while using raw, unfinished materials—glassless windows, dirt floors, and unfinished concrete. Using these strategies, the firm consistently shies from convention, whether designing a house, office, or shop.  Suppose Design Office brought this sentiment to its Nishitokyo 01 House in Tokyo. When the family of five approached Makoto Taniji and Ai Yoshida, the principals of the firm, the group had two very simple objectives: to feel the presence of their fellow family members throughout the house and to include ample space for their grand piano.
And while the requests of the clients were straightforward, the site presented some additional challenges. The lot was extremely narrow and sandwiched between a railway and a pedestrian traffic–heavy street. Therefore, the architects needed to consider how to create a space that felt communal and private while retaining views of the mountainous island Miyajima in the distance.
Their solution was to create a cantilevered, 968-square-foot concrete box that juts diagonally upwards towards the mountainous landscape, then folds downward to the rear alley and train track. The cantilever culminates with a glass facade that provides sunlight and views. The interior is dramatically shaped by the concrete shell, with the main living space opening into the kitchen and dining room. A monumental staircase folds around the room, following the cantilever and ascending to the bedrooms. The space is almost entirely open, staying true to the family members' request to feel and see each other throughout the space. "When thinking about the demands of the lot and the clients, the large staircase just sort of naturally appeared. It became center to our interior space and plan," say Yoshida and Taniji over email.
---
More from Metropolis
---
The interior materials are consistent with Taniji and Yoshida's previous work, with simple unadorned concrete flowing from the exterior to the interior. Oak and luan woods—common materials in Japan—compose the staircase and some walls. "We wanted to use materials which people can touch and sit on, the materials that required strength such as beams are steel," the duo says. The bespoke furniture, both freestanding and built-in, was designed in-house to mirror the building's tiered shape and harmonize with its material palette.
The final touch is the entryway, which is an extremely wide sliding door made of metal on the outside and wood on the inside. When open, it allows for the interior to have nearly an entire wall open to the outside, and when closed, shutters the residents in from the outside world, making for their very own everyday escape.
You might also enjoy "This Eccentric Alpine Getaway Is Equal Parts House and Work of Art."