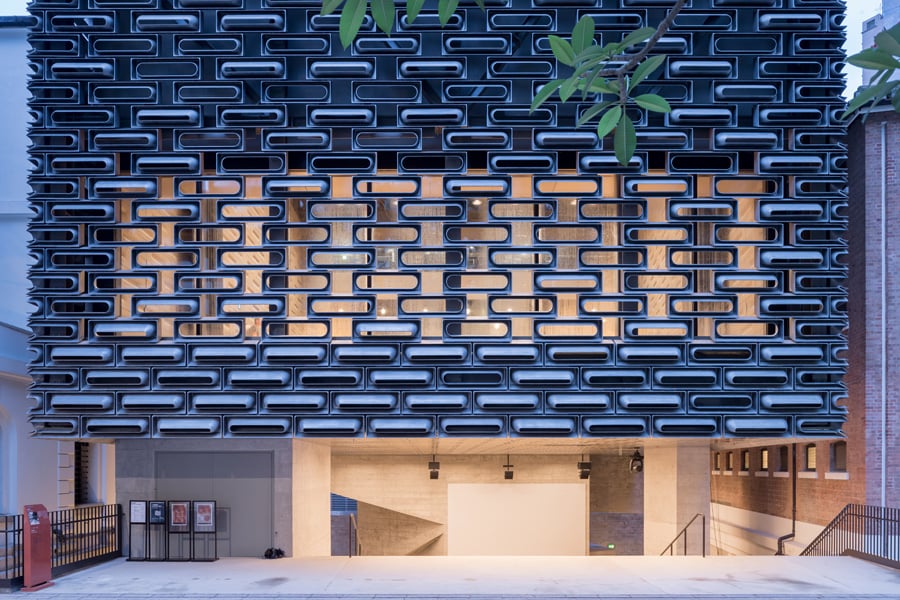 July 2, 2018
Herzog & de Meuron Transforms a Former Prison Compound Into Stunning New Arts Center in Hong Kong
The Swiss firm brings a contemporary edge to the historic Tai Kwun campus while creating new connections between 16 restored heritage structures.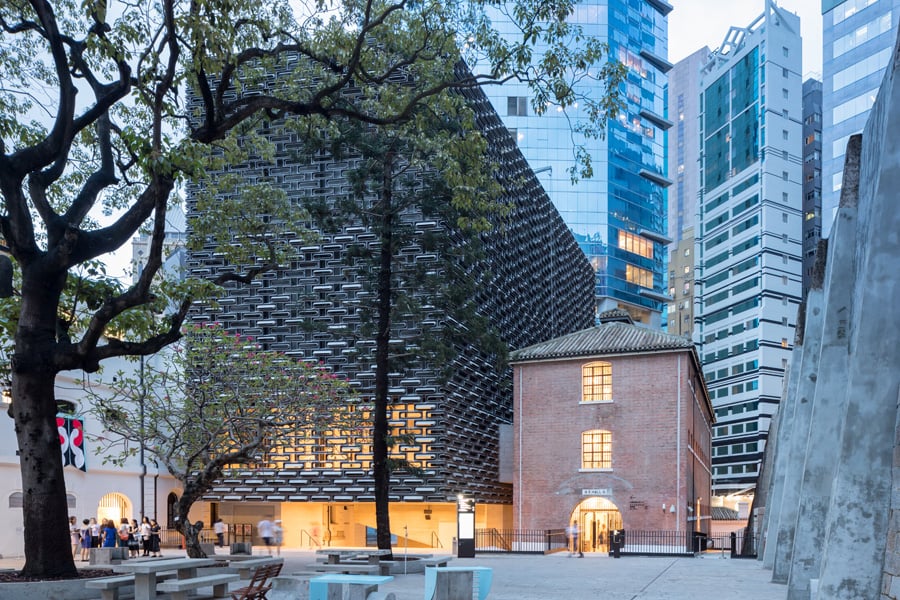 When you think of experimental, cutting-edge, historic conservation, Hong Kong may not necessarily be the first city that springs to mind. However, Herzog & de Meuron's groundbreaking reinvention of a 19th-century police station, magistracy, and prison complex into a contemporary arts center proves otherwise.
Despite ongoing delays, budget issues, the collapse of an antiquated wall, and the navigation of Hong Kong's byzantine building regulations, the new cultural center, called Tai Kwun (translating to "Big Station" in Chinese), has been transformed into something both architecturally ambitious and contextual. It strikes a balance between bold new architecture and the quietly accomplished restoration and conservation of 16 heritage buildings.
"Reinventing and reusing pre-existing ideas and objects—not necessarily of a heroic period of the past, but simply of what we found in front of us—has become an essential element within our vocabulary since [our] early days and projects," Jacques Herzog explains in an email.
---
More from Metropolis
---
The eight-year, $485 million (HK$3.8 billion) project is a non-profit collaboration between The Hong Kong Jockey Club Charities Trust, a philanthropic organization, and the local government, which turned to the Swiss architectural firm and the UK-based conservation architects Purcell to help transform the once closed, defensive plot into a vibrant and welcoming public space.
The steep, square hillside site in Hong Kong's central business district, bordered by three busy roads and a narrow lane, was originally conceived by the British as a one-stop-shop for booking, charging, and incarcerating criminals, yet each set of buildings was designed at a different era, with a different architectural style, and operated separately.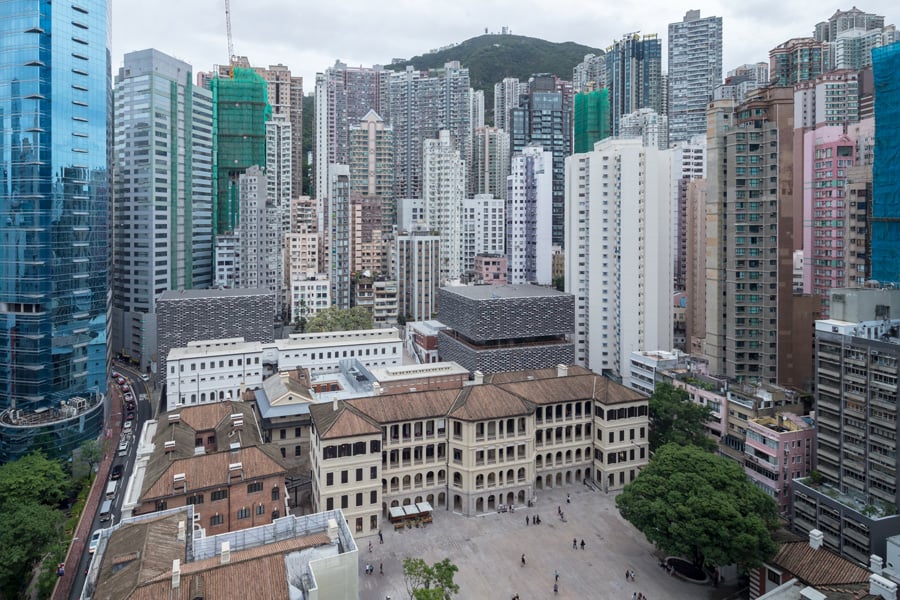 Herzog & de Meuron's thoughtful design solution retains the original high prison wall on three sides of the site, while reworking the original gates and adding an elevated walkway to provide five entrances. New sculptural concrete stairs and connections between buildings improve circulation and visual connectivity throughout, and also offer a tantalizing peek into the historic buildings.
Original materials have been salvaged and reused wherever possible. In the Police Headquarters Block for instance, the brown-red tiles that lined a well-trodden corridor were painstakingly restored with those beyond repair replaced by new ones imported from Portugal.
Elsewhere, murals in a former chapel are presented in their original state, and balustrades that did not meet today's building codes have been subtly strengthened and retained. Forensic paint analysis in key areas has ensured that the original colors, like the distinctive green on the prison entrance gate, have been reproduced exactly.
Meticulous restoration work aside, the two new, unapologetically dramatic buildings feel entirely at home here. Herzog & de Meuron has wrapped each of them in aluminum 3D cast panels with narrow oval apertures inspired by the original brickwork, a device that reduces both daylight reflections and light pollution at night.
Both new buildings bookend the former prison yard. One houses a 200-seat auditorium with a staircase below it doubling as an amphitheater. The other, Tai Kwun Contemporary, is a new 16,000-square-foot art space that will host up to eight exhibitions a year by mainly local artists. Its inaugural show, Dismantling the Scaffold, showcases the work of several artists including Bing Lee's Animal Farm installation, a satirical mixed media work by the Xijing Men collective that looks at the day-today running of the fictitious country of Xijing, and Talking about Similarity (1976) by performance artists Ulay and Marina Abramović.
The site's prison yard and parade grounds will present open-air performances and film screenings as well as creative workshops. "We will work on a collaborative model with other institutions, always thinking about what makes sense from a Hong Kong point of view," explains Tai Kwun Contemporary Head of Arts Tobias Berger.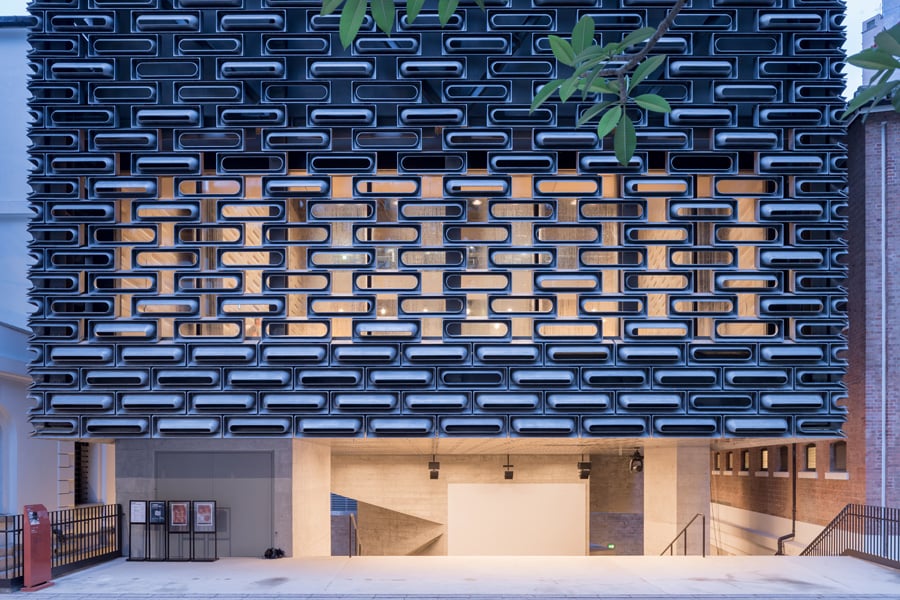 The theme of Hong Kong arts and crafts runs throughout the entire project. Retail spaces are carefully chosen to represent local fine arts, craftsmanship, and architecture. Dining venues reflect a similar local focus with an 8,000-square-foot Cantonese restaurant, a restaurant serving food from the Jiangnan region, and even Behind Bars, a cocktail watering hole in the former prison courtyard.
Cheeky cocktail bar name aside, so far the project avoids any hint of a theme park. Former prison cells have been opened up to the public in a sensitive way, their raw stone carefully restored, and the public tours and storytelling focus on heritage. Take 100 Faces of Tai Kwun, the inaugural exhibit inside the Police Station, which is dedicated to the history of the compound and its vicinity, presenting their intricate relationships through video interviews with ex-offenders and police officers, shop owners, and neighbors.
Perhaps the most important achievement of Tai Kwun is in presenting a new, more pragmatic way of living with history—an unusual practice in Hong Kong and mainland China, where razing and rebuilding is the norm. Tai Kwun shows that it is not just preservation for preservation's sake, but about respecting the architectural intent of the original, and joining new and old together.
"We adopted this strategy of working with instead of against the existing material world of objects because we found it natural and inspiring," says Herzog, "often resulting in unexpected and innovative results."
You might also like, "Artist Tauba Auerbach Covers a Decommissioned Fireboat in Swirling 'Dazzle' Camouflage."