September 17, 2020
Targeting the Spectacle and Attention Economy at Area15
The attraction-filled art complex debuts in Las Vegas today, and with a keen eye for combining the over-the-top and the everyday, it fits right into recent changes in the cultural economy.
Building an immersive, large-scale, art-centric experience from scratch in the place that originally perfected the spectacle economy is a tall order.
"We have to break the gravitational pull of people who are satisfied in their hotels," not to mention Las Vegas' myriad other attractions, explains Michael Beneville, founding partner and chief creative officer of Area15. His interdisciplinary firm, Beneville Studios, has partnered with New York City real estate company Fisher Brothers on the new 250,000-square-foot entertainment, event, food, retail, and art complex. Delayed several months because of the pandemic, it officially opens today in compliance with all mandated public health protocols.
But how do you try to compete with Vegas itself—arguably the biggest agglomeration of the greatest shows on Earth? You don't, Beneville says. Instead, the designers targeted what they call the "five percent" demographic: the minority of locals and visitors to the city who are still looking for something else. Vegas seems to have it all, from old school burlesque shows to the Bellagio Gallery of Fine Art, with its blue-chip works on view, and everything in between.
---
More from Metropolis
---
Area15 adds to these offerings a new suite of massive digital and tactile installations with a different creative streak. These include a towering illuminated skull by Bart Kresa Studio and Joshua Harker, an elaborate art car by Henry Chang Design, the Birdly VR experience, and the forthcoming Omega Mart by Meow Wolf (whose Santa Fe-based workers are currently organizing a union effort), among other multi-sensory exhibitions and activities. Anyone can enter the building, though specific elements are ticketed.
Like much else in Las Vegas, Area15 is meant to dazzle while flattening some cultural hierarchies and blurring boundaries among mediums. When Beneville's team initially presented various concepts for the parcel, which is located off the Strip just west of I-15, his collaborators "chose the zaniest, most wacked out idea there was," he recalls. These conversations took place before, for example, the Spectra tower by Newsubstance at Coachella in 2018 and 2019 became a physical and virtual sensation.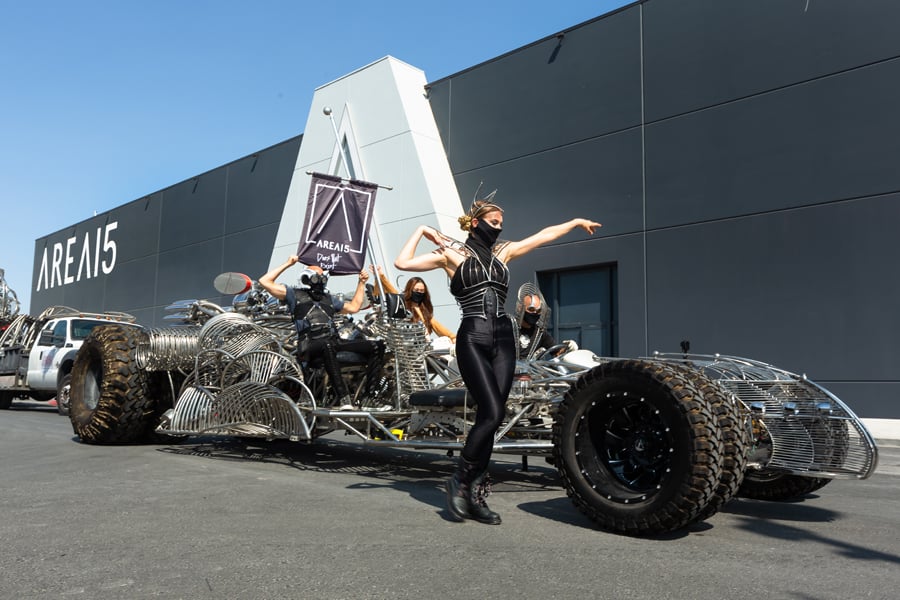 "Go to Burning Man or Sleep No More, and you get it," Beneville says, referencing the annual gathering in the Nevada desert known for its elaborate ephemeral physical community and fiercely passionate participant base, and the dynamic immersive reinterpretation of Macbeth staged in former warehouse buildings in Manhattan. Once closely tied to artists' communities, wider interest and audiences among these events have grown, along with critiques that the experimental has become more mainstream and, in some cases, overly commercialized. The Coachella Valley Music and Arts Festival, while never an artistic purity test, is nonetheless now a corporate marketing juggernaut. "There's been a seismic shift in the thinking [about] this rising counterculture," Beneville states.
But the reality about those remote, resource-intensive events is that only relatively few people can actually visit. Area15 brings what were previously rarefied experiences to the masses and reflects the "legitimization and growing up of the counterculture," Beneville continues. While he is quick to acknowledge Area15's roots in art festivals, which are also in their own period of exploratory adaptation (see the Museum of No Spectators developed in response to Burning Man's cancellation), Beneville isn't concerned with courting approval from the art world or hardcore Burners. His questions are more those of an inveterate showman out to satisfy a broad crowd.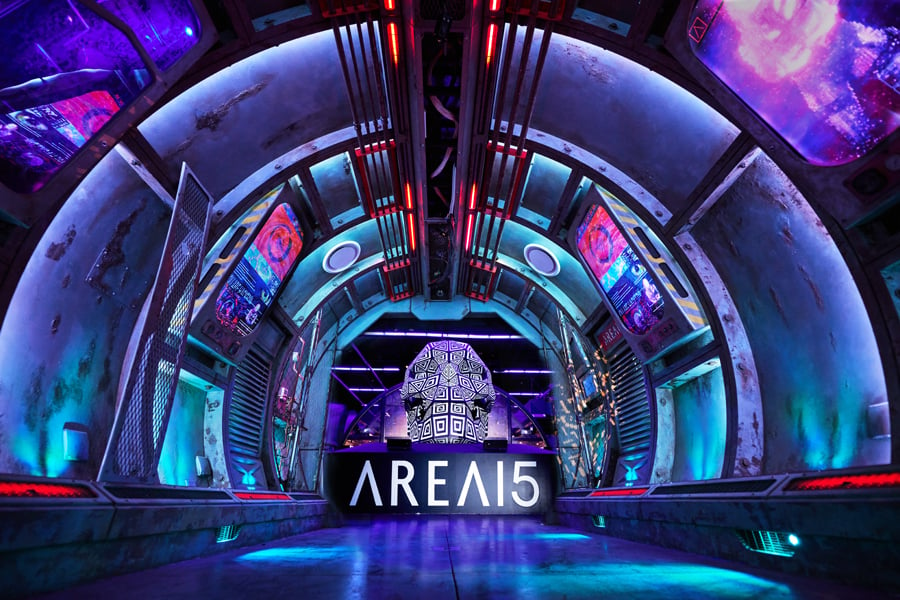 "Were you moved? Did you see some cool shit?" he rhetorically poses, pointing to the "dignity" inherent in this brand of universal accessibility. He's happy to help support working artists and creatives, too. (Vegas isn't built on altruism, however, so there are still tickets, food, merch and even some of the art to sell.)
The building that contains Area15 is essentially a massive bunker that went up in a few days. Despite that, Beneville says, it involved "a huge amount of place making," and sub-districts located within the structure designed by Las Vegas–based MOSER architecture studio put the individual components into context, he observes. The result of Area15's unprescribed configuration is that it "poses as many questions as answers"—also an apt description of an art destination debuting in these uncertain times.
You may also enjoy "A New Exhibition Highlights Modernism's Debt to Japanese Architecture"

Would you like to comment on this article? Send your thoughts to: [email protected]
---
Register here for Metropolis Webinars
Connect with experts and design leaders on the most important conversations of the day.