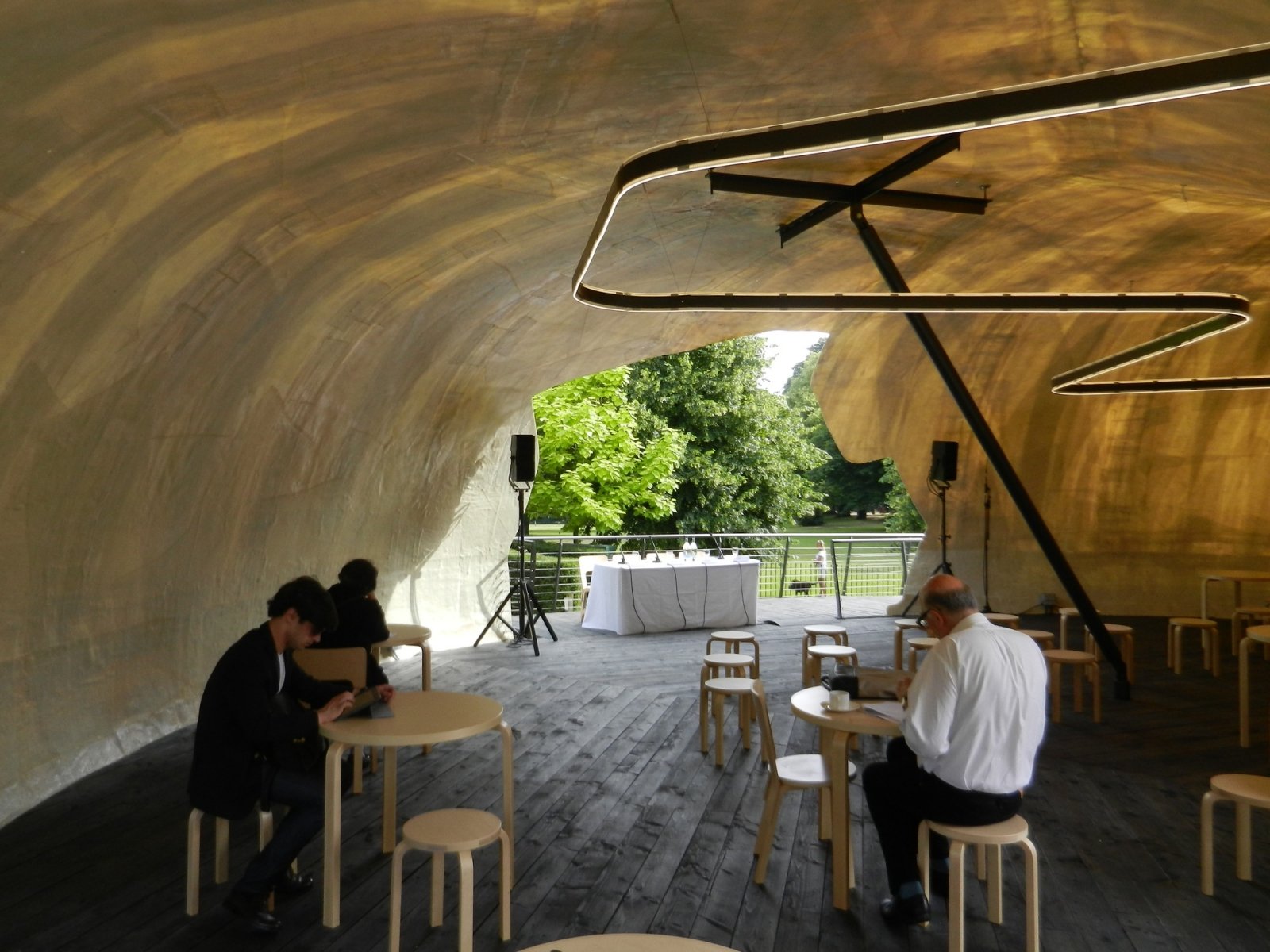 June 26, 2014
The 2014 Serpentine Pavilion Has Landed
A squashed egg? An alien pod? Chilean architect Smiljan Radic talks about his quirky design.
A version of this article originally appeared on ArchDaily under the headline Smiljan Radic's Serpentine Pavilion Opens.
The 2014 Serpentine Gallery Pavilion, designed by Chilean architect Smiljan Radic, opened yesterday morning in London's Hyde Park. The pavilion, a fiber-glass, reinforced plastic shell resting on large quarry stones, was inspired by a papier mâché model Radic had made after reading Oscar Wilde short story The Selfish Giant several years ago.
The resulting structure, a seemingly impossibly thin translucent shell, will attract passers-by "like moths" during the evening hours, as the amber-tinted light glows from within. Inside, "the natural setting will appear lower, giving the sensation that the entire volume is floating," according to Radic.
---
More from Metropolis
---
Speaking at the opening press conference, the architect—a relative outsider and somewhat unknown outside of Chile, before he was called up by the Serpentine—elaborated on what he considered the design's success. "When I came two days ago, I saw the interior space and I saw the exterior, I felt that I was inside my model. […] If you look at this pavilion from the outside, you feel that it's a handmade volume."
The interior of Radic's pavilion
Courtesy Daniel Portilla
He later touched on the project's intentions: "I'm trying to understand this folly in a new kind of relation with the public, with the situation of the architect today," Radic said. "[The pavilion] gives you the sensation of Brutalism, the sensation of something really strong and crude.
"In Spanish, burda means crude, which is what I call this kind of architecture. I would like to express the sensation of masking tape, or papier-mâché models that I made four years ago. I would like people to feel that crude architecture."
Directors of the Serpentine Gallery Julia Peyton-Jones and Hans Ulrich Obrist said of Radic's design: "While enigmatically archaic, in the tradition of romantic follies, Radic's designs for the Pavilion also look excitingly futuristic, appearing like an alien space pod that has come to rest on a Neolithic site."
At night, the pavilion shell glows like a lantern or, as Radic has said, like a glowing moth.
Courtesy Iwan Baan
As in previous years, Aecom provided the engineering for the pavilion's design, developing a shell which looks "handmade" but has the strength to withstand hundreds of thousands of visitors over four months.
The new pavilion has much to live up to, as last summer's design by Sou Fujimoto was the program's most successful year ever attracting nearly 200,000 visitors. Radic's pavilion will have until October to try to match that number.