February 13, 2020
The Melbourne Conservatorium of Music Strives For Openness
Designed by John Wardle Architects, the new home of Australia's oldest music school breaks way from the monastic model of the conservatory.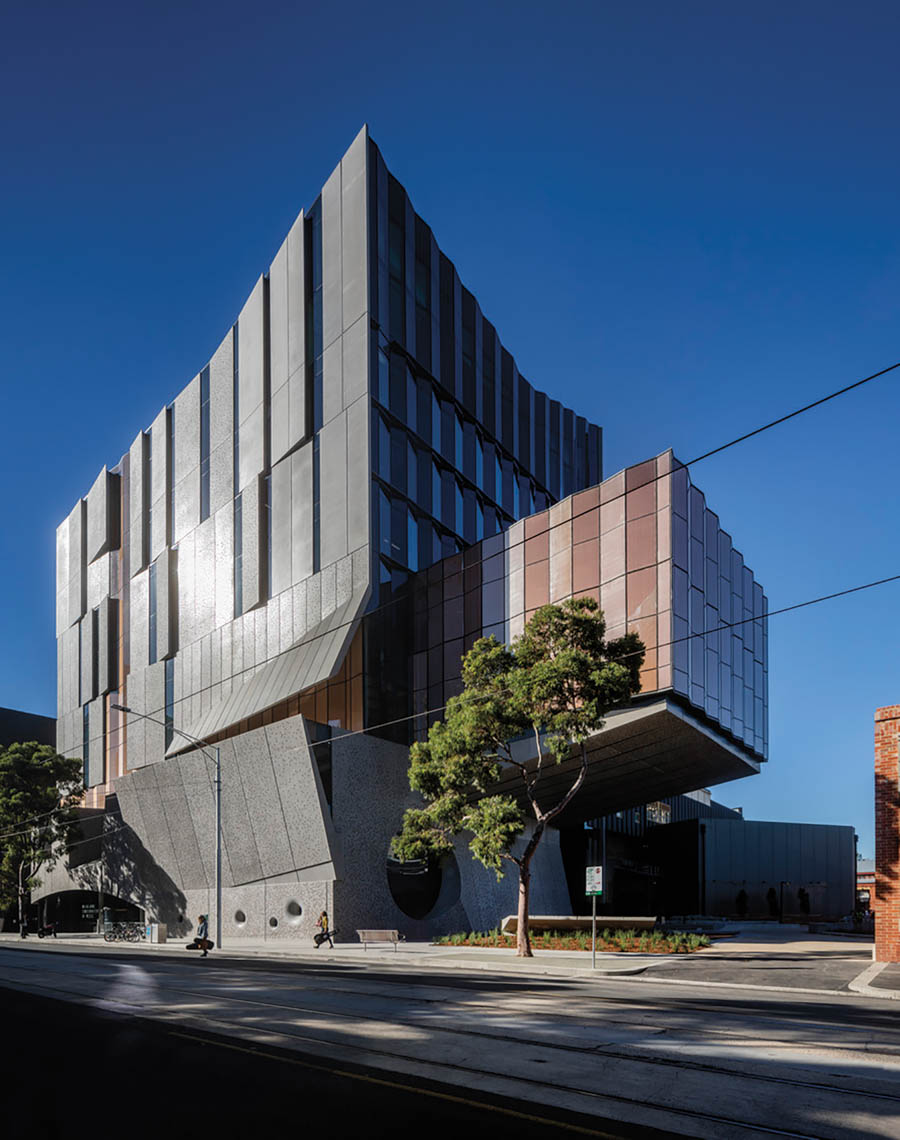 The study of music entails a dedication to practice that can be especially isolating. So when local firm John Wardle Architects envisaged a new design for the Melbourne Conservatorium of Music, Australia's oldest music institution, the firm had a key underlying objective: The building, located within the University of Melbourne campus, shouldn't feel like a monastery.
Instead, principal Stefan Mee says he and his team designed the 70,500-square foot structure to strike a balance between inward focus and the world outside. It needed to feel relaxed and intimate—more greenroom than concert hall, more backstage than main stage, as he puts it—and encourage students to feel part of a community.
"The new building provides many places to congregate, socialize, and study outside of the formal rehearsal rooms," Mee says. "Every nook and in-between space is designed for informal inhabitation. Wherever we could, we created a dress circle of learning around the rehearsal spaces, places to observe and listen, and to learn from others."
---
More from Metropolis
---
That understanding of interactivity goes beyond fellow students. Bell-shaped portholes, hinged panels, disguised windows, and an oculus on the ground level allow passersby a glimpse inside the Conservatorium's various learning and rehearsal rooms. Some observers may even detect a musicality in the shapes and patterns of the building's concrete facade, on which 66,000 small ceramic tiles cluster like notes on a music staff. "We like that abstract clue to somebody on the street about what might be happening inside," says Mee.
To capitalize on Melbourne's enviable weather, the architects also created an outdoor performance space beneath the building's cantilever. "It places students in the public realm, accepting the background noise of the city, and prompts engagement with their community," says Mee. "We saw the opportunity for a place outside the walls of the Conservatorium for performance, both impromptu and organized, unscripted or scripted."
You may also enjoy "With the Opening of the West Bund Museum, Reflecting on Shanghai's Cultural Mega-Developments"
Would you like to comment on this article? Send your thoughts to: [email protected]