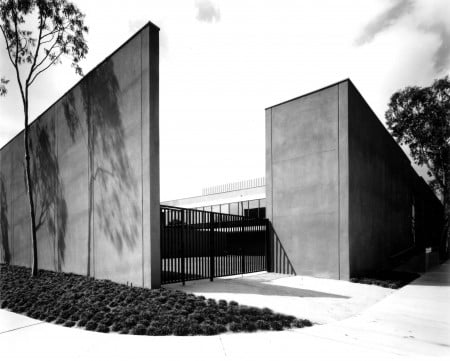 November 3, 2008
The Purveyor of Palm Springs
William Krisel opens up about his mid-century modern career
William Krisel (b. 1924) is a courtly presence in LA architectural circles and a keeper of the mid-century flame. In partnership with developer Bob Alexander, and later with architect Dan Palmer, Krisel designed over 30,000 living units in Southern California, many of which epitomized the breezy new lifestyle of the modern era. Culver City's Museum of Design Art and Architecture (MODAA) exhibition of Krisel's drawing, photographs, and floorplans includes the houses of the Royal Desert Palms, Ocotillo Lodge, and the "House of Tomorrow," where Elvis and Priscilla Presley spent their honeymoon. Here, Krisel answers some questions about his long-spanned career.
An example of Krisel's modernist legacy in Palm Springs
---
More from Metropolis
---
How has the resurgence of interest in mid-century modernism over the past decade affected your practice?
I am retired from active practice, but the resurgence of interest has kept me very busy. Many people who own my designed homes have organized groups of fans who love restoring my homes to their original condition and I do help them in every way with advice and drawings, etc. I have home-owner fans in San Diego, Palm Springs, Palm Desert, the San Fernando Valley, Borrego Springs, etc.
Do you think anyone really lived that ideal "modern" lifestyle that we see in images from the '50s and '60s?
All of these Krisel home-owners are truly living the ideal modern lifestyle. They want everything to be authentic such as the colors, fabrics, furniture, flooring, window coverings, lamps, pictures, hardware, landscaping… And some even have a vintage car to park in the carport so as to look like my original rendering of the home.
After building over 30,000 units what lessons have you learned regarding livable space? What elements do you think are necessary for a healthy, happy home?
I have learned a lot about livable spaces. I learned that "square-footage" does not necessarily translate to a more healthy, happy home. I learned that design is the most important element, encompassing everything from indoor-outdoor relationships, scale, volume, light, landscaping, color, materials/textures, floor plan, and appropriately scaled exteriors that relate to the site, the neighborhood, and are designed with sustainable qualities.
The Lannan Foundation designed by Krisel in 1968
How did you get to know Bob Alexander?
My wife and I knew Bob Alexander and his wife, Helene, socially. From that relationship and the fact that his father was a large tract-house builder (The George Alexander Company), Bob and I convinced his dad to let us build some of my pent-up ideas for modern tract houses in the early 1950s. His father wanted us to learn that the public did not like "modern," wouldn't buy them, and that they cost too much to build. He gave us 10 lots. We built 10 modern tract houses. He thought this exercise would be a good lesson for us, to the contrary, the ten houses sold quickly. The profit per house was greater than the father's houses.
This started us on a very successful career, me as an architect and Bob as a large tract-house builder. Unfortunately, Bob and Helene Alexander were killed in a private plane crash in Palm Springs in 1965.
You were born in Shanghai and later worked as a Chinese interpreter for Gen. Joe Stilwell during WWII-did spending time in the East influence your design work?
I can't detect any sign of influence in my design work from the Orient. Others who know my work do weave into my design an influence, and it did influence my outlook on life in general in a very positive way.
Besides hosting openings with swanky martini bars, what are you up to these days?
Besides organizing my archives with the help of Mr. John Crosse (drawings, photos, articles, brochures, lectures, etc.), I also have a "forensic-architect" career which consists of being an architect expert witness in construction/litigation matters. I also have a 5-year agreement with a large Canadian builder to build my 1965 Twin Palms Alexander tract houses in the Palm Springs area. I've revised the original details to comply with today's building codes (energy, seismic, etc.) without altering the appearance, scale or design language. So far 4 houses have been built and sold this year in spite of the bad economic conditions.
Most important, I have time to spend with my wife. We have been married to each other for 55 years and live in a Krisel designed and built residence completed in 1955. We have two grown children and six grandchildren ranging in age from 22 to 14. Since my son lives in Paris and my daughter lives in DC, we travel to see all of the family.
I am going to be 84 years old this month (Nov. 14), so I think I might slow down to "watch the grass grow" and "the paint peel off," but I'll always be involved in architecture, landscape, construction, drawing, architectural history and architectural preservation.
The Architecture of William Krisel, AIA will be on view through December 1, 2008.