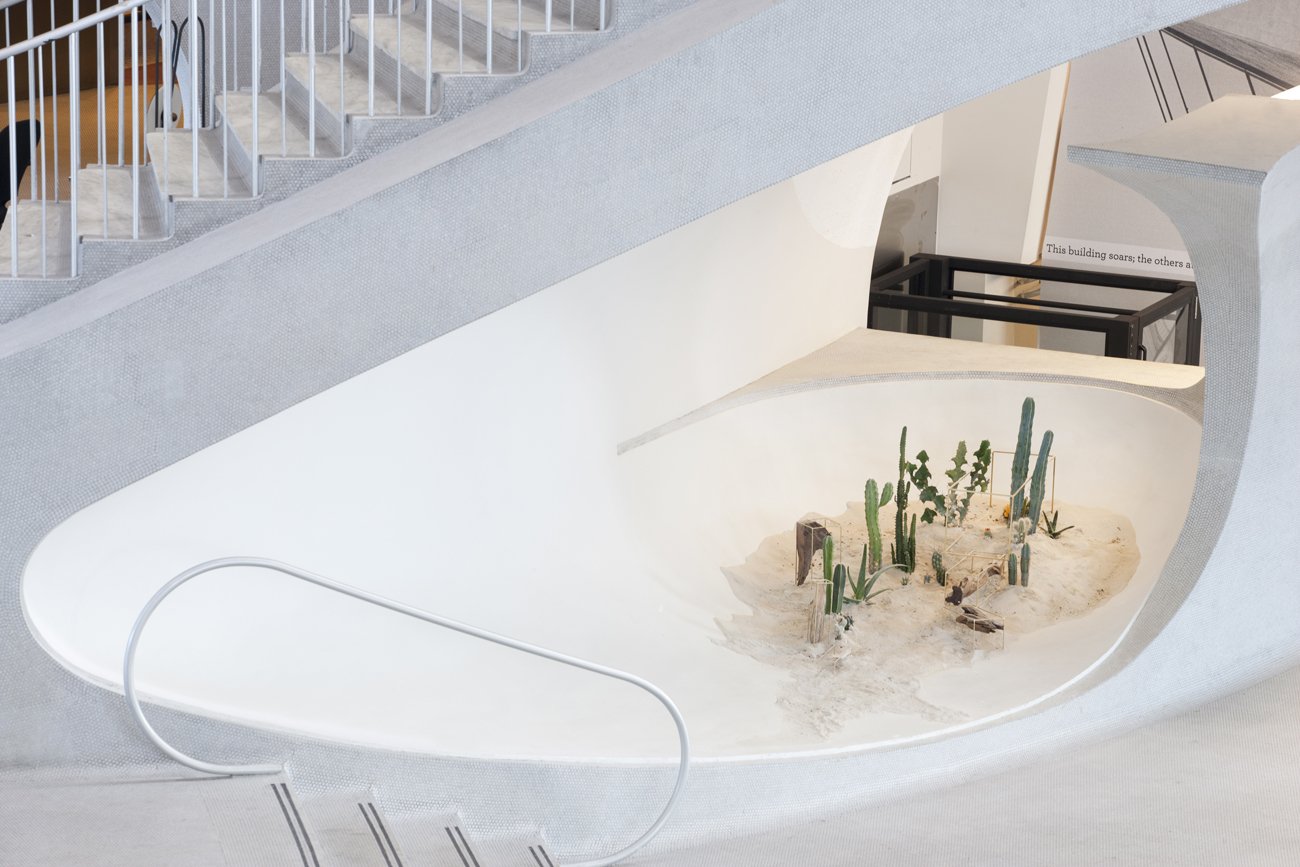 October 3, 2016
These "Pocket Parks" Bring Plants Into Overlooked City Corners
Architect Huy Bui wants to introduce plant life into the city's most unexpected corners.
Designer Huy Bui, who explores the relationship between nature and architecture, inserted plants into various corners of the TWA Flight Center at New York's John F. Kennedy Airport as part of the installation 0 Border​ and ​Beyond 0.
Clement Kois
---
While city officials grapple with the challenge of growing more greenery in major metropolises, New York–based architect and former real estate financier Huy Bui is learning to grow greenery underneath one. For Bui, design has been a journey from greenbacks to green walls, but rooted in bringing city dwellers together. "All our projects revolve around similar themes—building community and bringing plant life into unexpected spaces," he says. And so, after a busy spring that included a solo exhibition at the Patrick Parrish Gallery and a showcase in the Eero Saarinen–designed TWA Flight Center, Bui is now working with the Lowline—a subterranean park that bridges city, nature, and technology—to do just that.
Bui, 41, was born in Paris to Vietnamese parents and grew up in northern Virginia. He entered the family business, finance, but left at 27 to study architecture. Influenced by Archigram's 1964 Plug-in City concept, Bui, along with partners Jon Schramm and Carlos J. Gomez de Llarena, launched Plant-In City in 2012, creating a hybrid practice involving architecture, technology, and horticulture and, he says, "a working model of how we can integrate technology and nature into our cities." Plant-In City took the form of modular micro-ecosystems of plantings and terraria that stack and hang in residential, retail, public, and work environments, turning them green.
---
More from Metropolis
---
Today, the Lowline is taking shape not far from Bui's first interior design project, his brother's Vietnamese restaurant, An Choi. "We think it's a big move for the Lower East Side and it involves a lot of community engagement, which is a big reason we wanted to be involved," he says. Last year, using burnt wood, aluminum, steel, fiber optics, and LEDs, Bui created a Lowline Edition of terraria, and in January he designed its gift shop. Now he's using the park as a lab to explore the potential of his microarchitectural experiment Beyond 0.
Beyond 0 is a scalable, versatile, and quickly assembled prefab scaffolding system cobbled together from items like off-the-shelf gas-line pipe and slip-fit connections, terraria, environmental controls, irrigation, and more. It can become a jungle gym, garden, studio, storage, lab, microhouse, or lounge, and he plans to share it via open source. At the Lowline, Bui is testing the garden, lab, and storage components; working with ferns and moss; and adding components such as wheels and a humidifier.
"It is a challenge to grow plants in the city, but doing it underground offers a new world of possibilities," he says. "There's a whole subterranean ecology there that we can learn from."
0 Border and Beyond 0 was produced as a site-specific installation for the Storefront for Art and Architecture.
Clement Kois
Bui with one of the units from Beyond 0.
Paul Barbara
Geological Frame was an exhibition of Bui's works at New York's Patrick Parrish Gallery in April 2016.
Clement Kois