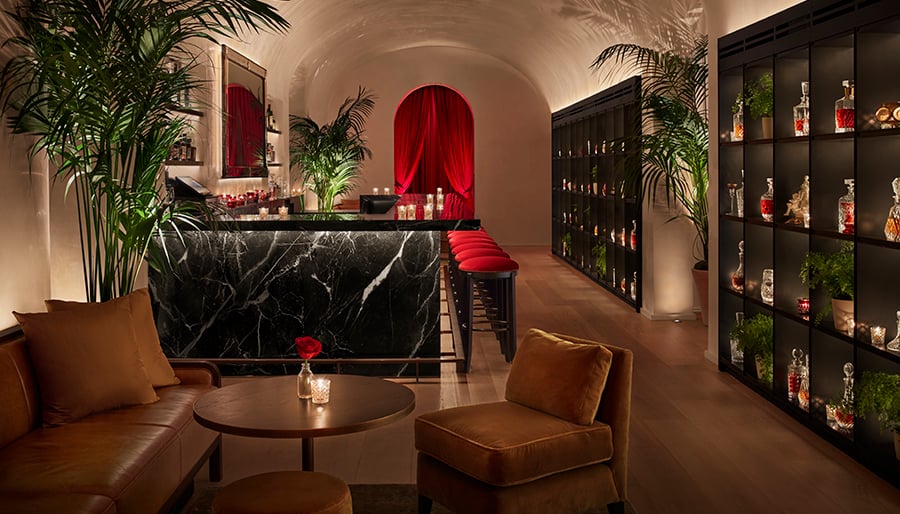 March 29, 2019
The Times Square EDITION Channels the Glitzy Heyday of Its Neighborhood
Opened this month, Ian Schrager's 452-room boutique hotel offers memories of Studio 54 and plenty of plush amenities.
---
Few neighborhoods are as iconic, or as heavily trafficked, as New York City's Times Square. Known today as a tourist-filled, Disneyfied wonderland, its past is legendary—from its golden age in the 1950s, with sounds of jazz pouring from Birdland, to the glitz and throbbing strobe lights of Studio 54 in the '70s. Hotelier Ian Schrager, the cofounder of Studio 54 as well as the mastermind behind PUBLIC Hotel and Gramercy Park Hotel, hopes to return the area to its glamorous heyday with his newest launch, the Times Square EDITION.
Officially opened March 12th as part of the EDITION Collection, the hotel sits just blocks from the original location of Schrager's iconic nightclub. It features 452 rooms and suites, two restaurants by Michelin-starred chef John Fraser (Narcissa, The Dining Room at The Met), bar and lounge areas, multiple terraces, and, of course, a cabaret—The Paradise Club, curated by Bushwick's audacious House of Yes. For his ambitious homecoming, Schrager hoped to combine the raucous, high-octane energy of Times Square with the sophisticated vibe of a speakeasy. As he announced in his trademark New York accent at a recent press briefing, "When you bring together the highbrow and lowbrow, that's when the magic happens."
---
A collaboration with ISC Design Studio and Toronto-based firm Yabu Pushelberg—friends of Schrager's from his Studio 54 days, who've worked with the impresario on the London EDITION as well as other creative projects—the 42-floor hotel leans into its neutral color palette, from the monochromatic lobby (known as the "Black Room") to the blond-wood panelling of each room and suite. "When we began discussing the project, we said 'Ian, we should really go back to when you first started in the hotel world,'" founding principal Glenn Pushelberg says by phone. In this case, that meant tapping into the archives of Schrager's Morgans Hotel—the venue believed by many to have kick-started the boutique hotel trend after its launch in 1983. That meant outfitting the space with black and white contrasting floors, touches of charcoal and soothing taupe, and an overall aesthetic that's equal parts European cool, Miami flair, and Old New York elegance.
---
More from Metropolis
---
The guest rooms, compact but airy feeling, convey a relaxed quality, in contrast to the high drama of the public spaces. "We wanted to engage you to feel like you're in Times Square, but in a residential sense," says George Yabu, the firm's other founding principal. To accomplish this, sleep areas embrace neutral patterns and lush textures, and employ space-saving touches like open-flow floor plans and recessed panels for televisions, offset by romantic lighting and well-placed lounge areas.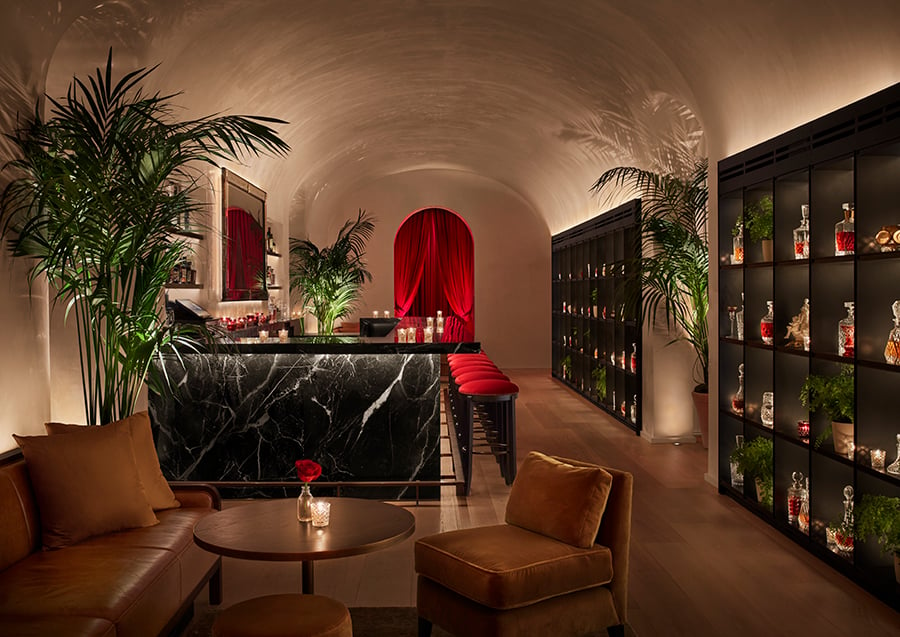 ---
On a sunlit ninth-floor terrace and outdoor garden, a Parisian-inflected space designed by Madison Cox, refined accents like standing lamps and barstools by Christian Liaigre, antique Mediterranean pendant lamps, and floor-to-ceiling windows give the impression of a chic vacation home. Nearby, the "Blade Runner Terrace"—so named for its dizzying view overlooking the futuristic LED gleam of Times Square—uses evergreen trees and English ivy to create a "forest in the sky," one that's enhanced by custom wrought iron loveseats and armchairs. (All the better for taking in the view of what, in Schrager's words, is "the best light show in the world.") Also on the ninth floor, you'll find the bistro at The Terrace, an all-day eatery inspired by traditional French bistros and American steakhouses, its entrance framed by black-and-white portrayals of "Old New York" as photographed by Helen Levitt, Elliott Erwitt, Cornell Capa, and others. In coming years, the space will host a rotating collection of photography and art.
For fine dining, the 701West restaurant, awash in electric-blue velvet and antique silk rugs, serves haute vegetarian fare (chef Fraser's specialty) as well as John Dory oysters and Japanese wagyu. For after-dinner drinks, the 750-square-foot cocktail lounge on the 11th floor provides a respite from the glare of the outside world, its walnut Venetian blinds and European black wood paneling offset by a white marble mosaic floor and a full, backlit bar serving signature cocktails.
The headliner of Schrager's encore is, of course, the Paradise Club on the 7th floor. Walk the checkerboard marble floors, part the thick velvet curtains, and you'll discover a space that looks like a forgotten set from Twin Peaks. The grand hall is covered in hand-painted murals inspired by Bosch and Dalí, but the space is state-of-the-art: It houses a full production studio and control center, and has been outfitted for live global broadcasts. Paradise's lighting comes courtesy Fisher Marantz, the Tony and Academy Award–winning lighting designer, another Studio 54 alum. From aerial acrobatics to immersive sound art, many of the club's activities will be projected onto a 17,000-square-foot, double-sided LED screen on the building's façade. In fitting tribute, '70s disco queen Diana Ross even appeared at the grand opening for a surprise performance, setting off a week that included shows by Charlie XCX, Questlove, and Lauryn Hill. It seems like Times Square's prodigal son has returned with a bang and a whole lot of buzz.
You may also enjoy "West Coast Vibes and Bistro Chic: 13 Top Picks From January's Maison&Objet."
Would you like to comment on this article? Send your thoughts to: [email protected]