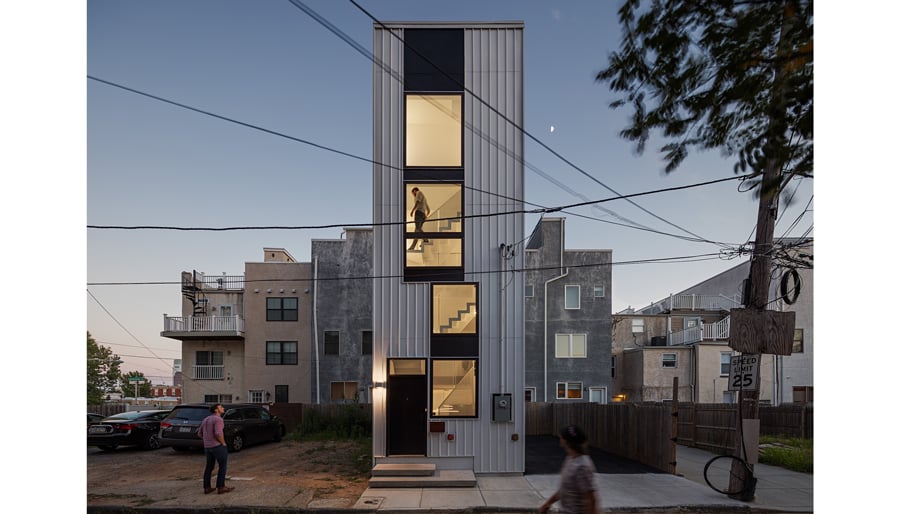 May 3, 2019
In Philadelphia, a Small Living Prototype Aims to Go Where Other Developers Won't
Designed by Interface Studio Architects and developed by Callahan Ward Companies, the "Tiny Tower" is a 12-foot-wide test-case for small sites that many might consider unusable.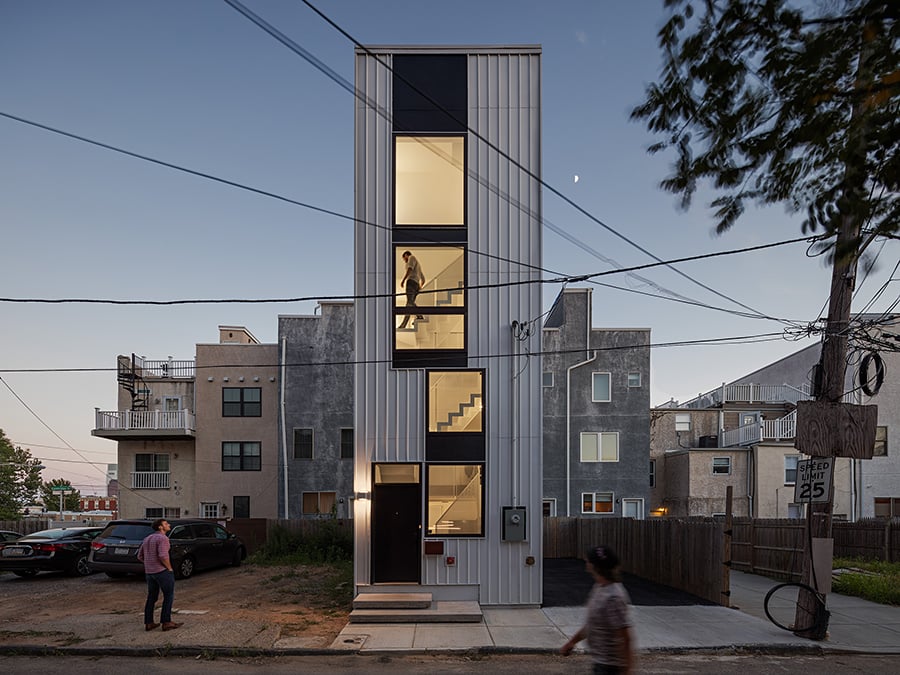 ---
Nearly 50 years ago, artist Gordon Matta-Clark purchased and photographed an assortment of improbably tiny and untenable parcels of land across Queens, New York. Dubbed Reality Properties: Fake Estates, the series was an exploration of real estate, architecture, economics, and the idea that some spaces can be owned but not inhabited. Now that series seems prescient as a growing small-living trend restores demand for inconveniently-sized properties—in dense urban cores and edge neighborhoods alike. While many such properties are regarded by developers as not lucrative enough—as well as posing bureaucratic hurdles—"leftover lots" have become somewhat of a speciality for the Philadelphia-based real estate developer Callahan Ward Companies and its regular collaborator Interface Studio Architects (ISA).
In 2016, Callahan Ward commissioned ISA to build a single-family home on a 12-foot-by-29-foot lot in Philadelphia's Brewerytown neighborhood. At 1,250 square-feet, the so-called Tiny Tower makes the most of its modest lot, maximizing its height and including a basement level. With construction costs totaling approximately $250,000, Tiny Tower poses vertical living as an economically viable form of urban dwelling. (Currently, Callahan Ward is using the tower as a temporary office space, but eventually intends to sell it to residents.)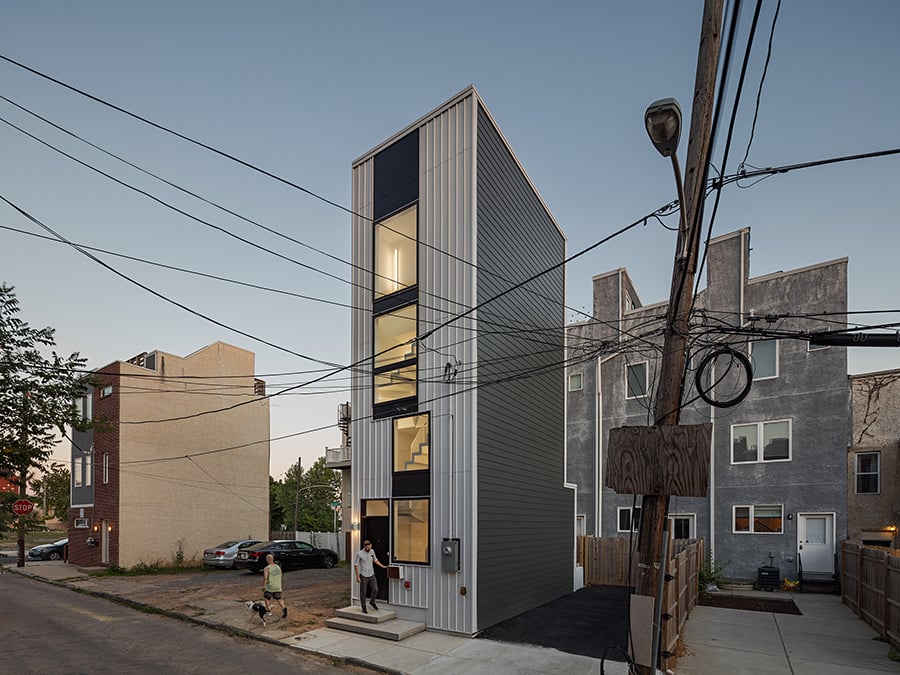 ---
In many ways, says ISA principal Brian Phillips, the slender, five-story building takes after the city's traditional trinity row houses that once occupied this same strip of land along Harper Street. However, with an unpaved parking lot to its immediate left and a series of driveways to the right, the freestanding tower more closely resembles a miniature skyscraper. In fact, ISA describes the building as being "organized like a full-scale skyscraper," with four open plan levels (plus a basement kitchen and roof deck) linked by a vertical circulation core. The folded plate steel staircase, a prominent feature visible through the front facade, is the defining characteristic of vertical living, wherein "the stair becomes a delightful experience, almost a kind of gallery with views of the street," says Phillips.
---
More from Metropolis
---
According to Phillips, the innovative architecture of kyosho jutaku, Japanese micro homes, served as an additional source of inspiration for Tiny Tower. Such design movements resonate with a new generation of homeowners, faced with land's scarcity and rising price, who prioritize urban location over square-footage. But in response to the downsizing movement, Phillips cautions against the urge to trade 3,000-square-foot McMansions for 300-square-foot micro apartments. "I think what we should all be focused on is not the extreme side of things, but just the right size that works," he says. "What about 1,000-square-foot single family homes that still allow for some social programming and flexibility?"
[Editor's note 5/6/19: This article was amended to include mention of this project's AIA 2019 Housing Awards selection.]
You may also enjoy "Kengo Kuma Designs a Serene Meditation House for a German Hotel."
Would you like to comment on this article? Send your thoughts to: [email protected]