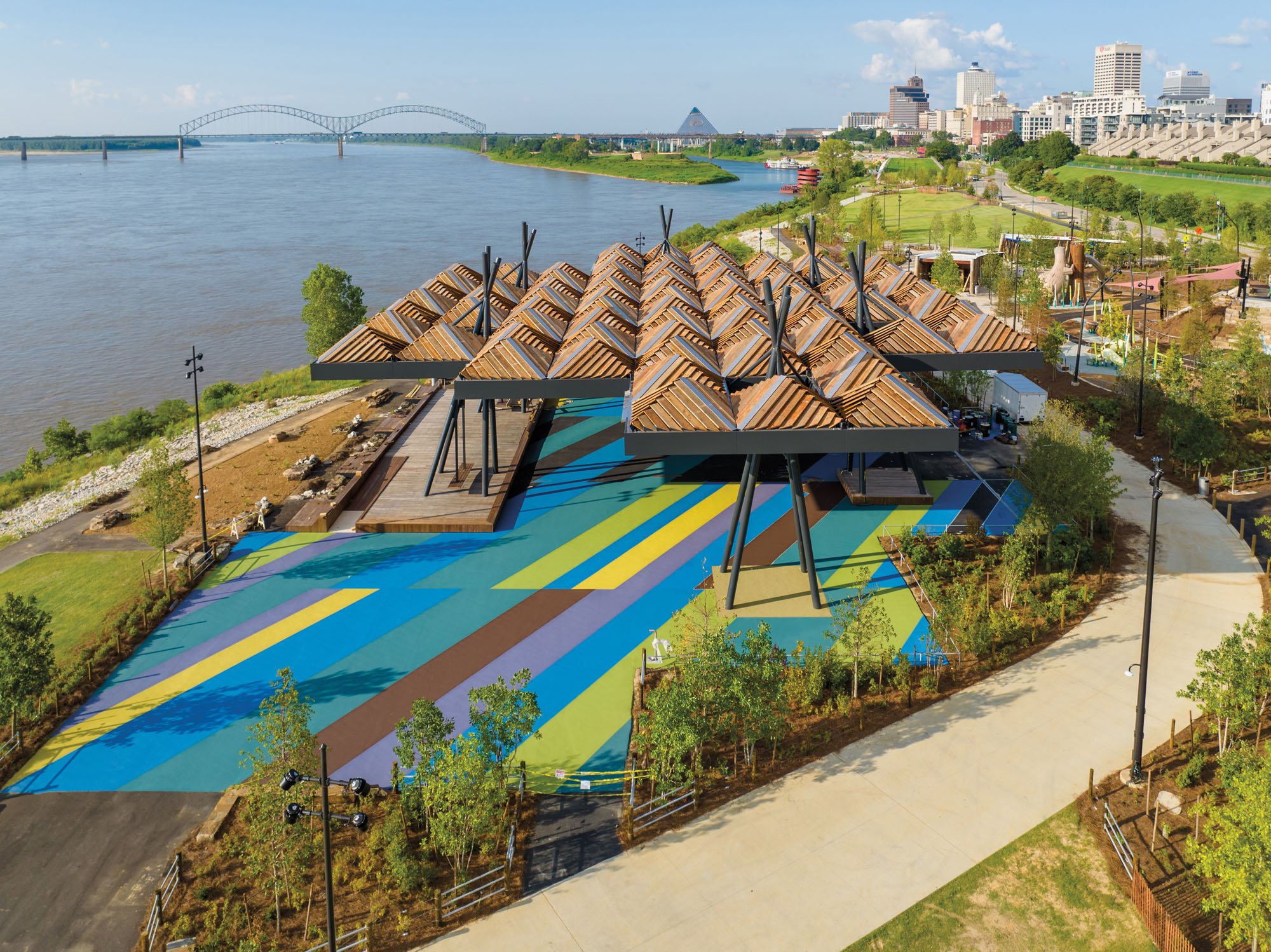 October 18, 2023
Tom Lee Park Mixes It Up in Memphis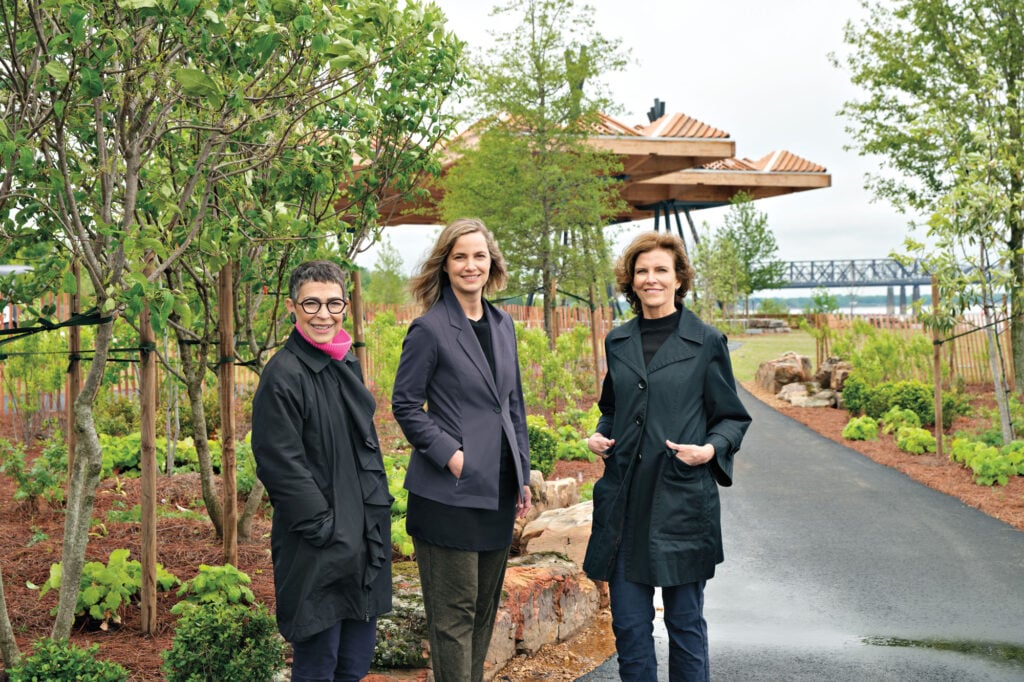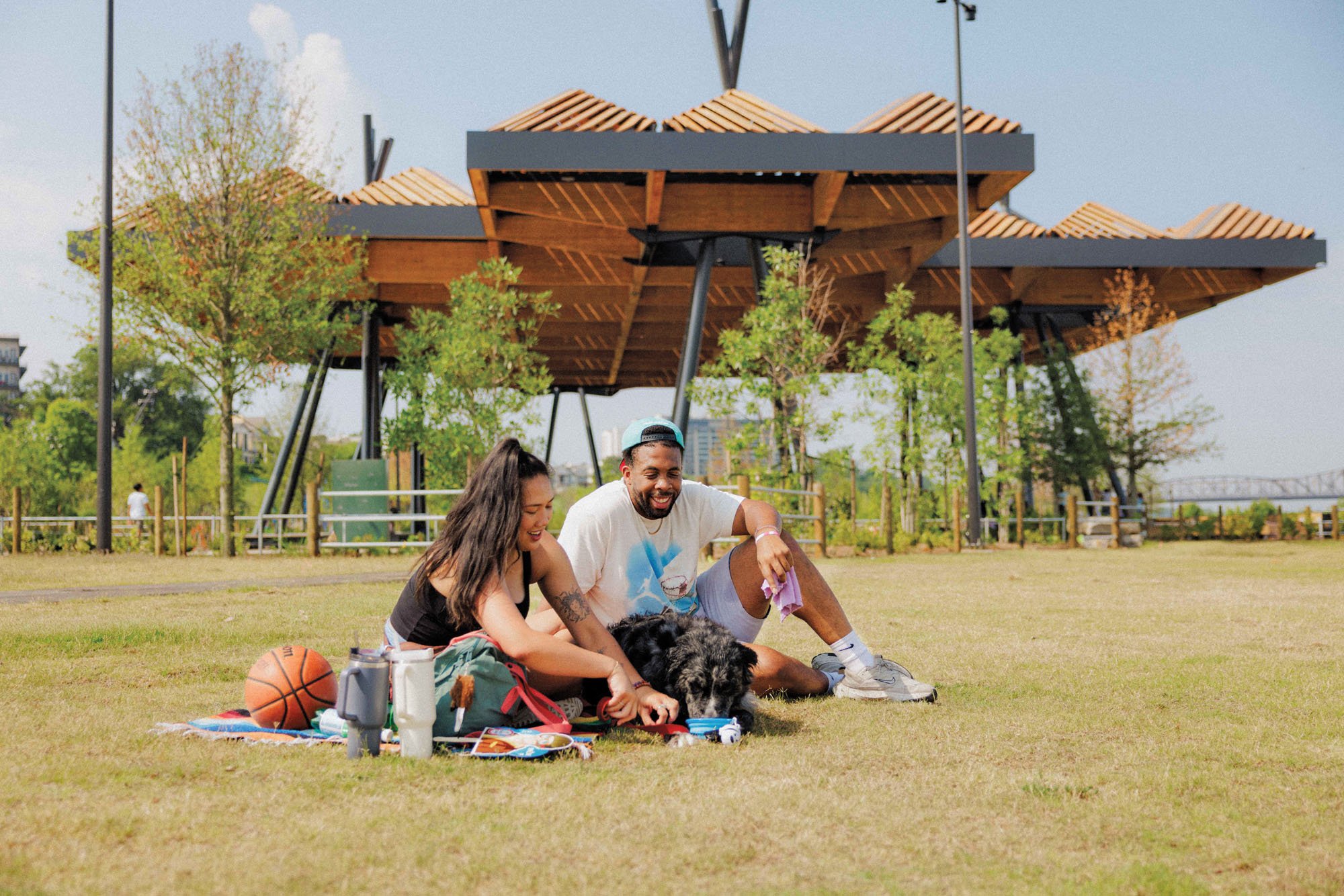 In 2017 Coletta, then a senior fellow in the Kresge Foundation's American Cities program and a member of the mayor's Riverfront Task Force, recommended Studio Gang to develop the Memphis Riverfront Concept, rethinking six miles of shoreline parks—including one that still featured a statue of Confederate president Jefferson Davis—as a series of vital places for neighboring and upland communities.
Quickly, without attracting much attention, they removed the Confederate statue in Fourth Bluff Park. A $5 million grant from the Reimagining the Civic Commons project, which Coletta also spearheaded, aimed to turn it into a place where all Memphians could come together to connect with nature and one another. On the next block the renovated Cossitt Library reopened in the spring, and in 2026 the relocated Brooks Museum of Art, designed by Herzog & de Meuron, will follow. For Juneteenth this year, Fourth Bluff Park celebrated Black identity with a gigantic Afro pick sculpture by Hank Willis Thomas.
---
More from Metropolis
---
"For me the animating question in Memphis is how you lean into your Blackness," Coletta says. "In a racist America, how do you take your Blackness and turn it into an asset?"
Next on the list was Tom Lee Park, a barren levee topped with a thin layer of topsoil, named after Black local hero Tom Lee, who in 1925 rescued 32 passengers of a capsized sightseeing ferry in his small motorboat. Studio Gang initiated a Youth Design Leadership Program to engage nontraditional stakeholders in thinking about the park's programs and connecting them with civic leaders.
The specific desires were not unusual. "The things that they wanted were the things that are in every park, the things that make you want to go to the park for your own reasons: picnic, food, basketball, whatever," says Studio Gang founder Jeanne Gang. "People have lots of different reasons, but they're everyday reasons. The park just didn't have any of that infrastructure for everyday stuff."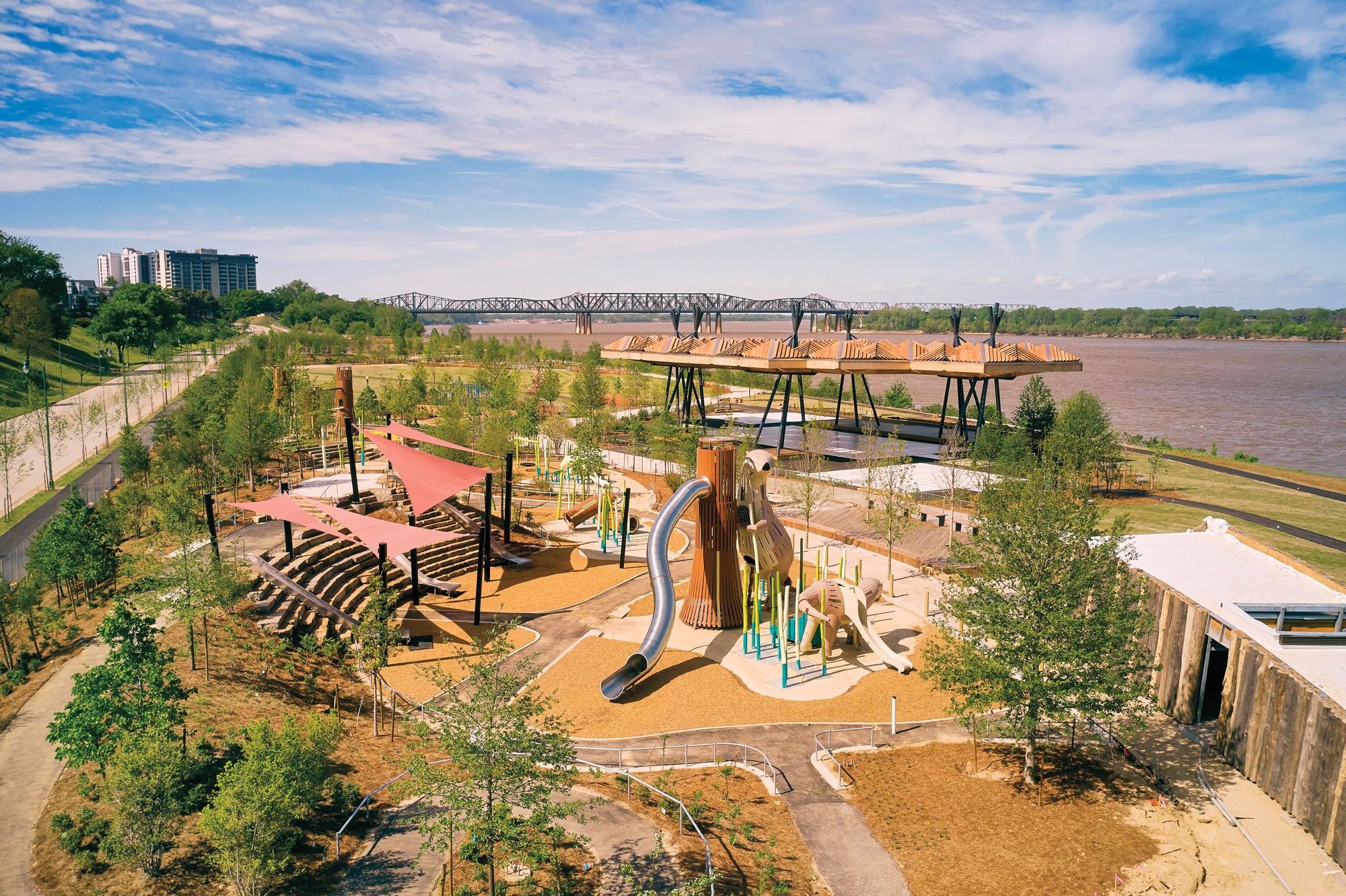 If all that was needed were to add basketball courts and picnic tables, you would not need Studio Gang. But the architects and Coletta argue emphatically that to create great civic places attracting people from all the city's demographics, these functions need to be elevated, made alluring, using the backdrop of the Mississippi River and its bridges to Arkansas as highlights. "You've got to provide hope and a vision of what can be in an alluring way," Coletta says. "You've got to provide allure."
Working with landscape architecture collaborator SCAPE, Studio Gang designed a switchback pathway that cuts back and forth down the bluff, making its main entrance accessible from above. A misting multicolored light-and-water feature marks the entry at one end of an existing pavilion's rolling green roof. Asphalt and wooden paths are interwoven with pollinator gardens, widening at two junctures into lawns left open for the annual barbecue and blues festivals.
Two dedicated buildings for food and drink vendors evoke the site's industrial heritage with curving compositions of standing logs. An expansive wood-and-steel-beam pavilion with slits at the top and a mural beneath protects basketball courts and eating and drinking areas from sunlight and rain and frames views of the bridges. Nearby, an extensive, colorful playground by MONSTRUM is made up of custom-designed play equipment referencing native creatures of the Mississippi River.
"The design is still very important because that's what draws people to a place," Gang says. "You need that spark too. A lot of times urban plans sit on the shelf, and if there isn't something that makes people feel like 'I really want to have that in my neighborhood,' or something new and exciting, then it doesn't seem like it takes."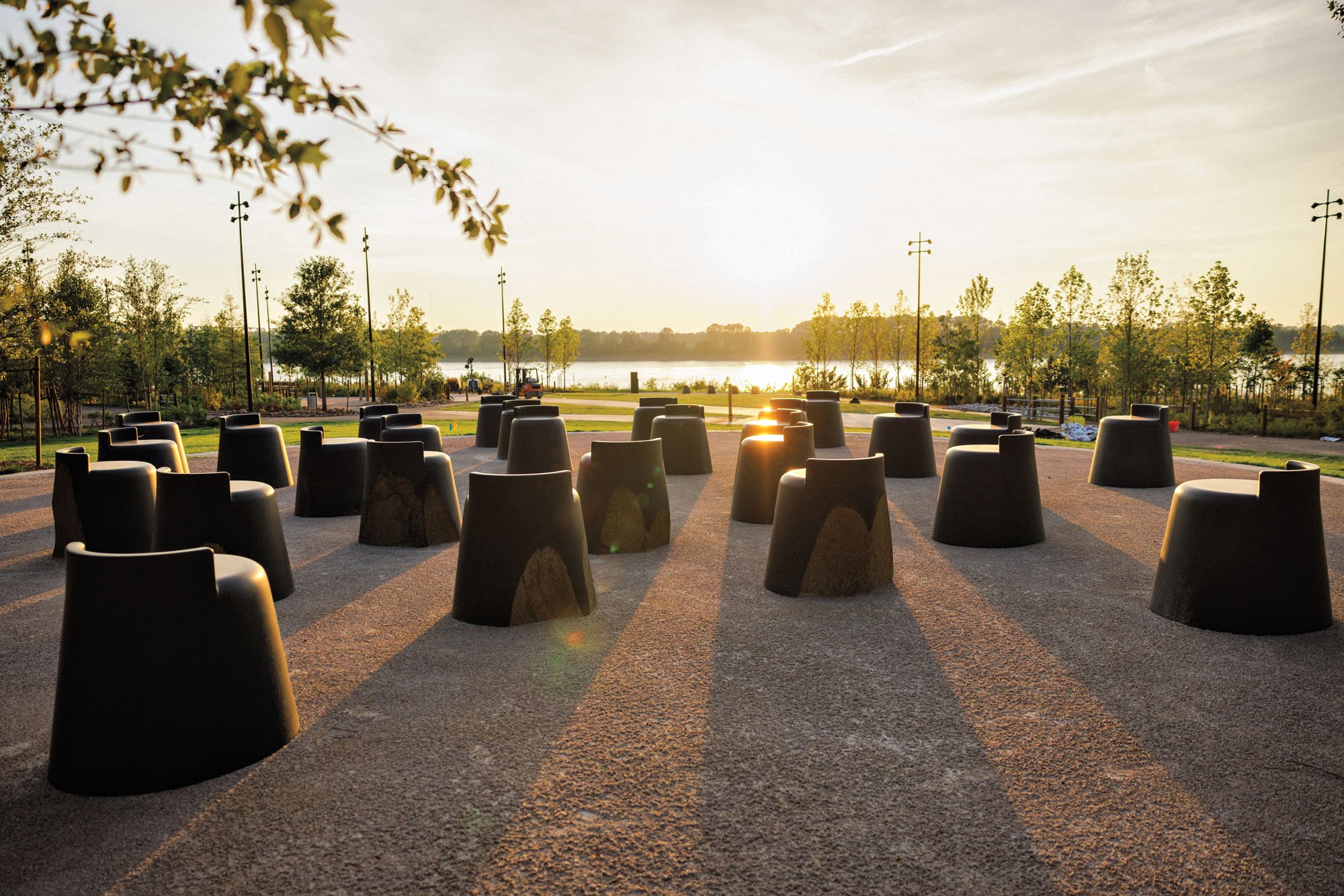 One of the ways the park embraces Black Memphis is by celebrating its namesake Tom Lee: Black Chicago-based art star Theaster Gates composed a sculpture of granite blocks cut into the shape of thrones, which are organized into circles for talking, listening, and observing, with a tall throne by the river dedicated to Lee.
The goal, ultimately, is to make the park into one of those "third places" outside of the home and office where, in a society stratified more than ever by income levels and political ideology, social mixing happens across differences. "That is the goal: to break down the divides that are inherent in places like Chicago and other cities, where there are areas where you don't feel welcome," Gang says. "In a city like Memphis that is not used to using the waterfront as a place to go, there's a huge hurdle to get over."
Eventually a 450-foot flyway over one end of the park will extend over the wetlands, providing the best bird-watching areas and eye-catching views over the Mississippi. It aims to be an attraction for the whole region. "You need to accept that the magic is in the mixing," Coletta says. "That's what the best creative placemaking does. It creates that reason for mixing, that allure, that pull—to mix."
Would you like to comment on this article? Send your thoughts to: [email protected]