May 5, 2020
At Toronto's Bentway, Lighting Is a Base Layer for Artistic Intervention
PUBLIC WORK and Tillett Lighting Design Associates conceived the strategy with hyper-flexibility in mind.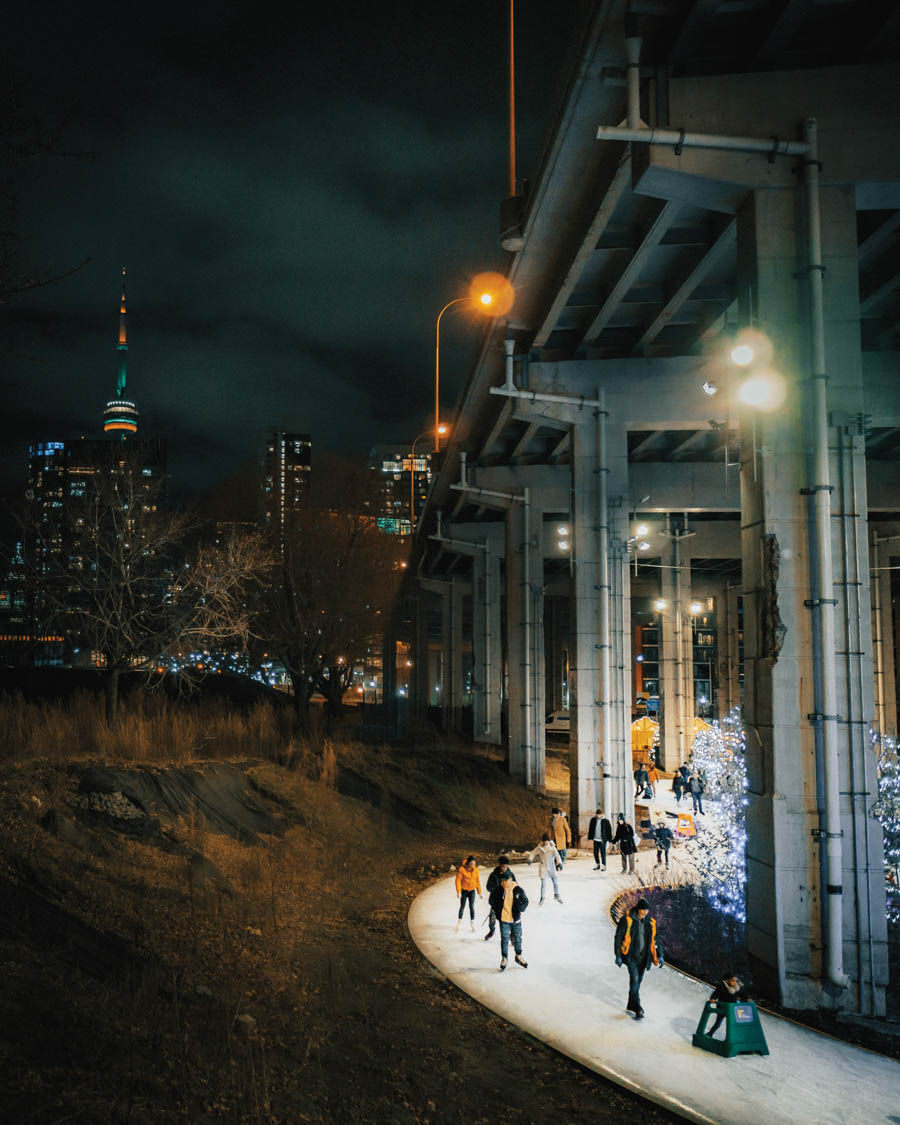 ---
The Bentway, a mile-long linear park that snakes below an elevated portion of the Gardiner Expressway in Toronto, is a textbook example of how cities are reclaiming underused open space. Designed by local landscape architecture firm PUBLIC WORK, the project adapts the space between the roadway's towering concrete bents for a public promenade, gardens, markets, and—its crown jewel—a looping figure eight for ice skating that doubles as a splash pad in summer.
Early on, a goal of the lighting design was to create a base layer of functionality that could be built upon—an infrastructure for artistic intervention. "So many public spaces aspire to a high level of animation and vibrancy but are left with the expense and annoyance of having to constantly bring in temporary generators and [reset] every time there is an event," says Lauren Abrahams, an urban designer at PUBLIC WORK. "Rather than start on day one with some kind of spectacle of lighting, we wanted to create an ambient light that could achieve the functional requirements of the site but also be hyper-flexible."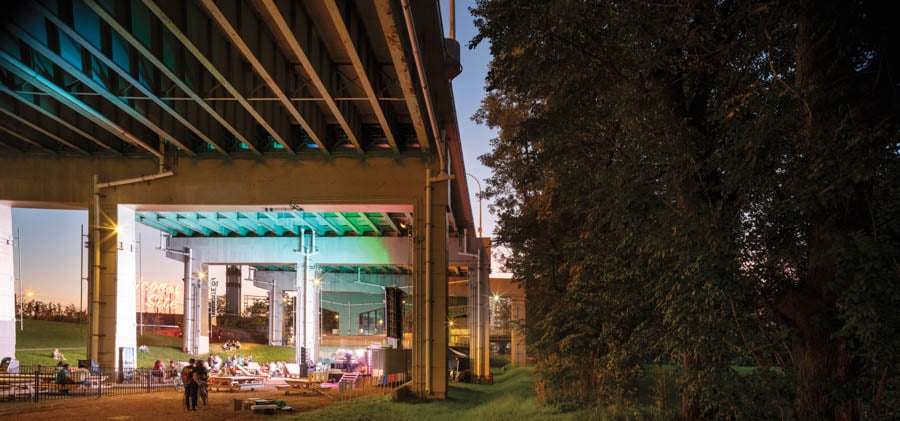 ---
The lighting strategy that PUBLIC WORK developed for the Bentway in collaboration with Tillett Lighting Design Associates out of New York City hinges on column-mounted floodlights, varying in size from small (28-watt) to medium (70-watt) units. Linked together on a Digital Multiplex (DMX) network, the lights can be individually dimmed or turned off altogether, based on what is needed at any given time along any stretch of the park.
---
More from Metropolis
---
Figuring out how to mount the fixtures, however, proved to be a challenge. From a structural point of view, the concrete columns were the perfect armature for the lights. But the design team discovered that overhead traffic caused the columns to shudder. In response, PUBLIC WORK designed minimalist galvanized-steel frames that are bolted to the roadway supports. What movement was not absorbed by the frames is managed by specialized fixtures with damping brackets—a solution as resourceful as the park itself.
You may also enjoy "Lighting For Fun: This Public Park in Dallas Makes the Most of the Night."
Would you like to comment on this article? Send your thoughts to: [email protected]