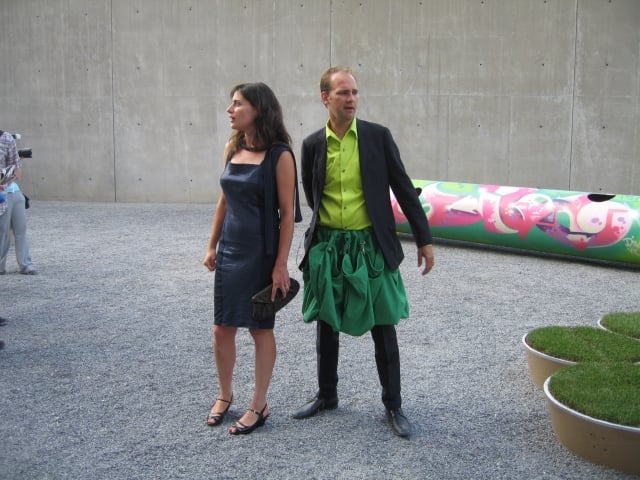 June 20, 2008
Urban Farm
WORK Architecture Company unveils its urban oasis at P.S. 1.
One of the P.F.1 volunteers picks vegetables in preparation for last night's event.
---
More from Metropolis
---
Summer kicks off in earnest today with the official opening of the annual Young Architects Program installation at P.S. 1. This year, WORK Architecture was selected for their ambitious vision of transforming the angular concrete courtyard into a lush urban farm. We got a sneak peak of P.F.1 (Public Farm One) last night.
Architects Amale Andraos and Dan Wood created a living structure of plants and vegetables out of inexpensive, recyclable materials. Large tubes of coated cardboard filled with a clever combination of fabric inserts and soil are connected into a sweeping wave, creating a kind of flying carpet of food. It's as if a farm has blown in and landed in Queens. (It reminds me a bit of Bill McDonough's plans for rooftop farms in the Chinese city of Liuzhou).
Each cardboard barrel contains a different type of produce, from tomatoes and chard to herbs and collards. According to the architects, there is enough paper in this installation that if unfurled, it would reach the top of the neighboring Citibank building which can be seen towering in the distance beyond the trellises for the tomatoes. Beneath the structure are a pool, some shaded seating areas, and more herbs. Unlike the ambitious volunteer scaling the top of the farm last night, access to the produce was designed from below: Strategically placed holes in the structure allow people to mount a ladder and harvest the crops. Wood demonstrated, donning a green apron with pockets for the food.
Andraos and Wood (wearing the green apron for harvesting produce) answer questions about their concept.
The design is a wonderful marriage of resources and resourcefulness. It was quite a logistical feat of collaboration, with over 100 volunteers giving time, financing, energy, consultation, and supplies. The water to feed the farm is being siphoned from P.S. 1 roof runoff and collected in a cistern. This sits in the chicken coop, which apparently came as a surprise to P.S. 1 Director Alanna Heiss, who did not know actual farm animals would be involved. Chickens and baby chicks peck about in a small hay-filled space and one of those paper tubes was used to fashion their roost. One resourceful hen pecked at the base of the water tank to get a drink:
The bird is about to take a drink from the pipe: it gets underneath, inverts its head, and sips.
For an urban farm, the rest of the installation feels sparse— little "benches" of grass and rubber, centered by herbs, are sprinkled throughout the gravel yard. There is a graffiti-covered "tunnel of love" for people to crawl through, which resembles an oversized version of the hay-filled tunnel used to house the chickens. Instead of pecking at a water pipe for sustenance, there is a docking station for all types of electronic devices, so us urban animals can hook up to the electronic teat and refuel our various gadgets.
Lisa Maione, our assistant art director, was with me last night and she commented that as a space to be experienced, it left her wanting. "The need for shade and cozy places to huddle and speak to new friends is what I look for in these installations in the garden. Much of the overhead area is left open and bare, seemingly unaddressed. It feels like a pulled-back version of what could have been."
It'll be interesting to see how this space fills in and evolves over the summer.
The flying carpet of food juts out over the wall of the courtyard.
Seen from underneath: the names of the food in each planter are spraypainted on the wood below, making it easier to harvest.
Additional gardens are scattered throughout.