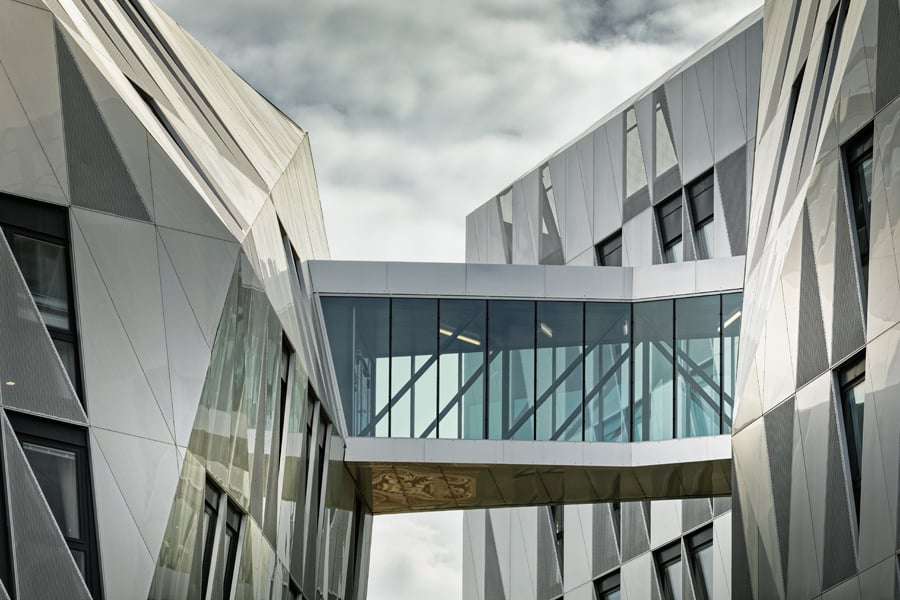 March 12, 2021
The Urban Quartz Office Towers Emerge as Crystalized Cliffs in Rennes
Hamonic + Masson & Associés helps rejuvenate the regional capital with a multimodal complex that meets a growing demand for flexible workplaces.
---
As major train stations across Europe modernize, so do the post-industrial fringe areas that surround them. Dilapidated warehouses have made way for sleek high-rise office towers that provide these ancient citadels with much-needed square meterage and room to grow. A rapid improvement in high-speed train links has incentivized major companies to decentralize their operations and set up outposts in smaller cities. These transportation hubs can quickly turn into bustling business districts but run the risk of becoming so autonomous that they disconnect from the rest of town. 
The ongoing EuroRennes redevelopment initiative seeks to circumvent this all-to-common pitfall. Centered around the revitalization of the Breton regional capital's main train station, planning firm FGP implemented a high-density scheme that would transform under-utilized peripheral properties into porous buildings for both locals and commuters. This ambitious program comes on the heels of a new TGV service that cuts down the travel from Paris to an hour and a half. A host of French and international architecture firms were called upon to develop various parcels.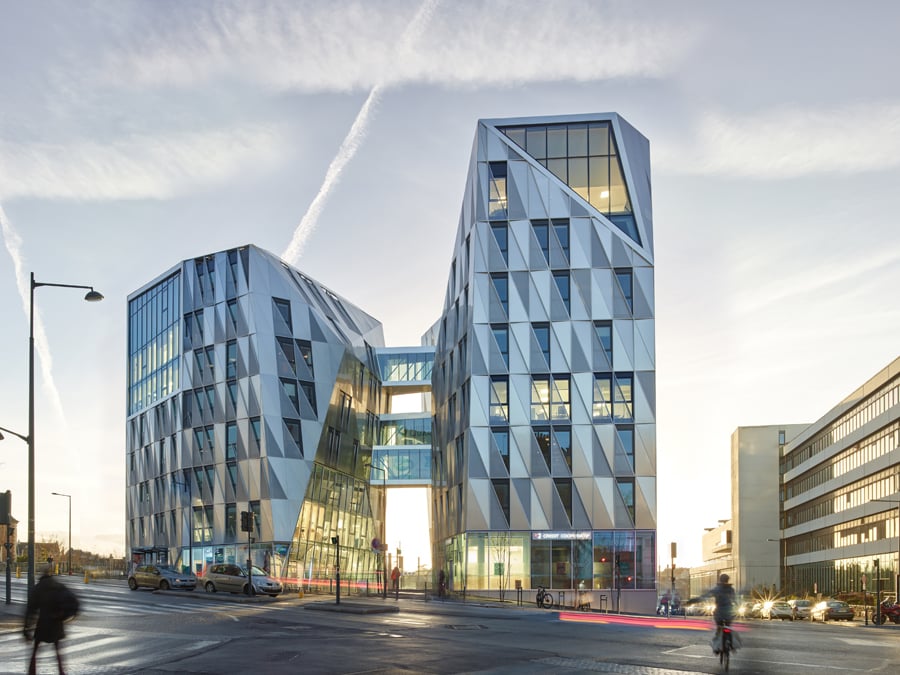 ---
"FGP's brief was to develop structures that could reflect the shape of crystals," Hamonic + Masson & Associés associate Arnaud Grenié explains. The architect was the lead on Urban Quartz, a canyon-like cluster of undulating office towers completed in 2019, working alongside a/LTA . Having worked on other projects in this emerging typology, Grenié is no stranger to the challenges of working with such unconventional sites. "The standard is to design large rectangular blocks, but given the scale of the city, it made sense to develop something that would better integrate within the surroundings and not dominate it." 
---
More from Metropolis
---
Located on an awkwardly shaped plot that sits between streets on three different levels, Urban Quartz is characterized by its unique triangulated and boulder-like massing. The three buildings undulate in different directions and offer tenets with a range of floorplate layout options. A series of bridges that run between two of the buildings provide even more flexibility. These floating walkways straddle an internal plaza that opens up to the adjacent thoroughfare and perches over the tracks below. "The brief required that we include some sort of the public space that would open up to the city," Grenié describes. "We played around with different programmatic scales so that the ground level of each structure could contain shops and a daycare." A sloping garden, designed by landscape architecture firm La Plage, creates a vital connection between the two other streets and provides ventilation for a semi-underground parking garage that fits snugly underneath the overall allotment.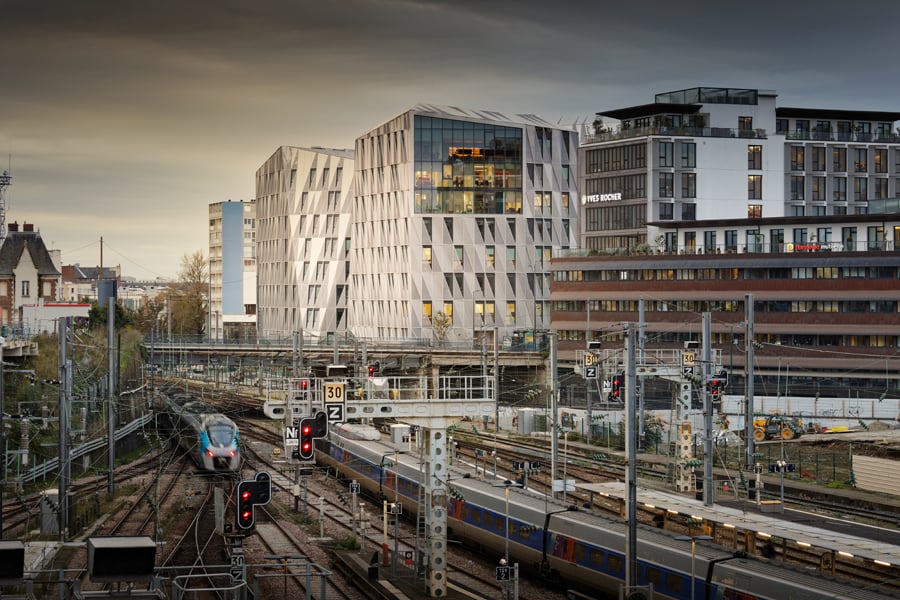 ---
The project's most defining feature is its Alucoil-clad facade that shimmers and gives the complex its name. Rather than use tensile rainscreen facade elements that jut off cubic structures, Hamonic + Masson & Associés opted for gloss finish smooth and relief-patterned panels that delineate the actual crystal-like shape of each building. "These inflections provide the building with depth but also flood natural light into the interior in interesting ways. The reflective nature of the facade also ensures that the plaza receives enough light." 
These custom-cut triangular elements give way to sashed windows and punctured voids. Large multi-story curtain walls emerge on top of each tower as apertures to observe Rennes's key attractions. These urban windows tilt toward the tracks, the internal plaza, and Georges Maillols' famous Les Horizon towers; rock-like and organic—yet futuristic—residential towers developed during the city's first wave of late modernist urban renewal in the 1970s. In certain respects, Urban Quartz is an homage to this experimental tradition, as is the entire EuroRennes project.
You may also enjoy "Hervé Descottes On Why Light Is Needed Now More Than Ever"
Would you like to comment on this article? Send your thoughts to: [email protected]
---
Register here for Metropolis's Think Tank Thursdays and hear what leading firms across North America are thinking and working on today.