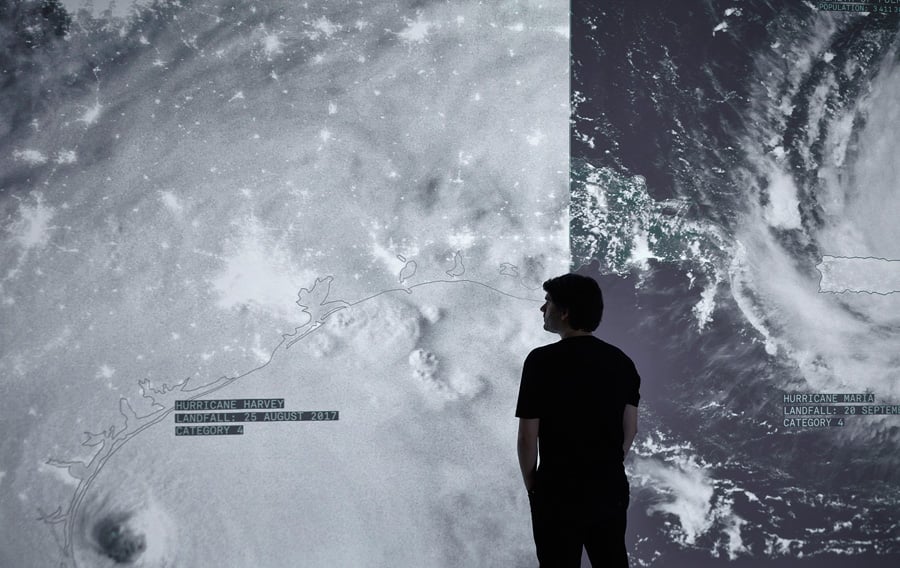 June 4, 2018
"Freespace" Shows That Architects Must Retool Their Relationship to Power—and to the Biennale
At this year's edition of the Venice Architecture Biennale, there was little evidence of a discipline coming to grips with pressing issues.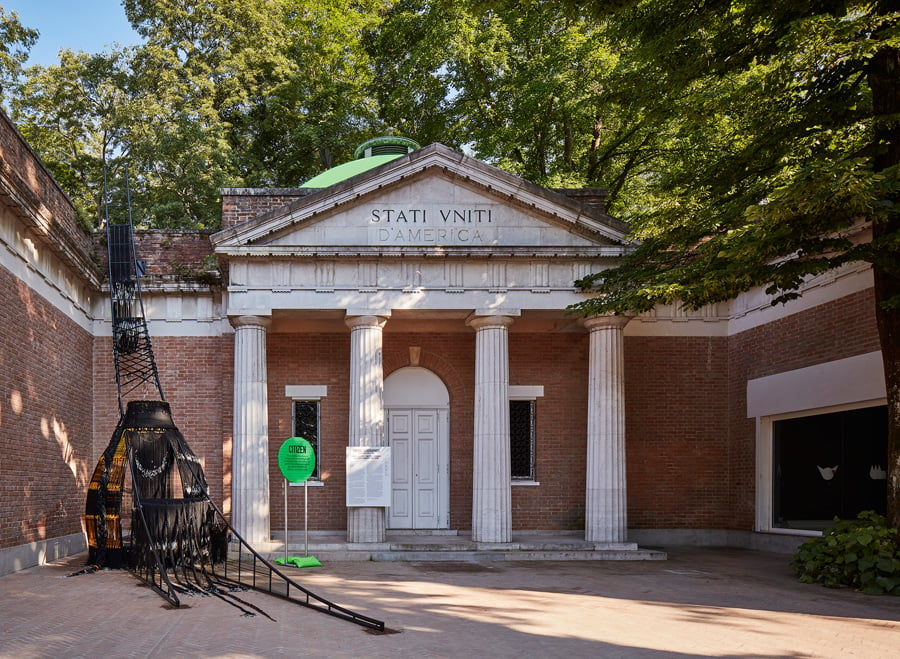 © Tom Harris. Courtesy of the School of the Art Institute of Chicago and the University of Chicago.
---
"Freespace," the one-word theme of the 16th Venice Architecture Biennale, is a neologism whose separate elements—freedom and space—would seem surefire ingredients to compel curators and designers to grapple with architecture's political valances. But the Biennale's directors, Yvonne Farrell and Shelley McNamara of Irish firm Grafton Architects, have supplied a prompt whose indeterminacy has left several exhibitors struggling to meet the concept's generous potential.
When space is described as free, it is either unoccupied (like a parking spot) or mostly unprogrammed (like a meadow). In either case, it is the absence of occupation and domination that constitutes a space of opportunity. "Freespace" was taken to heart in the official exhibition staged in the Arsenale and interrogated brilliantly by a few of the national pavilions in the Giardini.
Such was the case for the U.S. Pavilion's Dimensions of Citizenship, curated by Niall Atkinson, Ann Lui, and Mimi Zeiger. The team's choice of direction is the boldest move in what is a particularly conservative edition of the Biennale, and the exhibition successfully deconstructs the spaces and mechanisms of citizenship at a time when its meaning holds profound and immediate consequences for many.
---
More from Metropolis
---
Contested citizenship can separate young children from their families, and mobility across borders (the U.S.-Mexico border, the site of President Trump's promised "Great Wall," for example) and the movement of borders themselves (the Russian annexation of Crimea) are matters of life and death, and human suffering. With this in mind, the U.S. Pavilion is a razor-sharp exhibition that confronts visitors with evidence of the un-free territories of American geography. But it also begs the question: Can architects do more than represent structures of injustice?
Several of the commissioned projects on display in this pavilion provide an unsparing view of what the curators have termed the "paradoxical conditions of citizenship." The collaboration of Estudio Teddy Cruz and Fonna Forman, for example, visualizes alternative concepts of citizenship in the border region between the U.S. and Mexico. In another gallery, "In Plain Sight," a video by Diller Scofidio + Renfro, Laura Kurgan, and Robert Gerard Pietrusko with the Columbia Center for Spatial Research, unpacks how planetary surveillance technologies such as Google Earth inflect understandings of human settlement. Few (myself included) would argue with the idea that a public presentation of this kind is a good in itself; raising consciousness by means of studied representation is the architect's unique medium of agency. But in the face of politicians for whom truth is inconsequential, is this enough?
© Tom Harris. Courtesy of the School of the Art Institute of Chicago and the University of Chicago.
---
To take a walk among the national pavilions in the Giardini is to be reminded that citizenship means many different things in many different places. In a handful of countries that exhibited in the Giardini, that means fines, jail time, torture, or death for queer people; in others it means structural discrimination against women, or the systematic exclusion of people of different races and religion. Above all, citizenship means being subject to the rights and freedoms that script an individual's occupation of space.
Around the vernissage, "freespace" was received with a snicker. I overheard one Biennale-goer ask sarcastically "is this 'freespace'?" while waiting in the queue for the observation deck of the stylish Fondaco dei Tedeschi, which was recently given a makeover by Rem Koolhaas's OMA. At a dinner with Biennale jurors on opening night, one guest quipped of the cheese board, "is this 'freecheese'?" These remarks get at the problem of "freespace": it would seem that architects feel all too comfortable dismissing such attempts to question architecture's political situation. And at Venice, the compromised status of architecture's relationship to global concentrations of power is oftentimes already taken for granted.
These problematics are particularly intense in the context of the Biennale, an event staged by architecture's elite, with corporations and governments controlling the purse strings. Still, I can't imagine many of the architects and curators involved in this edition are unaware of the upheavals taking place within their own disciplinary backyard. It escaped no one's notice that the Biennale's curators were two women, and vernissage attendees were perhaps primed for political interventions that would build upon the momentum of the #MeToo movement. (What they got was a flash mob organized by leading women practitioners including Odile Decq and Farshid Moussavi.)
The most remarkable projects on view shared the common conviction that "freespaces" are not simply found or even designed, but rather are lived and made; in a word, liberated.
Yet, there was little evidence of a profession coming to grips with the tradition of sexual discrimination and exploitation that has flourished in some of the world's most celebrated practices and schools. Nor would you understand that far-right politics have (again) co-opted architecture and public space as political devices in the past two years, such as in the State Department's recent move of the U.S. Embassy in Israel from Tel Aviv to Jerusalem, an architectural act (even if not framed as such) that sparked riots and resulted in the subsequent killing of Palestinians; or white nationalist demonstrations in Warsaw's public spaces last year; or the kleptocratic architectural patronage of Recip Tayyip Erdogan in Turkey. In short, this Biennale might offer an all-too-polite picture of architecture's political reality that risks being delusory.
It should come as a surprise to no one that building is always indebted to power in one way or another. But what is both surprising and disturbing is the degree to which cynical reason attains so thoroughly in contemporary architecture. Paraphrasing the words of philosopher Slavoj Žižek, we are all very much aware that the situation is contemptible, but we act as if it isn't. This is a particularly acute problem at the Biennale, on the inside of which globally mobile architects and curators assent to casting themselves in nationalist frames, while on the outside, emerging nationalisms threaten the very preconditions of global freedom.
The most remarkable projects on view shared the common conviction that "freespaces" are not simply found or even designed, but rather are lived and made; in a word, liberated. The Cruising Pavilion, an unofficial exhibition staged on the sidelines of the Biennale in Giudecca, was a stand out in this regard. Organized by Pierre-Alexandre Mateos, Rasmus Myrup, Octave Perrault, and Charles Teyssou, the presentation is a strong and scrappy showing from a young team. Focusing on practices of "cruising"—defined by the curators as "the quest for sexual encounters between homosexual men in public spaces"—the pavilion powerfully demonstrates the performative action of transgressing the social codes that preclude certain kinds of occupation and expression, and thereby recast spaces anew.
Courtesy Guglielmo Mattioli
---
It's so dark inside as to be downright dangerous. The pavilion comprises one vast warehouse subdivided by two wood-framed towers presenting models, photographs, and installations by established architects that include Andrés Jaque of Office for Political Innovation, and Charles Renfro of Diller Scofidio + Renfro, alongside works by younger artists and designers. (One artist, Özgür Kar, contributed a series of text-based posters that hang throughout the space. One reads, "Sei finalmente in me," translation: "You're finally in me"; it's posted at the backdoor to the exhibition.) Further on, the main gallery is flanked by two high walls perforated by a profusion of gloryholes large and small, and the floor here is strewn with condoms and other wrappers. This is a space with its own rules written over the staid norms of the Biennale, and a prototype of institutional space made free by double-coding. The Biennale awards no prizes for exhibitors on the fringes, unfortunately, but if they did then this pavilion would be a strong contender for top honors.
Another unofficial treasure is the Unfolding Pavilion, an intervention in architect Gino Valle's IACP Housing (1980–86), also in Giudecca, organized by Daniel Tudor Munteanu, Davide Tommaso Ferrando, and Sara Favargiotti. "Unfolding" the complexities of Valle's architecture through modest design interventions in courtyards, gardens, and an apartment in this housing complex, the pavilion reaches the architecture directly, offering commentary in situ.
It doesn't seem accidental that this Biennale's two most engaging exhibitions, the Cruising and Unfolding pavilions, were staged by two of the youngest teams in Venice. If these showings are any indication, the next generation to take the reins isn't willing to play it safe. They've stationed themselves in spaces more free from constraints, and thereby more loaded with possibilities than the grounds of the Biennale proper. Their examples are perhaps symptomatic of a budding groundswell of committed practices that refuse to stay neutral in a polarized field. These are not curators and designers operating as pure political agitators, but creative agents who are critically aware of their own embeddedness—their citizenship—in a space of cultural operation that is always constrained by politics from within and without.
This was the kernel of the critic Theodor Adorno's reflections on the playwright Bertolt Brecht: that there is no art that does "not originate in the empirical reality from which it breaks free." To deny this connection to reality, whether as autonomy or as enlightened cynicism, is a gesture of self-delusion that risks moral failure. This would be architecture that, by virtue of not being situated, offers no resistance to illiberal agendas. It is clear that architecture can't ever outrun its politics; when it tries to, the effect is almost always to render architecture—and architects—merely irrelevant and collateral.
It's time to get in the game, as it were. At the very least, Freespace is an occasion to be reminded that architects must always renegotiate and retool their relationship to power. (In 2018, it's architecture, not revolution, which can be avoided.) Both the Cruising Pavilion and Dimensions of Citizenship bring to the foreground the real stakes and dangers of producing and preserving free spaces. Of course, this has always been essential to the practice of cruising: the creation of an intimate space of connection within a hostile public realm. "Freespaces" aren't simply found and curated; they must always be made again.