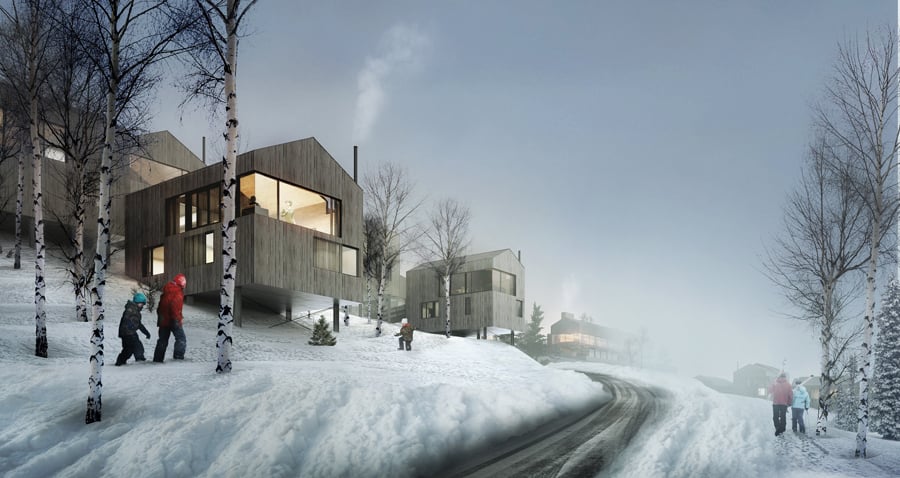 August 2, 2017
A Village for Thought Leaders Breaks Ground on Powder Mountain
A visionary organization has purchased a mountain in Utah and is designing a ground-up public town that they hope will mirror their values.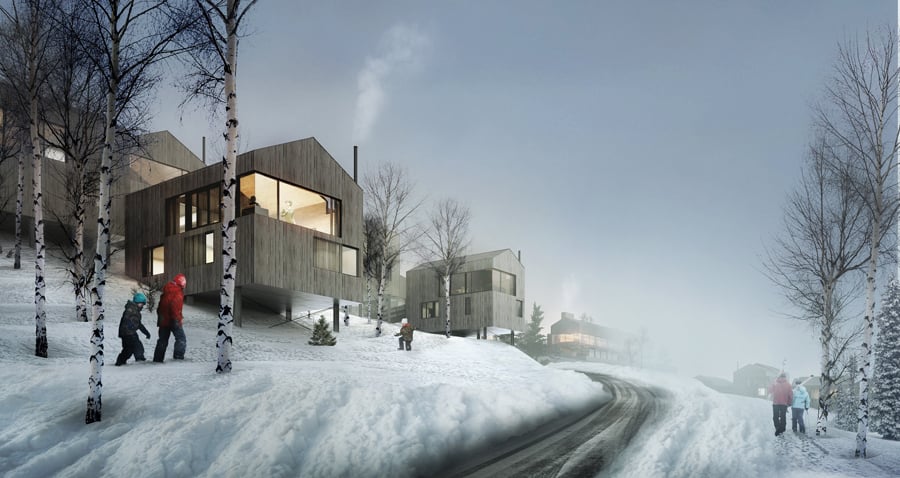 A new public town is under construction on Powder Mountain in Eden, Utah, where 500 houses and a village core are gradually taking shape. This isn't another ski resort or gated community, but, rather, a planned community of artists, entrepreneurs, and scholars working to help solve global problems. This vision has a name: Summit. 
The project evolved out of the Summit Series, a multi-day event program geared towards entrepreneurs. With inspirational speakers, farm-to-table food, entertainment, and a focus on wellness, Summit marketed these events as a way to spur "disruptive change" and altruism. In 2013, Summit founders and a group of investors, including venture capitalist Greg Mauro, purchased Powder Mountain for a reported $40 million, crowdsourcing much of the initial funding and forming a company called SMHG LLC, which operates the Powder Mountain Ski Resort and serves as project developer. They have also gathered a who's-who list of architects, such as Olson Kundig and Todd Saunders, to design a master plan for the 10,000-acre site where their investment in innovation, cultural enrichment, environmental stewardship, and creativity can truly flourish. 
One of Summit Powder Mountain's first neighborhoods is currently underway. The "Horizon" quarter encompasses 26 modern cabins and a communal lodge designed by MacKay-Lyons Sweetapple Architects. Sited to maximize southwestern views of Mt. Ogden, the Great Salt Lake, and the Wasatch Range, the dense cluster of houses—ranging in size from 1,290 to just over 3,000 square feet—are what Brian MacKay-Lyons likens to a "Nova Scotia fish shack on stilts." The monolithic, cedar-clad rectangular volumes (which will patina to a silvery-red) are entered on the second floors via bridges and cantilever over the hill to account for annual snow accumulation of 500 inches. The architects devised an intricate site plan so that each house has framed views that are unobstructed by its neighbors. "For us the whole neighborhood is a case study in listening to our community, how they want to live, what they're interested in," says Sam Arthur, Summit's vice president of design and marketing. Because Summit places such a high value on community and interaction, MacKay-Lyons and his team wanted to create an urban condition between the houses—a protected micro-climate of informal courtyards with space for barbecues or gatherings.
---
More from Metropolis
---
Inside, the main living space of the houses rise to a peak. The same two-inch vertical matchbook cedar siding that clads the exterior lines the interior, enhancing the seamlessness between indoors and out. "Louis Kahn used to say that any more than two materials is too many," jokes MacKay-Lyons, but the anecdote is aligned with Summit's 120-page design guidelines, which place a priority on natural materials such as stone and wood. The overall goal is to maintain the mountain's fragile eco-system. (Dictating everything from site lighting to roof forms and acceptable shrubs and grasses, the guidelines have recently been updated with Phoenix, Arizona–based Studio Ma's help on form-based coding work and sustainability best practices.)
MacKay-Lyons says that he and Summit's leaders found a compatibility in their values—"stewardship of the landscape, interest in community, the idea of an architecture of place, and working with the local climate and material culture," says the architect. Those values are expressed in the firm's own Shobac campus in Upper Kingsburg, Nova Scotia, a 25-year endeavor that began as a design/build experiment and has evolved into an agricultural village with a mix of reclaimed and new buildings, guided by the architect's stewardship. There, the houses are geometrically simple and follow a limited material palette. "Outward modesty is an important ethic," he says.
This ethos spoke to Boston-based husband and wife Jim and Alina Apteker who purchased a house in Horizon and are working with MacKay-Lyons. After visiting Powder Mountain on a ski trip and participating in one of Summit's multi-day events, they knew they wanted to be a permanent part of the community. "We feel it is wonderful for our kids—11 and 6—to grow up surrounded by conversations that matter, and exposed to the great ideas and thinking of fellow Summiters. We see this as a generational decision," Alina says. She also envisions Powder Mountain as her family's "gateway to the West," giving them a home-base from which to explore national parks and go on roadtrips. (She and Jim chose the Horizon neighborhood for its views and surrounding aspens.)
"This is not a house that could be built anywhere anytime and fit in," says Alina. "This is a house that belongs only in a place that allows for full integration with nature, that doesn't take anything from it and doesn't replace it. It just gently stands there on a slope, blending in."