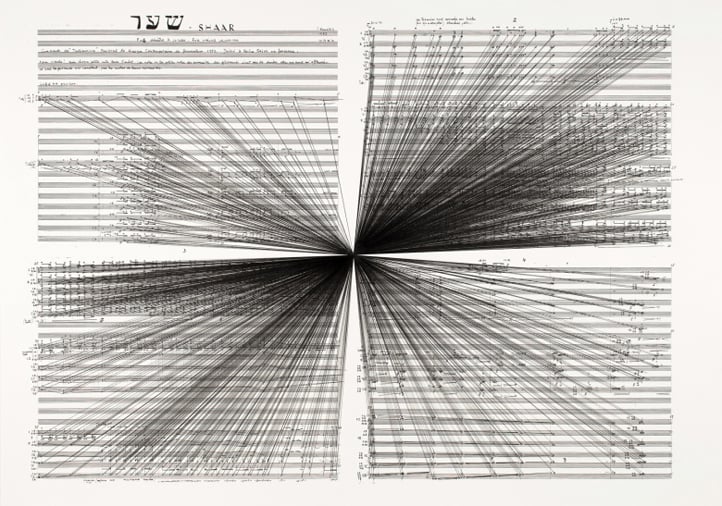 September 30, 2013
Visualizing Noise: Analyzing Three Artist's Works
Visualizing noise, our contemporary soundtrack
I'm obsessed with noise. All kinds of noise—from meticulously created noise by sound artists to acoustic occurrences that happen by accident in everyday life. I'm constantly checking EBay for obscure limited edition noise tapes from the Japanese underground to add to my immense collection. I keep my ears open and record grey sound on my iPhone on the way home. I tune in on a set of batteries' dying breath as the jingle of my daughter's toy distorts to a lingering scratch, or when the frizzy sound of a subway conductor's PA system mixes with the metal on metal screeching of the rails.
For years now, noise has cast a seductive spell on me. I'm hooked and, like any perfect addiction, this one offers no reward but the craving of more. Musically, I love quiet noise, the John Cage kind, electronically composed noise a la Xenakis, Parmegiani or Merzbow power chaos, improvised guitar freak-outs, noise the way Haino Keiji does it, looped low-fi tape noise from the great Maurizio Bianchi, and straight up industrial field recordings. My senses fall for elegant, polished noise that creates a solid monolithic form: heavy as steel, yet smooth and solid as an obsidian stone. Whimsical, graphite-thin and unstable; then pointy, accelerated and cutting; noise that's round and light as a feather.
---
More from Metropolis
---
Marco Fusinato, 'Mass Black Implosion (Shaar, Iannis Xenakis)', 2012
Courtesy Marco Fusinato and Anna Schwartz Gallery, Melbourne & Sidney
When it comes to noise, it's all about flatness and the removal of emotional perspective. Noise by definition means "unwanted sound"—a void in our realm of senses that, like a black hole, offers no form or scale. It could be eternally deep or minutely thin. It is in many ways the closest manifestation to physicality that sound can have. Context and content-free, it is pure. It exists by itself away from our harmonics and rationales. If white is nothingness, noise is everything. All spaces filled solid and occupied, blocking all communication in its way.
Rick Owens, 'Half Box Chair', 2011
Courtesy Salon 94
Noise is today's refuge. In a time where all white space is in danger of being occupied, and purity in art and life is scarce, noise brings all communication to a halt. It's the final word before absolute silence. It leaves no room to be protected, no freedom to be fought for. Like stepping into an explosion of senses, a blasting wave that carries you away, noise is today's most contemporary soundtrack.
Albert Oehlen, 'Untitled', 2011
Courtesy def image
When I extend these ideas further into visual fields, I see Marco Fusinato's piece "Mass Black Implosion" as a fantastic visualization of noise. In this work, the artist "liberates" traditional context and forms by showing us a classic notation that implodes into eternity, projecting hundreds of acoustic particles in all directions. It frees sound from structure and visually creates a ground zero where everything hits the viewer at once–a notation that stretches into eternity with endless power. Like the big bang, it becomes a life-giving force that hints at a future with infinite possibilities.
Sterling Ruby, 'Deth Till', 2008
Courtesy Saatchi Gallery
It's easy to equalize noise with destruction. I find it way more interesting to highlight the quality of its absolute, singular thought which, incidentally, is the essential quality of simplicity: constructing the absolute, uncompromising one-ness that fulfills all experiences and perceptions. For example, to me, Rick Owens "Half Box" marble chair is a solid piece of noise. It's a one-ton cloud as a chair—singular, unbending and absolute—a ruthless blast of non-functionality that can be neither moved nor comfortably sat on. A force that inspires our imagination whether we like it or not. Sou Fujimoto's 2013 Serpentine Gallery Pavilion is noise we can walk into and explore endless levels and surfaces that appear without a purpose, undefined and ever changing in an array of light beams and structural discord. It's a weightless beast whose seduction one cannot resist.
Tomoo Gokita, "Flower Arrangement', 2007
Courtesy Mary Boone Gallery
In some of Albert Ohlen and Sterling Ruby's work, sharp bursts of form and color invade concrete space, giving birth to the unknown. The absolute resolve of this impact immediately drives our emotions and turns the invasion into an active outreach instead of a doomed collision. Finally, there is Tomoo Gokita's painting "Flower Arrangement;" a cool, figurative masterpiece, almost traditional in approach would it not be for the claustrophobic, dense "flowers" that seem to be sculpted from molten steel. Its heaviness awakens us and draws us in. Intimidating sculpted flowers of imposing strength. Are we to meditate or get aggravated looking at this black hole of petals? Timeless, formless, eternal—a manifestation of noise in acrylic.
Marc Hohmann is a design partner and creative director at Lippincott's New York office, with over 20 years of experience in designing identities and creating campaigns for leading global brands. Previously, with his own firm Konstruktur, he designed the symbol for Amtrak's Acela bullet train, numerous watches for Swatch, the current logo for the City of London. His clients and projects have included Ainnia Dubai, Citi, Akzo Nobel, City of London, Espré Japan Publishing, Lift Ecru Japan, SGH (Sunglass Hut), Sony BMG, J Brand, Yohji Yamamoto, Swiss Re, Telefónica, and Yahoo!, BB. Marc is also the chief editor of Famous Aspect, a style / art magazine; the second issue is currently available at famousaspectmag.com
Read more posts from Marc Hohmann here.