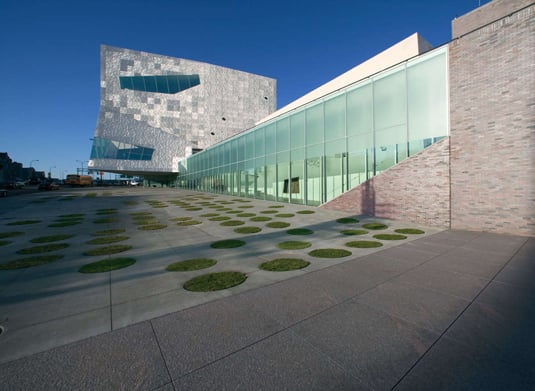 October 18, 2012
The Walker Art Center: Embracing Design on Every Level
Andrew Blauvelt, photo courtesy of Walker Art CenterSince taking the position of design director at the Walker Art Center in Minneapolis in 1998, Andrew Blauvelt's title and responsibilities have expanded steadily. In 2005 he added curator to his title, then in 2010 he also became chief of audience engagement and communications. During his 14 year […]
Andrew Blauvelt, photo courtesy of Walker Art Center
Since taking the position of design director at the Walker Art Center in Minneapolis in 1998, Andrew Blauvelt's title and responsibilities have expanded steadily. In 2005 he added curator to his title, then in 2010 he also became chief of audience engagement and communications. During his 14 year tenure at the art center,  he has curated internationally recognized shows, increased the museum's community involvement through such projects and public programs as the upcoming skyways show that will surely provoke discussion, and has been the leader of the Walker's design studio, a recipient of more than 80 design awards that recognize the institution's renowned graphic communications.
---
More from Metropolis
---
The Walker Art Center, Herzog & de Meuron building, photo courtesy of Walker Art Center
The Walker Art Center began as a collection in 1879, in the home of successful lumber baron, Thomas Barlow (T.B.) Walker, whose residence was very near where the institution stands today. Formally established in 1927, the Walker became the first public art gallery in the Upper Midwest. In 1988 the adjacent Minneapolis Sculpture Garden opened and represents a unique partnership between the city, which owns the land, and the art center, which fills it with temporary and permanent works of art.
Minneapolis Sculpture Garden, photo courtesy of Walker Art Center
The Walker's long-standing focus on modern/contemporary art began in 1940s.  Its 1971 building by Edward Larrabee Barnes became a national model for museum design with its elegant white terrazzo floors, and galleries with a graduated ceiling height that spiral around a central access core. In 2005 a major expansion, designed by Herzog & de Meuron, opened. With its innovative building design, Sculpture Garden, and progressive exhibitions and public programming, the Walker is a destination point for local, national, and international artists, designers, and visitors.
1971 Edward Larrabee Barnes building, 2005 Herzog & de Meuron building behind, photo courtesy of Walker Art Center
On recent warm September day in Minneapolis, Andrew agreed to answer some questions about the role design played in the Walker's distinguished history and what he's up to in 2012 and beyond.
Mason Riddle: Historically, architecture and design have played important roles in the Walker's programming.  Could you list a few examples of projects, exhibitions or publications?
Andrew Blauvelt: The Walker became an Art Center in 1940 and since that time it has had a design program. The early projects included Everyday Art Quarterly (EAQ), the first museum journal on design, which later became Design Quarterly (DQ). The Idea House Project, which was a museum-sponsored program for modern architecture, was also initiated in the 1940s. The Walker created a design gallery, one of only a few museums (not be confused with decorative arts) to do so in the United States, until the early 1960s when museum director Martin Friedman arrived and did away with dedicated galleries. His wife, Mickey Friedman, became a design curator, one of many women who have had that role at the Walker since the 1940s. She established the Walker's modern day presence in the design world with a series of major exhibitions in the 1970s and 1980s: Mississippi: Image of the River; Tokyo: Form and Spirit; Architecture of Frank Gehry; Graphic Design in America; and, the Architecture Tomorrow series.
Since those early days the Walker has also had an in-house design studio that produced the graphics, initially for exhibitions and simple communications, as well as exhibition design. Later it also produced EAQ and DQ magazines. During that time, Martin hired Peter Seitz, then a recent Yale graduate who was also in the first student class at Ulm, the successor school to the Bauhaus in Germany. He introduced a truly modern and more European focus to the graphic design at the Walker. This was in the 1960s.
MR: How long have you been at the Walker?  Could you name a few exhibitions and programs that you have organized since that time?
AB: I came to the Walker in 1998. My first exhibition was part of the The Home Show in 2001, which focused on this early pre-Mickey Friedman phase of the Walker in the 1940s. At the time, the Walker's design programming was only rivaled by the Museum of Modern Art in New York. In 2003, I organized a major traveling show called Strangely Familiar: Design and Everyday Life, which looked at architecture and product design that used commonplace materials and explored everyday rituals but produced extraordinary objects. In 2005 I organized the first major museum exhibition on prefabricated residential architecture, Some Assembly Required:  Contemporary Prefabricated Houses, that addressed a phenomenon that was sweeping the architecture world and it included activities and projects from the Twin Cities. Since then I've organized Worlds Away: New Suburban Landscapes in 2008, which looked at the contemporary suburban landscape, not in a negative or typically critical viewpoint that one might expect from a museum or from the academy. The latest exhibition, Graphic Design: Now in Production, is a graphic design survey and international in scope. It looks at how that particular field of practice has exploded since the Walker's groundbreaking show in 1989.
Graphic Design: Now in Production exhibition, photo courtesy of Walker Art Center
Graphic Design: Now in Production wall, photo courtesy of Walker Art Center
Worlds Away: New Suburban Landscapes, photo courtesy of Walker Art Center
Some Assembly Required, FlatPak House Exterior, photo courtesy of Walker Art Center
Some Assembly Required, FlatPak House Interior, photo courtesy of Walker Art Center
MR: What exhibition(s) are you working on now?
AB: I'm currently working on an exhibition that explores the phenomenon of skyways in architecture. It is curated with Jennifer Yoos and Vince James of VJAA, who happen to be based in the Twin Cities and have been researching the topic off and on for more than a decade. It will be both contemporary and historic and includes, pardon the pun, the pedestrian systems that we know and love (and some hate) in Minneapolis and St. Paul. It will also place the skyway in the context of the architectural avant-garde from which it emerged. It will also be global in its focus, although most people associate skyways with North America. The show will open at the Walker in 2014 and include a major book with new scholarship on the subject.
On the back-burner, so-to-speak, is an exhibition with the working title, Hippie Modernism, which looks at the period of the 1960s to the early 1970s, in architecture and design, as the precursor to much contemporary thinking, whether the resurgent DIY culture, ecology and the green movement, social design movements, etc.
MR: What design issues are they addressing?
AB: The skyways exhibition should help reframe the question of architecture through some historical re-positioning: skyway-type systems are essentially networks and overlays that connect autonomous pieces of the city (buildings and streets) together. In many ways it foregrounds issues of urban planning, and asks perhaps what can one actually plan, or are the more organic, random networks the best? I hope it has implications for how people in the Twin Cities view their own systems. The topic, because it touches on many prevalent themes and subjects that contemporary architects are looking at, will also strike a chord.
The Hippie Modernism show is meant to be both historic, perhaps even nostalgic, but somehow understanding the resonance of that particular history through the lens of our collective contemporary moment. The seeds of our eco and techno present were sown in that period. The utopian and even critical or negative utopian thinking of that period is refreshing and relevant today.
MR: Please comment on the Walker's role in such local projects as RiverFirst, Plan-It-Hennepin, Open Field, and the Insight Design lecture series.
AB: Another aspect of the Walker's design program—aside from exhibitions and lectures—is its interest in applying design thinking to the urban environment. This means an engagement with the world beyond the walls of the museum. Our first major undertaking was a partnership with the Minneapolis Parks Foundation. They came to the Walker asking us if we could help them develop their thinking around what the next generation of parks in Minneapolis would be like or could be like. This sort of open-ended thinking struck a chord with me and our director, Olga Viso, and Sarah Schultz in our education department.
Our first engagement was to work with the College of Design at the University of Minnesota to create a lecture series looking at how other cities around the world were responding to this question. Later, quite conveniently, it transformed into a real project when the Minneapolis Parks and Recreation Department decided that it wanted to create an initiative for the Upper Mississippi Riverfront in Minneapolis. This is a traditional post-industrial landscape that has not yet fully benefitted from urban development that has revived the lower portion of the riverfront. Called RiverFirst, this master plan was rolled out and approved by the city this year. Olga has been spearheading Plan-It Hennepin, which looks at the future of development along Hennepin Avenue [a major artery through downtown Minneapolis] from a cultural, not just business, perspective. Sarah has really taken the lead with Open Field, which is the Walker's summer-long community initiative that invites citizens to propose projects—classes, workshops, demos, etc.—that take place on our 4-acre green space adjacent to the museum building.
MR: The Walker website is very innovative. Would you like to tell us how so?
AB: The new Walker website is a completely different model for museums. It has become a publishing platform and ideas hub, not just a place where you get info on how to visit or what to visit. That information is, of course, there and available still. What is new is that we are now developing our own editorial content. Often it is about what is being presented by the Walker—an artist, an exhibition, or an idea that we are developing. But it also links out to the rest of the contemporary arts world. We have our own web editor now, essentially an online curator of content. This is a major shift in how museums think about their own communications needs and capabilities. It follows on some of our previous work, such as the Walker Channel, which hosts videos of our public programs but now also presents webcasts and now is starting to present original feature content.
Mason Riddle is a Saint Paul based writer on the visual arts, architecture, and design. She has contributed to many publications including Architectural Record, Artforum, Elle Decor, the Minneapolis Star Tribune, and Walker Art Center Magazine. She is former director of the MN Percent for Art in Public Places program, and former Interim director of The Goldstein Museum of Design. Since 2002 she has been an adjunct team member at the Saint Paul on the Mississippi Design Center.
Photo credits were amended to "photo courtesy of Walker Art Center" on 10/19/2012.