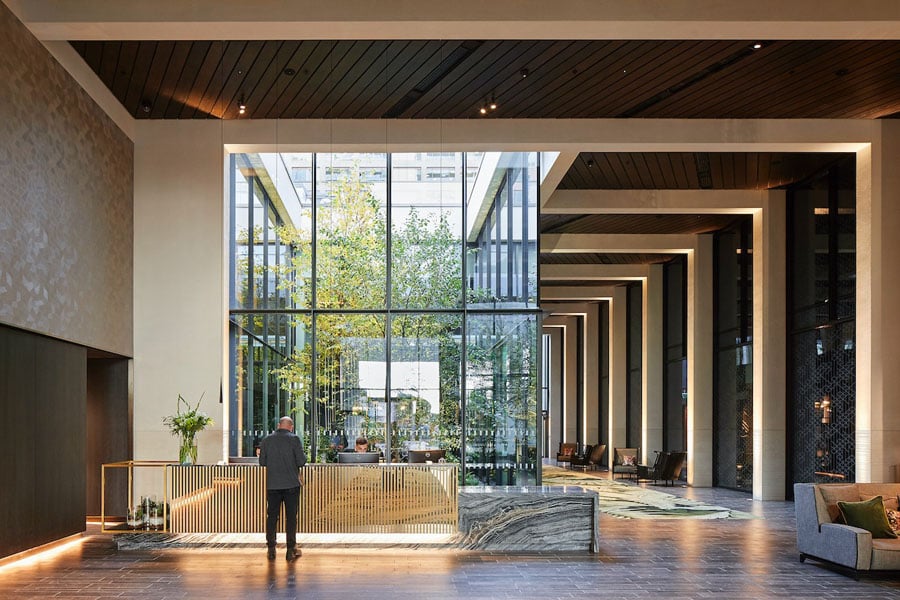 March 18, 2021
These Residential Towers in London Are Wrapped in Sky-High Gardens
Designed by Glenn Howells Architects, Wardian London gives high-rise city dwellers a dose of nature in the form of glassed-in gardens that run throughout.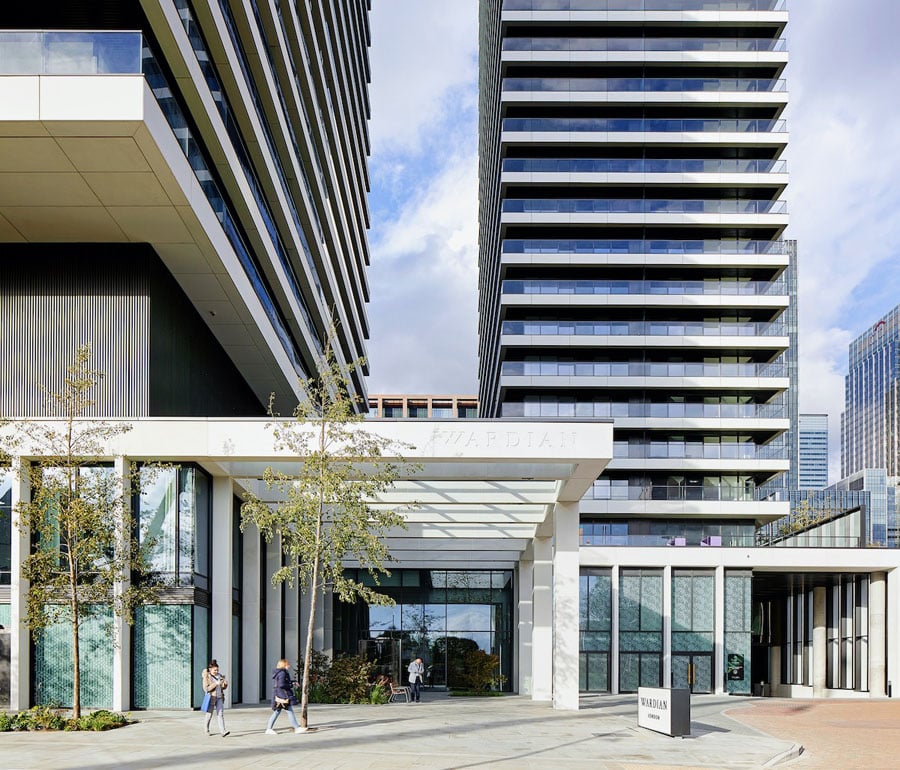 In a new residential development in London's Canary Wharf district, a private sky garden comes with each of the 767 apartments in two linked towers. In a design by British architect Glenn Howells aiming to connect city dwellers to nature in an urban, high-rise area short on just that, Wardian London takes cues from a glass-enclosed container invented in the 18th century. 
Like the sealed glass Wardian case—a predecessor of the modern terrarium that physician and botanist Nathaniel Bagshaw Ward crafted to transport plants in 1829—the 55- and 50-story towers cultivate and protect various species of greenery. "This idea of glass enclosures is throughout—from the ground floor and foyer areas, to the apartments, and at the roof gardens on the top of the buildings," explains Howells, who is director and founder of his namesake firm.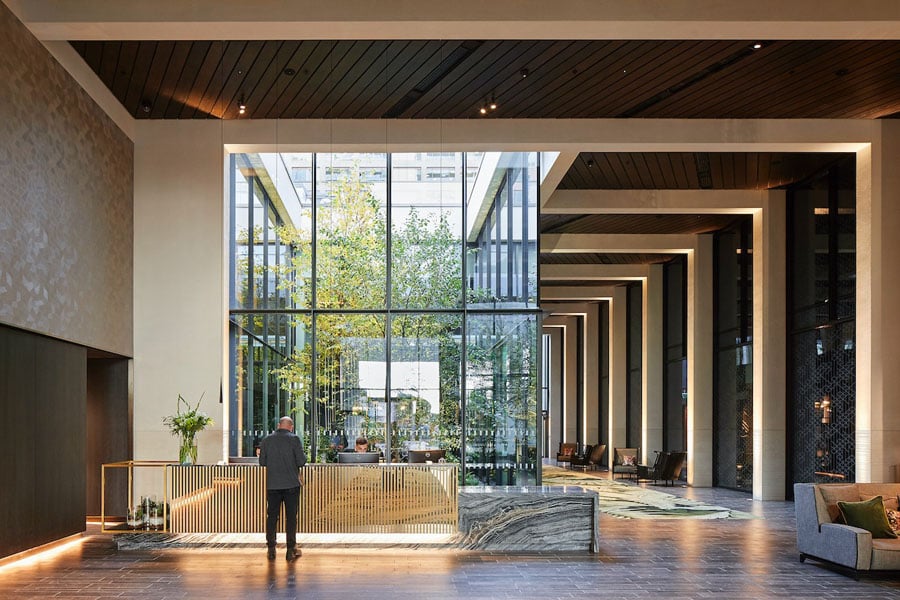 The towers' boldly striped glass, steel, and aluminium facades—also striking at a distance, Howells points out—are the result of light-hued aluminum balcony fronts contrasting with dark-hued aluminum and glass recessive elements. "We simplified the buildings down to horizontal bars 10 feet apart," he reveals, adding that green stands out against the neutral colors. The projected balconies also help shade the sun, reducing cooling needs and costs.
---
More from Metropolis
---
Elevating the towers above a densely packed riverfront site, a ground-level podium in a cast-concrete stimulating natural stone contains shops, a waterfront café, and the lobby—a cathedral-like space with a soaring beamed roof.
Inside and out, communal spaces are a verdant celebration of more than 100 plant species. Beginning behind a custom marble and brass reception desk, a 25-foot-high glass atrium draws in double-height views of a vibrant landscaped garden—one of two 'Wardian cases' in the lobby that joins the towers. To access an 82-foot-long, three-lane open-air swimming pool, residents follow stone pathways nestled in a lush, leafy canopy of botanicals. A roof top garden at the height of two floors is planted with mature trees and procures a dazzling view of the River Thames.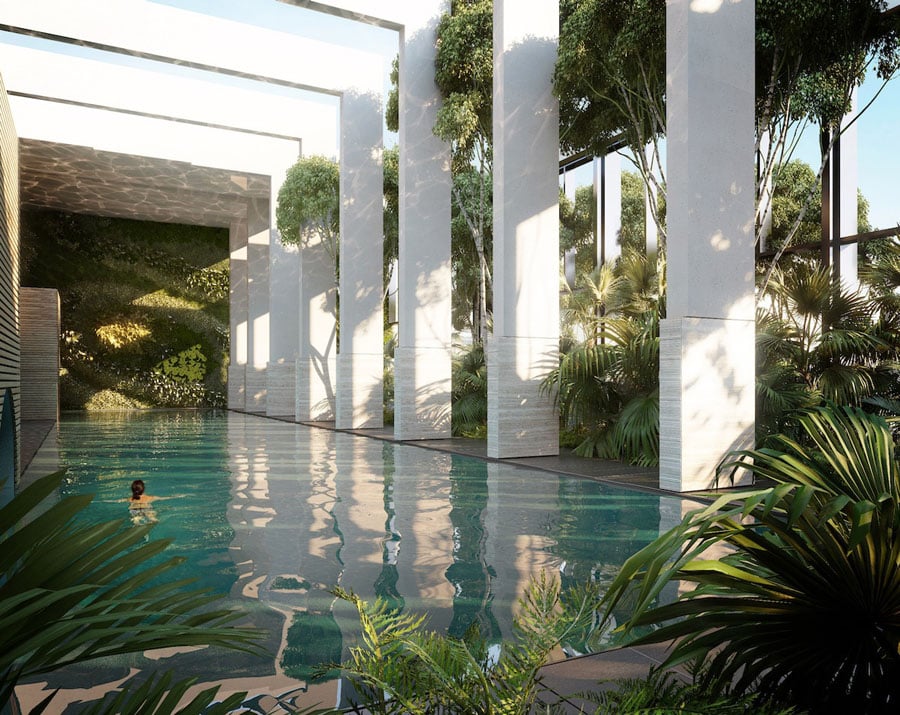 In the apartments (a one bedroom starts at 540 square feet, while a penthouse suite tops off at 1,600 square feet), winter gardens (offered in the East Tower) and partially enclosed wrap-around terrace gardens draw in sweeping city skyline views with floor-to-ceiling glazing.
All terraces (adding an additional 100 square feet to an opulent 400 square feet) have their own watering point. "As part of the story of this building, we wanted everyone to be able to tend and nurture plants," Howells notes. 
For even the brown-thumbed, a green oasis is still within reach. An upgrade package offers a range of designer planter styles suitable to building orientation and a gardener for fuss-free care.
You may also enjoy "The Urban Quartz Office Towers Emerge as Crystalized Cliffs in Rennes"
Would you like to comment on this article? Send your thoughts to: [email protected]
---
Register here for Metropolis's Think Tank Thursdays and hear what leading firms across North America are thinking and working on today.