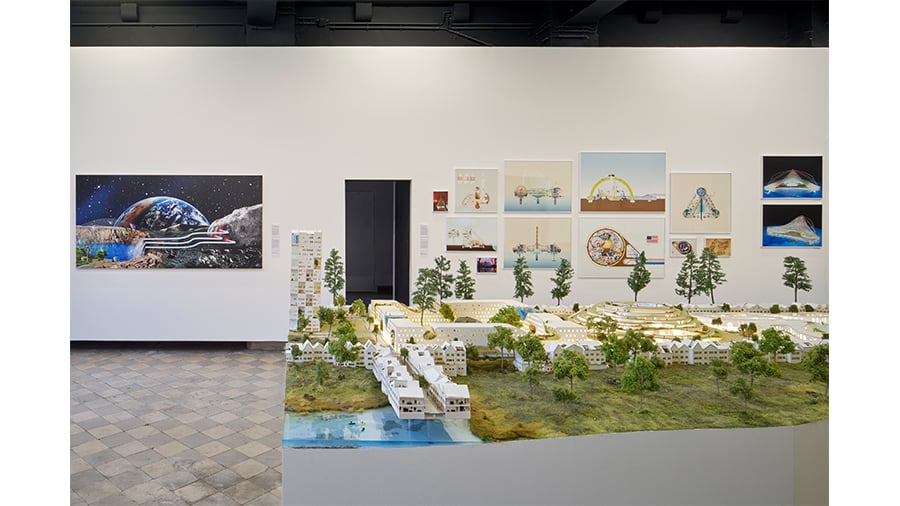 May 19, 2020
Step Inside Water Works, WORKac's Aqueous Exhibition at Poortersloge
After shuttering in March, the studio's water-driven retrospective is available virtually.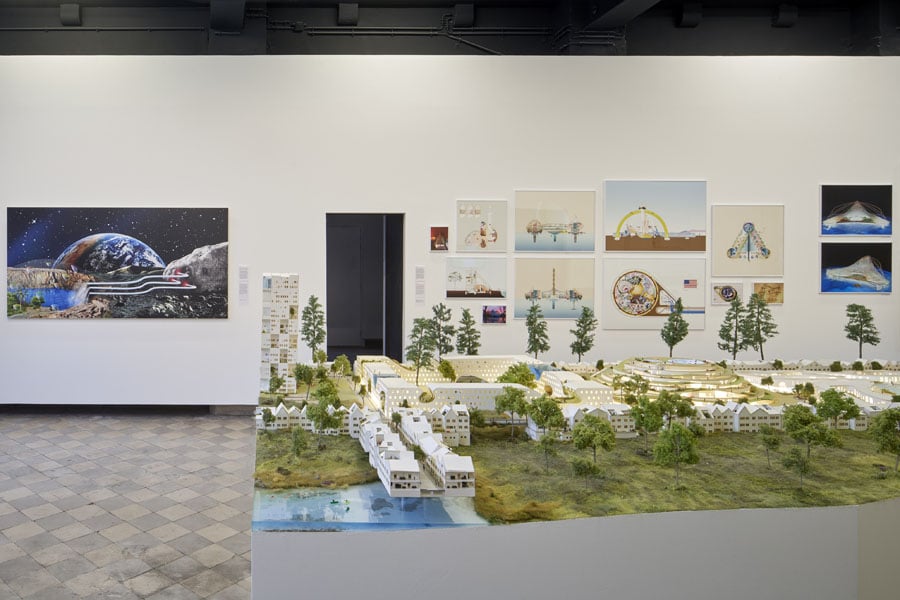 On March 6, New York City–based architects (and Metropolis Game Changers) WORKac marked a special occasion: the kickoff of their first-ever retrospective exhibition, titled Water Works. Amale Andraos, who founded the studio with partner Dan Wood in 2003, explained during opening remarks that "the idea was to trace water through architecture," and indeed, the show did, encompassing project models, schematics, and photos across two floors of the Poortersloge, a contemporary art space in Bruges, Belgium. "Generally architecture is conceived of just trying to let water out, but at the same time, there are very interesting thinkers throughout architectural history who thought about plumbing, and infrastructure, and systems at the scale of architecture. It was that line of thinking that we wanted to explore."
Less than a week after its opening, COVID-19 temporarily shuttered the gallery's doors, and the city sank into quarantine. But what does water do? It fills the container it's given. And so it was with Water Works, which has flexed to better reach a socially distanced population: Would-be visitors can now walk through virtually. Guided through an animated reproduction of the show, viewers move from room to room and take in photography of the exhibition, experiencing the projects in a digital-space analog.
---
More from Metropolis
---
The presented work ranges from the modest and ubiquitous (see the first room, "Fixtures," which examines sinks, showers, and the infrastructure of bathing) to grand visions of the future (including an imagined future city in the exhibition's final room, produced in collaboration with Ant Farm). Along the way, WORKac considers the resource as it winds its way through food systems and agriculture, engineering, and even the desert.
Porterslooge, which is a part of Musea Brugge, plans to reopen May 26. But until then, see the exhibition for yourself online.
You may also enjoy "35 Years of the Campana Brothers' Legacy Unfolds at MAM Rio."
Would you like to comment on this article? Send your thoughts to: [email protected]
---
Register here for Metropolis Webinars
Connect with experts and design leaders on the most important conversations of the day.