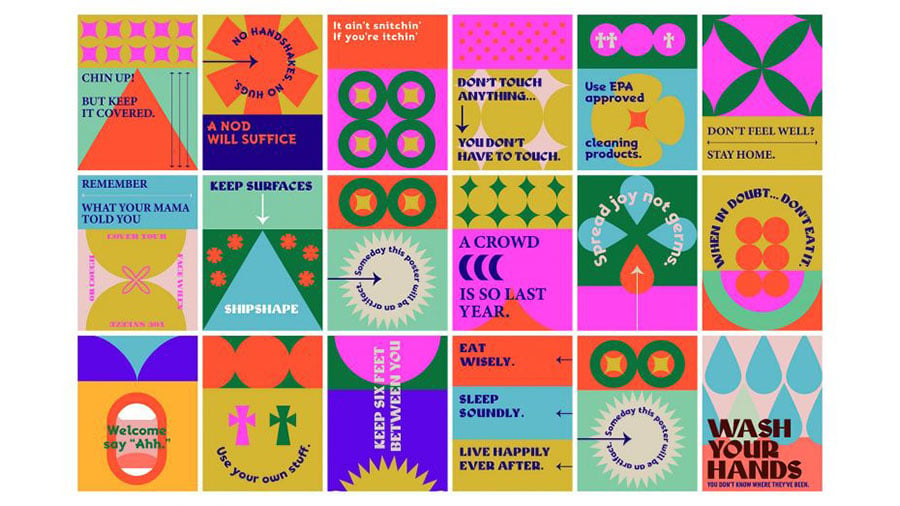 September 17, 2020
Signs of the Times: Wayfinding in the Age of COVID-19
With the pandemic as the impetus, three design firms reimagine the future of wayfinding, graphic communication, and circulation.
---
Whether it's arrows taped on the floor of a grocery store, a poster on the laundromat window telling you to keep your mask on, or a flashing displays above the highway, signs are now a ubiquitous part of our "new normal." The message? Stay inside, wash your hands, wear a mask, and stay six feet apart.
While signs and displays can help enforce social distancing, safety protocols, and inform which direction to walk or where to wait, they can also integrate technology to provide automated and contactless ways to gather and disseminate information such as occupancy. Temperature check kiosks will also need to incorporate easy to understand signage as more companies continue to monitor employee's temperatures. This pandemic has inevitably challenged us all to rethink how we occupy and move through space relative to others. These three firms are leading the way with innovative (and aesthetically pleasing) approaches to signage and wayfinding.
Studio O+A
---
More from Metropolis
---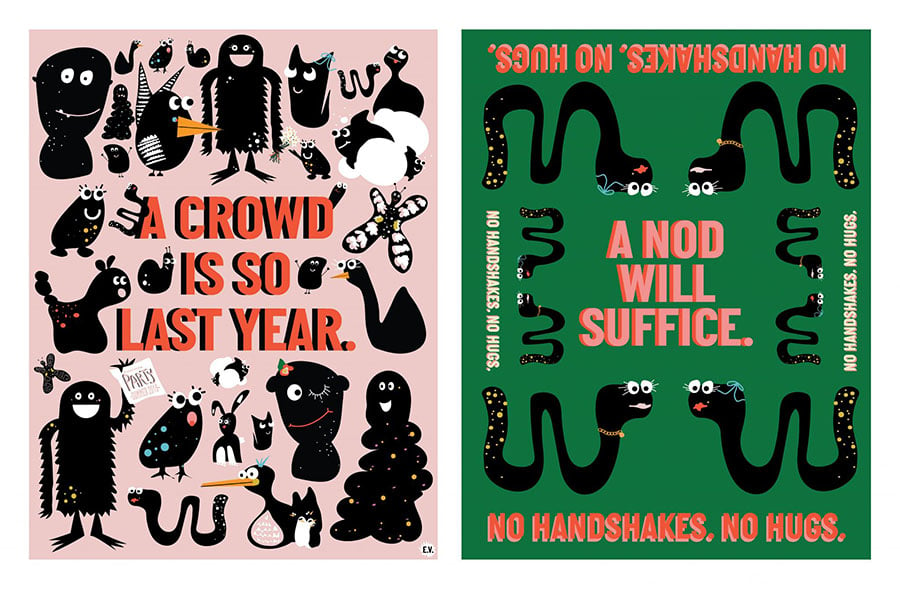 ---
Since the beginning of the pandemic, San Francisco–based studio Studio O+A, backed by its own COVID task force, has been leading discussions on the new reality of the workplace. In a recent project, Signs of the Times, graphic artists from O+A's Brand Studio have developed a series of posters that offer friendly and amusing reminders of what we'll need to keep in mind as we re-enter the office. Rather than saying "Masks Required!" O+A's signs say, "Chin up! (But Keep it Covered.)"
"The idea is that we're all sharing this weird moment, so we might as well roll with it and have some fun with it," explains O+A's cofounder and principal Primo Orpilla. The posters are just one part of a forthcoming guide that the studio is creating for clients which includes detailed information on wayfinding, tips for re-entering the workplace, design implications of the pandemic's psychological components, as well as new products and technology in development.
Orpilla believes that people are thrilled to be able to get back to the office and that it should be a joyful experience. "Our signage reflects that," he says, "and we expect this spirit to prevail beyond COVID. One thing a life-changing ordeal always does is make you appreciate anew what you took for granted. O+A is rethinking workplace design in the context of people happy being together again."
AvroKO x Brand Bureau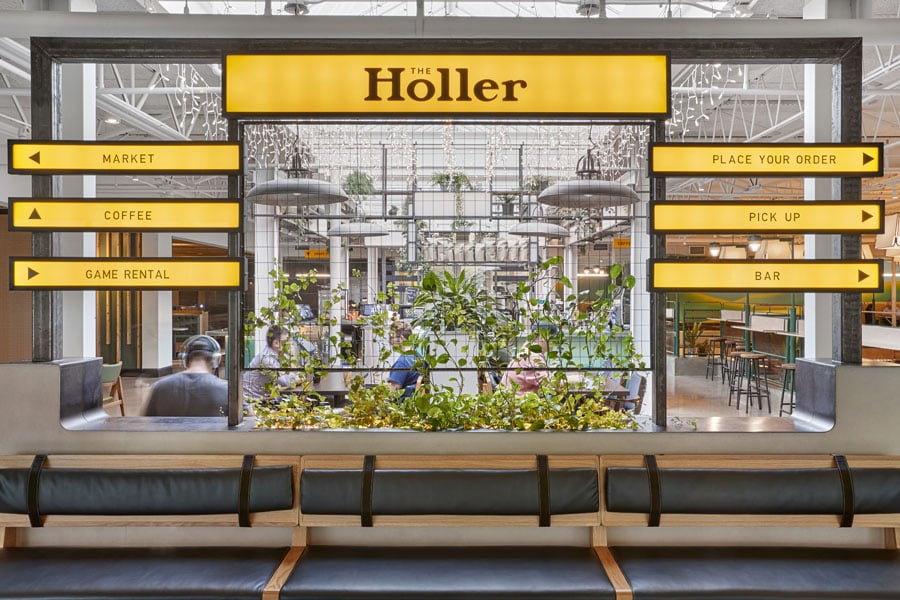 ---
Global hospitality design firm AvroKO and their sister studio, creative agency Brand Bureau, have recently issued a COVID-19 response proposal titled, "Reimagining Your Restaurant." The 16 page document discusses strategies and design ideas geared toward hospitality spaces and builds on the firm's philosophy of Hospitable Thinking. The proposal takes the form of a walk-through of a customer's journey through a restaurant—from the welcome experience, to hand washing, to being seated, and dining. Taken as a whole, it highlights how AvroKO envisions safety as a top priority while also ensuring that the hospitality experience is still warm and inviting.
The firm believes wayfinding should be intuitive and empowering, asserting it as a key component in eliminating confusion and anxiety, "even in spaces we used to know intimately," says Adam Farmerie, partner at AvroKO. Kristina O'Neal, another one of the firm's partners, believes this new attention to signs will certainly carry over to a post-COVID era: "We know wayfinding is a deeply instinctual process. Our subliminal minds need to understand sign 'signals' faster than our conscious brain, and we are rewiring for a new generation of signage awareness." Intuitive wayfinding helps eliminate corridor traffic and builds in more efficient queuing, the studio says, considerations that are valuable even when we aren't in the middle of a global health crisis.
RIOS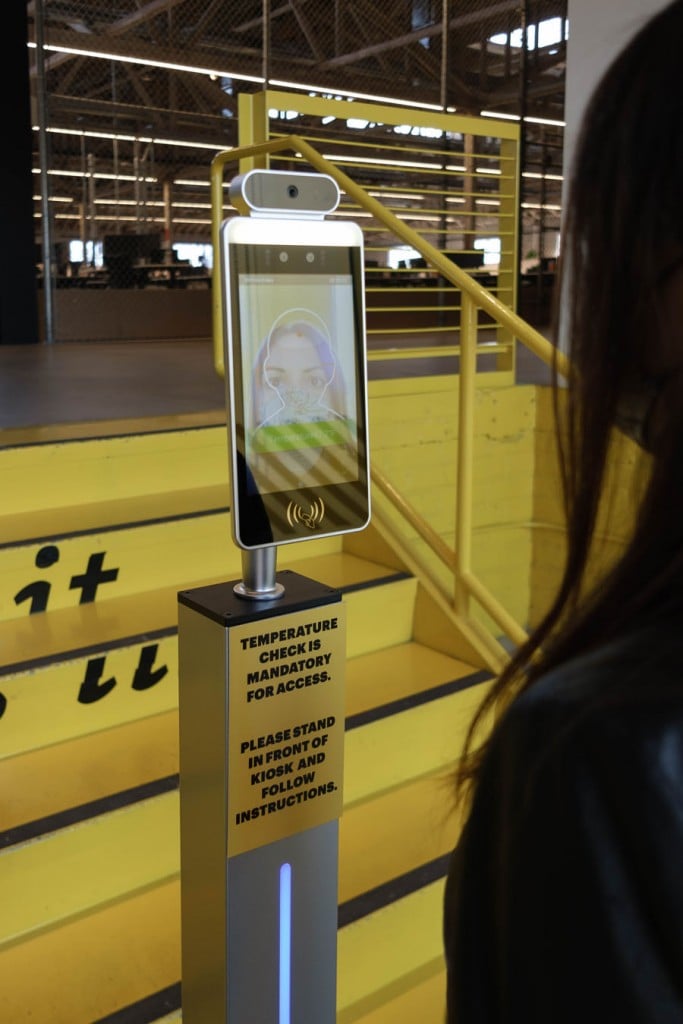 ---
 Los Angeles–based multidisciplinary design firm RIOS, like many others, was required to transition from its collaborative office to working from home in March. While the firm has sought to keep staff connected via virtual picnics and hangouts, its leaders are excited to safely welcome workers back to an office newly revamped with bold signage, temperature checks, and individual lockers. The new branding and graphic language emphasize the importance of maintaining an uplifting atmosphere despite the current predicament.
"The elements bring joy and reinforce the workplace as a healthy, safe, and beautiful place to be," Andy Lantz, creative director at RIOS, explains. "We utilize the space to safely come together to collaborate and we ensure no one is left behind by integrating technology for virtual participants in our solutions." The space incorporates the expected persistence of working from home, meaning that each employee books their desk ahead of time and has an assigned locker to store their belongings.
You may also enjoy "Are Antimicrobial Materials and Surfaces Really What Ee Think?"

Would you like to comment on this article? Send your thoughts to: [email protected]
---
Register here for Metropolis Webinars
Connect with experts and design leaders on the most important conversations of the day.