June 22, 2023
At Wellesley, a Science Center is Reimagined as a Learning Village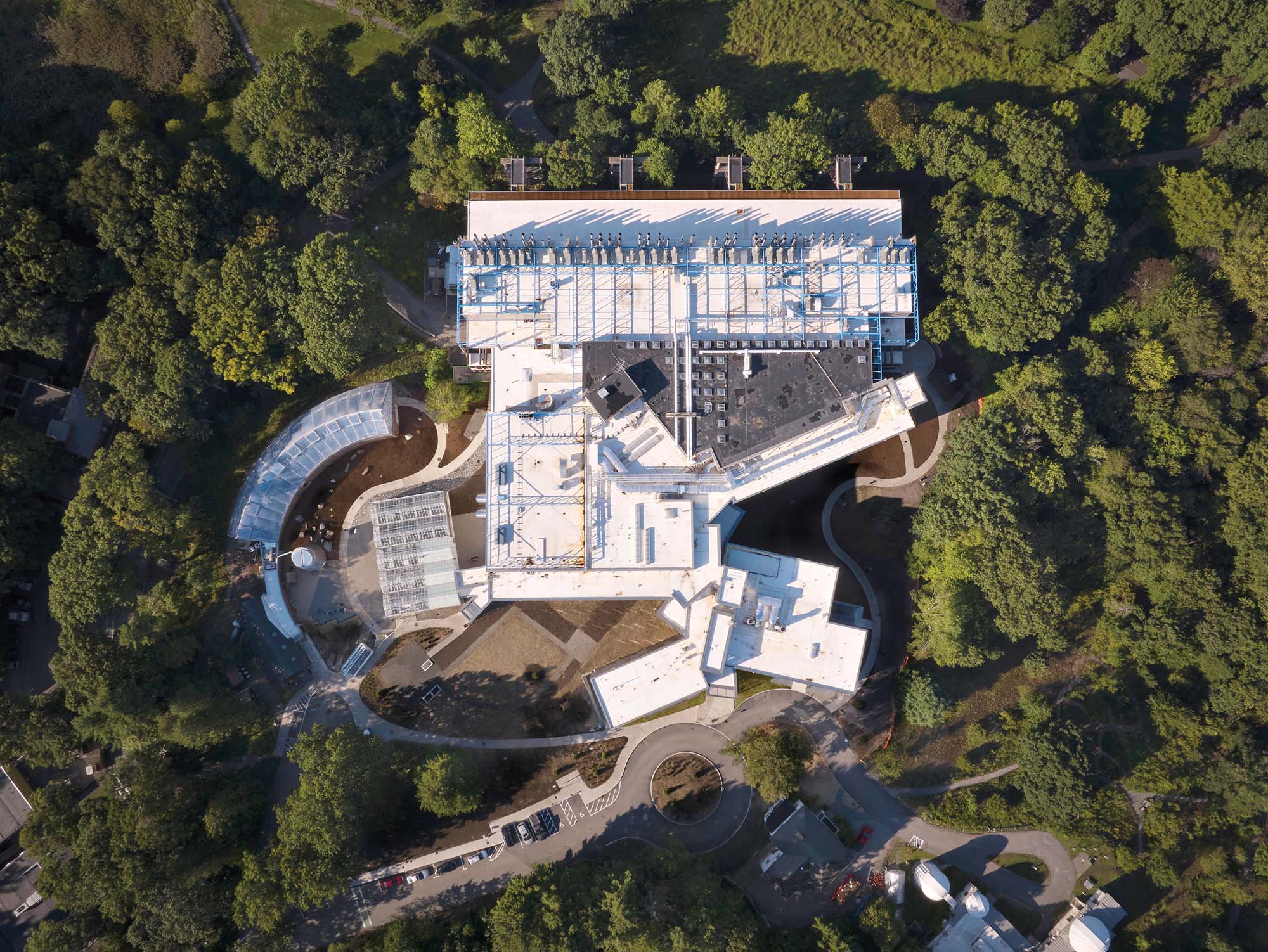 Indeed, on a late-winter day the complex was humming with activity. New clerestory windows bathe Focus's numerous seating options, popular study nooks, and buzzy café in natural light. New pavilions and the innovation hub, which flaunts its glue-laminated Douglas fir structure, are clad in zinc panels intended to age and lend character over time. Throughout, classroom spaces are walled with glass, the activity within visible to all.
---
More from Metropolis
---
The Largest Construction Project in School History

"Science on display fuels the creative mind," says Michelle Maheu, director of planning, design, and construction at the college. And creative minds Wellesley has in abundance—remaining resolutely all women, it has an impressive record of achievement in science, technology, engineering, and mathematics (STEM). Five of the seven most popular majors are currently in STEM, and Wellesley STEM faculty are awarded more federal funding than any other liberal arts college without a graduate program. All this brainpower comes at a price: The private college declined to give the cost of the new Science Complex but did say it was the largest construction project in its history.

The overhaul comprised all of Science Hill, linking the existing Whitin Observatory and the botanic gardens. It also replaced 1970s-era windows with high-performance, insulated glazing for optimum energy efficiency. The project is certified LEED Platinum.
The original Perry Dean building, with its exposed systems and ductwork, was of its mid-1970s era—Koop compares it to Renzo Piano and Richard Rogers's Centre Pompidou in Paris, of a similar vintage. "There is affection for the original Science Complex at Wellesley," he says, "although sometimes it feels like it's one of those buildings that only architects could love." Several elements of that structure live on in the new complex in the form of steel-and-concrete bridges that traverse Focus as well as a colorful exterior stairway and significant bare concrete elements that house classrooms and labs. A neo-Gothic wall of the college's very first science building, Sage Hall, is also preserved as an artifact.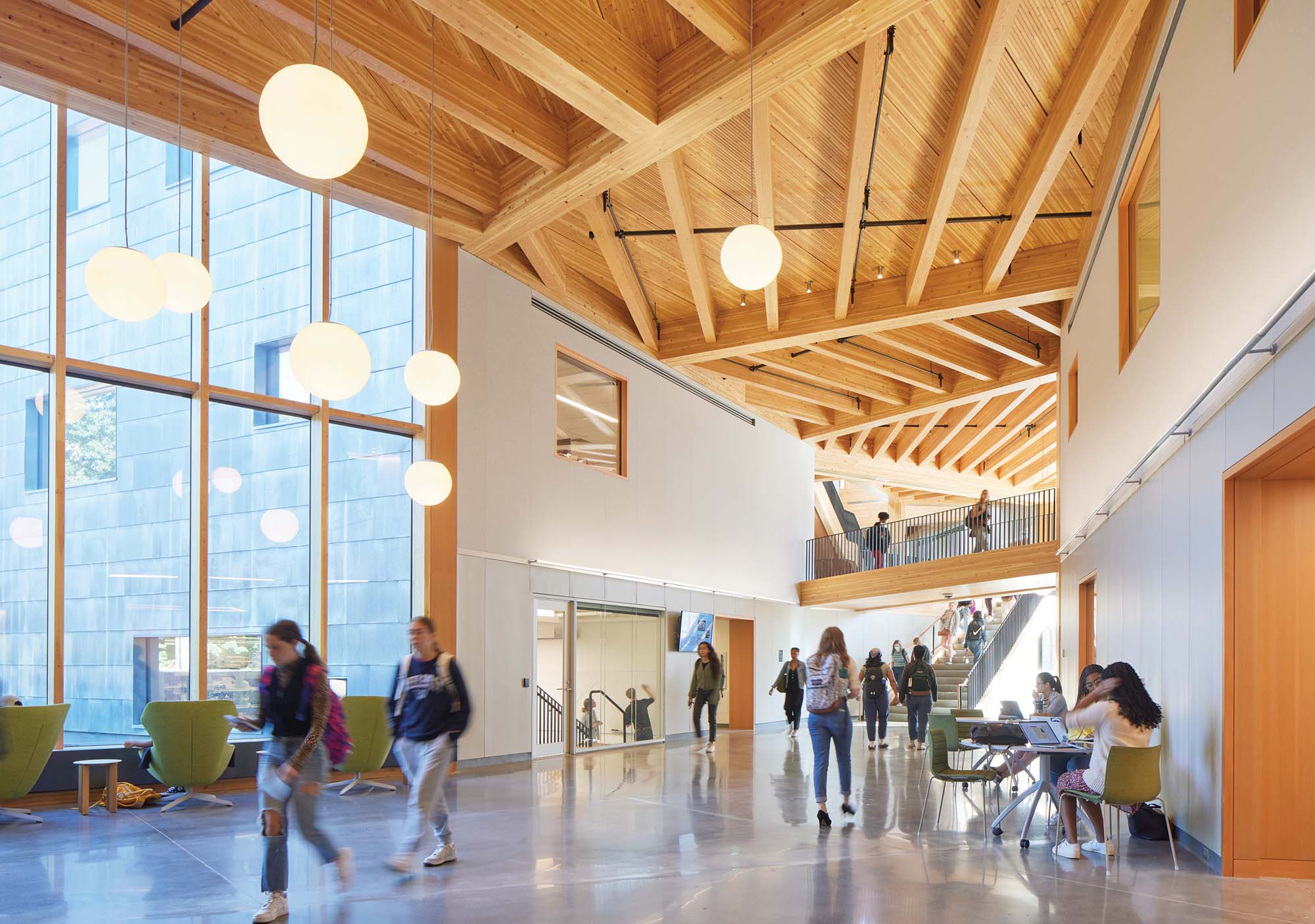 Creating Community Through Contemporary Design
In the beginning of the process, Koop says, "people were begging us to do something the opposite of the original L," Wellesley shorthand for the "laboratory" building. But working with the school community, the design team opted to overhaul the building in a way that would give students and faculty the airy, modern space they craved without tearing down what was there. "A village is a more contemporary expression of learning than a machine," Koop concludes. "I think we kept the best of the 1970s building while creating a new complex that, like the other buildings on campus, is architecture of its time."
But consensus did not come easily. "Wellesley is the most communal campus I've ever worked on," adds Koop. "There was so much back-and-forth. You really had to defend your ideas."
Would you like to comment on this article? Send your thoughts to: [email protected]