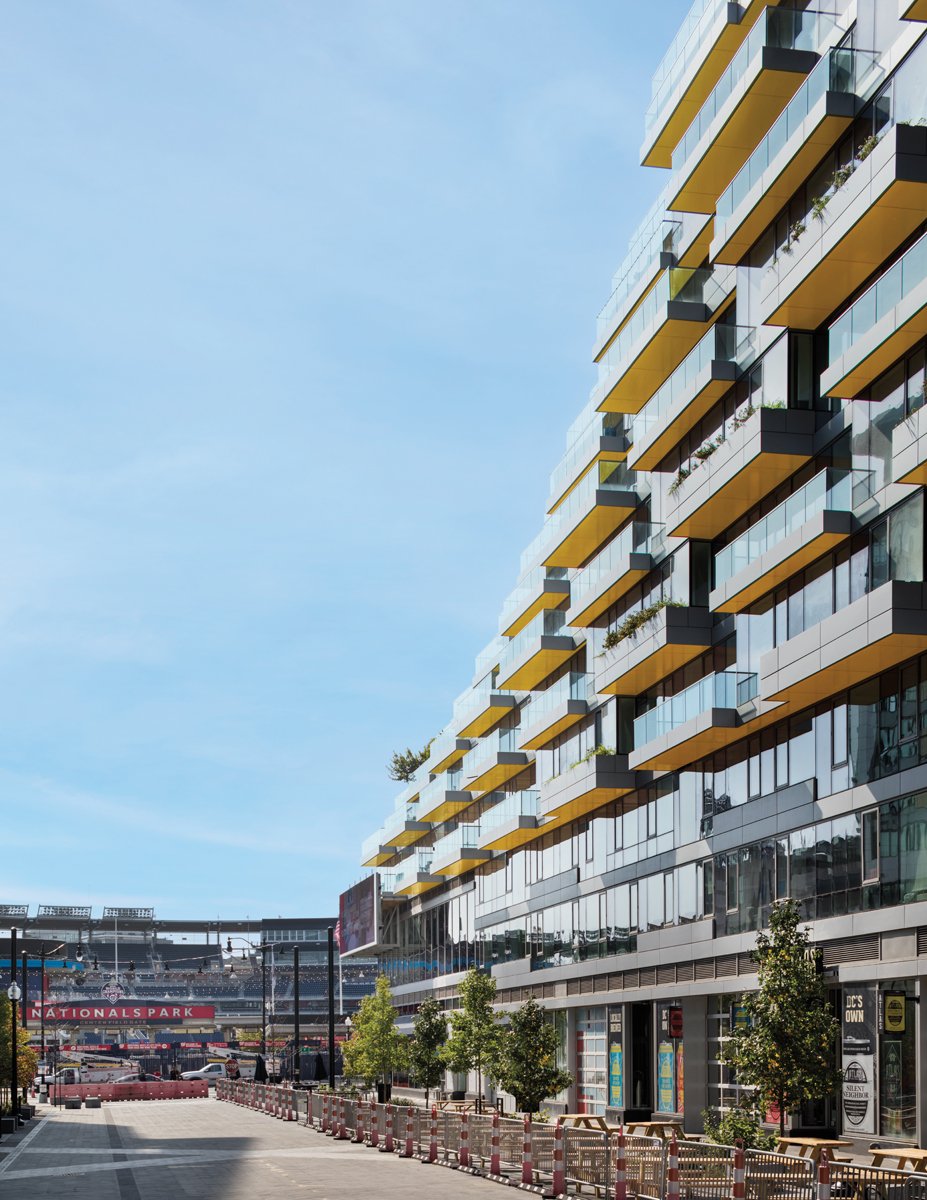 June 16, 2021
ODA's Newest Project Maximizes Residents' Views of a Baseball Stadium
Overlooking Nationals Park in Washington, D.C., West Half makes the most of a constrained site with balconies, cantilevers, and outdoor amenities.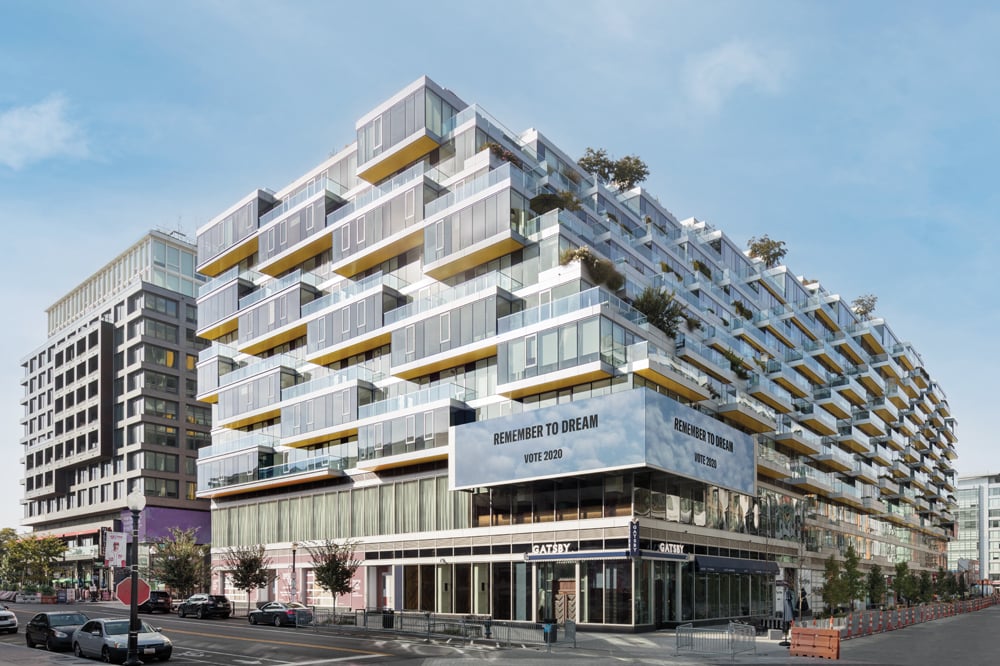 Vistas including a line-drive view of a major-league ballpark were the primary considerations for a new 11-story, mixed-use retail/residential property located in Washington, D.C.'s 339-acre Navy Yard.
West Half overlooks the Anacostia River at the former shipyard and ordnance center in Southeast, now among the more desirable spots to live and work in D.C.
The 465-unit apartment building— designed by New York–based architecture firm ODA for D.C. developer JBG Smith—is across North Street from Nationals Park, home to the Washington Nationals baseball team. It's snugged onto a full city block—a 400-by-150-foot mega-lot—and faces West Half Street, which leads straight to the ballpark's main entrance.
---
More from Metropolis
---
The first design challenge was how to give a majority of West Half's residents unobstructed views of the Nats' games. "It's a valuable proposition if you want an apartment near the ballpark," says Eran Chen, ODA's founder and executive director.
Then there was the question of how to create an iconic building that's visually unforgettable for D.C. residents and baseball fans— before, during, and after a ball game.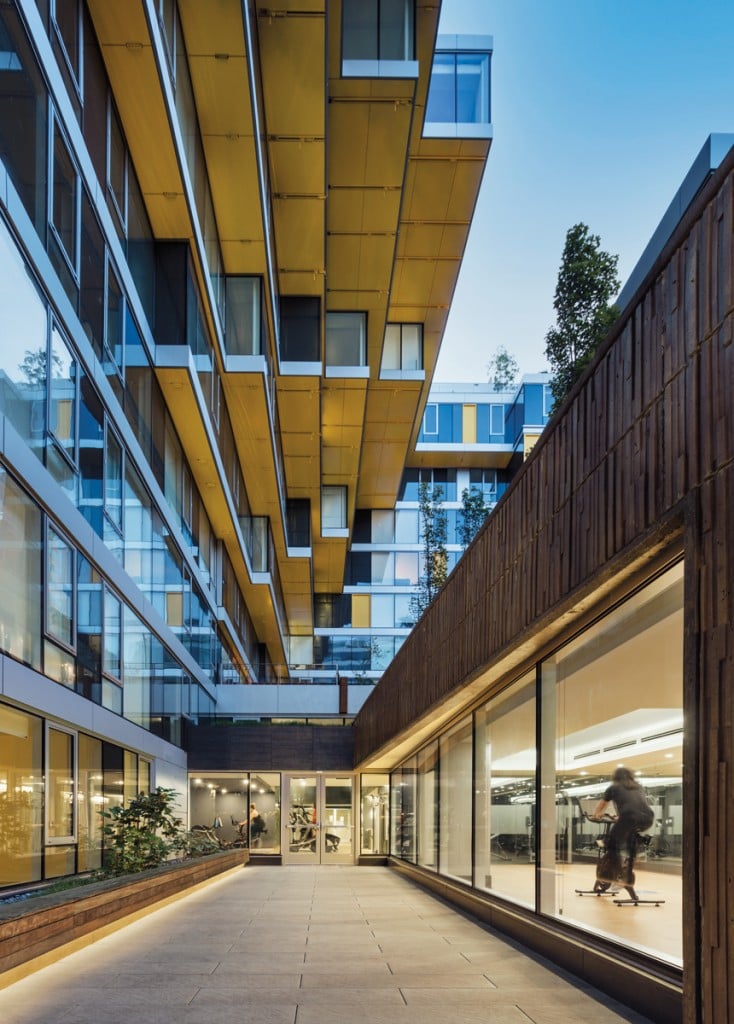 ODA's solution was to break down the usual boxlike structure dictated by D.C.'s 130-foot height limit and push back the ballpark-facing corner one level at a time, creating cascading terraces that look directly out to the Nats' home plate. "Because it gets farther away as it goes up, the massing steps away," says Tony Greenberg, executive vice president of development at JBG Smith. "It feels a little like the stands in the ballpark."
Retail and restaurants rule on the first two levels, so on game days, the street can be closed off for a festival atmosphere. "West Half is an interesting street because of the ballpark and the Metro stop at the other end of the street," says Christian Bailey, founding principal at ODA. "It's like Mardi Gras on the first and second floors on the weekends."
Where the terraces waltz up the ballpark-facing corner, they also form a recessed C shape on the opposite side to create a courtyard. "It's not just that the building cuts away from West Half Street—it cantilevers over the courtyard," Greenberg says. "It's a very clever way to create visual interest without sacrificing rentable square footage."
The courtyard is one of a number of amenities available to all residents, including 29 units that make up the low-rise portion of the west volume. On the ground level, private terraces mix with common gardens, landscaping, and sitting areas and merge into a lounge and gym. "It's an extension of the exercise and yoga experiences," Bailey says.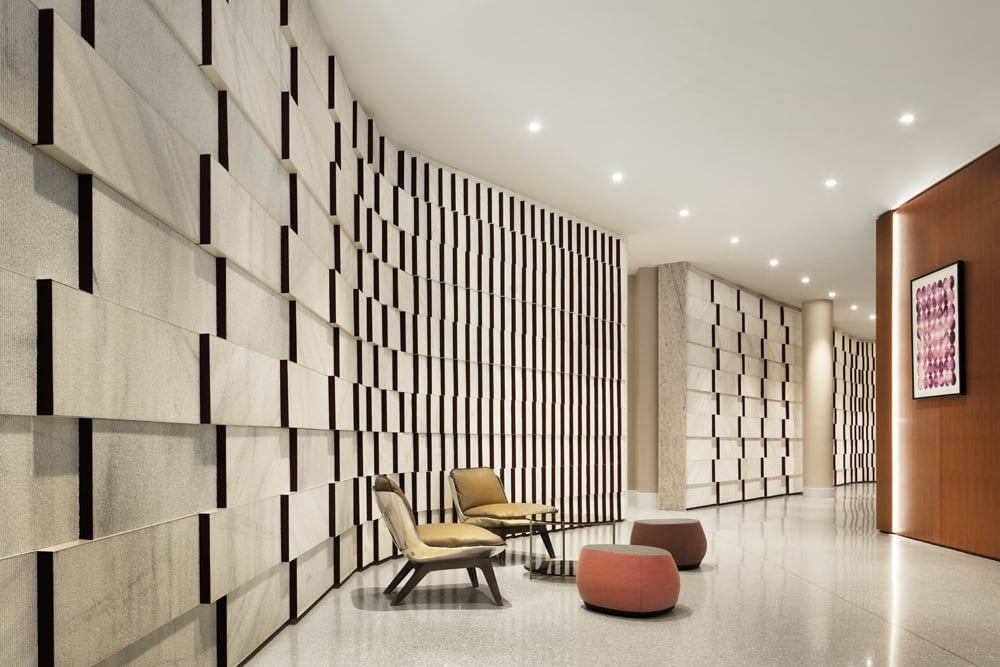 Two entrances with their own distinct lobbies are based on north/south orientation, and no expense was spared on their material palettes. Each lobby features a different stone—in one, it's a teak stone with a woodlike grain. "On the other side are limestone and white marble, with a rough texture that resembles the facade panels overlapping outside," Chen says.
West Half started out as half condo and half rental, and the developer and architect also explored an office component, but the building eventually evolved into strictly residential rental. "The apartments range from studios to one-bedroom, two-bedroom, and a few three-bedrooms," Bailey says.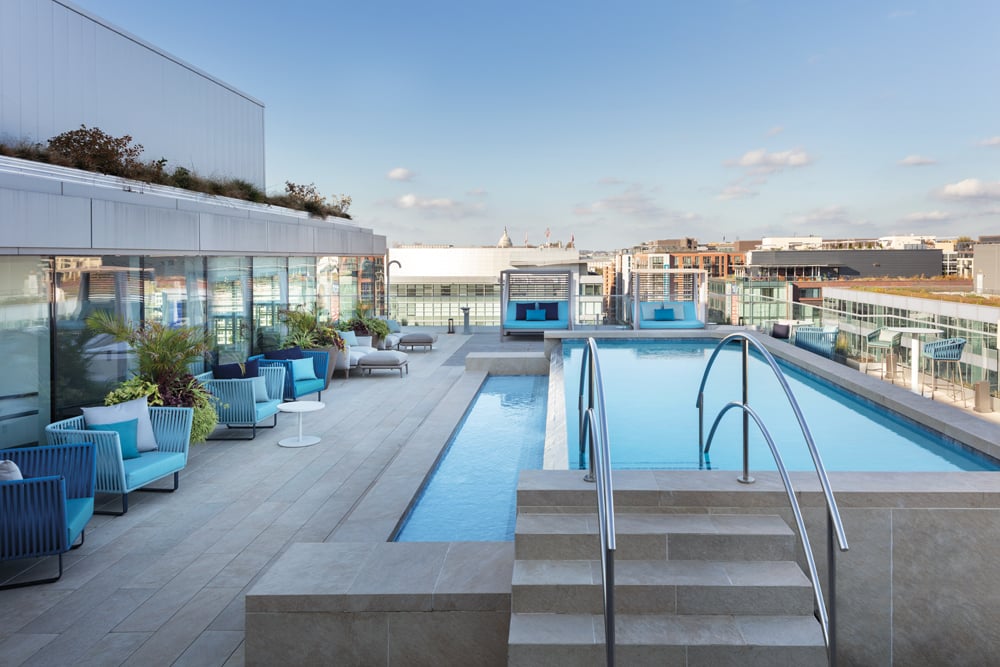 It's the rooftop entertainment complex, though, that hits this building's proverbial home run. There the developers combined two penthouse units into a VIP suite for residents, complete with a well-equipped shared kitchen. Finishes and furnishings of this lounge were designed by V Starr, Venus Williams's interior design firm. "It's the main amenity space—two big rooms with their own private terraces and a bar," Greenberg says. "It's like an owner's box in the ballpark."
Also on the rooftop is a concentrated roster of other amenities: a common area with pull-down ballpark seats, swimming pool, lounge, and bar. "There's a mezzanine with a view out to the ballpark, and then at the other end, a view of the Capitol Dome and the Washington Monument," Bailey says.
Even during a time of pandemic, the building's already 50 percent leased—and at a premium. "The design brings value not just in experiences but in financials for the developer," Bailey says. "We pushed the design for the outdoor views, and the developer is renting at a higher rate than expected."
Little wonder, then, that Greenberg refers to it as a "trophy building."
You may also enjoy "Austin's Tallest Residential Tower Is on Track for LEED Gold"
Would you like to comment on this article? Send your thoughts to: [email protected]
---
Register here for Metropolis's Think Tank Thursdays and hear what leading firms across North America are thinking and working on today.