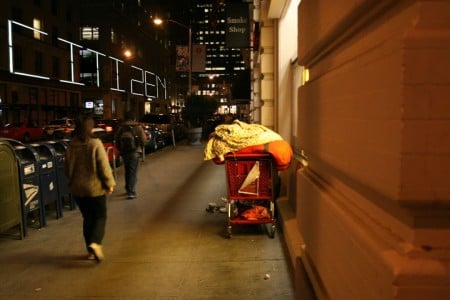 September 16, 2008
What's to be Done with San Francisco?
As part of a month-long architecture festival, an exhibition gives the City by the Bay a progressive facelift
Urban Re:Interventions, the flagship exhibit for AIA San Francisco's month-long Architecture and the City Festival, promises a bold re-envisioning of the city by architects, designers, and "urban guerillas." I'd say the curators may have overstated things a tad, given the preponderance of standard fare featured: a bandshell, a green schoolyard, rooftop gardens (though, somewhat intriguingly, on bus shelters), a pedestrian plaza. Still, a few standout projects take the exhibit's revolutionary premise to heart, offering provocative (or, in one case, downright weird) challenges to ever-gentrifying San Francisco's design and development status quo.
---
More from Metropolis
---
Yes Duffy's "Visual Voice" consists of giant, illuminated letters created from salvaged fluorescent bulbs that will enable everyday citizens to create their own glowing billboards. "If you could reprogram the HOLLYWOOD sign or the YAHOO! sign in SOMA, what would it say? Where would you say it?" Duffy asks. For his part, Duffy pictures the word "Unionize" punctuating the glaring strip-club signs of North Beach and the word "Citizen" casting a dim glow over a homeless person's shopping cart in a dark, emptied-out Financial District. "This simple installation is a last-resort gesture at getting the attention of the city, its policy-makers and the public," Duffy states in the text accompanying his images. He plans to bring the project out of the gallery and into public parks after the exhibit closes.
Courtesy Yes Duffy
Asiya Wadud engages citizens in a more intimate way. As part of her Forage SF/Oakland project, she catalogues food available via gleaning, bartering, or request in an Oakland neighborhood. ("Ask the family for their figs and they will gladly give them to you," she notes of one address. "They are a self-proclaimed 'fig-hating family.'") And Wadud is not just suggesting we trade garden-grown goods with our neighbors. She's out doing it on a grand scale, organizing foraging expeditions and hosting three-course meals with food produced only in the Oakland/Berkeley/San Francisco city limits, as documented on her own blog and the blog for her OPEN Restaurant project.
Jane Martin's Shift Design Studio melds urban and natural environments as well, installing permeable landscaping into our highly paved surroundings. Martin's ultimate aim is to make stormwater runoff and drainage a part of our everyday consciousness. She advocates, for instance, incorporating questions about one's elevation into small talk.
Using eye-catching images of giraffes on the boardwalk and monkeys on skyscrapers, Robert Shepherd's Grey.Studio suggests "embedding zoologic taxonomies, habitats and migration paths into the fabric of urban space" (i.e., opening up the city to zoo animals). I never did deduce whether this was truly a conceptual statement on zoning, habitation and the line between the human and natural world (nor what purpose such a statement might serve), or an entirely tongue-in-cheek commentary on this whole idea of the urban intervention. I kind of hoped it was the latter.
Courtesy Grey.Studio
The Architecture and the City Festival continues through the end of the month. Still to come are the classic film Playtime and a documentary on Renzo Piano, an architectural gems bike tour, a tour of the Golden Gate Bridge with the district engineer, a family workshop on sustainable design, and numerous lectures and walking tours.