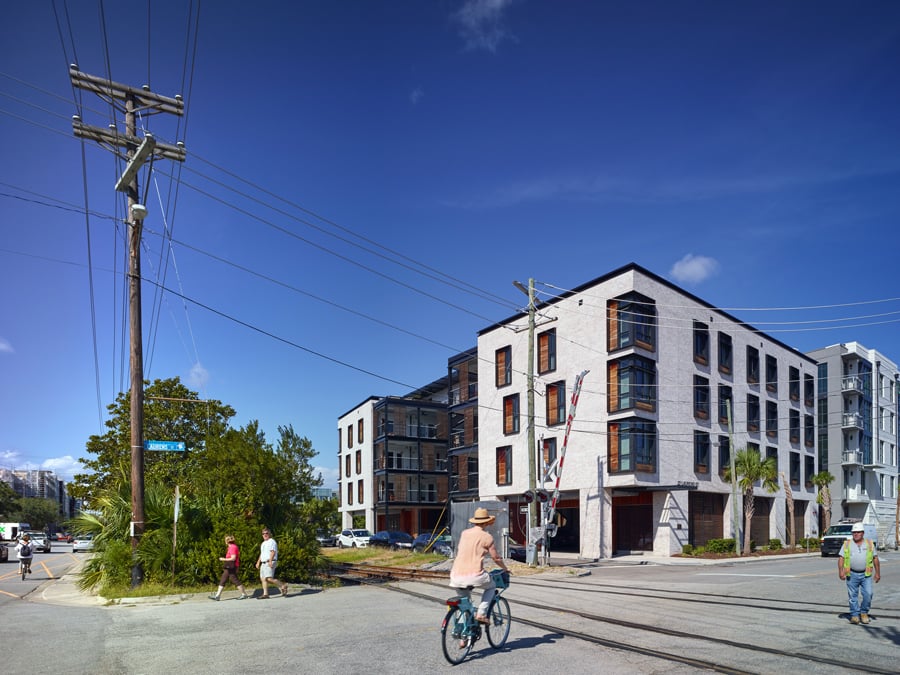 April 18, 2019
With Its Deep Wraparound Porches and Resilient Design, This South Carolina Senior Housing Project Aims for Comfort and Safety
The Charleston project—designed by David Baker Architects—is clad with aluminum-and-ipe screens and lime-washed brick. The latter is a favorite throughout historic parts of the city.
---
Charleston, South Carolina, suffers no shortage of historical precedents—and a new affordable housing project for seniors there takes cues from many. For starters, there's its architects' guiding inspiration: A plaque on the William Enston Home, designed in 1887 as the city's first affordable senior housing, provided the mantra "To Make Old Age Comfortable."
"That was our mission," says Daniel Simons, principal at David Baker Architects, which, in 2013, was persuaded by local architect Eddie Bello to collaborate on the development, called Williams Terrace. Bello was working for McMillan Pazdan Smith Architecture, and had served for ten years as an architect for the City of Charleston.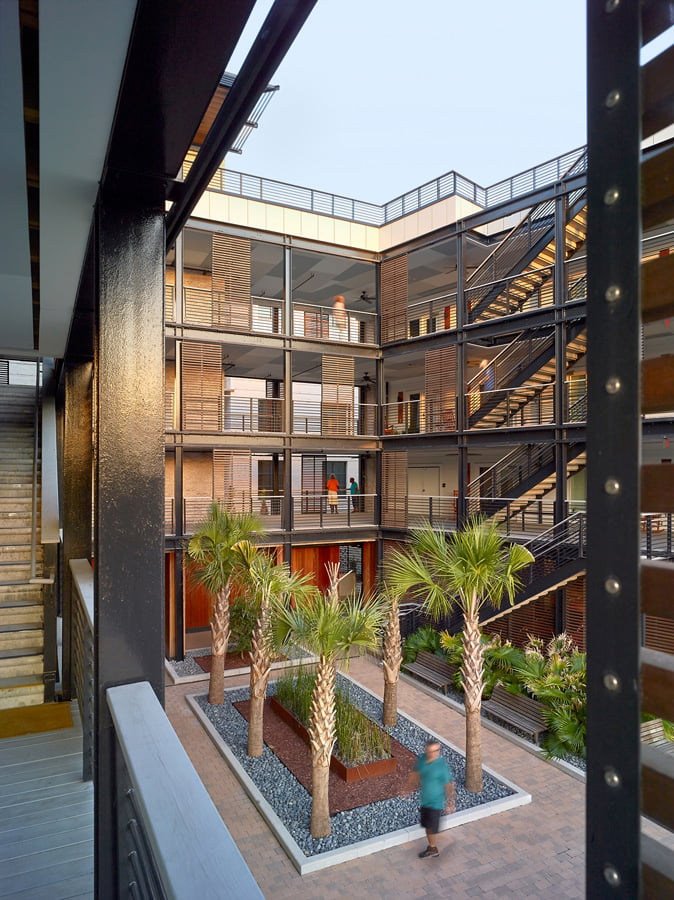 The project team was also motivated by empathetic words from Don Cameron, CEO of the Charleston Housing Authority. "It was Cameron saying, 'I want it to be uplifting for the people who live here,'" Bello says. Cameron ruled out long, dark hallways, so the architects looked instead to Charleston's centuries-old single-house form—specifically, the porch. "We were not trying to copy it but to copy what makes it successful," Simons says. "They're access balconies that become grand spaces that are part of the apartments."
---
More from Metropolis
---
Because the site lies in a high-velocity flood zone—Hurricane Hugo destroyed the neighborhood in 1989—the U-shaped building's ground floor is half parking and half screened porch. The rooftop is set aside for an enclosed community room and laundry area. Between, three residential floors each contain 13 or 14 units of about 500 square feet apiece. The porches, which wrap the floors, overlook their neighbors, a landscaped central courtyard, and an adjacent park.
Movable aluminum-and-ipe screens shade the porches from extreme sun. And lime-washed brick—a favorite throughout historic Charleston—yields a mottled texture, says Simons: "It gets better with age." Given the nature of the development, that could be a mantra for the entire community.