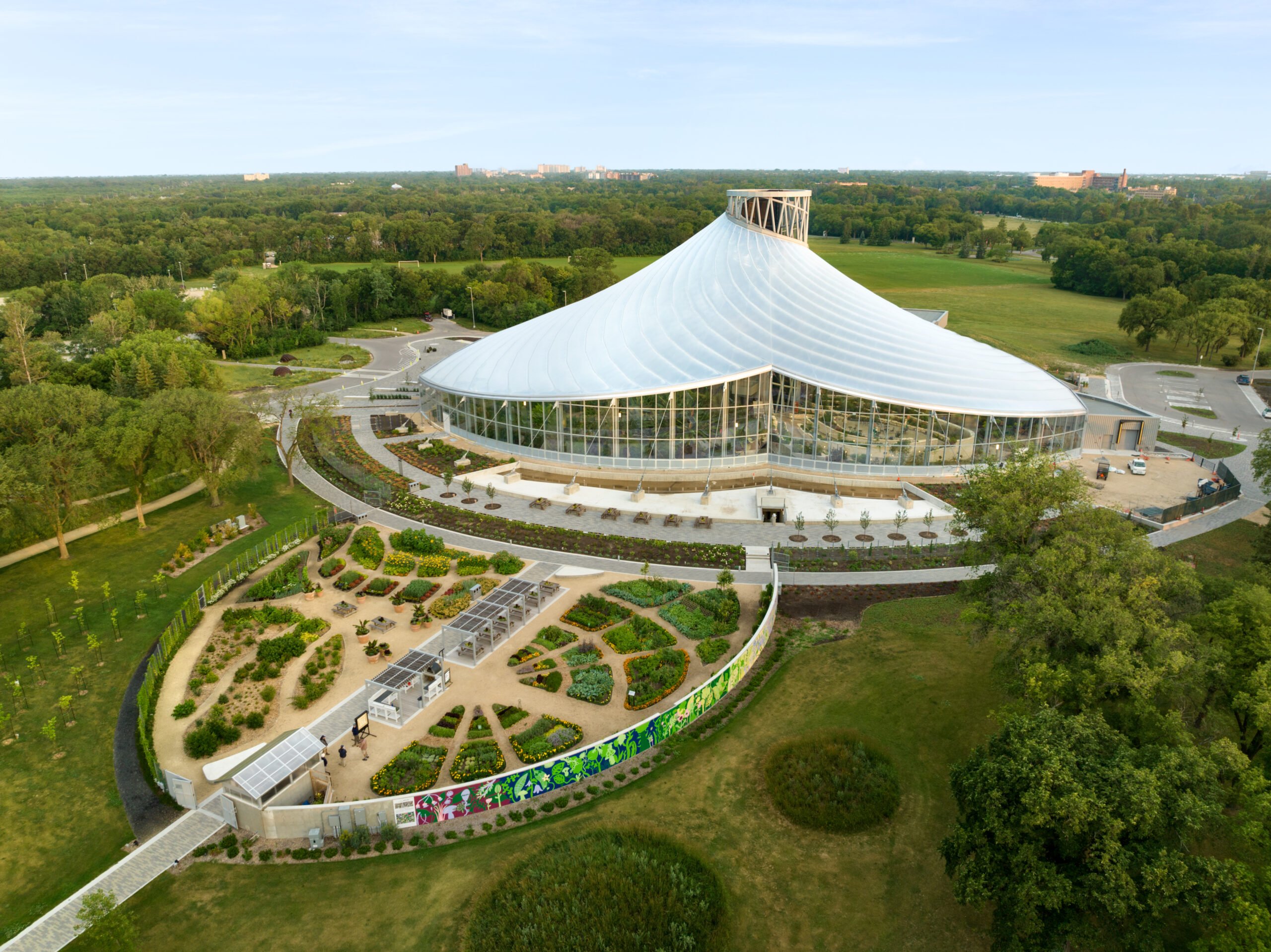 November 10, 2023
Winnipeg's Assiniboine Park Gets a 21st-Century Conservatory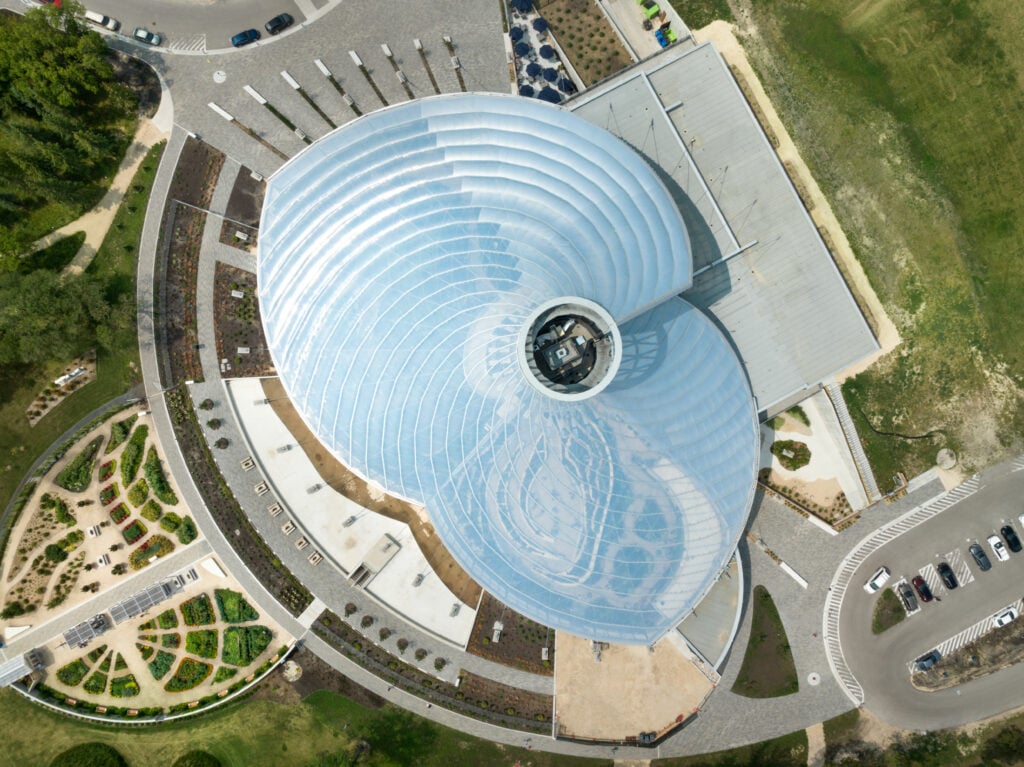 In its place has risen a spiraling wonder known as The Leaf. Created by a team led by KPMB alongside Architecture49 and HTFC landscape architects, the 90,000 square foot building houses four distinct biomes, reachable via winding paths across several levels, and is surrounded by even more diverse outdoor gardens. Chief among its lofty goals—which include creating a city icon and attraction, showcasing built sustainability, and providing a warm respite in winters that can drop to 40 degrees Fahrenheit below zero— is celebrating environmental and cultural diversity by exposing residents to natural surroundings that can't be found in Manitoba. "We're making connections between people and plants," says Hall. And for those who have come from elsewhere, he added, it's a poignant reminder of home, and another signal that all are welcome. "One person from the Philippines started to cry when he saw the tropical biome. He said, 'I haven't seen this plant since I was a little boy.'"
"It's a really interesting way to bring people together," added Monica Giesbrecht, principal at HTFC. "Plants are a common denominator."
In addition to the Tropical Biome, where a hot, humid climate is packed with thick, lush plants and even a large waterfall, there is the Mediterranean Biome, a cool, dryer setting layered with terraced limestone walls and plants from areas like Greece, Italy, South Africa, Central Chile, Southwest Australia, and California. Adjacent to these is the Bob Asper Display House, showcasing a green wall and a rotating schedule of dynamic floral displays. And floating three levels above them is the Shirley Richardson Butterfly Garden, with a canopy walkway (providing views of the park and the city beyond) that wraps around the waterfall and overlooks the Tropical Biome.
---
More from Metropolis
---
The building, too, reflects nature. Its spiraling roof was inspired by the Fibonacci sequence, which appears in sunflowers and nautilus shells. The challenging form, which minimizes structure, keeps shadows off plants, and helps snow slide off the roof in winter, is framed by a central mast set on a concrete plinth, edged with a spiraling steel cable net. It supports an ETFE roof, chosen for its low weight, insulation, and translucency, allowing natural light to reach every setting. Mirrors along the base structure provide reflectors for a sophisticated lighting system that can project lighting simulations ranging from thunderstorms to the Northern Lights.
The building is seeking LEED Gold certification, and a major contributor is its natural ventilation system, a rare attribute for indoor gardens. Louvers at the building's top and bottom along with an imbedded heat exchange system create convection currents that pull warm air away in the summer. In the winter, warmth arrives via solar radiation and a radiant heating system, served by underground pipes warmed by the earth. Natural humidification (and additional cooling) is achieved via the waterfall, fogging pipes that inject mist into the air, and via the plants themselves.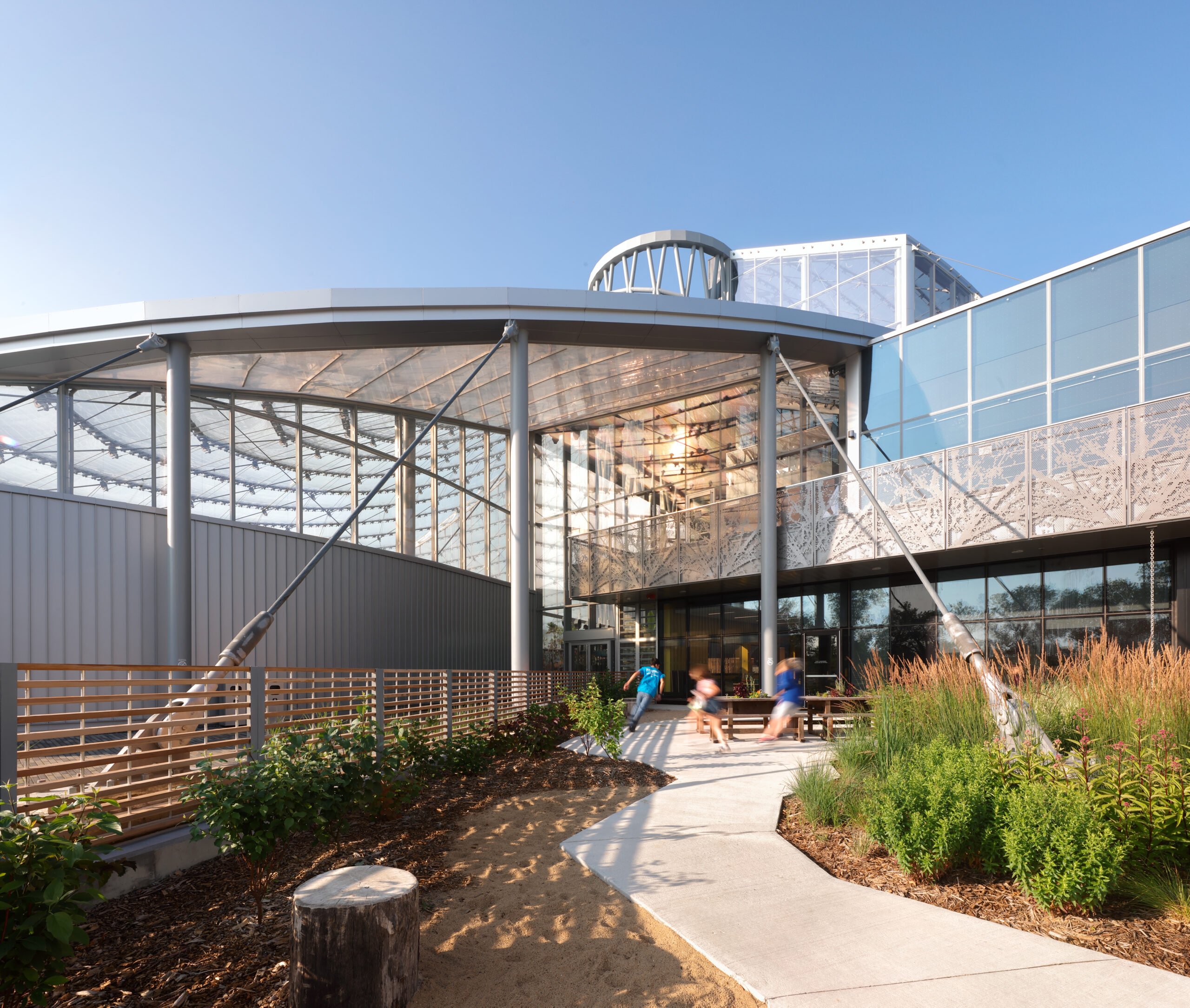 Around the building, the team has created a flowing, colorful, and vibrantly abstract series of gardens and experiences that are so packed it might make a trip to The Leaf a multi-day experience. The Kitchen Garden houses vegetables, fruits, herbs, and other edible plants; the Performance Garden (attached to a Sensory Garden for exploring natural sights, smells, feelings, and sounds) includes an outdoor stage surrounding by a gently tiered and landscaped amphitheater. The Seasonal Garden reveals technicolor changes via perennial plants that will peak at different times of the year. The Indigenous Peoples Garden, cocreated with indigenous designers and citizens, is highlighted by elemental features like a fire pit, water pool, earth berms and wooden and steel elements laser cut with images of the 13 moons that correspond to yearly seasonal changes. Finally, The Grove is an arboretum focusing on varied trees and shrubs.
"I think it's one of those special projects where everyone who worked on it felt that spark," says HTFC's Giesbrecht. Since its completion, she pointed out, the project has far exceeded the parks expectations for attendance. Initial resistance to replacing the old conservatory has all but faded away. "Winnipeg is an amazing place and there's a reason I call it home," Giesbrecht adds. "But Winnipeggers are hilarious. You have to drag them kicking and screaming to a new idea, but when it's done, they say, 'Why didn't we do it before?'"
Would you like to comment on this article? Send your thoughts to: [email protected]