May 26, 2021
These Artists Transformed Salvaged Plywood into Public Art
Last year, the New York–based nonprofit worthless studios announced the winners of its Plywood Protection Project. This summer, the five installations are being unveiled across the city.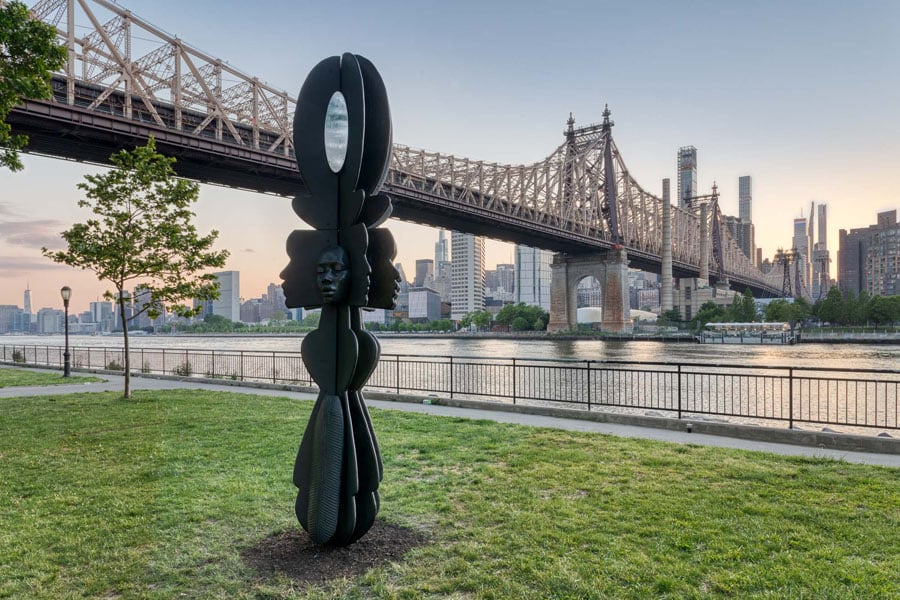 ---
Last June, when New York City streets were both desolate and disorderly due to the pandemic and the vigor of the ongoing uprising against police violence, worthless studios founder Neil Hamamoto found himself marveling at the city's bizarre vacancy and the streets which were unusually dressed in plywood boards covering ground floor retailers' windows. Similar to the rise in the cost of hand sanitizer and face masks, the market price for plywood skyrocketed.
"An artist myself, I am aware of the artists' struggles for access to materials. The pandemic made everything worse," Hamamoto tells Metropolis. "On top of the difficulties to pay studio rent and show work when galleries were closed, the artists had their access to materials halted."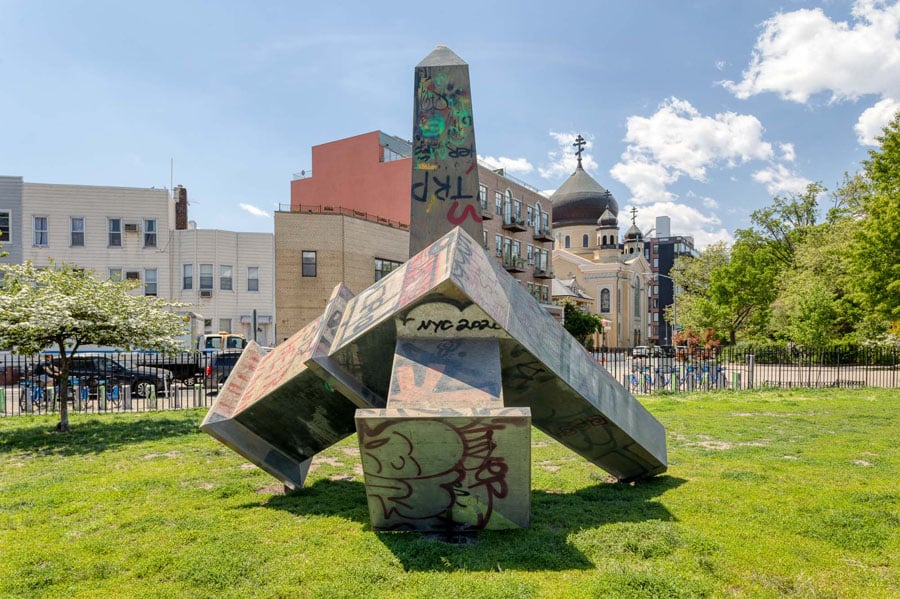 ---
Worthless studios launched The Plywood Protection Project in the summer of 2020, a solution the founder describes as, "re-contextualizing a material embedded in people's consciousness since last year." The open call which encouraged artists to submit proposals to repurpose the discarded plywood received around 200 entries. In the meantime, Hamamoto and a team of volunteers collected over 200 sheets by putting out fliers in and around SoHo announcing that they would pick up excess wood from the businesses. "We explained to businesses our plans to prolong the plywood's lifespan with a purpose," Hamamoto says.
---
More from Metropolis
---
A jury of industry experts, including Metropolis editor-in-chief Avinash Rajagopal, selected five proposals that demonstrate "an understanding of the project, rather than simply utilizing the material to expand existing works," adds the organizer. The selection reflects worthless studio's overall approach to the concept of artistry, which pushes the boundaries between fine art,  design, urbanism, and public work. "I believe in craft and process, which are usually overshadowed by the end product," Hamamoto adds. "The project is about what it takes to turn ideas into reality, especially in this current climate."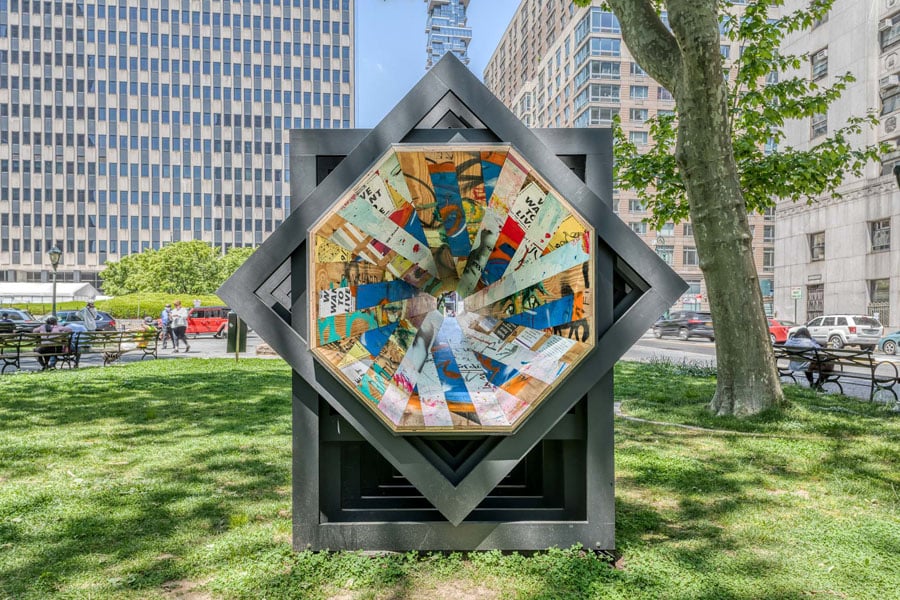 ---
Selected proposals, which include interactive sculptures that range from an oversized megaphone to a performance stage, were each given twenty to seventy sheets of plywood based on the project's scope. Each project will be installed in a green space in one of five boroughs, including Staten Island's scenic Alice Austen House Museum's Side Lawn. Set designer Tony DiBernardo's stage installation, Open House, emphasizes the location's unique vista of Manhattan's skyline. The work will be activated through performances by local actors until June and extend the hand to the city's struggling performance arts sector.
Public programming for Tanda Francis's RockIt Black sculpture, replicates a silhouette of a Black woman lounging on Queensbridge Park by the East River, will be co-organized by the borough's iconic Noguchi Museum. Human form also echoes throughout the art and design duo KaN+Mardok's cut-out replicas of protestors, which invite the public to meander through them in Poe Park in The Bronx. For In honor of Black Lives Matter, they also collaborated with local teenagers to create artwork about the movement for a collateral exhibition at the Bronx River Art Center.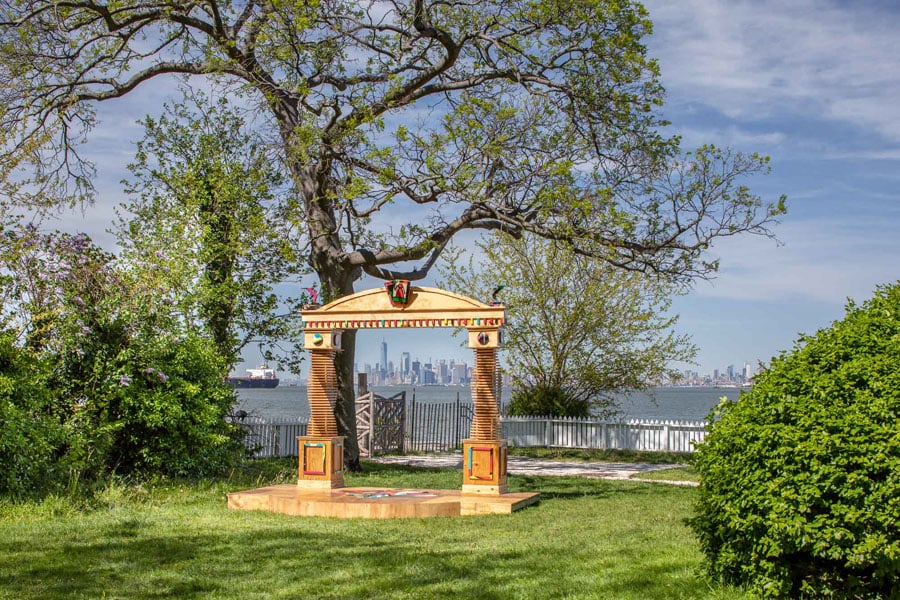 ---
In Brooklyn's McCarren Park, the artist Michael Zelehoski creates a monument for the history of protest—from Chile's uprising against Pinochet to demonstrations following George Bush's war policies—in the form of a massive caltrop, a small yet sharp metal weapon commonly used in protests. The artist's salvaged plywood rendition of a resistance symbol creates an anti-monument of injustice and remembrance of the past atrocities.
A collaborative spirit starts at worthless studios' name with an emphasis on the organization's artist-first approach, and expands to its operation which, "instead of a competitive and enclosed environment, puts artists into a community connected through sharing of skills and tools." The Plywood Protection Project is a stark demonstration of this mission which also detaches a material from its political connotations and recycles it back to its core purpose.
You may also enjoy "New York's Museum of Arts and Design Puts Craft Front and Center"
Would you like to comment on this article? Send your thoughts to: [email protected]
---
Register here for Metropolis's Think Tank Thursdays and hear what leading firms across North America are thinking and working on today.