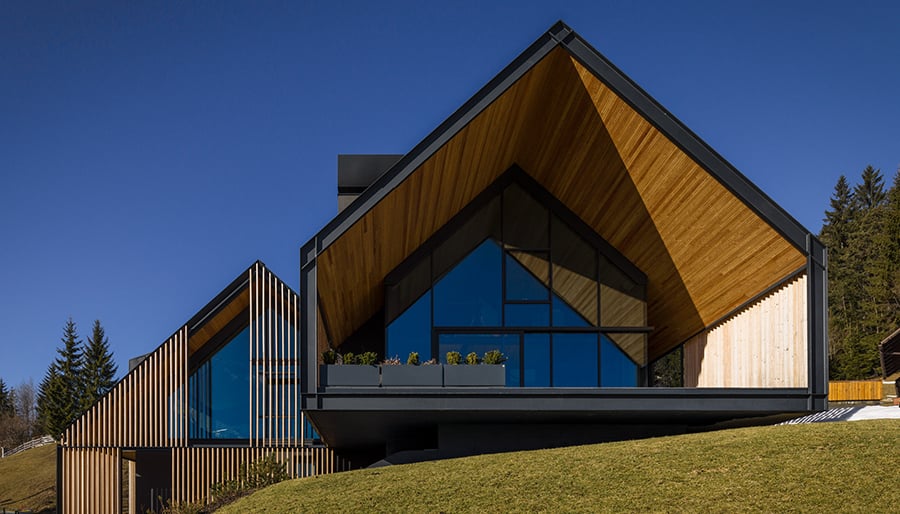 September 12, 2019
This Alpine Escape Was Built for Entertaining and Enjoying Mountain Views
Designed by local architecture firm Gri e Zucchi Architettura (GEZA), the house features wraparound balconies and wood slats that modulate privacy and sun shading.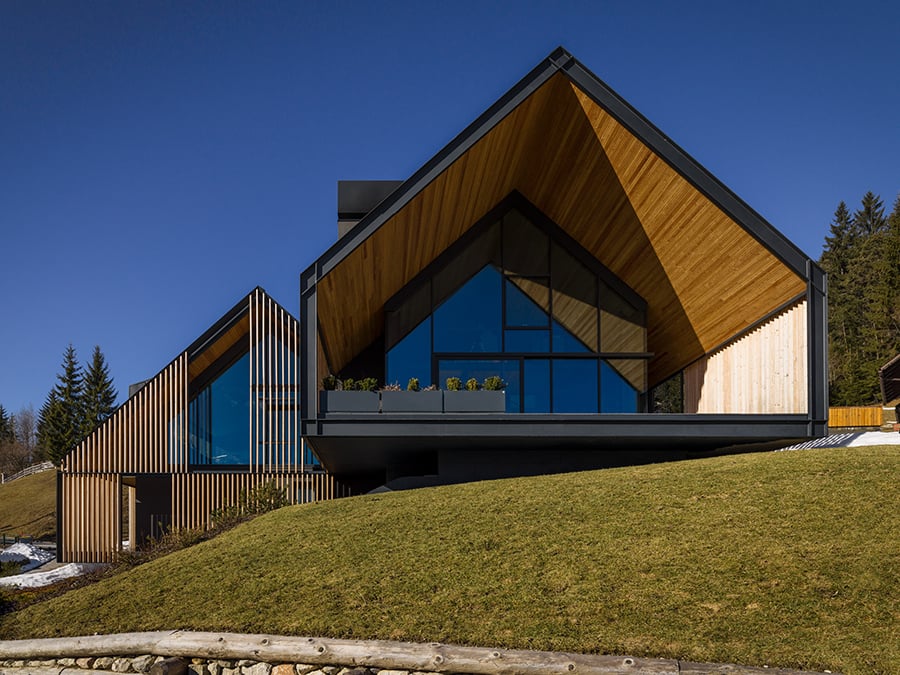 Z house was designed to intimately connect its residents to its alpine settings, serving as a luxurious nexus where the clients—a couple who produce high-end wines—often entertain guests.
Approaching the house up a steep hill, visitors are surrounded by the houses of Camporosso, a tiny village a few kilometers outside Tarvisio, Italy. On entering the house, however, they are immersed in a monumental, craggy, and snow-capped alpine panorama.
Because the site is so steep, the Udine-based architecture office Gri e Zucchi Architettura (GEZA) decided to cleave the house into two volumes. One half would sit higher on the slope and the other would anchor to the ground at a slightly lower elevation, as if it had slipped and gently settled.
---
More from Metropolis
---
As a second home, it is used mainly during weekends and holidays to host parties, lunches, and dinners. (The couple also bring their daughter and dog.) In 2018, soon after the house was completed, the clients even opened their house to host a popular event called "Ein Prosit," during which renowned chefs Gaggan Anand and Ana Ros cooked for several guests.
The distinctive wood slatting that wraps the house makes the dwelling feel slightly diaphanous, teasing the eyes as one walks around it. These larch wood blades are spaced regularly along parts of the house, but don't always remain constant: Their spacing increases in certain spots where the architects wanted to open "windows" or close "walls." They mediate the relationship between indoor and outdoor, slightly blending the two.
Thanks to its steeply pitched roofs, crisply silhouetted chimneys, and black scale roof shingles, the house looks dynamic, graphical, and lightweight. "We took inspiration from the Walser house, an example of a typical vernacular architecture that is easy to find in the Alps," says GEZA cofounder Piero Zucchi. Walser houses typically feature stone basements and ground floors and wooden upper floors with exterior balconies surrounded by vertical larch blades on which occupants could dry agricultural products. "We translated this traditional external skin made of vertical wooden elements into a sun-breaker."
You may also enjoy "A Modern Addition Breathes New Life Into a Historic San Francisco House."
Would you like to comment on this article? Send your thoughts to: [email protected]