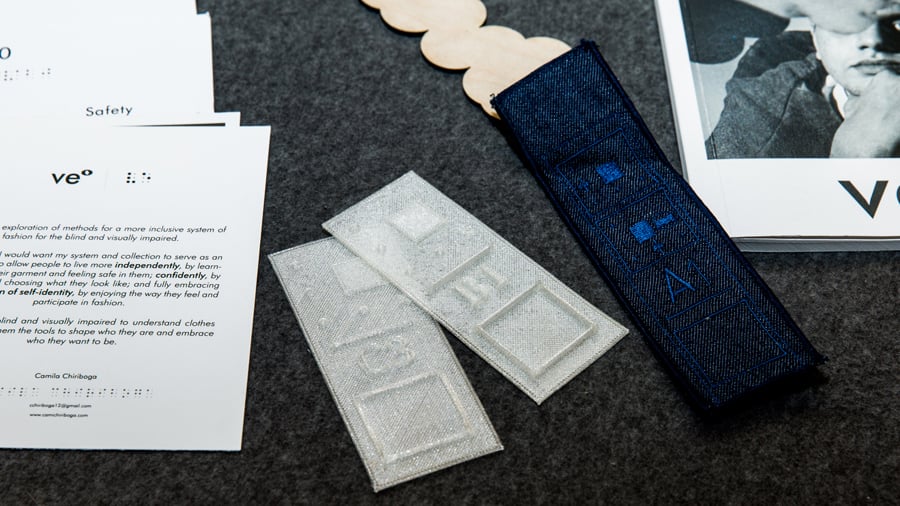 June 5, 2017
Student Designs Self-Navigating Fashion Line for the Blind
Parsons School of Design and AARP's "Disrupt Aging Design Challenge" asks students to design solutions for older clients. Camila Chiriboga's winning design helps blind wearers navigate the world, fashionably.
Clothes are one of the most basic necessities of our lives, and yet for many, just putting them on is a daily, arduous challenge.
Camila Chiriboga, a graduated senior from Parsons School of Design, started researching and designing for people with disabilities in her freshmen year. Her first step was making clothing that stored diabetes medicines in easily accessible pockets. This journey continued with a shirt for her father, who suffered from kidney failure. It resembled normal everyday clothing, but provided discrete access points where the wearer could easily connect to a dialysis machine.
Her interest in designing for users of all kinds led her to participate in AARP and Parsons School of Design's "Disrupt Aging Design Challenge," where students were encouraged to both "explore design that leverages, rethinks and includes the needs of older fashion consumers" and to "inspire solution-based design concepts that deconstruct outdated beliefs about what it means to age and live well in society."
Embarking on this 12 week challenge, Chiriboga decided she wanted to go beyond the visual language of fashion and design for the other senses. She often volunteered at Visions—a senior center of the blind and visually impaired in Brooklyn—and spoke with residents to understand "how they dress, how they wear, how they think about what they are wearing," says Chiriboga.
Through her research, she stumbled upon a company from India called Lechal, which develops miniature navigation devices that can be put in a shoe or a shoelace to guide the wearer to their destination through vibrations. All the user needs to do is enter the address in the system. She used this technology as the basis for a pair of shoes, which became her line's foundation piece.
She then designed a set of clothes that were fashionable, tactile, and functional for her three models from Visions, who were also her collaborators throughout the challenge. She made various types of jackets and sweaters, all of which were reversible and could pair with any of the bottoms. She also invented a tagging system, where each garment's tag includes a color code (in braille) and a QR code that can be scanned to generate an audio description of the garment. Seeing them, "just so happy" with the line and wanting "three more of these, four more of these, that's what brings excitement to me," says Chiriboga.
Eventually winning the competition, beating out 12 shortlisted finalists, Chiriboga was awarded a $5000 prize. In the future, her goal is to continue designing for people with disabilities and focus on how the whole system of designing, producing, and marketing can become more sustainable.