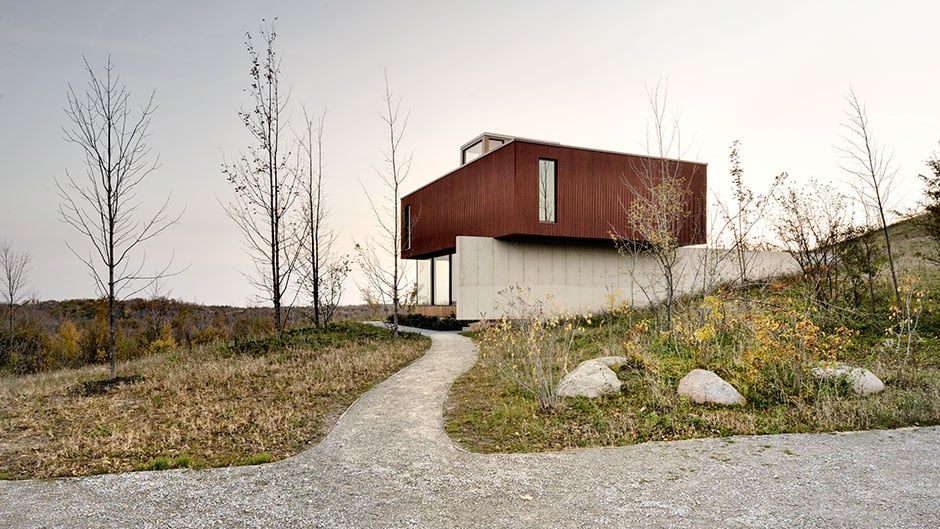 June 30, 2015
10 Emerging Voices Winners on the Program's Lasting Influence
Steven Holl, Eric Owen Moss, Toshiko Mori, and more explain the personal importance of the award and its impact on their careers.
In 2014, Toronto-based Williamson Chong was selected as an Emerging Voices winner, eight years after having won the League's Young Architects Forum Competition. Pictured: The firm's Frog's Hollow (2009) in Ontario.
Courtesy Bob Gundu
---
For more than 30 years, the Architectural League's Emerging Voices awards have played an integral role in the profession through its discovery and cultivation of young talent. Hundreds of North American architects have been anointed by the League, whose directors work very hard in molding the program to contemporaneous movements, events, and concerns. Their track record is beyond dispute, with winners including Thom Mayne, Stan Allen, Tod Williams, Winka Dubbeldam, and Amale Andraos. "It's knowing how to identify a firm at the right moment, when the arc of its practice is emerging or, just as importantly, when to hold off and wait until it has a fuller portfolio of work," says the League's program director, Anne Rieselbach. (Read our interview with Rieselbach and the League's executive director, Rosalie Genevro, here.) Below, several Emerging Voices alums reflect on what the award meant to them and their careers.
Steven Holl
Tod Williams
Eric Owen Moss
Toshiko Mori
Deborah Berke
Rob Rogers
Paul Lewis (of LTL Architects)
Tom Kundig (of Olson Kundig Architects)
Dan Wood (of WORKac)
Donald Chong (of Williamson Chong)
Bridge of Houses
New York, New York (unbuilt)
1981
Courtesy Steven Holl Architects
I think I was in the first program, which wasn't yet called Emerging Voices. I had just arrived in New York City from San Francisco, and I was working on a few speculative proposals. For the Bronx Gymnasium-Bridge, all my drawings were black-and-white, the slide presentation was all black-and-white—to protest against Postmodernism. I remember I even asked to design the poster for the program, but Massimo Vignelli, who was a board member of the League then, didn't like the black-and-white typewriter text I had chosen. I was a difficult character. I was not really looking for a client with that project. It was about ideas. The award was a nice chance to put my ideas forward to the city's architectural community. Today, the League continues to be the most important cultural anchor for practicing New York architects. And the Emerging Voices program continues to be an optimistic platform for young architects.
---
Tarlo House
Sagaponack, New York
1979
Courtesy Norman McGrath
At the time, I had little awareness as to what Emerging Voices might come to mean to me. I was aware of the League's august history, so that, along with the quality of colleagues who were also chosen, gave the selection real weight and helped bring the work to light. Word of mouth is always the very best way to build up one's career. But with so little that had been built—mostly interior projects and three modest houses—to have the League's recognition was very important. Perhaps it was less than a sip of water added to one's glass. But when parched, very little water can make all the difference.
The League is a crucial institution because it is the strongest bridge between architectural education and the profession. While it primarily addresses local issues, it has national and international relevance and respect. It is exciting today to see the Emerging Voices program looking beyond our borders; however, we must not forget our primary responsibility is to our own community.
---
Pterodactyl
Culver City, California
2014
Courtesy Bonner Photography
Conditions were quite fragile for us at the time. We were working on several projects, while not quite knowing where they were going. There was the Morganstern Warehouse, the Petal House, and some other houses and competition proposals. A number of them got built, and that support is essential in convincing the public and your clients that your work is legitimate. The award helped to do that. It meant a hell of a lot to get that. It's vital and, as many winners would say, it gives you new impetus to keep going. The idea of the program, in its essence, is that the discourse of architecture continues to move. It's not a fixed point of view, a region, or a system of advocacy. As new people come along, and they don't acquiesce in the face of acceptable doctrines, the discourse alters. The program keeps that discussion going, and though it may not get a hit in every selection, it sustains an interest in looking at the world anew.
---
​
New Artist Residency
Sinthian, Senegal
2015
Courtesy Iwan Baan
It was an honor to be named among the Emerging Voices because the program is peer-reviewed and local—it matters that people I know and respect really value my work. At the time, we were mostly working on interior projects and exhibitions. Lecture opportunities were few and far between, so the recognition certainly helped publicize our work. More importantly, it helped us in sharpening our focus on material research. I rarely see an organization like the League existing anywhere else in the world. It is a place to connect architects, and it acts as a bridge for so many of us who otherwise would be in our isolated silos of like-minded friends or academically based caves. Emerging Voices is important since it usually comes in the toughest time for architects, in between early recognition and more mature achievement. This period can be trying and arduous, so public recognition is a huge boost for a career.
---
21c Museum Hotel
Bentonville Bentonville, Arkansas
2013
Courtesy Timothy Hursley
I had actually been passed over once before so it felt particularly good when I was selected. I had completed the Industria Superstudio project a couple years earlier and was doing work in Seaside, Florida, and also designing lofts in New York. In these projects, my interest in the architecture of the everyday and drawing from a reductive, down-in-the-dirty-basement ordinariness was beginning to take shape. The award gave me the opportunity to talk about those ideas—many of which I remain interested in—in front of a New York audience. I think it's a great program, and they should definitely do it forever!
---
Henderson-Hopkins High School
Baltimore, Maryland
2014
Courtesy Albert Vecerka/Esto
As a young New York architect, Emerging Voices had been a track record of all my heroes. The fact that you were included in the program felt like getting a blast of pure oxygen; you were expected to accelerate. And we did—2001 was a turning point for me, Jonathan, and the office, as several of our early institutional and public realm projects were just coming down the line. The first phase of the Pratt Architecture School renovation (the North Wing) won a hat trick: city, state, and national AIA design awards. And the first phase of renovations and additions at the Studio Museum in Harlem were completed that same year. So it was an important milestone, as our practice was beginning to shift toward more programmatically and urbanistically complex work. Recognition from one's peers is somehow the best. It is often the hardest to earn, and thus the most valued. It certainly started me on a string of lectures and public presentations—and attention begets attention! So yes, I think it helped in an overall way of developing and maturing the practice, and it certainly helped to raise our visibility and reputation.
---
Paul Lewis, 2002 Winner (with David Lewis, Marc Tsurumaki)
LTL Architects
New York City
Bornhuetter Hall, College of Wooster
Wooster, Ohio
2004
Courtesy Michael Moran
The Emerging Voices program plays a unique role through its history as one of the very few means by which architects in North America are able to compete for and achieve notice for a body of innovative work. The consistency of its ability to identify important voices in the field is itself rare, and being included in that group was and is an honor. Most of our work prior to our selection was speculative, exploring potential surrational approaches to urban programs, or smaller-scale fabrication projects. These were developed either for publications or exhibitions, and, therefore, we were highly invested in experimental drawings, models, and prototypes. It's difficult to target specific causes and effects, but it's safe to assume that our selection helped stabilize our practice within the architecture and design community, which then had ripple effects academically and professionally.
---
The Pierre House
San Juan Islands, Washington
2010
Courtesy Benjamin Benschneider
It was a big deal for me personally. I had just finished several homes in the Northwest and was working on several more residences, including the Rolling Huts and The Pierre. The award gave me reassurance that the path I was following was worthy of further conversation and exploration. It didn't mean the League knew where I was going, but that the work had merit for the future. From a client's perspective, that's an important consideration before they risk their financial, emotional, and time capital. I feel the League and the Emerging Voices program are critical to the conversation of architecture and design and their future. It is a quickly changing and morphing world, and without a platform dedicated in a quick-witted but thoughtful way, we risk a path to irrelevancy.
---
Courtesy Iwan Baan
For us, 2008 was a year of milestones. We won the MoMA PS1 Young Architects Program, and we were selected for Emerging Voices. Both topped our office's first -five-year plan checklist—we called it our "say yes to everything" plan, which included applying to the program for three consecutive years. I remember our Emerging Voices lecture at the New Museum: the auditorium was packed, and it really meant a lot to us to be able to show our work to our peers and colleagues. It felt like a pinnacle at that moment, which, by October, proved to be too good to be true, as projects started to get canceled and the recession set in! The League is the definition of an institution in New York City, and it remains keenly attuned to what is going on in architecture, landscape, and urbanism. It is really amazing to go through the list of winners and realize that almost all successful architects and landscape architects practicing in North America today have come through the program.
---
Donald Chong, 2014 Winner (with Betsy and Shane Williamson)
Williamson Chong
Toronto
Bala Line House
Toronto, ON, Canada
2015
Courtesy Bob Gundu
We welcomed the award as recognition for our practice's upward trajectory. It's particularly noteworthy for us, too, to know that our work seems to have registered critically across not only borders but also generations. That said, it's only been a year, and many of the projects, including an Ontario ski resort and a Toronto residential block, are still actually underway. In that sense, Emerging Voices is truly unique because it honors not just what we've done, per se, but the prospects of what we are still to do. We recognize that significant awards in architecture can be few and far between. The recognition steeps both in our practice and in our extended community, such that we see a pleasant increase in not just new work but other opportunities to engage meaningfully with the academic community, the profession, and the city. In this way, our deepening experience—together with whatever recognition we may receive along the way—provides us with the strong base to leverage our next ideas.
Read more about this year's Emerging Voices winners here.