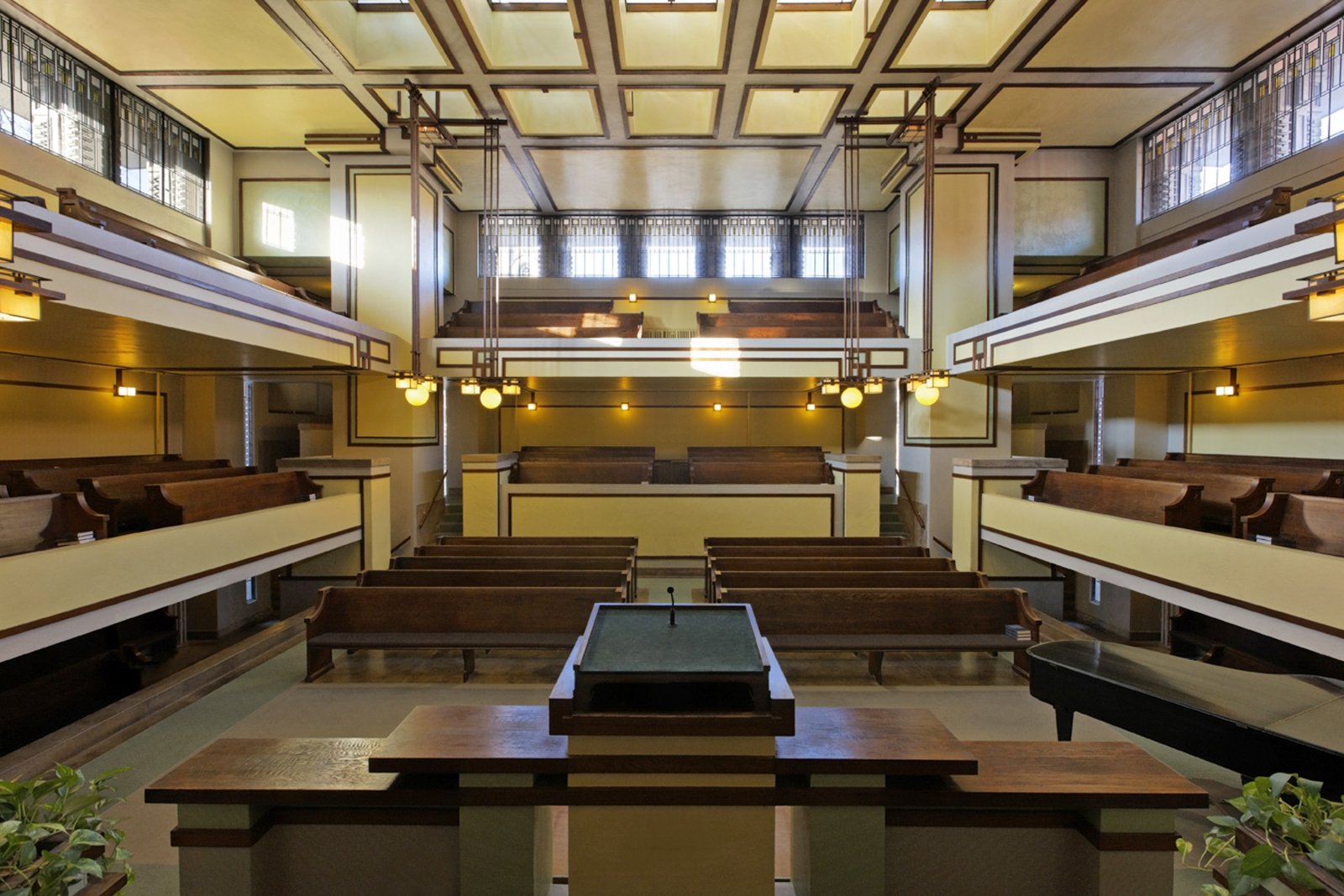 February 2, 2015
Ten Frank Lloyd Wright Buildings Nominated for UNESCO Distinction
The shortlist represents what would be the first examples of American modern architecture to be marked for preservation by UNESCO.
Courtesy Robert Buschak/© Western Pennsylvania Conservancy
From the Statute of Liberty to the ruins of the Chaco Culture, the United Staes has fewer than two dozen landmarks designated as UNESCO World Heritage sites. Now, ten of Frank Lloyd Wright's buildings—built from 1906 to 1969—are the first modern works of American architecture to be considered for a global list, which already includes Walter Gropius's early Modernist Fagus Factory, Josef Hoffmann's secessionist Stoclet House, and a host of cultural landmarks from Angkor Wat to Stonehenge. The UNESCO designation neither outlines nor provides any specific protections or provisions for the preservation of the buildings, but would formally elevate them to an international standing. The nomination was forwarded by the Frank Lloyd Wright Building Conservancy, a Chicago-based nonprofit dedicated to preserving Wright's built legacy. The next steps are site visits by the World Heritage Committee throughout 2015 and possible inclusion by summer 2016.
The ten buildings are located in seven states: California (Marin County Civic Center, Hollyhock House), Arizona (Taliesen West), Oklahoma (Price Tower), Wisconsin (Taliesen, Jacobs House), Illinois (Unity Temple, Robie House), Pennsylvania (Falling Water), and New York (Guggenheim Museum). An earlier 1991 nomination of two Wright works—Taliesen and Taliesen West—was rebuffed by the UNESCO Committee in favor a comprehensive list of works nominated from Wright's entire oeuvre. Beginning in 2004, a group of Wright scholars embarked on the slow process of distilling the list, documenting each work and justifying its inclusion. Here are the ten works and highlights from the Wright committee's recommendations.
Unity Temple, view of auditorium/worship space looking north, taken from pulpit.
© Unity Temple Restoration Foundation
Unity Temple, Oak Park, IL. 1905
Not only is Unity Park Wright's sole remaining public building in his Prairie Style, it's also one of the earliest examples of exposed reinforced concrete in a non-industrial building. The building exterior presents a solid cubic mass, while the interior is a richly decorated in sand-colored plaster and oak, culminating in a large top-lit worship space and auditorium.
Frederick C. Robie House, south elevation and view of main floor facing east. 
© Frank Lloyd Wright Trust
Frederick C. Robie House, Chicago, IL. 1908
The Robie House is also an exemplar of the Prairie Style, displaying a squat form and horizontal lines to reference the Midwestern landscape. Its continuous, open living and dining rooms—as well as its use of walls as non-structural planes to define space—were distinctly modern and revolutionary at the time.
Taliesin, view looking southwest and view to the northeast across living room.
© Taliesin Preservation, Inc.
Taliesin, Spring Green, Wisconsin. Begun 1911
Composed of local materials and carefully inserted into the landscape, Taliesen served as Wright's home and studio as it expanded and evolved over 50 years. Still in use as a center of architectural education, many of Taliesin's rooms are entered from the corner, creating uniquely diagonal sight lines that pass through long bands of windows to emphasize the dramatic landscape.
Hollyhock House, view of the garden court 
Courtesy Larry Underhill/ © Hollyhock House
Hollyhock House, Los Angeles, California. 1918
Commissioned by a wealthy heiress, the Hollyhock House was intended to be a center of avant-garde theater. It was Wright's first commission in Southern California and its concrete construction features ornament and sculpture inspired by the art of the Spanish and Pre-Columbian southwest. The building and surrounding parkland will soon reopen to the public after an extensive renovation.
Fallingwater, view of the main floor living area
Courtesy Christopher Little/ © Western Pennsylvania Conservancy
Fallingwater, Mill Run, Pennsylvania. 1935
Regarded by many as Wright's most masterful integration of architecture and landscape, the house is a spectacular feat of construction. The structure's three reinforced concrete levels cantilever over a waterfall, and utilize glass, stone, and wood to blend into the surrounding forest. The residence is now a museum.
Herbert and Katherine Jacobs House, view facing northwest
Courtesy David Heald/© James Dennis
Herbert and Katherine Jacobs House, Madison, Wisconsin. 1936
The Jacobs house was designed and built for a couple of modest means and exemplifies Wright's response to the scarcity of the Great Depression as well as his vision of suburban America. In a typical Wright fashion, its L-shaped design opens its rooms to the landscape around it, while its construction details are astonishingly simple and economical. The house is still a private residence and open to tours by appointment.
Taliesin West, view looking northwest
© Scot Zimmerman
Taliesin West, Scottsdale, Arizona. Begun 1938
Wright's home and studio during the last 20 years of his life, Taliesin West uses a mix of masonry and modern construction techniques to adapt to its desert surroundings. Its collection of dramatic angular spaces currently houses the Frank Lloyd Wright Foundation and the Frank Lloyd Wright School of Architecture, among other educational and architectural functions.
Solomon R. Guggenheim Museum, view looking eastward to Fifth Avenue with Central Park in reservoir in foreground
Courtesy David Heald/© Solomon R. Guggenheim Museum
Solomon R. Guggenheim Museum, New York, New York. 1943
Completed in 1959, the Guggenheim is a global icon that receives more than one million annual visitors. Its unique spiral ramp, top lit by a glass dome, is a highly sculptural architecture that dramatically shapes how the museum's art is experienced. The museum has undergone a major addition and some modifications, but its original architecture remains intact.
Price Tower, looking east 
Courtesy Christian Korab/© Price Tower Arts Center
Price Tower, Bartlesville, Oklahoma. 1952
This commercial and residential-use tower features 19 floors that cantilever outwards from a central core—the tower is Wright's only built freestanding skyscraper. With its unique construction and painted copper cladding, the Price Tower dramatically sets itself apart from the minimalist glass and steel towers of 50s and 60s High Modernism. It's currently home to an arts center, hotel, museum, and offices.
Marin County Civic Center, looking southwest
© Scot Zimmerman
Marin County Civic Center, San Rafael, California. 1957
Wright's only government project and last major work, the Civic Center jumps across the crests of three hills. It still houses governmental and cultural programs within a single building adorned with non-structural arches that decrease in size as they ascend. The interior holds a single lengthy sky-lit galleria and the exterior's coloring and massing deftly integrate into the landscape.