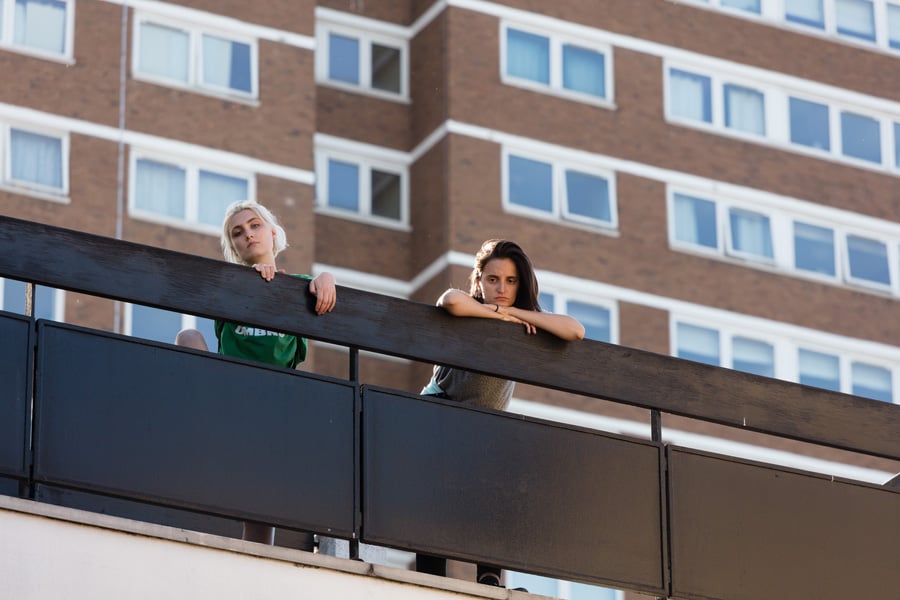 July 9, 2018
At the 2018 London Festival of Architecture, It's a Girl's World
A handful of exhibitions and performances during the month-long design festival radically interrogate gender and space.
---
After a dizzying month of activities, the London Festival of Architecture (LFA) came to a close June 30. This, the 10th edition of the festival, followed the example of its predecessors by hosting a broader set of events than ever before.
London was thus bursting with an array of lectures, panels, pavilions, open studios, exhibitions, and a bake-off, all supposedly centered around the theme of "Identity." Unlike biennials such as Venice or Chicago, LFA isn't so much curated as directed and the huge range of events means identifying consistent threads is a fruitless task. What's more, any vaguely architectural events taking place in June were shoehorned into the festival and, by extension, the theme. DSDHA's renaming of the Economist Plaza to the Smithson Plaza as an interpretation of "Identity" was a particularly contrived maneuver.
On the occasions where the notion of "Identity" was properly interrogated, however, participants delivered in unexpected and even radical ways. Feminist approaches to architectural history, practice, and theory played a particularly strong part in the roster of events. This is, of course, unsurprising in the context of #MeToo or the Elephant Campaign—launched by LFA director Tamsie Thomson to demand that the British architectural industry address its issues with discrimination against women—although through these events, differences in gendered identity are celebrated and centered through work in the built environment.
Interpreted Identities, for instance, organized by the Bankside Open Spaces Trust, involved a series of 10 specially-commissioned follies in a public park just south of London Bridge. Each structure was designed by a small London firm to interpret the work of women who have made a significant contribution to the built environment or women's rights in the city. Many such women have been written out of London's—indeed, architecture's—orthodox histories.
For example, the pavilion by One Works, a cube of timber sticks that ripples out to a point in one corner, was dedicated to Annie Besant, a social activist who led the London matchgirls' strike of 1888 in which 1,400 women and girls demanded better pay and improved environmental conditions.
Another, by Stephen Kavanagh Architects (SKA), interpreted the life of Fanny Wilkinson, the first woman in Britain to work as a landscape architect, with a tree erupting out of a black cage and through a glass ceiling. While some of the visual metaphors (SKA's included) are a little clumsy, the overall impact is to write these women back into architectural history—or "unforget" them, to borrow historian Despina Stratigakos' term.
---
Moving from history to practice, Swedish firm White Arkitekter's collaboration with theater company UngaTur titled Places for Girls took visitors through the streets of Hoxton for a performance that raises vital questions about how girls experience public space in the contemporary city.
The performance centers around two friends who wander through and around the East London streets and raised walkways of a housing estate. Watching from afar and listening via headsets to pre-recorded dialogue, the audience was gradually drawn into a world of imagination in which public squares sink underwater, a plane above is a whale, and a passing Uber becomes a herd of horses. As the performance progressed and we followed the girls further into their narrative, I became aware of occupying an altered and unfamiliar landscape: it's their space, their streets and not, for a time, mine.
"We were concerned about teenage girls, they weren't in the places we planned," explains White Arkitekter's Rebecca Rubin. As part of their research the firm held workshops in Stockholm with teenage girls to discuss how they would design appealing public spaces. Alongside some loosely recurring cosmetic themes such the use of bold materials and colors, the predominant conclusion was, unsurprisingly, that different girls in different neighborhoods were drawn to different things. Thus the most important design intervention should be to the processes of planning—in other words, for girls to take a seat at the table. "It does matter who you ask when you're planning," says Angelica Åkermann, also of White Arkitekter.
This simple assertion has radical potential in the context of social and design orthodoxies which still massively privilege body types and identities such as my own: male, white, cis, able-bodied, heterosexual. The strength in the work of White and UngaTur is to affirm the differences inherent in "Identity" and to center those differences in ongoing work with the built environment.
---
Multiple identities are also at the heart of the work of Degenerate Space, an arts collective whose Solus & the City installation was a true LFA outlier in both site and sensibility. Accessed via a gravel path through the back end of a supermarket in south London, Solus & the City consists of a crudely constructed shed, loosely inspired by a mountain bothy, a Scottish shelter for wilderness wanderers.
Isolated and enigmatic amidst the overgrown backlands of a playing field, the shed provides a space to consider solitude, and specifically female solitude. For Degenerate Space, female loneliness is viewed as taboo. "Whether overtly tragic, or endearingly fallible, solitary female and non-male existence is almost always presented as problematic," they argue.
Inside, the walls of the shed are adorned with writing and artwork by women and non-binary people created in response to an open call for submissions. There are in-depth personal essays, a document with advice about squatting, and short musings: "I am here for you if you want to be soft." The shed also featured a writing desk and a visitor's book so that viewers might contemplate their own identities. "We wanted to ask what our identities are and have the potential to be in this context," Degenerate Space explained to Metropolis in an email.
As a spatial experience it is deeply affecting. The isolation engendered by the site offers a unique opportunity to be alone in the city and to reflect on my own embodied experiences of solitude—experiences I am rarely required to consider, as a cis white male, through the lens of gender.
Approaches such as these across LFA—where non-male identity is a source of potential, a way to "unforget" histories, or a way to center unseen populations—highlight the importance of feminist solutions to architecture and the built environment more widely. These works also underscored an uncomfortable truth about my own relationship to the profession. As this very article shows, published voices in architectural media are still overwhelmingly male (and white) and I write this conscious of that tension. Feminism at LFA is thus vital for both the production of cities that are more equitable, democratic, and representative, and also for the broadening of voices within architectural discourse.
In order for the LFA to develop further as a vital voice in the melee of the contemporary city, the Festival must double down on its support for these more radical projects and work harder to amplify the voices of those often still missing from these conversations, such as women of color and trans women, all such that the built fabric of the city may better represent the myriad identities that exist within it.
You might also like, "In the Wake of #MeToo, Equity Is Put Front and Center at AIA Conference."