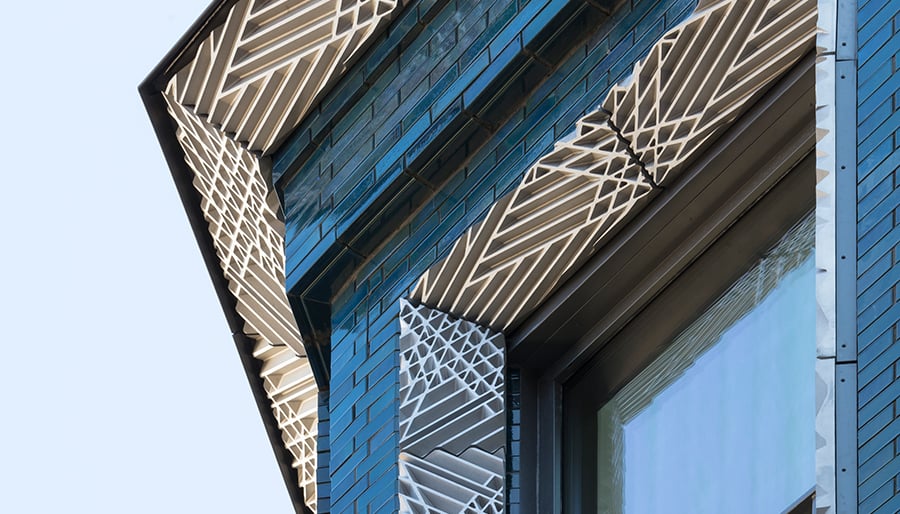 October 15, 2018
This Dazzling Brick Facade in London Harks to the City's 20th Century Architecture
Architects Stiff + Trevillion collaborated with artist Lee Simmons on the facade for 40 Beak Street, which includes famed British artist Damien Hirst among its tenants.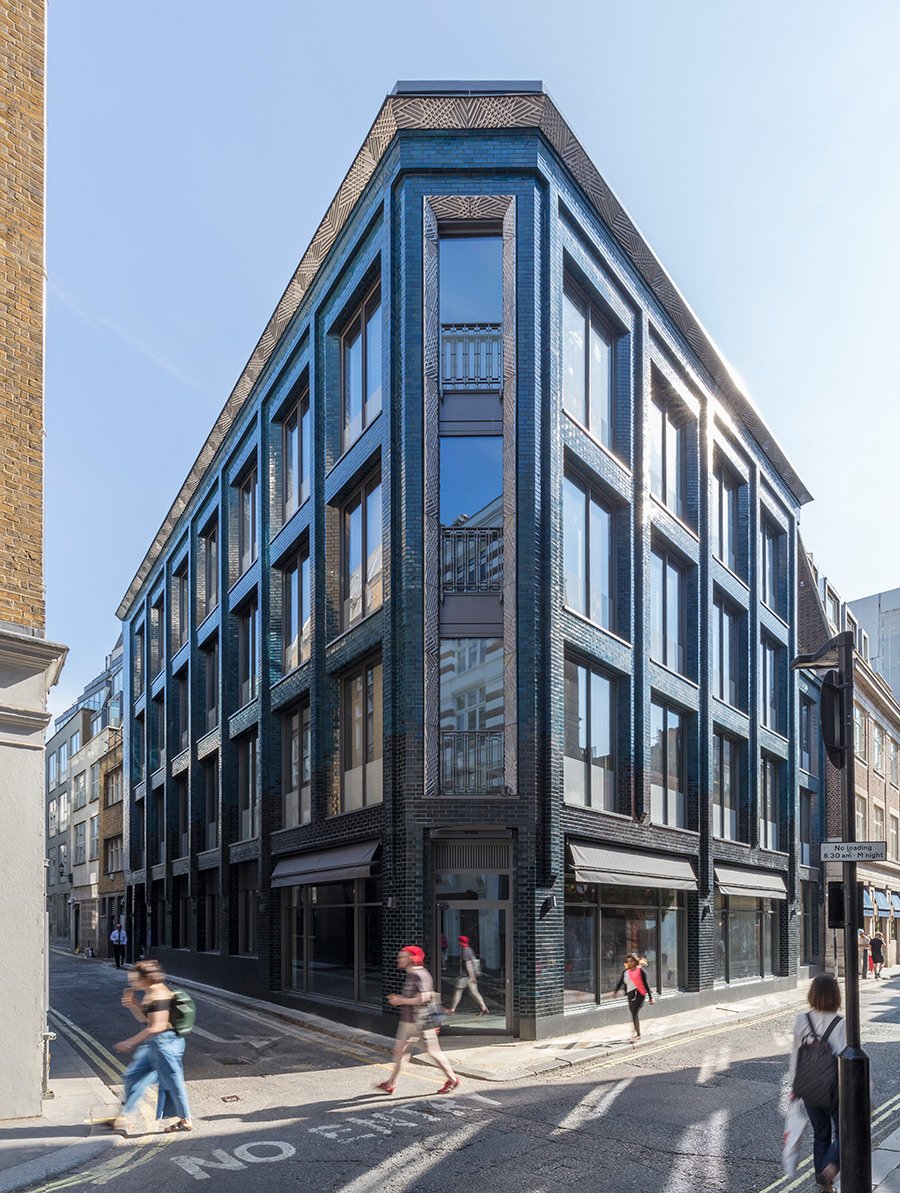 ---
Glazed brick has long been a part London's vernacular architecture. It was adored by the Victorians who realized the hardy cladding would remain untainted by industrial pollution. The material was used extensively in the London Underground as well: Architect Leslie Green designed 40 stations, built between 1906 and 1907, that featured ox-blood glazed bricks. Today, as architects ride the wave of a nostalgia-fueled "vernacular revival," it's surprising to see that glazed brick hasn't been widely exploited, aside from the occasional bohemian bar and hipster coffee shop. However, London architects Stiff + Trevillion are making an exception to that trend with a new building on the corner of Beak Street and Bridle Lane in London.
The shining blue edifice—which houses an office, restaurant, and studio for British artist Damien Hirst—includes hand-glazed bricks and custom facade panels by artist Lee Simmons. More than 100 different glazed bricks were used (each hand-dipped when being glazed) to create the shimmering facade. The building's base is covered in dark blue bricks, with that color fading to sea green further up the facade.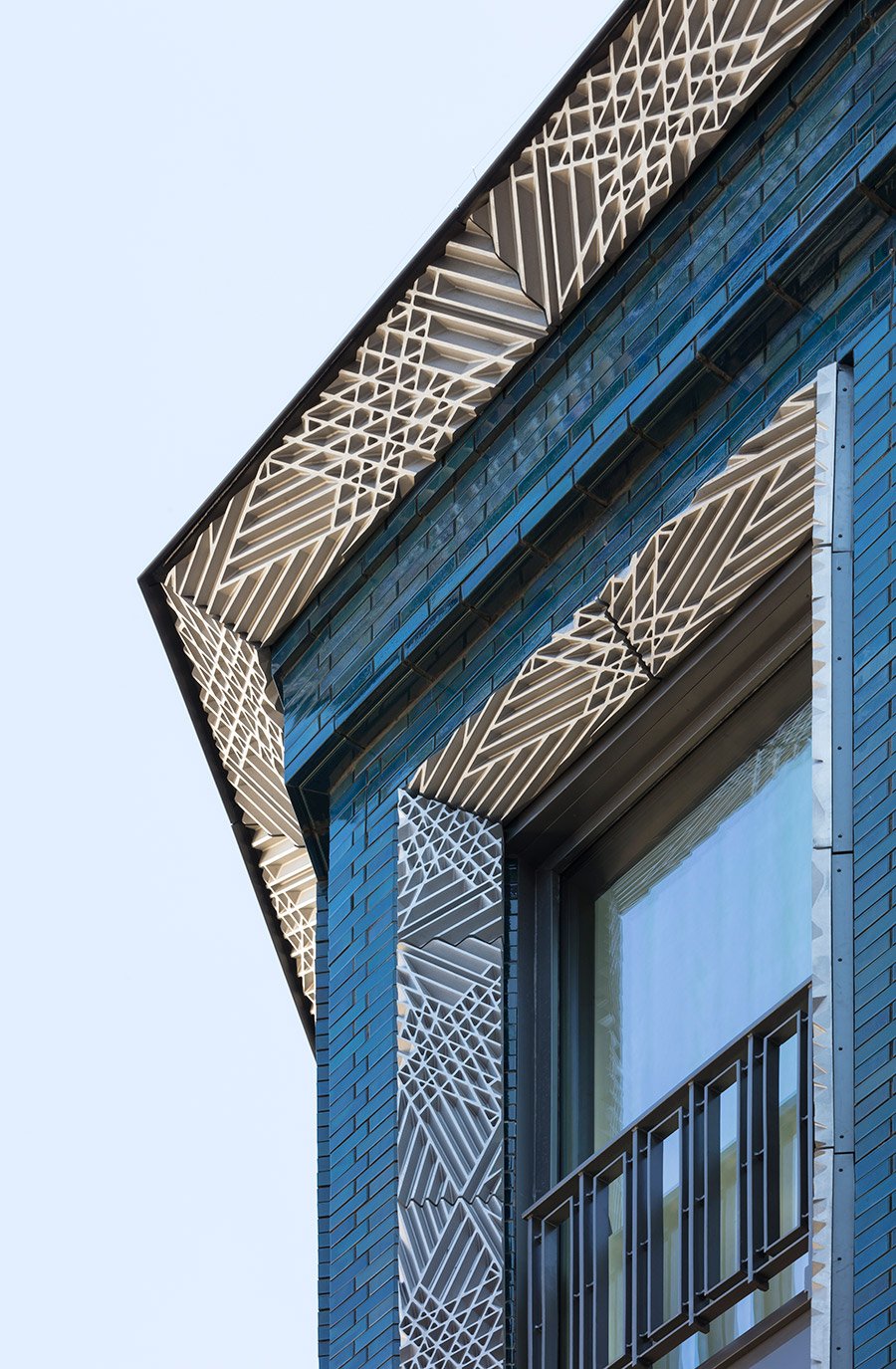 ---
Artist Lee Simmons, who's based outside London in Herefordshire, worked with the architects on the facade design, creating geometrically-patterned cast-aluminum window reveals and cornice panels. The abstract metal pattern derives from the microscopic crystalline patterns found within the casting process of metal.
"My interjection to the design of the facade was to highlight and add prominence to this corner site," Simmons says, adding that the work is a means to "frame and anchor the building within the streetscape."
Internally, the building offers a restaurant at ground and basement level, with offices above. A double-height space has been created for Damien Hirst. This lofty studio also includes what the architects describe as "letterbox" openings—large cuts in the flood slabs which allow large-scale art to be hoisted through the building. Additionally, roof terraces at the third, fourth, and top levels offer outdoor space among the dense Soho urban fabric.
Lance Routh, director at Stiff + Trevillion, added in a release that, "The level of craftsmanship and detail in the facade, combined with the distinctive color of the brickwork, has resulted in a unique building which we hope will be an inspiring workplace for Damien Hirst and his team."
You may also enjoy "Rios Clementi Hale Studios' New L.A. Office Strives to Address Gentrification in a Changing Neighborhood."