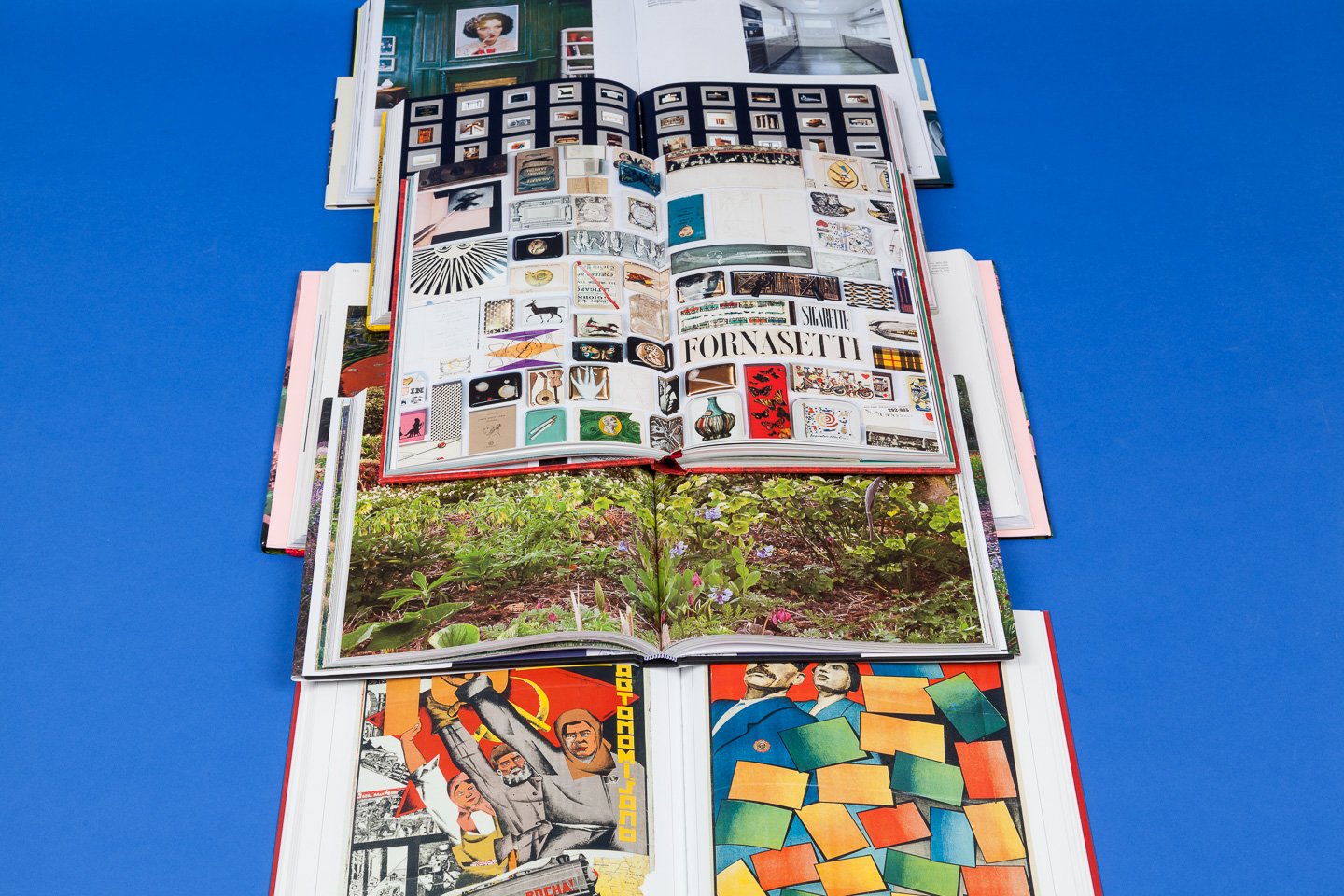 September 8, 2015
50 Books to Read This Fall
Our guide to essential reading for the rest of the year, spanning all scales of design, from graphics to cities
September isn't just when kids go back to school; it's also a great time for architects and designers to restock their bookshelves with new ideas and inspiration. Here's out guide to essential reading for the rest of the year, spanning all scales of design, from graphics to cities. Rounding out our list is a collection of titles for younger readers, because it's never too early to instill a love for architecture and design.
Architecture
Modernism
Cities
People
Design
Graphic Design
Landscape
Children and Young Adult
---
Architecture
---
Olympic Realities 
Photographs by Bruno Helbling
Birkhauser, 192 pp., $70
In recent years, Rio de Janeiro has erupted in protests over the budget for sports arenas, and Tokyo scrapped a long-planned stadium because of rising costs. Helbling's images are fuel for this growing debate on major sporting events. Since 2012, he has been photographing the afterlife of Olympic venues in six cities, capturing, for instance, a happy sunbather and his dog in Sarajevo (host of the 1984 Winter Games) and circus tents juxtaposed against Herzog & de Meuron's 2008 National Stadium in Beijing. The incongruousness that he frames might prompt the question of why we continue to tolerate the wastefulness of these projects. But the quiet humor might also lead one to ask, "Why not?" —Avinash Rajagopal
Winner's podium, Sarajevo
Studio Craft & Technique for Architects 
Written by Miriam Delaney and Anne Gorman
Laurence King Publishing, 528 pp., $30
Exploring the premise that the heart of any design studies lies in the realms of technology and craft, this educational handbook equips architecture students with the skills they need to excel in their profession. The guide begins by dictating the essential tools before delving into laboratory equipment, model making, drawing, surveying, and other topics. —Mikki Brammer
The history of Modernism, the defining architecture and design movement of the 20th century, is well-trodden and highly contested ground. Betsky argues that, in seeking to represent the constantly changing reality of modern life, Modernism was always a bit too late. From teacups to cities, the goal of "making it modern" was always elusive. —A.R.
​Palladio Virtuel
Written by Peter Eisenman
Designed by Pentagram
Yale University Press, 304 pp., $65
Peter Eisenman's keen interest in the Italian master Andrea Palladio has always felt a bit obsessive. But, this book contends, the connection is more than just idiosyncrasy­—though it is partly that­ with 20 penetrating building analyses and commentaries that attempt to prove "Palladio is as important today as ever." —Samuel Medina
Interior Landmarks: Treasures of New York
Written by Judith Gura and Kate Wood
Designed by Yve Ludwig
The Monacelli Press, 240 pp., $60
Forty-seven tales of interior landmarks in New York are highlighted in this book, capturing a slice of history and indoor space. Gura and Wood write with attention to detail about their picks, from the celebrated Grand Central Terminal and the infamous Tweed Courthouse to the dark corners of the Pierpont Morgan Library (now the Morgan Library & Museum). —Lisa-Mari Stenhaug
Jutaku:  Japanese Houses
Written by Naomi Pollock
Phaidon Press, 512 pp., $25
This book features more than 400 Japanese houses and briskly takes you through each one of them. With the forthright formula of one image per house and one house per page, the collection exposes continual experimentation from Japan's renowned architects supplemented with works from up-and-coming talents. —L.S.
Between 1945 and 1965, American housing changed forever, with 13 million new homes being built outside city centers. The ranch and split-level styles that dominated that time represented a new era for American housing and the country's way of life. Lane uses original research, images, plans, and maps to illustrate the American suburbs. —Shannon Sharpe
The Urbanism of Frank Lloyd Wright
Written by Neil Levine
Designed by Thumb/Luke Bulman
Princeton University Press, 464 pp., $65
Despite the title, which sounds like a bad architect joke from another, unironic age, The Urbanism of Frank Lloyd Wright takes its subject quite seriously. The hefty book is a complementary volume to 1996's The Architecture of Frank Lloyd Wright (Princeton University Press), also by Neil Levine, who here strives valiantly to break free Wright's partly vanguard, partly bonkers urban vision from the tyranny of categorical misreading. This means contextualizing the nadir of Broadacre City within Wright's own musings on city planning, which span nearly the length of his career, beginning with his designs for a suburban compound in Oak Park, Chicago, in the 1880s. —S.M.
---
Modernism
---
​Legorreta
Edited by Lourdes Legorreta
Texts by Ana Terán
Rizzoli, 300 pp., $85
Like his mentor Luis Barragán, Mexican architect Ricardo Legorreta masterfully blended Modernism with local tradition. But the protégé was bolder in his use of color—as evidenced by the cover of this monograph—and adapted Mexican domestic architecture to a variety of building types. He also built internationally, receiving the American Institute of Architects Gold Medal and Japan's Praemium Imperiale prize. His son Victor joined his practice in the 1990s, and the firm, Legorreta + Legorreta, celebrated its 50th anniversary last year. This volume includes more than 30 projects by both father and son from the past decade, including some completed after Ricardo's death in 2011.  —A.R.
Carnegie Mellon College of Business and Computer Science in Doha, Qatar
Courtesy Roland Halbe/Rizzoli
A Genealogy of Modern Architecture
Written by Kenneth Frampton
Lars Müller Publishers, 320 pp., $45
Few are quite as capable of breathing life into the bones of modern architecture as Kenneth Frampton. This new volume consists of 16 comparative analyses of pivotal buildings, such as Mies van der Rohe's Tugendhat Villa, and uncovers the basic features of the architecture of the past century. —S.M.
Endless Kiesler
Edited by Klaus Bollinger, Florian Medicus, and teh Austrian Frederick and Lillian Kiesler Private Foundation
Birkhäuser, 180 pp., $42
Friedrich Kiesler's project "Endless House" has a clear conception of how the curved house, where all ends intersect, would look if it were ever realized. The visionary project continues to expand in this book with input from writers, architects, and artists such as Hani Rashid, Andrea Zittel, and Olafur Eliasson. —L.S.
There's no doubt that Buckminster Fuller's work has been analyzed extensively. Yet Wigley, former dean of Columbia University's GSAPP, presents an intriguing new perspective, tying Fuller's work to the radio and showing how his radical thinking was deeply influenced by electronics, communications, signals, and waves. —A.R.
The Noguchi Museum: A Portrait 
Photographs by Tina Barney and Stephen Shore
Phaidon Press, 136 pp., $50
To celebrate the 30th anniversary of the Noguchi Museum in New York, Barney and Shore—two leading photographers who work in contrasting styles—spent 18 months documenting its spaces, sculptures, and people. Shore's spatial explorations and Barney's intimate portraits seem to celebrate Noguchi himself, who combined abstract sculptural concerns with sensitivity to people and emotions. —A.R.
Midcentury Modern architecture was perhaps most influential in the American heartland, where the style was eagerly applied to all building types, from single-family homes and civic structures to recreational centers and roadside churches. This book presents a microcosm of postwar Modernism as it was eagerly taken up in Minnesota. —S.M.
After World War II, architects Edward D. Dart, Edward A. Sövik, and Charles E. Stade joined forces with 75 congregations in the suburban Midwest to reinvigorate the Protestant community. Using architectural records, church archives, and oral histories, Buggein illustrates how this midcentury architecture reflected and shaped developments in postwar religion. —S.S.
---
Cities
---
During the mid-20th century, New York City was abuzz with art, music, film, and literature. The locations that played host to these key moments—clubs, studios, lofts, cafes, and the like—became as legendary as the happenings themselves. The authors conducted a two-year investigation into New York City's most influential cultural spaces from the 1950s to the late 1980s, many of which have been redeveloped or simply disappeared. A combination of thoughtful insights and archival and new photographs, the book guides us through such spaces as Studio 54, CBGB, Andy Warhol's house, and the Bridge Theater. This is a celebration of New York's places, many which are gone, but not forgotten. —S.S.
St. Mark's Church has been a hub for the arts, including its famous Poetry Project.
Courtesy John Stort
Hong Kong in Between
Written by Géraldine Borio and Caroline Würuch
Park Books, 248 pp., $32
The narrow lanes and negative spaces between the high-rises of Hong Kong became a way for Borio and Wüthrich to understand the identity of the urban environment in which they reside. With distinctive visuals and discerning text, they show how people interact and participate in the production of semi-public spaces. —L.S.
Affordable Housing in New York
Edited by Nicholas Dagen Bloom and Matthew Gordon Lasner
Princeton University Press, 336 pp., $40
Government-owned housing makes up 8 percent of rentals in New York City today, yet barely suffices. "Massive, centralized, and expensive, America's biggest metropolis condenses and magnifies social inequality," the editors write. Covering everything from a housing act in 1926 to the sustainable design of Via Verde in 2012, this history lays out the mixed success of the city's efforts to provide for its less privileged. —A.R.
​Spatializing Blackness
Written by Rashad Shabazz
University of Illinois Press, 184 pp., $85
An investigation of the racialization of space and the role of containment in subordinating African-American men, this book explores how carceral power functions, from the kitchenette to the prison cell. Taking a look at the myriad architectures of confinement, policing, surveillance, urban planning, and incarceration, Shabazz illustrates how spatialization has shaped and marginalized black lives. —S.S.
​Chandigarh Redux
Photographs by Werner Feiersinger
Designed by Willi Schmid
Scheidegger & Spiess, 416 pp., $52
A controversy over the auctioning of midcentury furniture, as well as recent exhibitions at major museums, has put the spotlight back on Le Corbusier's Indian adventure. Shying away from that attention and the chaos of life in the city today, these images of concrete structures and cloudy skies (with nary a human being in sight) let the Modernist experiment tell its own tale of the past half century. —A.R.
The past several years have seen a campaign to erase an entire chapter of America's 20th-century architectural heritage, targeting the Brutalist public buildings of the 1960s and 1970s. But, says this book, which catalogs Boston's great concrete buildings from that period, the movement's defenders could use a better PR strategy—not Brutalist but Heroic. —S.M.
​Streetopia
Edited by Erick Lyle
Booklyn, 312 pp., $20
An anti-gentrification art fair that took place in various spaces across San Francisco, Streetopia sought to protest the city's proposed "dot-com corridor" through its downtown. This namesake book gathers art and ephemera from the different shows—which included works by Barry McGee and Emory Douglas—complemented by essays and interviews with their participants. —M.B.
---
---
Barbara Kasten: Stages
Written by Liz Deschenes, Alex Kitnick, Alex Klein, and Jenni Sorkin
Designed by Mark Owens with Nilas K. Andersen
Institute of Contemporary Art and JPR-Ringier, 208 pp., $45
For those who missed the recent survey of Kasten's work at Philadelphia's Institute of Contemporary Art at the University of Pennsylvania, the publication of the exhibition book should be a consolation. The show, while not exhaustive, traces Kasten's career from her early woven, seated figures to her photography, through which she masterfully deconstructs architecture and materiality. Kasten's subjects are for her as much real spaces and things that she manipulates, reshapes, and occupies, as they are instrumental props useful only toward the ultimate goal of the photographs. "I am not photographing the piece of acrylic," Kasten tells Liz Deschenes in an interview for the book. "I am photographing the shadow of it." —Misha Volf
Construct NYC-4
Courtesy Barbara Kasten
"An artist, whatever he does, is always drawing his own self-portrait," reads one of the many Fornasetti aphorisms that give life to this vibrant collection, published in tandem with a major retrospective at the Musée des Arts Décoratifs in Paris. Spanning the artist's paintings, drawings, and furniture, it cheerfully charts Fornasetti's adventures in invention and imagination. —M.B.
It's surprising that this is the first comprehensive monograph on Bellini—his award-winning electronic devices for Olivetti have had a far-reaching influence. Bellini also connected various domains of design as a prolific furniture designer and an architect. Having served as the editor of Domus between 1985 and 1991, he offers an especially interesting historical perspective in an interview in this volume.—A.R.
Sudjic first met Sottsass after a party to celebrate the launch of Memphis in 1981, arguably one of the pivotal days in the colorful life of the Italian designer, and Sudjic's writing is informed by this personal connection. Sottsass was also an obsessive archivist—he kept every one of his drawings from his childhood to his death—so there's no dearth of material for this biography. —A.R.
Herman Hertzberger
Written by Robert McCarter
Designed by Beukers Scholman
NAI010, 524 pp., $95
Since 1959, Dutch architect Herman Hertzberger has put livability at the center of his buildings—responding to the perceived shortcomings of mainstream mid-century Modern architecture. So it's fitting that people of all ages, from pensive old women to playful toddlers, enliven nearly every photograph in this book, and that McCarter sets out to analyze "the manifold mysteries of spatial experience." —A.R.
Steven Holl
Written by Robert McCarter
Phaidon Press, 288 pp., $95
This volume treats Holl as one of the greatest living architects—an honor made plenty obvious by a generous but concise overview of 53 projects from a 40-year career. Punctuated by the architect's watercolor sketches, which range from contemplative to assured but are always probing, this is a well-illustrated must-have for students of the architect's work. —M.V.
​Olafur Eliasson: Contact
Written by Olafur Eliasson
Designed by Irman Boom
Flammarion, 200 pp., $80
Printed on fathomless matte-black pages in phosphorescent ink, this catalog for Eliasson's exhibition at Paris's Fondation Louis Vuitton is about as close as a book will come to his transfixing works. Eliasson's line drawings and essays by a philosopher, architect, astrophysicist, and sociologist contextualize and relieve a daunting if otherwise gorgeous exemplar of exhibition-catalog design. —M.V.
---
Design
---
For science-fiction-film buffs, 2001: A Space Odyssey stands as something of a Holy Grail, and this comprehensive volume allows even further immersion into its world. A visual treat, it spans the largely unpublished archive of art director Harry Lange's designs, concepts, roughs, and photographs that created the film's stunning vision for the future. In addition to examining Lange's experiences with NASA, this fascinating journey behind the scenes also highlights certain innovations that were considered science fiction in the 1960s but have since become reality, including a "newspad" designed by IBM that resembles the iPad. —M.B.
Dr. Frank Poole (Gary Lockwood) in his space suit, walking on the brightly lit interior set.
Courtesy Jean-Phillipe Charbonnier/Gamma-Rapho/Getty Images
Russian Revolutionary Posters
Written and designed by David King
Tate Publishing, 144 pp., $28
This visually potent survey is packed with more than 165 politically charged posters, all culled from the author's personal collection of Soviet placards. Proceeding from the October Revolution through to Stalin's death, and dramatically oscillating in style—between avant-garde paroxysms and socialist realist schlock—the best of them still crackle with the febrile dreams of a better world. —S.M.
DDR Limited
Written by Stephan Schilgen and Andre M. Wyst
Gestalten, 176 pp., $40
Trabant quips aside, the German Democratic Republic (GDR) cultivated a vigorous arts and design culture, whose residue is prettily preserved at the Central Berlin gallery housed in the famed apartments of the same name. This coffee-table volume commemorates the interiors of the landmarked property through the lens of GDR chic. —S.M.
Cuba's sociopolitical revolution coincided (like all revolutions worth their salt) with a period of great artistic intensity. This book maps that aesthetic upheaval through the island's diverse music landscape and dozens of LP covers, whose features—bold slabs of color, collagist experiments, offbeat typography—deftly distill Cuba's unique cultural mélange.—S.M.
Modern Taste: Art Deco in Paris 1910–1935
Written by Jose Marinas
Edited by Tim Benton, Manuel del Junco, and María Zozaya
Fundación Juan March, 540 pp., $80
A companion to an exhibition of the same name at the Fundación Juan March in Madrid, this book questions why Art Deco—known to be "the last of the total styles"—is almost completely absent from the history of modern art. It serves as an important challenge to the division between fine and decorative arts. —S.S.
New Nordic Design
Written by Dorothea Gundtoft
Designed by Anna Perotti
Thames & Hudson, 256 pp., $40
For Scandinavians, good design is simply a fact of life, says Dorothea Gundtoft in her introduction to this neat compilation of today's most influential Nordic designers, both established and up-and-coming. Interviews with the designers as well as international commentators make for an entertaining visual wander through Nordic design. —M.B.
Philip Treacy: Hat Designer
Written by Philip Treacy with Marion Hume
Rizzoli, 312 pp., $115
Over the past two decades, Philip Treacy's hats have become legendary, with everyone from Madonna to the Duchess of Cornwall wearing his designs. Here, Treacy provides a deeply personal look at his creative process, his collaborations, and his legendary friendships with such fashion icons as Isabella Blow and Alexander McQueen. —S.S.
---
---
Bruno Munari: Square, Circle, Triangle
Written and designed by Bruno Munari
Princeton Architectural Press, 280 pp., $30
The divine circle, the dependable square, and the eclectic triangle are the objects of study in this little book, which is a collection of Munari's work originally published in the 1960s and 1970s. The case studies travel through centuries, from Japanese decorations to works by Le Corbusier and Alvar Aalto. —L.S.
It's rare in this smartphone age that we indulge in the tactile experience of a paper map, but the art and craftsmanship of mapmaking still thrives and is a wonderful expression of contemporary culture. The fine examples that fill these pages explore the artistic and quirky side of cartography. —M.B.
Art Forms from the Abyss
Compiled and written by Peter J. le B. Williams, Dylan W. Evans, David J. Roberts, and David N. Thomas
Prestel, 144 pp., $30
Nineteenth-century biologist Ernst Haeckel was revered for his scientific illustrations, which still inspire designers today. This stunning collection showcases his drawings for the report of the 1872–76 HMS Challenger expedition that circumnavigated the world and cataloged 5,000 new marine species. —M.B.
---
---
The High Line
Written by James Corner Field Operations and Diller, Scofidio, and Renfro
Phaidon Press Limited, 452 pp., $75
Since its opening in 2009, the High Line has worked its way into the hearts of New Yorkers and become an important part of the city's landscape. Consider this a behind-the-scenes glimpse, from conception to afterthoughts, provided by the architects and designers who were responsible for bringing the High Line to life. —M.B.
Planting in a Post-Wild World
Written by Thomas Rainer and Claudia West
Designed by Debbie Berne Design
Timber Press, 316 pp., $40
Rainer and West make a bold attempt to reimagine—or perhaps reckon with—landscaping as a practice of creative aesthetic intervention rather than of territorial domination posturing as a return to nature. This is as much a use- ful and thorough guide for ecologically oriented designers as a folio of beautifully saturated landscape photographs. —M.V.
If "nature porn" stages wildlife as a sublime epic, this collection is more akin to "nature erotica": flora that's sensuous and fantastical, but ultimately reassuring and domesticated. Short narratives and hand-drawn sketches remind readers that these tableaux of "wilderness," however fabulous, are ultimately considered works of set design. —M.V.
---
---
Courtesy Nicholas Calcott
Every child—whether a toddler or a young adult—deserves a little design in his or her life. To instill a love of visuals, materials, and physical structures stirs creativity. We've chosen eight eye-opening books that young readers will appreciate, even if they aren't architecture and design buffs…yet. —A.R.
Drawing in the Sea
Illustrated by Harriet Russell
Princeton Architectural Press, 64 pp., $19
How would you color in a drawing of the sea? Well, it depends on whether it is at night or sunrise. Ostensibly an activity book, this volume is full of subtle marine-themed lessons about physics, geography, biology, and, of course, color theory.
The Brownstone
Written by Paula Scher
Illustrations by Stan Mack
Princeton Architectural Press, 32 pp., $18
Mr. Bear and his family have just settled down for their winter naps when they are rudely awoken by Miss Cat singing across their hall in their brownstone. This reprinted tale about neighborly quirks of architecture—and the illustrations from 1972 match the charm of the story.
What Is This?
Designed by Tamara Shopsin
The Ice Plant, 40 pp., $10
The "this" of the title is the squiggle on the cover. Is it a tornado, a storm cloud, or the crackling fire in the fireplace? Each stretch of the imagination is drawn out, and the facing pages are invitingly blank—perhaps for a young reader's own squiggles.
Big Bear Little Chair
Written by Lizi Boyd
Chronicle Books, 36 pp., $17
On every page in this book is a misfit, a big owl on a little branch, and an oversize penguin who wears an undersize hat. Titular character Big Bear can't fit into his little chair, and Little Bear can't reach the big chair. But when they put their chairs together, everything is right with the world.
Mr. X has stolen the Maze Stone, which can turn all of Opera City into a bewildering puzzle. Standing in for Pierre, the maze detective, readers wind their way through mazes and return the stone to the museum, stopping at every spread to marvel at the detailed design of Pierre's world.
Little Houses: A Counting Book
Illustrated by Helen Musselwhite
Laurence King Publishing, 32 pp., $16
Musselwhite's medium is paper, and every spread is a beautifully crafted sculpture. The homes range from midcentury Modern American structures to Japanese teahouses, so young readers can learn a little architecture history along with their numbers. Distinct rooms each provide a unique setting.
Babina is an architect whose illustrations of the initials of starchitects' names in their formal styles became hugely popular when they appeared on blogs. Collected here as postcards in print format, the whimsical drawings can be an A-to-Z tour of contemporary architecture for an enthusiastic learner.
Hot Pink: The Life and Fashions of Elsa Schiaparelli
Written by Susan Goldman Rubin
Designed by Maria T. Middleton
Abrams Books for Young Readers, 56 pp., $22
Ostensibly a biography of Schiaparelli, this simply written text is also an eye-opening tour of early-20th-century art and design, accompanied by sharp explanations of difficult concepts. Aspiring young adults who dream of the runway could find few better initiations into fashion history.