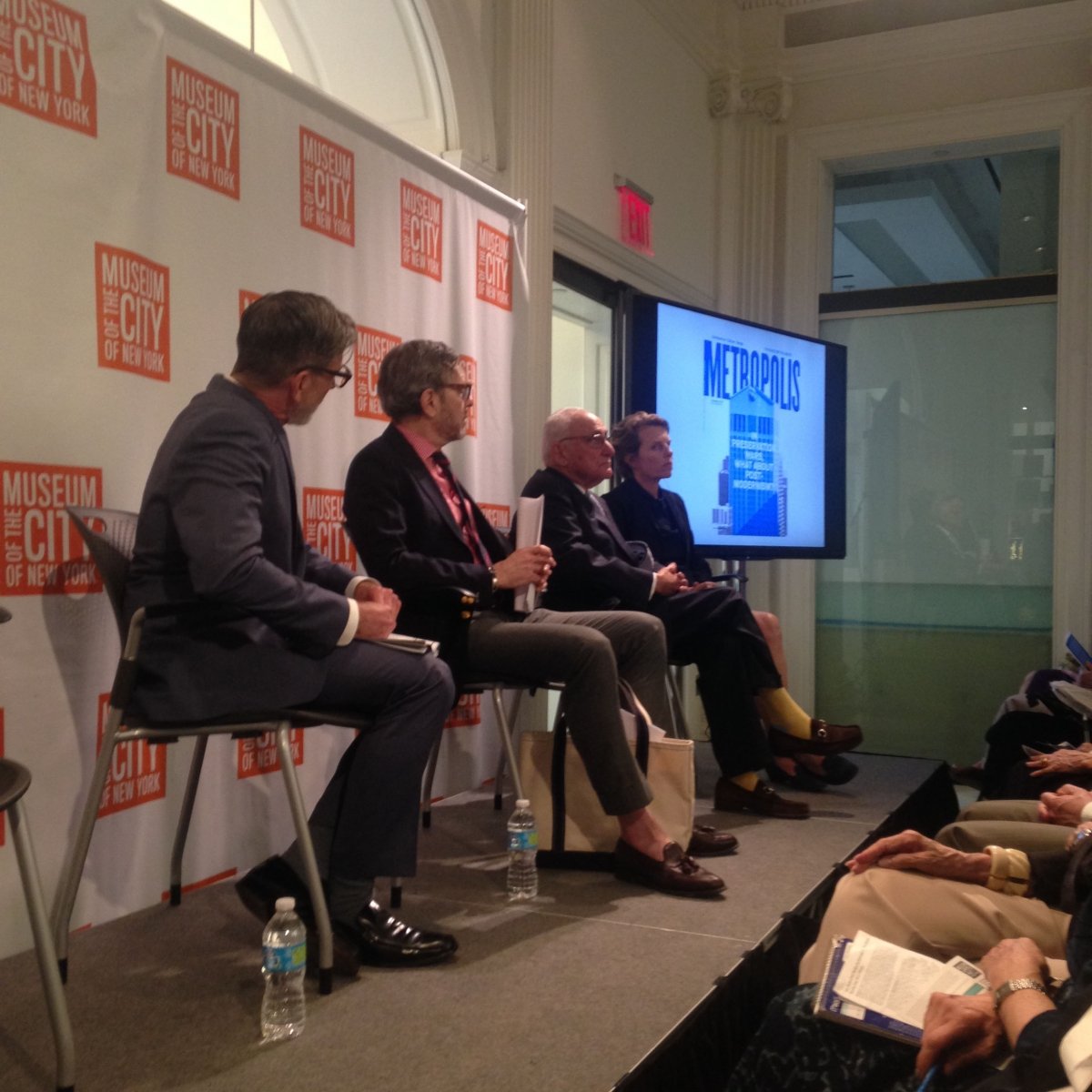 July 7, 2015
A Michael Graves Classic is Threatened by Store Closing
With the shuttering of the Domenico Vacca Fifth Avenue flagship, the fate of its historically significant Postmodern facade hangs in the balance.
Michael Graves's facade for the former Diane von Furstenberg store, as it appeared in October 2014.
Courtesy Mark Wickens
A stone portal crowned by a gold Grecian vessel, set into a glass facade—what's left of the original Postmodern facade and interior of the 1984 Diane von Furstenberg store in New York City has become a familiar favorite of Metropolis editors ever since we put it on our Postmodern watchlist last November. Designed by Michael Graves, the facade served as the face of the retail space for Domenico Vacca for the past decade. It's a hidden gem (as so many Postmodern works in the city are) and, with Graves's passing in March (read our special tribute here), has acquired a certain sentimental value—this is perhaps his only Pomo design that is now accessible to New Yorkers. So imagine my shock at seeing the interiors vacant and papered up last week.
Ironically, I was returning that evening from a lively discussion at the Museum of the City of New York about the lack of protection for historically important late Modern and Postmodern buildings. The panel, moderated by Metropolis's editorial director Paul Makovsky, explored many of the tricky nuances of landmarking interiors and exteriors from the 1970s and 1980s, with commentary from landscape architect and preservation consultant Michael Gotkin and architects Robert A.M Stern, Annabelle Selldorf, and John Kriskiewicz. A slide showing an image of the Diane von Furstenberg facade drew collective gasps and appreciative giggles from the audience, especially as Makovsky read out von Furstenberg's original brief: "Make it a little shrine to Venus," she told Graves. "Make it a place where a woman can walk in and dream and fantasize, and for a man who wants to indulge her."
"I wanted to do something precious and rare," von Furstenberg told Metropolis in April. "Michael had never done a retail store…it was a bit of a utopia but it was beautiful." The shop, which is a block away from the flagship Apple store on Fifth Avenue and catty-corner to Central Park, has changed hands many times since then, so the facade is all that remains of it. A mere five years after the space was completed, fashion designer Geoffrey Beene took it over and completely overhauled the interiors. He too moved out in 1991, occupying the store for a little over a year. Domenico Vacca moved in eventually and remained for ten years, before declaring on June 21st that he would be moving his store over to West 55th street, to what the New York Post calls "a most un-posh building."
The "New Frontier of Landmark Preservation: Late Modern and Postmodern Architecture" panel held at the Museum of the City of New York. Left to right: John Kriskiewicz, Michael Gotkin, Robert A.M. Stern, and Annabelle Selldorf
Courtesy Grace Ehlers
Luckily, none of these tenants meddled with the exterior, leaving behind the iconic Grecian vessel that Graves claimed was to "gather in light and symbolize the feminine spirits." The brown paper now covering the windows is an ominous sign—in its unprotected state, there is nothing to prevent a new tenant from completely replacing Graves's beautiful facade.
Gotkin, who co-curated our watchlist, points that the project perfectly encapsulated the issues that plague New York's Postmodern masterpieces. As a later addition to the already landmarked Sherry-Netherland Hotel, Graves's storefront is an especially problematic situation. "Although modifications to landmark properties may be architecturally and historically significant on their own merits, and worthy of preservation, there is presently no mechanism to guarantee protection for these later design contributions," Gotkin says. "This is something that undoubtedly was not foreseen when the NYC landmarks law was originally enacted, and today represents a grey area where historically interesting alterations to landmark properties, including those by important architects, could be demolished without a public hearing." A recent controversy at the Frick Collection regarding a garden designed by Russell Page brought this issue to the fore. "The Frick tried to argue that the garden did not merit protection as part of the landmark campus because it was a later addition," Gotkin says. "Fortunately, the Frick backed down from its plan to demolish the garden before it could be debated at the LPC. I would expect more and more of these kinds of issues to arise as notable later additions and modifications to landmark properties come up for reappraisal."
So a new tenant for the space in the Sherry-Netherland hotel might find support for a facade design that is perceived today to be more respectful to the historic property than Graves's addition. However, both Stern and Kriskiewicz argued how specious the point was, considering how our ideas on appropriate additions to landmarked buildings have changed dramatically over time. "Who holds the keys to authenticity?" Stern retorted in his provocative way. Selldorf, who has proposed a controversial redesign of the old Four Seasons restaurant in the Seagrams building, highlighted the other issue—the lack of protection for interiors, which is how the new tenant might justify a complete redesign of the space.
Such a precarious situation is precisely why the Landmarks Commission's process needs to be urgently updated for Postmodern era. In an ideal world, as Gotkin suggests, a new tenant would have to seek approval for changes to the facade. "Our [1980s] design was approved by New York City Landmarks," says Karen Nichols, principal at Michael Graves Architecture & Design, who worked on the facade. "We would hope that the spirit of evaluating and monitoring appropriate change in historic contexts—the original and the 30-year-old version—would be applied to the storefront once again."
Left: The Domenico Vacca store in October 2014. Right: The shuttered store in July 2015
Courtesy (left) Mark Wickens; (right) Avinash Rajagopal
The Graves interiors as they appeared in 1984, upon the store's formal opening. When the store later changed hands, it was gutted, with only the facade left in place.
Courtesy Michael Graves Architecture & Design
The original facade: a stone portal crowned by a gold Grecian vessel
Courtesy Michael Graves Architecture & Design