October 2, 2017
New Talent 2017: Adam Nathaniel Furman's Electric Approach to Postmodernism
Relying on his own imagination rather than trends, Adam Nathaniel Furman—a master of surface and ornamentation—designs exuberant works at all manner of scales.
Even though they work at diverse scales, the five emerging practices that we have selected this year as Metropolis's New Talent 2017 share some fundamental characteristics. They are all open to influences from other places and professions, engage with new technologies and materials, and collaborate with others at the cutting edge of their field. Whether they're creating architectural installations in London, lighting designs in Vancouver, start-up offices in New York, a hospital in Zambia, or Shaker-inspired objects in Oregon, these practitioners have what it takes to move architecture and design forward.
---
Relying on his own imagination rather than trends for inspiration, Adam Nathaniel Furman—a master of surface and ornamentation—designs exuberant works at all manner of scales.
Milan's Salone del Mobile is the world's most important showcase of furniture and design—an annual trade fair in which moguls mix with neophytes, and those in the design world celebrate another year of incremental innovation. At Camp Design Gallery, positioned as part of the 2017 Fuorisalone at the fringe of this year's event, one show stood proudly divergent from the unspoken boundaries delineated by the movers and shakers of the design world.
Away from the well-trodden rat race, a presentation of four bespoke furniture pieces, curated by Marco Sammicheli and sponsored by the innovative digital-lamination company Abet Laminati, engaged in a distinct confrontation with the rank and file. For this installment of an increasing number of solo shows in recent years, London-based architect and designer Adam Nathaniel Furman created four personalities: Angiolo, a stout side unit; Anselmo, a low table; Annibale, a cupboard with legs; and Augusto, a tall triangular cupboard. Remarkable, highly ornamented spectacles in themselves, these characters were inspired by Italy and its "ability to always mix, and synthesize, influences from all around the world." Patterns of Korean, Balinese, Thai, and Chinese influences fused with classical motifs on two-dimensional surfaces to create a collection at once joyful and unquestionably sincere. "Imagine a Thai business lady," Furman proposes, "and an Italian backpacker spending a long, exciting, passion- and drug-fueled night together in a Chinese club. These pieces are the embodiment of this kind of wonderful, sensual, and aesthetic transcontinental exchange."
Describing Furman as an architect and a designer does not do justice to the breadth and intelligence of his practice. While architecture may be his foundational springboard, he is a polymath of sorts—an inquisitive and broadly talented creative and thinker, teacher, and communicator. His work, which is often defined by radical—in the context of this decade at least—explorations of color, style, and decoration, unsettles some and invigorates others. For many who have tried to clarify, and thereby simplify, his work, "neo-Postmodernism" is an often-used label that has tended to stick. In the eyes of Timothy Brittain-Catlin, a noted academic, architect, and writer who taught Furman at London's Architectural Association, he is less "neo-" and more "continuity" Postmodern. Furman is, in other words, intellectually connected to the momentum of an entire movement of thought and production that he, at the same time, has proved capable of carrying and reinventing. "Just as Augustus Pugin once declared that he bore the whole weight of the Gothic Revival on his shoulders," Brittain-Catlin observes, "it feels that Adam is performing a similar role."
Postmodernism wasn't always trendy, but being trendy isn't one of Furman's preoccupations. "He just goes on working away at what he was doing before," Brittain-Catlin notes—an increasingly rare professional trait in the burgeoning sphere of 21st-century creatives. "In Adam's output, of which there is and always has been a staggering amount, he has never tended toward pretension or fashion." (Furman does, however, recognize the power and value of the internet; he is among the most engaged and sophisticated users of image-based sharing platforms on the British architectural scene.)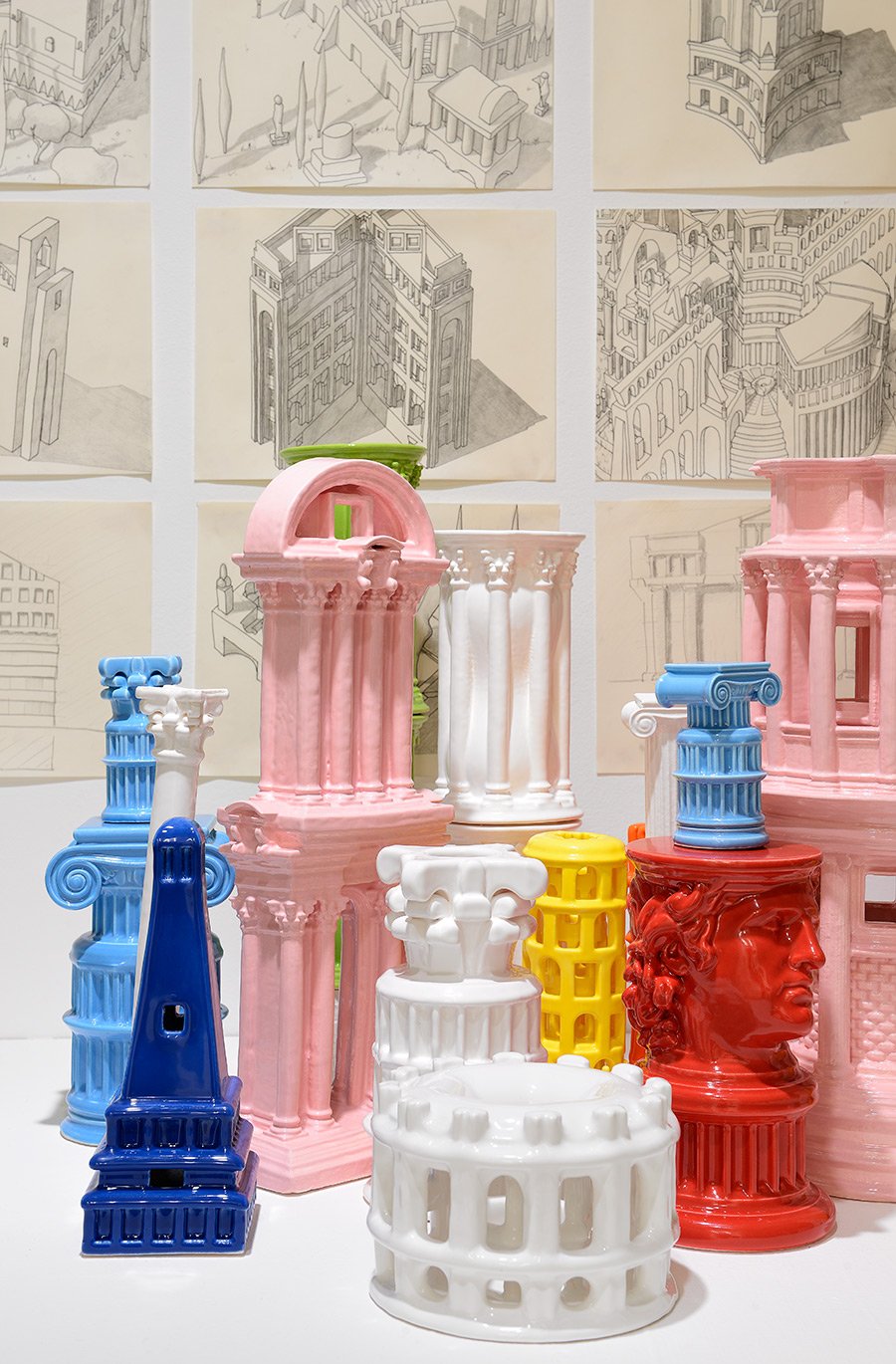 Having been lauded as one of the Observer's four Rising Stars of 2017, and L'Uomo Vogue Italia's Design Star of 2016, Furman is becoming widely recognized for his critical and creative approach. His intellectually courageous techniques of merging history, politics, art, and utility attracted particular attention during his tenure as the Rome Prize winner in architecture between 2014 and 2015. The Roman Singularity, an exploration of the Eternal City as metropolis par excellence undertaken during a cloistered year at the British School at Rome, comprises a city of machine-fabricated ceramics, which are known and appear as "minions." There are also more subdued pencil-and-ink capriccios—fantastical structural amalgamations—and a mesmerizing "video poem" in which color and form are elevated by Furman's own language and verse. For him, the project embodies "a place where the analogical whole history of society, architecture, politics, literature, and art coalesce into a space so intense and delimited that they collapse under the enormity of their own mass into a singularity of human endeavour." These works, alongside two new site-specific commissions, are now in residence at a solo show at Sir John Soane's Museum in London—itself a labyrinthine warren of models, renderings, artifacts, recesses, and light. A little, one might argue, like taking a stroll through Furman's mind.
You can find all our New Talent 2017 profiles here!