August 1, 2019
New Exhibition Contemplates the Past, Present, and Future of the Workplace
Open until September 6 at Brooklyn's A/D/O by MINI, Out Of Office highlights key themes and objects from the past 70 years while projecting what the next 30 years may hold.
At first glance, A/D/O by MINI appears to be many things—a café/restaurant, trendy shop, exhibition space—but it certainly doesn't look like an office. Sure, there are a few rows of tables where people are working, but there's also a full kitchen in plain view. Located in Greenpoint, Brooklyn, the A/D/O building hosts a tech company accelerator and a paid membership coworking space, but it welcomes anyone with a laptop into its common areas, which also hold classes, panels, and exhibitions. This all makes A/D/O a superbly fitting venue for Out Of Office, an exhibition about the past, present, and future of the workplace.
Curated by Alex Gilbert and Andrea Hill, Out of Office comprises four sections, some more focused than others—Water Cooler Talk, History of the Desktop, Supply Closet, and Wellness 2050. These discrete exhibits were designed architects Lexi Tsien and Talitha Liu of local practice Soft-Firm.
But there is no overarching thesis to link them. Rather, the show aims to make sense of the many changes that have remade the workplace in our technology-driven times. "Some of the greatest leaps in the last century have been engineering or tech-based, but the role of the designer has kind of fallen away," says Gilbert.
The Wellness 2050 room, which projects a bucolic field within a dimly lit room, feels more nostalgic than futuristic. Supply Closet is a taxidermy-like showcase of largely outdated office staples (pun intended) such as air mail envelopes and rubber band balls. A white ziggurat, topped with water cooler tanks, exhorts visitors to "Work smarter, not harder."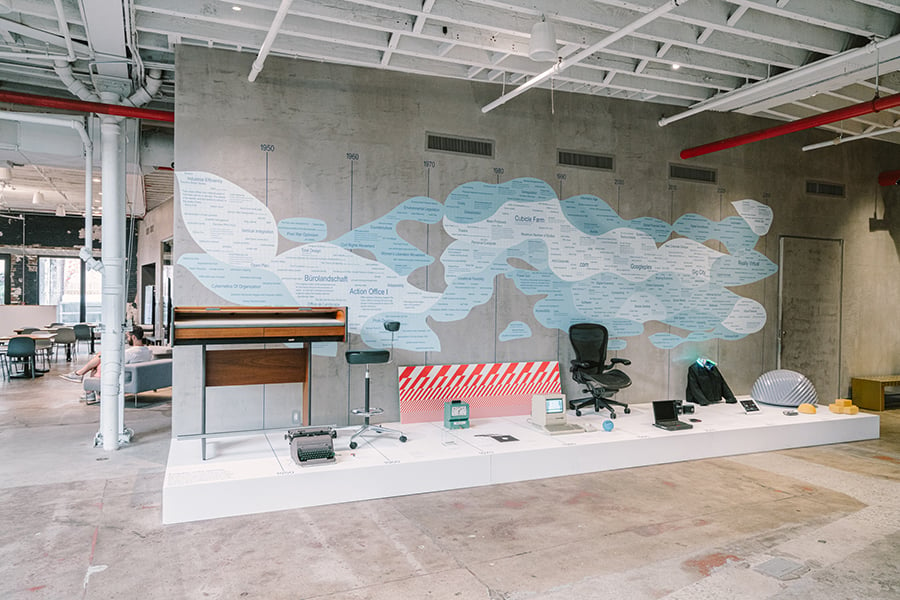 It's the History of the Desktop section that really unites the show. With the help of design practice Studio TheGreenEyl, Soft-Firm's Tsien created a wall-to-wall timeline-cum-word-cloud that helps connect the many advances in workplace culture since 1950 (and even projects a few scenarios that will ostensibly unfold in the next 30 years). Echoing Charles Jencks's Evolutionary Tree diagram, the chart indicates when phrases like "equal pay," "break room," and "software," first came about. Among the objects positioned beneath the timeline are Robert Propst's standing desk (donated by Herman Miller) and a two-toned royal typewriter, both of which pushed design boundaries in the '50s. SO-IL's speculative office "equipment," designed for Knoll, forms the opposite end of the spectrum. In between, notable workplace innovations (IBM's ThinkPad, the typewriter eraser) and hilarious failures (the Babble voice scrambler) sit side by side.
"It's 2019, we're at the end of another decade coming up [and] it felt like a very reflective moment to kind of think about, where are we in the history of work?" Hill tells Metropolis. As the timeline suggests, the march of the digital has made it possible to work from anywhere, putting offices in competition with the A/D/O's of the world. Yet, according to Hill, no matter how digital things become, "we [still] need to have a sense of productivity to feel human." While Out Of Office can't answer how design plays a role in that, it does find multiple ways to pose the question.
You may also enjoy "SFMOMA Ventures Into Outer Space With Its Latest Design Exhibit."
Would you like to comment on this article? Send your thoughts to: [email protected]