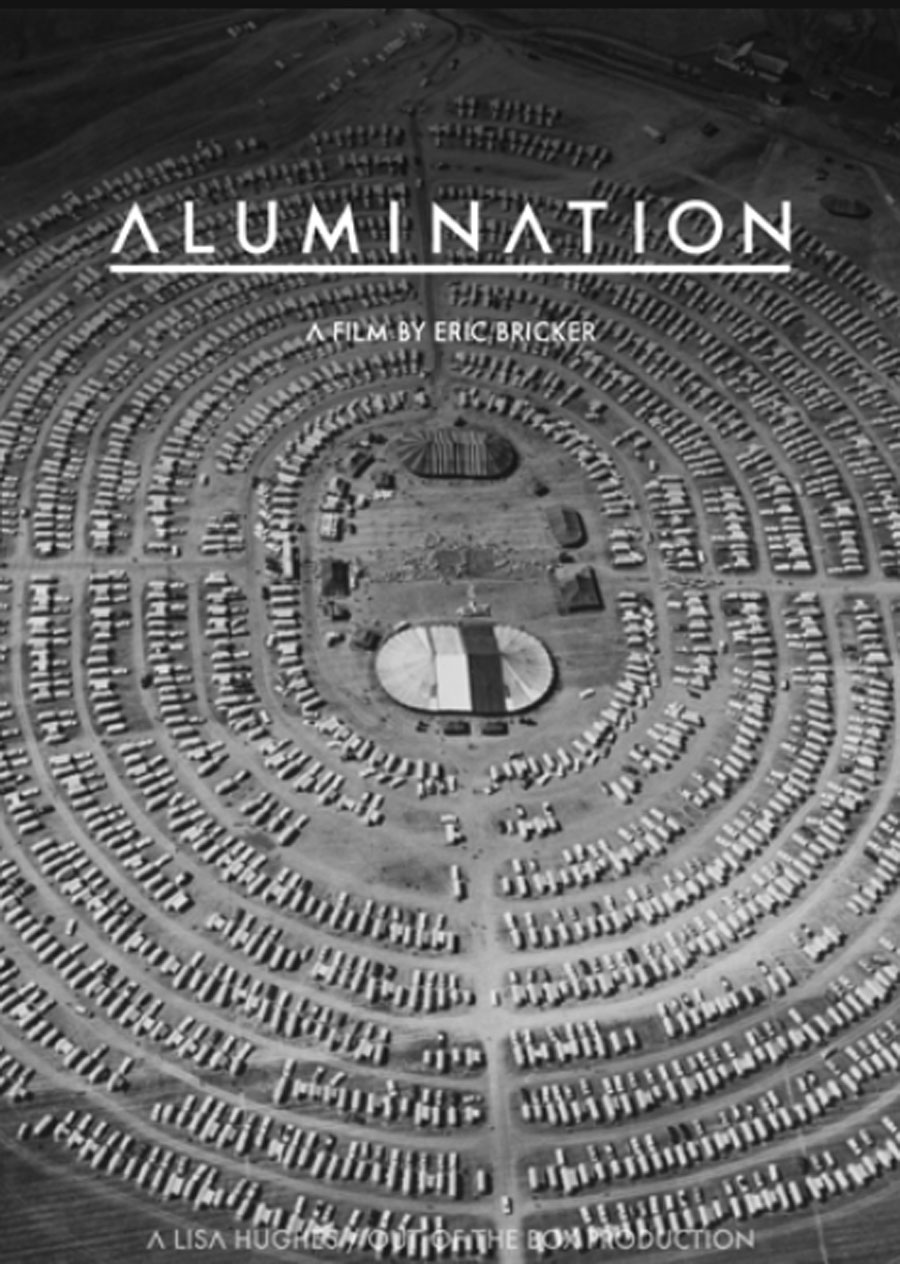 May 7, 2021
A New Film Chronicles the Design Legacy of Airstream
Alumination, a new documentary by filmmaker Eric Bricker, captures the history and legacy of the iconic American travel trailer on its 90th anniversary.
---
Fresh out of undergrad, the first gig I could find was writing for a do-it-yourself RV renovation blog. These stories would typically shape up in one of two ways: First, a home-school family wants to trade their suburban home for a life on the road; so they transform an old Airstream into a tiny house, and travel across the country with their three kids and small dog. Second, a hip, young couple acquires a run-down 1950s Airstream and renovates it into an all-white Scandi-Modern Airbnb, parked usually somewhere desert-adjacent, and available to rent for $300 a night.
While formulaic, the countless number of these stories points not only to the continued appeal of a "free-spirited" lifestyle, but also the incredible durability of a travel trailer designed nearly a century ago.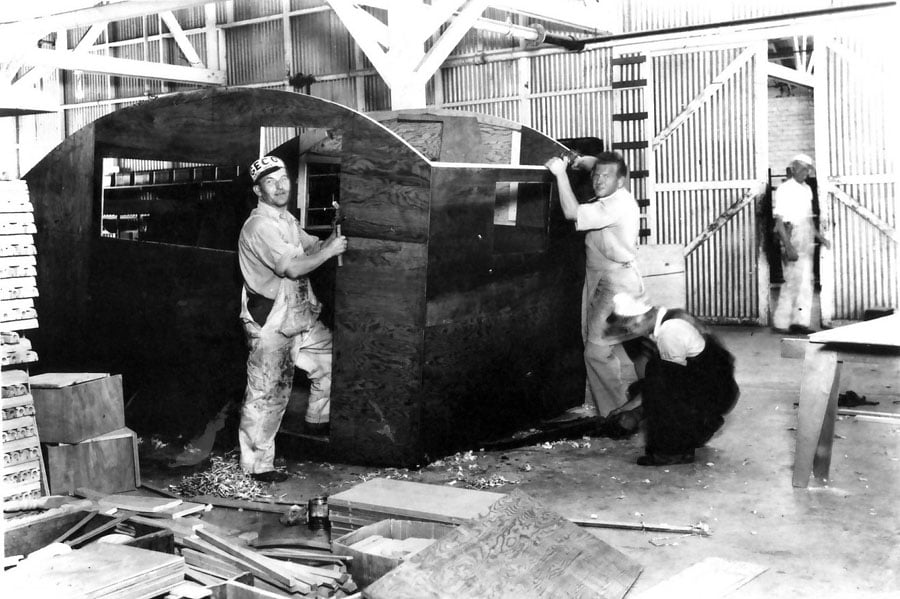 ---
Few design objects symbolize midcentury America better than the iconic RV, which carries within its aluminum shell a romantic spirit of innovation, independence, and resilience. In his new independently produced documentary, Alumination, filmmaker Eric Bricker dives into the history of the silver bullet while telling the story of founder Wally Byam and the communities of "trailerites" that inhabit them. Through dozens of interviews and never-before-seen archival footage, Alumination points to the Airstream's ability to spark an emotional connection within anyone who encounters it.
But the Airstream wasn't always the streamlined design that so many Americans know and love today. The original plans that Wally Byam began selling in Popular Mechanics magazine in the early 1930s were similar to other wood frame travel trailers on the market at the time. For just $100, everyday consumers could purchase Byam's plans and build their own teardrop-shaped trailer out of lumber and Masonite. It wasn't until 1936, that the first silver trailer, The Airstream Clipper, hit the market, shocking Americans with its reflective, futuristic design.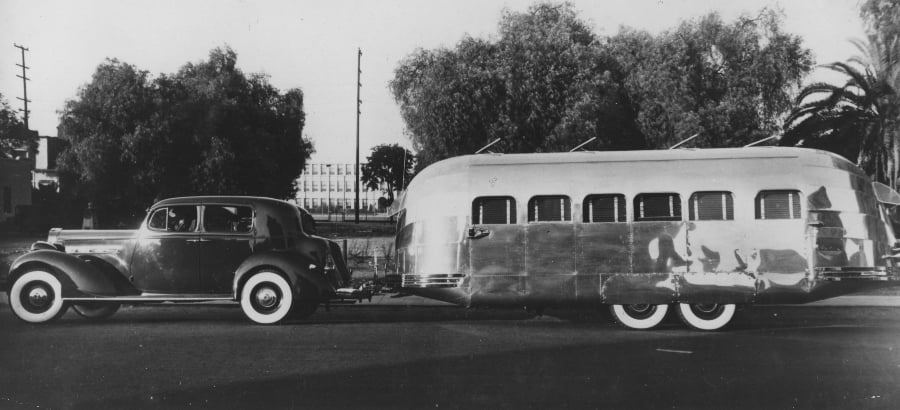 ---
Rooted in aircraft construction and standing in stark contrast to other 1930s-era trailers, the high tensile Duraluminum skin of the Clipper was hand-riveted into a semi-monocoque, bullet-shaped shell. Inside, stainless steel kitchens and wood-clad interiors brought the comfort and convenience of home to life on the road. A heavy steel chassis and low center of gravity helped make it "the most equipped travel trailer for rough terrain," which Byam exhaustively tested on his worldwide caravans from 1955-1979.
"Wally didn't design these to roll down a road, he designed them to roll down a road to get to a place where there wasn't a road and then go down that," the film points out. Through original caravan footage—including clips from a 1966 miniseries narrated by Vincent Price—and interviews with present-day Caravan Clubbers, the film highlights Byam's belief that the caravan trips generated understanding among different cultures, promoted international goodwill, and even world peace. "No matter where we go, whether it's Europe or South America, we're telling you we're nice Americans and we want to make friends."
---
Ever since, the Airstream brand has been shrouded in a veil of diplomacy that is maintained today by The Wally Byam Caravan Club International, whose 16,000 members continue to hold rallies across the country. Americana musician Antsy McClain notes in the film, "You'll have very liberal-leaning people roasting marshmallows with somebody who is conservative, and they are talking about what we have in common rather than our differences."
The film also highlights some of the present-day designers, architects, and restoration specialists whose work has revived the Airstream image. For example, Christopher C. Deam, the San Francisco-based architect who in the early 2000s brought the Airstream's interiors up to speed. By introducing aluminum on the inside, as well as bold colors and contemporary materials, Deam created a design language for the interior that "delivered on the promise of the exterior." In the film, he explains that while the Airstream "symbolized the forward-looking, progressive hyper-technology of American design, the inside was like your grandmother's kitchen."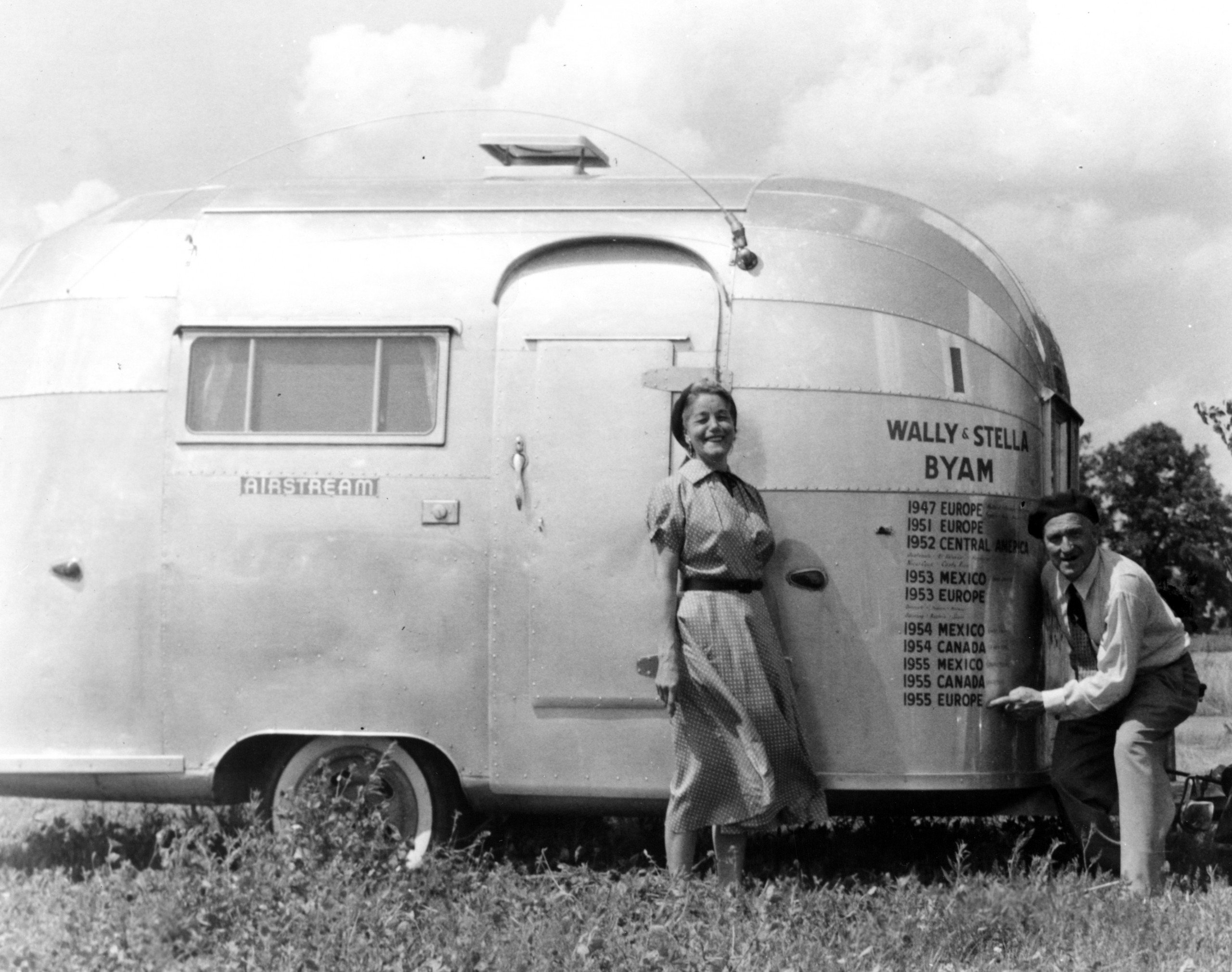 ---
Deam's designs came at a time when the industry was taking off, ushering in a new generation of travelers who had a thirst for everything Midcentury Modern. Artists, craftspeople, and architects began to breathe new life into Airstream shells. Dave Winick, a vintage Airstream specialist and restorer says in an interview for the documentary, "The aluminum bodies can last a lifetime, be abandoned for years, and still be restorable where almost every other RV made ends up as a pile of iron oxide somewhere in the earth."
Kate Pierson, lead singer of the American new wave band, The B-52s, and Alumination's narrator, is among this new generation. Co-founder of Kate's Lazy Desert, an Airstream lodge in Landers, California, Pierson's renovation of seven Airstreams encapsulates what the brand has come to stand for in the 21st century. Lazy Desert Airstreams are filled with surfaces decorated in Midcentury Modern symbols of exotica and tiki culture, Disneyland, and space-age kitsch. One can even stay in the Hairstream, a "fantasy tour trailer" filled with B-52s memorabilia. Mining a camp sensibility—much like her music—the Lazy Desert exhibits the aesthetic use of an outmoded commodity while simultaneously inverting the obsolescence, artifice, and pop-cultural extravagance associated with it.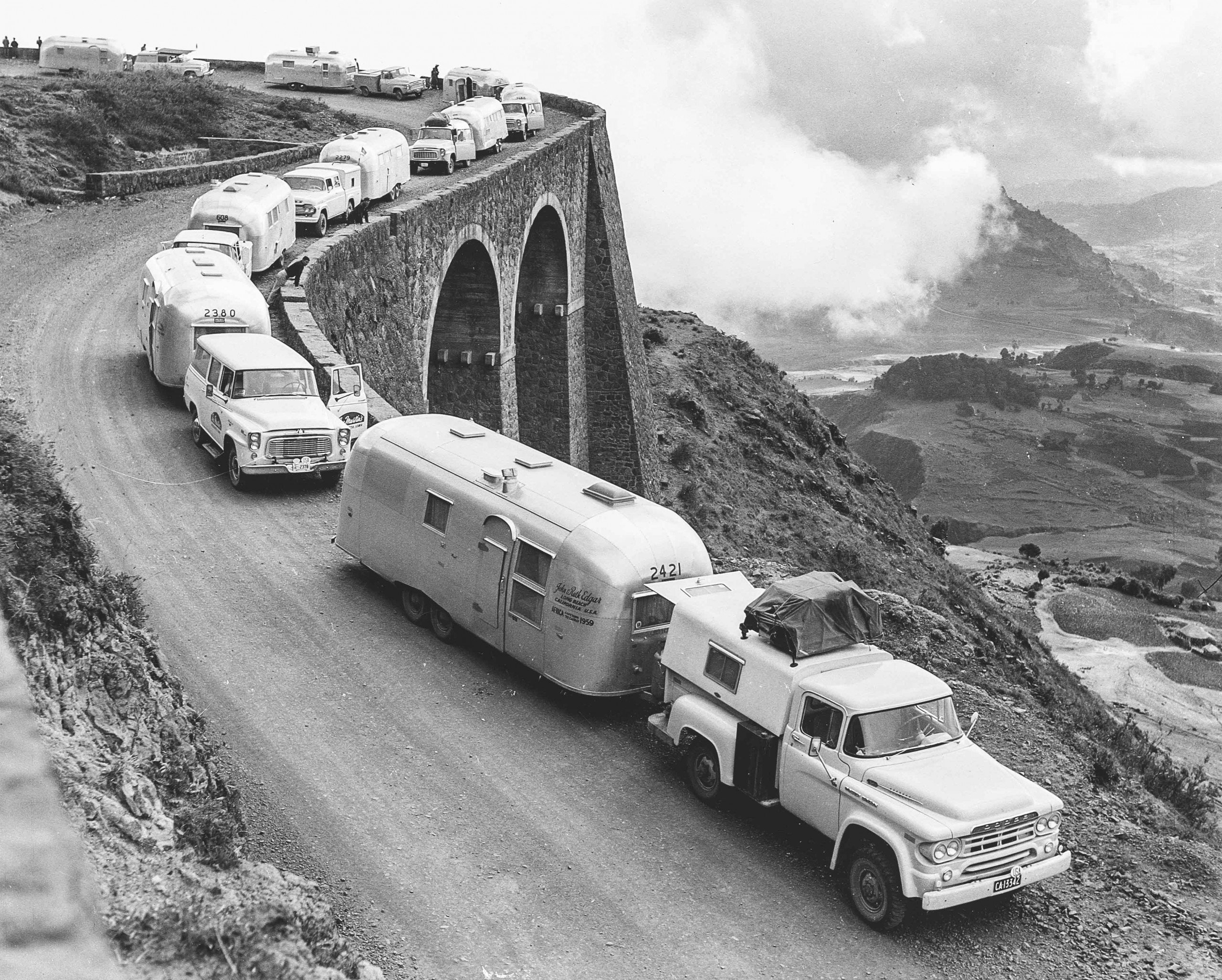 ---
Without a doubt, this optimistic and unabashed nostalgia fuels Airstream's enduring popularity. However, the glamorized conception of a "nomadic lifestyle" characterized by the freedom of travel and large renovation budgets often glosses over the realities faced by the 1 million Americans that live in recreational vehicles full-time and nearly 5.6 percent of Americans who reside in trailers due to lack of affordable housing.
But there remains something captivating about the longevity, practicality, and affordability that Byam achieved with the Airstream 90 years ago. His design appeals to humanity's need for connection and ceaseless urge to pack up and hit the road. The Airstream's place in American design culture is especially resonant right now. During the COVID-19 pandemic, RV sales have skyrocketed as people (especially the young, urban, and relatively affluent) have become untethered from in-person jobs and have started looking elsewhere for the freedom, connection to nature, and community that the Airstream has come to represent.
Byam knew he was designing a trailer that would last a lifetime, but he could not have imagined just how many lives the Airstream has come to live.
You may also enjoy "Detroit Style is a Love Letter to Car Design in the Motor City"
Would you like to comment on this article? Send your thoughts to: [email protected]
---
Register here for Metropolis's Think Tank Thursdays and hear what leading firms across North America are thinking and working on today.