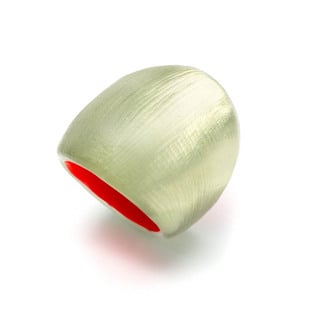 April 1, 2015
Alexis Bittar's Material World Broadens With New Acrylic
The jewelry designer has spent the last 25 years pushing the boundaries of style.
All photos courtesy LuciteLux
From as far back as he can remember, award-winning jewelry designer Alexis Bittar was raised with a love for art. "I had two parents who had doctorates in American history," he says. "They educated me about art because of their own passion for it." At eight, Bittar turned his artistic interests into something more lucrative—peddling framed images from the 1920s on the streets of his neighborhood in Bay Ridge, Brooklyn. By the time he was 13, Bittar expanded his retail repertoire, selling vintage clothing and jewelry at St. Mark's Place in Manhattan; at age 22, he was designing his own jewelry.
Bittar has since established himself as a jewelry superstar, experimenting with materials that, prior to him, other designers never considered. This year he celebrates his 25th anniversary working with LuciteLux acrylic, a huge milestone considering that using the material was a huge risk—bucking the late 1980s/early 1990s trend of minimalist jewelry. "It was counterintuitive," Bittar says of his decision to fuse the ideology of Bakelite jewelry (which he'd already experimented with) and the applications of Lalique glass. "But I always wanted to explore new materials."
The bold, color-centric, sculptural pieces made an impact. Soon major department stores such as Henri Bendel and Barney's were calling in orders. Although, as Bittar points out, it took a little longer to gain greater public acceptance. "It took about ten years to build a universal confidence," he says. "It was during the millennium that people began looking to the future of materials and Lucite became seen as a much more wearable material."
Now Bittar's jewelry is worn by the likes of Michelle Obama and Lady Gaga. But, he's not done experimenting, always looking to his original passion for art. "In terms of fashion, jewelry, and architecture—everything comes from art," he says. "It is the mother ship. I've always been intrigued by this. It's not about the confines of each individual practice. It's about pushing your craft."
Block Ring
Vert D'Eau Open Work Earrings
Vert D'Eau Draping Bib Necklace
Vert D'Eau Chevron Link Necklace
Cubist Flower Pin