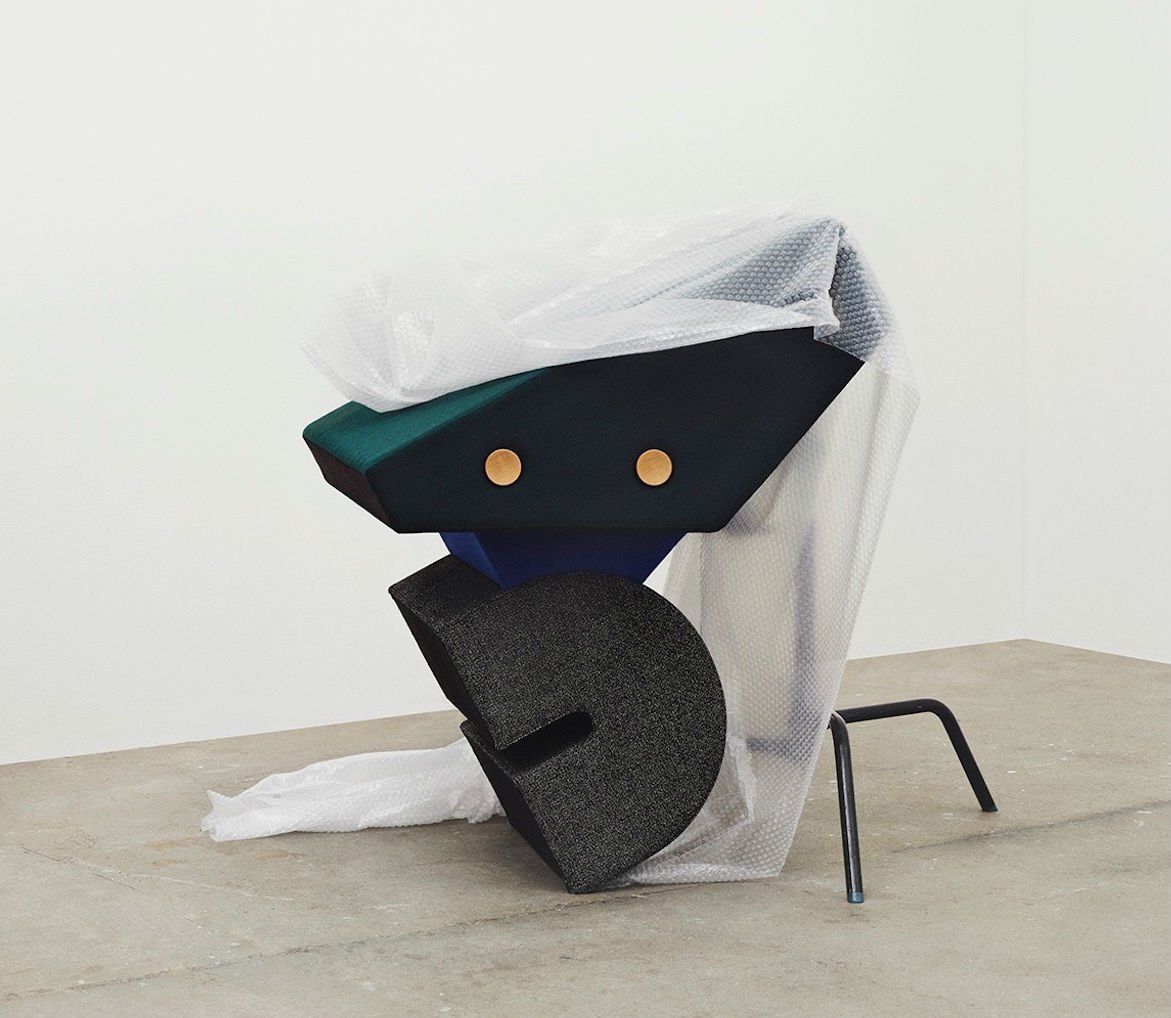 December 22, 2015
All the Standouts from This Year's Top Design Events
The finest objects, lighting, furniture, and textiles shown at design events around the world this year
Design studio OS & OOS's Keystone Chair was a standout at Milan's Salone del Mobile.
All photography courtesy the designers and manufacturers
---
Our annual round-up highlights the top designs from a year's worth of trade shows, design weeks, and furniture fairs.
Maison & Objet
Ambiente
Salone del Mobile
NYCxDesign
Stockholm Furniture and Light Fair
London Design Festival
---
Maison & Objet
Next Edition: January 22–26, 2016
---
At the fair's September edition in Paris, emerging French design companies like La Chance and Moustache were well represented in addition to a strong showing by Scandinavian brands and organizations such as Hay, &Tradition, Nomess, and the Danish Crafts Collection—and they all showcased the work of emerging designers. The fair, which celebrated its 20th anniversary this year, has become the place to see furniture, home accessories, and material surfaces from around the world. The next edition of the show will be held in Paris, its third Asian edition will be in Singapore march 8–11, and the second American edition will hit Miami May 10–13. Every year, the fair puts out an inspirations trend book in collaboration with style agencies, designers, and journalists. This year's book highlighted the theme of "Precious"—the trend of using cut stones and raw materials, combined with gold, mirrors, and ornament, reflecting brilliance, luxury, and wealth. —Paul Makovsky and Estefanía Acosta de la Peña
This set by Inga Sempé is a continuation of the designer's original risotto spoon for Alessi. The Collo-Alto collection's signature is a delicate handle with a long neck, which gives the set its Italian name.
Alvar Aalto designed this wall drawer for Artek in 1947 with the iconic features that distinguish the Finnish brand even today. This versatile piece is made in birch and offered in white and natural lacquer.
The lines of this laser-cut wall piece by Ferm Living were inspired by the Bauhaus. The frame is available as a rectangle or an oval, with finishing options in smoked oak veneer or blue paint with a black backside.
Gan by Gandia Blasco Silaï Rugs
Designed by Charlotte Lancelot, Silaï rugs are handwoven on traditional looms in Valencia. The colorful wool patterns are embroidered on plastic grids to produce the lightweight designs.
These lamps may look fragile, but designer René Barba used nonflammable and tear-resistant fabric for durability while alluding to the delicate charm of paper. The table lamp uses LED bulbs and is available in two sizes.
SkLO products are modern designs handcrafted out of Czech glass. Reflecting the unpredictability of glassblowing, the American-Czech studio's designs are distinctive as a collection, yet unique in the subtle variations of each piece.
Luca Nichetto designed this writing desk with an elegant silhouette featuring open storage spaces and a surface drawer. it is available in American black walnut, european ash, and American white oak with lacquered accents.
---
Ambiente
Next Edition: February 12–16, 2016
---
For new trends in consumer goods, Ambiente in Frankfurt is the go-to trade show. This year, some 135,000 trade visitors from more than 150 countries came to find out about the best products for the home and kitchen from around 4,800 exhibitors. Color combinations and tactile surfaces, from completely smooth to bold and rough textures, were in full force. The Design Plus award, one of Germany's leading design competitions, honored cutlery for people with limited hand mobility and a practical string dispenser from OXO. At the next edition of the fair, look out for Paola Navone's superb art direction for the pavilion for Italy, Ambiente's 2016 Partner Country; a "Ethical Style Guide" to help visitors find sustainable and fair-trade products; and a new section on jewelry and accessories like watches, leather goods, and luggage. —P.M. and E.A.P.
Kuhn Rikon Mixer Splatter Guard
This splatter guard by Kuhn Rikon AG keeps messes at bay when mixing and blending. The transparent silicone disc has a flexible central opening to let electric mixers and handheld blenders through.
Kitchen Craft Master Class Bakeware
Featuring an award-winning no-stick coating that enables the easy release of baked creations, this collection is perforated to let hot air circulate and guarantee crispy crusts for pies, bread, and pastries.
The square shape and no-slip silicone handle of this colander by design duo morph for Joseph Joseph means that it is a cinch to use and store. It comes in two sizes and five colors.
Isabel Heubl designed this elegant stainless-steel cutlery for people with limited hand mobility. the spherical shape of the handle can be held in multiple positions, provides a comfortable grip, and makes it easy to pick up.
Megasmile Black Whitening Toothbrush
Advanced dental technology helps this toothbrush reach the narrowest spaces between teeth. Carbon particles remove plaque, promoting gum health and whitening tooth enamel. The brush's ergonomic handle is made out of corn flour.
These battery-powered shoe driers are safer to use than heat-based driers, but work just as fast with a 5,000 rpm fan. Drying cycles can be programmed at one or three hours.
With a refillable water well in the base and a removable steel rinsing basket, this gadget keeps herbs fresh for up to three weeks.
---
Salone del Mobile
Next Edition: April 12–17, 2016
---
Held every April, the Milan furniture fair remains the world's most important design exposition, showcasing the leading furniture design trends at the Rho fairgrounds or in exhibitions in the city's showrooms, palaces, and museum spaces. At this year's 54th edition, about 300,000 visitors attended the fair on the outskirts of Milan, where more than 1,300 exhibitors displayed their latest products; and at the SaloneSatellite, 700 emerging designers showed their prototypes with the hope that manufacturers would put some of their designs into production. One of the main attractions was Michele De Lucchi's huge installation The Walk, a meandering path through workplace installations, reflecting the crossover between the home and the office. Big-picture trends—the combination of luxurious materials like blown glass, marble, brass, and lacquer; the strong presence of geometric forms; and numerous examples of plant-inspired objects—reflect the pulse of the design world today. —P.M. and E.A.P.
This armchair and ottoman by Sacha Lakic is fully customizable with fabrics in many colors for the interior and exterior faces. Edito is mounted on a swivel base with a memory system and an automatic return function.
Designed by Barber & Osgerby, this armchair can have a low or high backrest. It is comfortably stylish in its "slim soft" and even lighter "slim" versions, and it comes in a variety of colors and materials.
Keystone Chair Sunbrella Edition
Rossana Orlandi's Sunbrella fabric allows designers to re-create indoor pieces for the outdoors. Design studio OS & OOS made this keystone chair by abstracting and reassembling elements of the Roman bridge into this joint-free, and now weather-friendly, piece.
Patricia Urquiola designed this modular seating system in 2005 from the ottoman out. The result is an all-around system that provides extremely versatile seating configurations, now available in a new textile version at Luminaire.
This lampshade is made in Mumbai out of coated paper, and can be folded flat. Once it's unfolded, the lamp's assembly is designed to keep its shape. the shade is available in five colors.
With simple joints and structures, this chair by Leon Ransmeier is straightforward and accommodating to many environments. Finishes include oak or ash in a variety of colors. The chairs are stackable with optional armrests.
Cristian Zuzunaga's signature pixelated graphic style sets this cabinet apart. It offers ample storage space, with the option of colored, black, or white graphics printed on tempered glass.
Hermès Jardin d'Osier Wallpaper
Designed by Pierre Marie, this verdant wallcovering is inspired by an Indian garden with flowers, shrubs, and fountains, and comes in three colorways.
This sofa, designed by Jean-Marie Massaud, is part of a modular system that can be customized for any indoor space. Multiple fabric and leather choices can be configured with wood options for arm- and backrests.
Norman Teague designed this innovative rocking stool out of birch plywood with an ebony stain, and topped it with thin rubber. The finished product is a creative, active solution for a temporary respite.
Antonio Citterio's sofa features a wood and metal frame with options for adjustable seats and backrest as well as a side shelf covered in hide leather. Upholstery is available in multiple fabrics and leathers.
Jasper Morrison and Emeco collaborated to design this three-seat bench. Alfi's base is made by Amish craftsmen from locally sourced ash. The seats, with high or low backrests, are made from reclaimed waste and finished in five color options.
Konstantin Grcic designed this chair for Magis with an exaggerated arm and backrest that provides comfort while giving the piece an informal character. The chair is suitable for outdoor use and comes in four colors.
This armchair by Mario Bellini is part of Cassina's new collection inspired by the designer's iconic chair from 1987. CAB Lounge's ergonomic frame is upholstered with saddle leather in five color choices, with a swivel base and soft supporting cushions.
This sofa is part of a set of modular outdoor furniture designed by Rodolfo Dordoni. The materials provide high-quality performance in all climates without sacrificing the style and comfort of indoor furniture.
---
NYCxDesign
Next Edition: May 3–17, 2016
---
New York City's 12-day celebration of design was bigger than ever last May. In addition to the International Contemporary Furniture Fair (OCFF), several other fairs and events significantly expanded their presence. WantedDesign added a second location in Brooklyn to showcase its usual exciting mix of established brands and emerging global designers. BKLYN Designs relaunched and hosted the opening event of NYCxDesign, Collective Design spread out over 60,000 square feet inside Skylight Clarkson Sq, and designjunction held its first New York edition. Significantly this year, important destinations and showrooms in the Soho and Tribeca neighborhoods also came together as design districts, heralding a new era for design in the downtown area. Metropolis will publish the official guide to NYCxDesign 2016. —Dora Vanette
Rich Brilliant Willing Ledge Wall Sconce
Designed as an intersection of two geometric planes, one of which houses 700-lumen LEDs, this wall fixture offers plenty of variety in surface finishes and the option of upward or downward installation, which changes the direction of light.
This five-foot-long undulating pendant is a great alternative to standard linear lighting systems. Its three-inch-square profile is encased in wood and holds 2,500-lumen LEDs with a 2,700-kelvin color temperature.
Designed to play the part of closet, dresser, and cabinet, Wardrobe can be configured in numerous ways and includes a clothing rod, adjustable shelves, and drawers. It also features doors carved from solid beech or walnut.
Bernhardt Design Los Andes Table 
Ignacia Murtagh's sculptural occasional table, finished in walnut, references the mountainous terrain it is named after with a mixture of sharp angles and smooth surfaces, as well as in the upturned rims.
Designed by Finnish designer Maija Puoskari, this alderwood and white opal glass lamp mimics the shape of an acorn. Even its name, Terho, translates to "acorn."
After years of experimenting, the Copenhagen-based duo Iskos-Berlin decided on an innovative bio-composite material that looks like plastic from afar, but reveals wooden fibers when viewed up close.
This lamp's slender aluminum frame houses a fully dimmable led light and leaves room to display objects such as books and flowers. It comes in three distinct sizes, with woven fabric or hardwood interiors.
Umbra Shift Cowboy Coffee Kettle
Castor's enameled spun-steel kettle with a beechwood trivet takes coffee making back to basics, evoking traditional open-range fire brewing. The kettle is available in black and speckled white.
Lambert & Fils BeauBien Collection
These brass and powder-coated aluminum fixtures by the Montreal-based lighting design studio are minimal in their geometric structure and color palette. Devoid of shades, most of the lamps provide direct lighting instead.
La Metropolitana Mesa de Buró
Mexico City–based design studio La Metropolitana designs simple and functional wooden objects. This sidetable is a case in point, with its geometric shape and reduced color palette.
A subtle quirkiness underlies this minimalist table by the Danish-Italian duo GamFratesi—a linear metal frame pairs with a round marble top. It is available in four sizes and offers marble options for the top.
This elegant suspension lamp is composed of an aluminum track with multiple led heads. Suitable for lighting large areas as well as small rooms, Button has a tactile sensor that switches each point of light on and off individually.
As minimal as they are functional, these light fixtures project directional light from recessed points within the simple metal forms. The lights can stand alone or be grouped together.
Upholstery weaves around a welded tubular steel frame in Ward Bennett's 1966 chair, which has been in production ever since. Suitable for both public and private spaces, the chair is available in many metallic finishes, as well as textile and leather options.
Dekton by Cosentino Entzo Surface 
This new color for Dekton, the ultracompact surface material made of glass, porcelain, and quartz, is inspired by Cosentino's Spanish roots. Entzo features bold, marblelike veining in warm gold and cool gray tones.
The first collaboration between Lumina and Foster + Partners resulted in a range of desk, bedside, floor, and wall lamps. They have no superfluous moving parts, and the head can be rotated 300 degrees for task lighting.
Designed by Matteo Thun and Antonio Rodriguez, this collection of faucets is inspired by the research of mathematician Gabriel Lamé. The matte black knob handle contrasts with the curved chromed surface of the faucet, giving it a sophisticated look.
Luca Nichetto's upholstered seats for the Danish manufacturer boast a sturdy but minimalist base of powder-coated steel legs, with soft seat cushions that create an illusion of a floating cloud.
Artist Mimi Jung, one-half of the creative studio Brook&lyn, is branching out to focus on her weaving practice. Her ethereal Four Teal Walls, made out of natural fibers and powder-coated steel, function as sculptural pieces or room partitions.
Norwegian designers Anderssen & Voll subvert traditional lighting typology—a light source and shade—by creating two intersecting volumes, the top one resembling a transparent bubble.
Designed by Ikos, this mosaic is made of three-dimensional, recycled sintered glass tiles, patterned closely together to create a richly textured surface.
The Los Angeles–based collective AQQ carries out a dialogue with Postmodernism in this table. It juxtaposes oak and marble in a chunky form that, while nodding to tradition, is entirely original.
With its tall swiveling spout and wide projection, Sync offers limitless freedom of movement at the kitchen sink. The faucet features a pull-down spout with both spray and laminar-flow modes.
---
Stockholm Furniture and Light Fair
Next Edition: February 9–13, 2016
---
This event, compact and cozy, is a great destination as it focuses on furniture and lighting from the Scandinavian region—making it unlike any other design fair in the world. Here you'll find the latest products that draw upon a rich tradition—mixing the best in craftsmanship, sustainability, and contemporary design. Ilse Crawford was the guest of honor at this year's fair, where her groundbreaking collection for IKEA was also showcased. Next year's edition will have London-based studio Barber Osgerby as the guest of honor, a whole new area promoting designers' own small-scale production, and a pop-up design bar created in collaboration with the acclaimed chef Fredrik Eriksson. —E.A.P.
Moody Nordic weather influenced the palette for this series of customizable lamps by Note Design Studio. With shades made from Danish company Kvadrat's soft textiles, it produces a gentle light in any of its variations—floor, table, pendant, or wall mounted.
Legendary dancer Frankie Manning's suspenders inspired this chair. It is stackable and available in almost 500 fabric options and 192 frame colors.
Nathalie Dackelid Wooden Cloth Table
With a surface that easily contracts and expands, this versatile and high-quality table by Nathalie Dackelid is built to last. Wooden cloth is constructed from ash with a transparent finish.
These panels are a beautiful way to regulate sound, moisture, and heat. Designed by Form Us with Love using energy-efficient, inexpensive material, they meet high environmental and safety standards.
These teapots by Francis Cayouette are Scandinavian stoneware with a cast-iron finish and a bamboo lid and handle. The collection also offers mugs, teapot warmers, and miniature bowls in a black-brown color.
Kiondo baskets are expertly woven by artisans in rural Kenya. Mifuko offers four sizes and many color options, some with leather handles. Made from sisal and food-grade plastic, they hold everything from food to firewood.
Ilse Crawford created this collection of more than 30 products designed to be adaptable to any home. Natural materials are the signature of the collection, which ranges from cork-topped tables to sea-grass baskets.
Daniel Svahn designed this set of cabinets to fit offices of any size and style. Four standard configurations are offered in as many sizes with customizable color choice.
---
London Design Festival
Next Edition: September 17–25, 2016
---
Now in its 13th iteration, the festival this past September included 350 events with more than 250 partners throughout the city. The Victoria & Albert Museum, the festival's design hub, showcased installations by artist Barnaby Barford and Austrian design duo mischer'traxler in collaboration with Lobmeyr, and a two-part installation, The Cloakroom, by Faye Toogood. Somerset House was a highlight, with designers like Jasper Morrison, Nendo, and Alex Rasmussen given free rein in its spaces. Lee Broom converted his Shoreditch showroom into the Flower Shop, highlighting the trend of incorporating flowers into displays. and a strong showing by students in the RCA's Platform 18 design Products department explored the notion of reproduction and how we interpret and translate descriptions. look out next year for a London Design Biennale at Somerset House, gathering 40 installations and exhibitions from around the world focused on the theme of "Utopia by Design." —P.M. and E.A.P.
Hansgrohe Axor One Shower Control
This interactive shower control, designed by Barber & Osgerby, consolidates many elements: temperature is set by the central dial, a small level below regulates water volume, and the Eco Mode halves water consumption. It is currently available only in Europe.
Carbon Trust Worldbeing WrIstband 
Designed by Benjamin Hubert's London-based studio Layer Design, this piece of wearable tech tracks energy use, so users can monitor their carbon footprint.
Carl Hansen & Søn SIgnature ChaIr 
This was the last piece of furniture designed by Frits Henningsen, and fewer than 20 pieces were made in 1954. The 2015 reedition of this rare design was shown along with his Heritage Chair.
Neal Feay The Wave InstallatIon 
This giant wave installation by Santa Barbara designer Alex Rasmussen and Neal Feay at Somerset House combines more than 7,000 aluminum panels in a structural swell, reflecting shades of Pacific blue.
Luca Nichetto's playful pendant lamp allows for 10 billion possible design combinations with eight handcrafted spun-steel shapes and a choice of three colors for each.
Holly Hunt Paula Crown Pedestal Table 
This limited-edition table in Nero Assoluto marble is inlaid with a brass fractal pattern. It's the result of a collaboration with the artist Paula Crown, and is available only from Holly Hunt's London showroom.
Leading plastic manufacturer Keter Group worked with the Franklintill Studio to create these objects that are produced by deep-texture injection molding but preserve the look of 3D knitting.