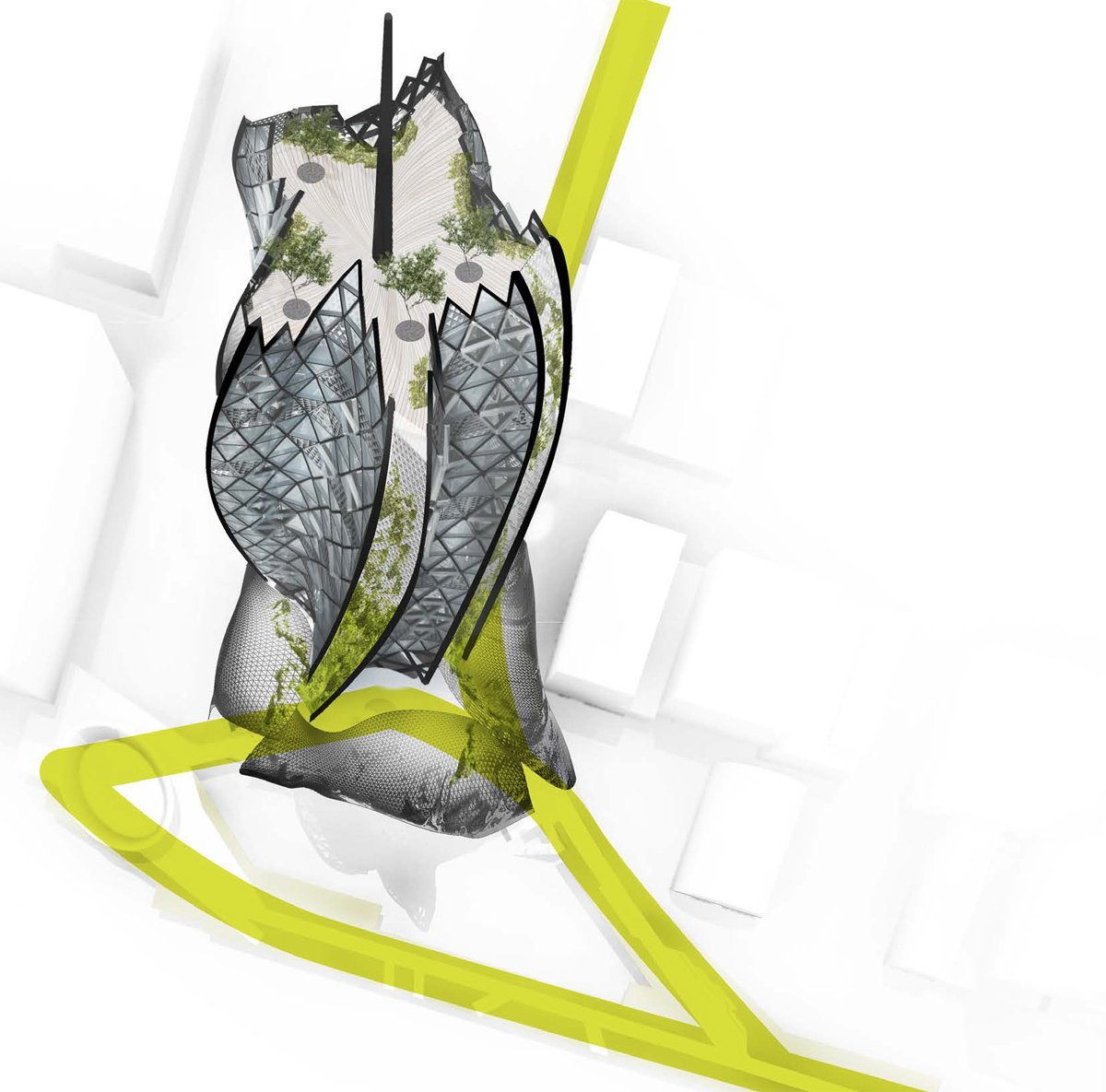 March 26, 2014
Announcing the Winners of the Living Cities Competition
Two speculative visions for 2040 New York
Late last year, Metropolis launched the Living Cities design competition, asking architects and students to find design solutions to the housing crisis that will soon face New York. The city is expected to gain a million more residents by 2040, and Living Cities sought to address this urban influx.
Participants were tasked with formulating proposals for a residential tower 30-40 stories tall to be sited within the five boroughs of New York. All designs were also required to use and articulate, in some detail, an innovative structural steel system. Sustainability, multi-use strategies, lifestyle amenities, and multi-generational design were further considerations to be folded into the final submissions.
The two winning teams proposed two wildly different structures. Chad Kellogg, Matthew Bowles, Nina Mahjoub of AMLGM imagined a massive transportation-entertainment-and-residential hub with outstretched tendrils which acted as tunnels for subway and railway trains. Andrew Duffin and NBRS+Partners devised a twisting, diagrid-laden tower that straddled a portion of the High Line.
See more of the winning designs below.
---
'Vivo,' one of the two winning designs for the Living Cities competition, imagines a twisting skyscraper poised directly over the High Line.
Vivo
The VIVO team's proposed reshuffles the winning concept behind the High Line. The West Side Line—opened in 1934—was designed to pass through city blocks via the elevated base of buildings, horizontally sustaining life and connecting vital nodes; VIVO presents a vertical version of the idea. "The podium screen engulfs the High Line folding it in and extending the lifeblood into the building base, like capillary action drawing it vertically," say the team members. They envision the steel structure to allow for flexibility in the way the internal space is used. "It's a hybrid structural system where the triangulated diagrid system acts as an exoskeleton providing lateral stability and vertical support. This frees the internal space from needing internal intermediate structure allowing ultimate flexibility for remodeling or use changes over its life span. VIVO is alive and responds to the daily and seasonal energy of NYC," they explain.
---
Urban Alloy
'Urban Alloy' proposes a sprawling, interconnected structure that connects different transportation types.
Urban Alloy taps into the intersection of transport infrastructure, proposing a slender, organic structure rising above elevated train lines and freeway interchanges. The scheme, says the Urban Alloy team, optimizes the benefits of housing near transportation hubs. Their use of steel proved intelligent as traditional building techniques: "Unlike concrete structures that benefit from a very regular floor to floor height because of the need to reuse formwork, steel structures can efficiently be constructed with each unique member cut by an automated system," they reason.