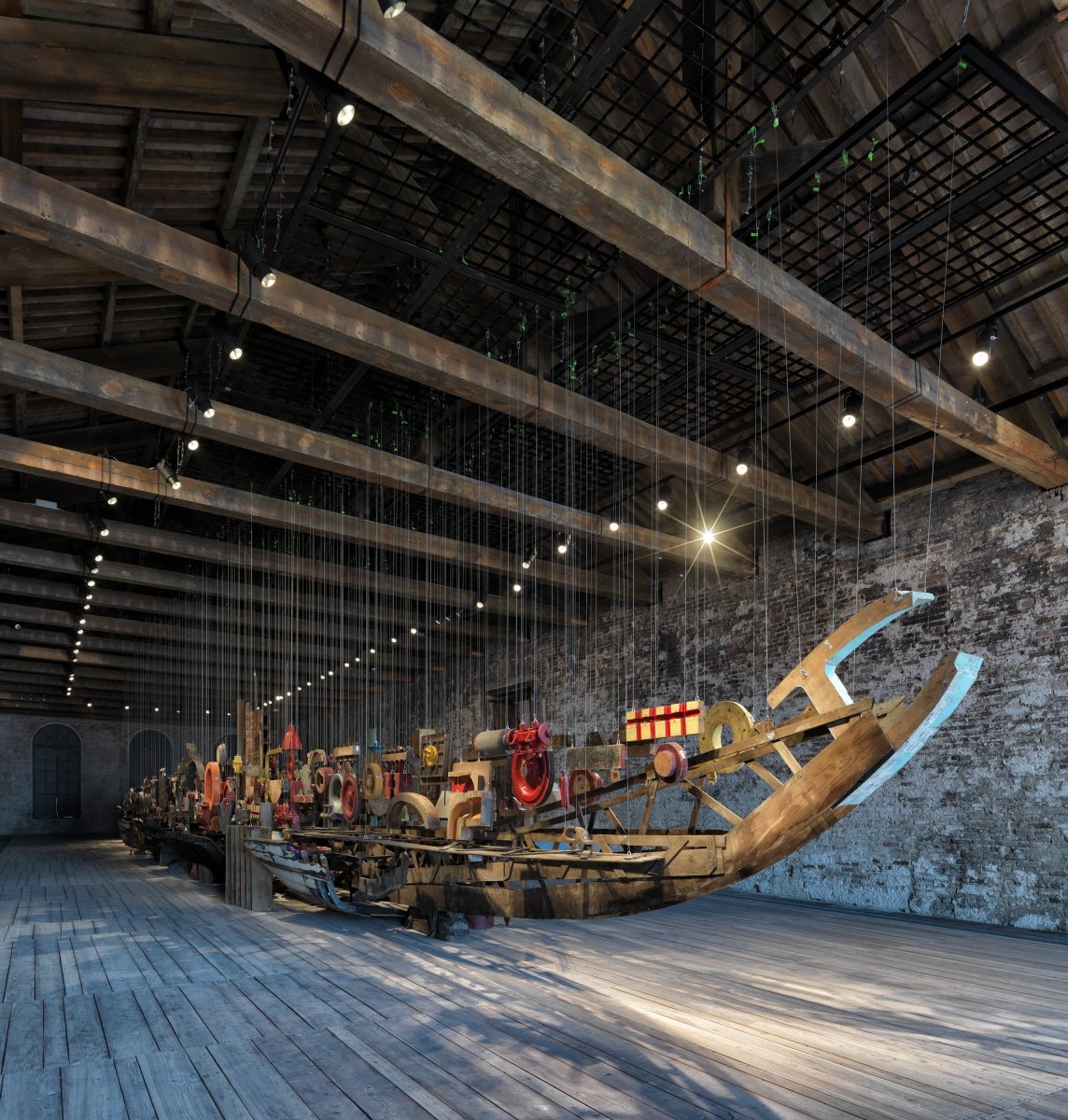 August 22, 2016
Aravena's Biennale Doesn't Pass Muster, Despite Its Journalistic Ethos
Despite its journalistic ethos, this year's Venice Biennale doesn't pass muster.

The Turkish (above) and Swiss (below) pavilions are among the few exhibitions that deal obliquely with Biennale director Alejandro Aravena's Reporting From the Front theme.
Courtesy Venice Architectutre Biennale
---
The central conceit of the 2016 Venice Architecture Biennale is a journalistic metaphor. Alejandro Aravena, director of this year's exhibition, invokes the war correspondent's mandate—to understand and convey the political and cultural ramifications of armed conflict—as the basis of his curatorial agenda. Reporting From the Front, the theme that looms large over his own exhibition and the national pavilions in the Giardini and Arsenale through November, posits the architecture curator as a reporter of sorts, tasked with presenting inventive architectural "solutions" developed in response to quality-of-life problems like socioeconomic inequity and environmental decay. In Aravena's telling, journalists and architects share an ethical obligation to expose the truth; the reporter's factual accuracy is akin to the designer's truth to materials.
Aravena, alas, is not a rigorous journalist—nor is he an editor. The Biennale's flagship exhibition, which he curated, contains a surfeit of projects, presented without much organizational logic or context. The prevalent focus here on beleaguered localities and underserved demographics, so honorable in principle, at times obscures how architecture and development are also used as mechanisms to displace disenfranchised communities. Further compromising is that his own design practice appears to be this Biennale's gold standard for what constitutes politically engaged architecture. Aravena isn't a bad architect: As this year's Pritzker Prize laureate, he has earned an international following for buildings in his native Chile that seek to ameliorate the material concerns of the underprivileged, often by involving politicians and corporate stakeholders in the design process of his Santiago-based firm, Elemental. A number of his projects featured prominently in media coverage of the Biennale; one profile after another praised Aravena's seemingly humanist pragmatism as a welcome alternative to the flashy ego-driven formalism prevalent in the prerecession years. Several other reductive, dichotomous tropes cycle through this Biennale's displays and rhetoric: war and peace, vernacular builders and professional architects, hand-built as opposed to digital fabrication, progressive versus reactionary politics.
There are, to be sure, no thoroughly objective reporters. It might merely be a venial breach of journalistic integrity to privilege schemes that share the politics manifest in Aravena's body of work. Many of his social projects respond to crises with actionable results, and the Biennale often praises scrappy, low-cost proposals that similarly seek immediate, high-impact effects. Yet much of the exhibition, like the director's own built work, lacks the ambition and critical capacity to expose, let alone redress, the systemic origins of these symptoms. Reporting From the Front valorizes ad-hoc minimalism as a design strategy, but its author appears unaware that his uncritical enthusiasm for such makeshift solutions betrays a lingering complacency toward underlying causes of problems, such as post-2008 austerity measures and the investment-driven logic of real estate speculation.
The Venice Architecture Biennale is a fundamentally reactionary institution, a vehicle for promoting the work and students of the profession's elite cadre. Aravena knows as much—one of his initial targets is the Biennale itself. The first two chambers of Reporting From the Front, housed in the Arsenale, make grand gestures of institutional critique: A display fashioned from 100 tons of build-out detritus, collected during the deinstallation of the 2015 Art Biennale, contains small screens that invite the visitor to consider what architecture is while explaining the extraction of the ephemera on view. And though the maneuver implicates the Biennale in generating great quantities of material waste, ostensibly exposing something of the inner workings of the venerable institution, Aravena refrains from making a pointed polemical statement about the exhibition's politics. Self-reflexive critique is thereafter abandoned—perhaps strategically, as this permits Reporting from the Front to operate on the assumption that the Biennale is an appropriate venue for debating architecture's relationship to progressive politics.
Courtesy Venice Architecture Biennale
In Aravena's telling, journalists and architects share an ethical obligation to expose the truth; the reporter's factual accuracy is akin to the designer's truth to materials.
Under the purview of previous directors, Biennales typically focused on formalism, on architectural history and theory, and disciplinary debates that rarely engaged lay observers—or cared to. Aravena made no secret of his plans for an about-face when he was named director of the 2016 edition a year before its opening. He spoke of the profession's self-inflicted irrelevance, of the need to remedy its navel-gazing by absorbing expertise from other disciplines, and his intent to address real-world concerns rather than hypothetical conditions. The Albanian pavilion—where recordings play on loop of isopolyphonic village singers, whose chants interpret specially commissioned texts about displacement and longing for home—synthesizes his ambitions with an admirable modicum of means. The display contains little more than a record player and Max Lamb– designed stools, but I Have Left You the Mountain achieves the Biennale's most visceral effect, both because it eschews any usual approaches to exhibiting architecture and because it conveys the human tragedy of itinerant labor in palpably emotional terms. The Turkish pavilion, a boat assembled of castoffs from a decommissioned Istanbul shipyard, and a concrete cloud-shaped structure designed by Christian Kerez for the Swiss pavilion borrow from sculpture, insinuating shifts in local identity and the potency of simple construction materials (respectively) to visually stunning ends. In the Brazilian pavilion, too, a standout project is the Escola Vidigal, an art school founded by the Rio photographer Vik Muniz and designed by New York–based BWArchitects. Built from banal vernacular materials and detailed with delicate steel tracery, it shows how the work of self-taught builders can complement that of professional architects.
Yet it's ultimately telling that both Aravena's exhibition and numerous national pavilions communicate chiefly through standard architectural ephemera: Scale models, technical drawings, and data charts offer far more information to an architect than to an uninitiated observer. This dearth of multidisciplinary collaborations—compounded by the absence of politicians, development experts, anthropologists, economists, and various other relevant experts outside architecture's immediate orbit—means that this Biennale's reportage is rarely cross-referenced. In other words, its prevailing false optimism is largely unchallenged. One prominent exception, the British pavilion, proposes new models of domestic life premised on how real estate economics influence the idea of home. Home Economics curators Shumi Bose, Jack Self, and Finn Williams commissioned five full-scale interiors, each associated with the timespan they're meant to serve: hours, days, weeks, months, and years. Combined, the scenarios offer a dark, cynical reading of contemporary domesticity, wherein the home is used to generate capital rather than foster human intimacy. Yet the highly stylized arrangement of these prototype interiors undermines the pavilion's critique by evoking the disingenuous quality of caricature.
Elsewhere, curators and architects who try to command the rhetoric of outside disciplines without actually engaging their expertise achieve yet more perverse results. The Dutch pavilion's cheery, forward-looking display about the architecture of United Nations peacekeeping missions fails to account for the Dutch UN peacekeepers who, only two decades prior, abandoned their mission to secure a Bosnian safe zone and thereby set in motion the single worst massacre in postwar European history. Whether the omission is due to naïveté or willful ignorance, it underscores the fact that the crises at hand—refugees, civil war, poverty—have been unfolding since long before Aravena and his coterie of Biennale participants decided to solve them.