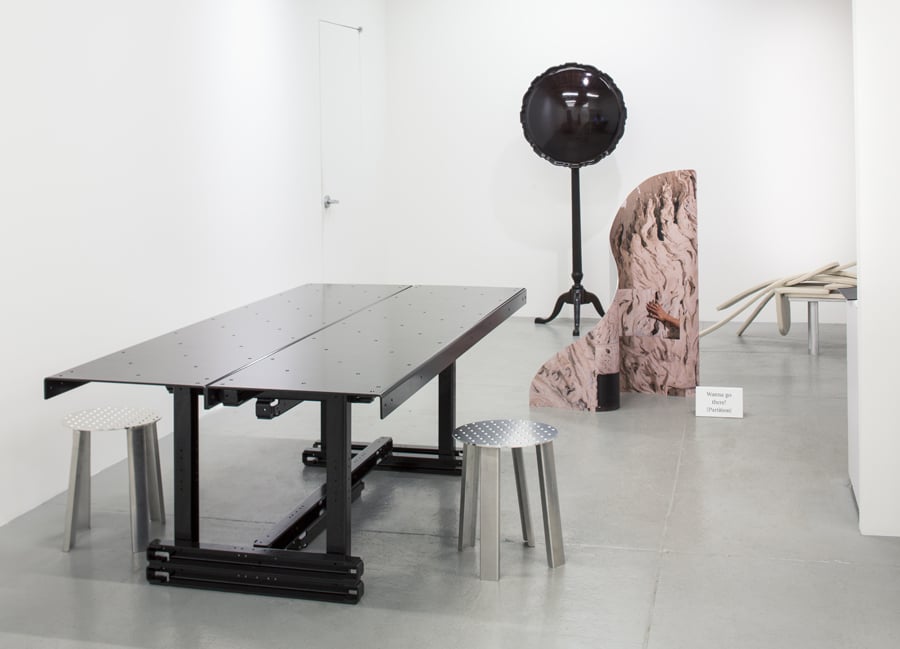 February 8, 2018
This Architect-Designed Furniture Is More Conceptual Than Conventional
A pair of exhibitions at Manhattan gallery Friedman Benda show what happens when architects give furniture design a whirl.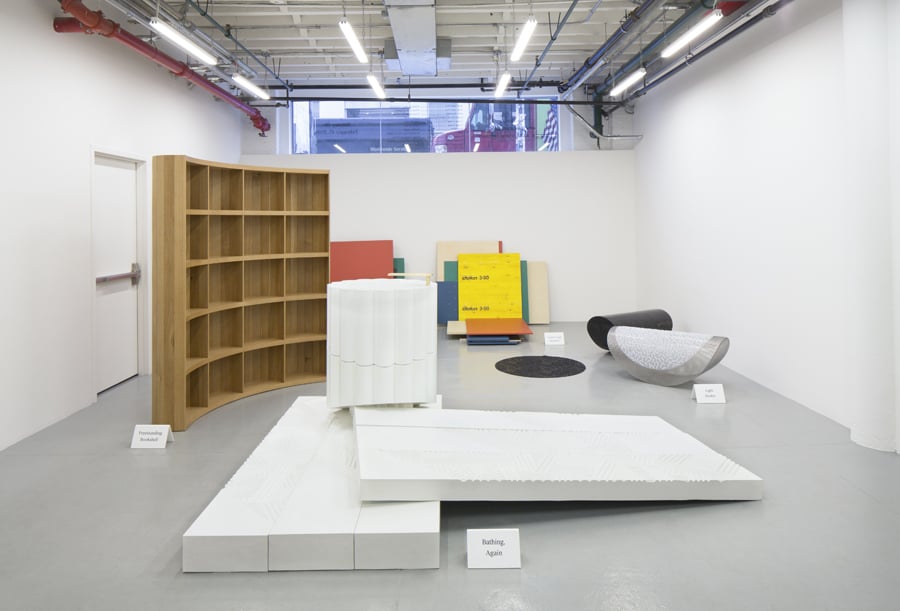 Strange and sometimes wonderful things can happen when architects design furniture. A pair of exhibitions now open at the gallery Friedman Benda in Manhattan's Chelsea neighborhood showcases classic and sometimes idiosyncratic creations of architectural visionaries past and present. The shows, which were conceived independently of each other, are an opportunity to acquire, or at least browse, design treasures new and old.
In the upstairs space, Inside the Walls: Architects Design presents a who's-who of 20th-century design. Curated by design collector and dealer Mark McDonald, the show includes pieces by blue-chip Modern architects like Marcel Breuer and Frank Lloyd Wright alongside somewhat newer designs, such as Frank Gehry's innovative Easy Edges cardboard furniture series from the early 1970s. Brought into dialogue here, each architect's ingenious and elegant application of unconventional materials, whether cardboard or tubular steel, attests to their canonical status. Other works are less known, including a walnut and birch wood desk designed by Louis Kahn in 1949 that provides a rare glimpse of Kahn turning his hand to furniture making.
If Inside the Walls is a record of design movements long-since ossified, No-Thing: An Exploration Into Aporetic Architectural Furniture is a preview of new tendencies still in the making. The show is a cosmopolitan gathering of young designers, many still in the early phases of their careers. Juan Garcia Mosqueda, the curator and founder of the design gallery Chamber, organized this exhibition—his first since Chamber's MOS Architects–designed space on 23rd Street closed last July. No-Thing is a change of pace for the curator, who is now also a full-time graduate student at Harvard. "Turning around shows every four months was like being on a treadmill," he says. Backing off from running a brick-and-mortar gallery provided Mosqueda time to think. "Where am I trying to go?" he adds. "This is the first step in that direction."
Chamber became a center of the New York design scene in recent years, and the current show testifies to Mosqueda's continued commitment to shaping that conversation. The roster of designers exhibited here is a robust sample of contemporary design's leading edge. Many are based in New York City, including Andy and Dave (Andrew Miller and David Ruperti), Leong Leong (Christopher and Dominic Leong), MOS Architects (Michael Meredith and Hilary Sample), and SO–IL (Florian Idenburg and Jing Liu). The designer Ania Jaworska and the firm Norman Kelley (Carrie Norman and Thomas Kelley) are both working in Chicago, and MILLIØNS, the partnership of John May and Zeina Koreitem, is based in Los Angeles. Pezo von Ellrichshausen (Mauricio Pezo and Sofia von Ellrichshausen) is located in Concepción, Chile, and the architect Jan de Vylder is representing the partnership architecten de vylder vinck taillieu, based in Ghent, Belgium.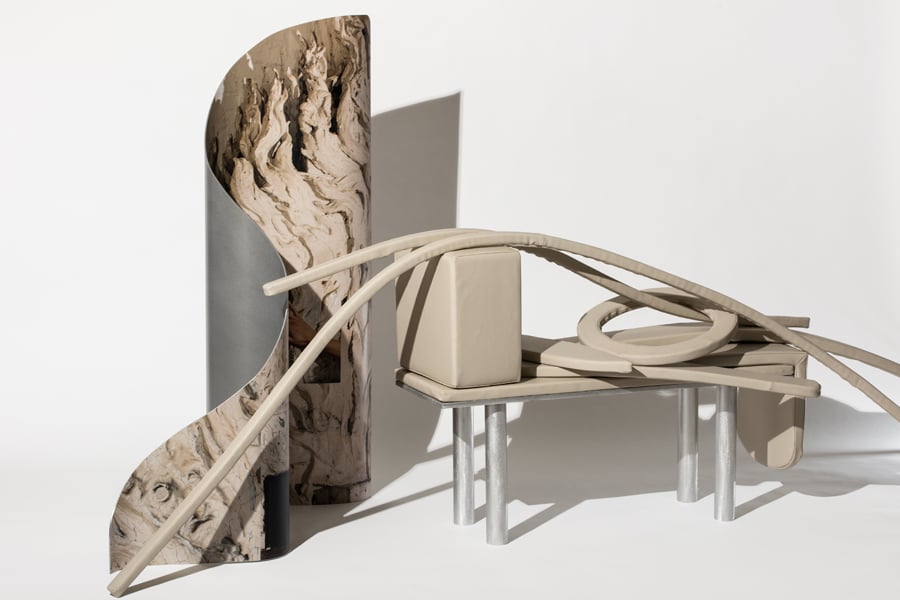 The objects on display share few outward traits, but Mosqueda insists there is a common, perhaps generational sensibility running through the minds of each designer. "It is a non-dogmatic approach, a consideration of subjects, not just the design object," he says. Mosqueda considers the commissioned works responses to what he calls the "object-first" attitude of much 20th-century design, such as Wright's ornamental light fixtures, on display upstairs. Indeed, this critique of design's object fetishism is the conceptual kernel of the show: No-Thing, a term borrowed from the Scottish psychiatrist R.D. Laing (1927–89), refers to a type of object that "situates itself between its users' varied perspectives, educations, backgrounds, organizations, group-loyalties, affiliations, ideologies, socio-economic class interests, temperaments," as Mosqueda writes in the catalog, which was designed by the New York-based Studio Lin.
These are all difficult objects, and that's precisely the point. Each commission challenges the expectations that individuals bring to everyday things and rituals. "It's in my blood to challenge people on the way they see, to challenge assumptions about what constitutes value," Mosqueda says. The piece by MILLIØNS, for example, reimagines the bath as a suite of textural fiberglass-reinforced concrete slabs for washing and lounging upon—a deconstructed tub, what the architects call a "bathtub-in-the-round"—and a sink in the form of a truncated column. It's up to you to figure out how you might put it to use.
All the works reward careful consideration, but a few stand out as particularly revelatory. SO-IL's contribution, a ghostly drape of chainmaille stretched over a bent tube frame, is an entirely unfamiliar presence. The piece is intended as a lounge chair for three, and its mesh surface is surprisingly pliant, stretching comfortably under the weight of its sitters. Sculptural in form and yet apparently empty, it is almost haunting.
Nearby, a jet black table designed by MOS Architects plays the high precision of folded aluminum against the absolute imprecision of the work's source material, the papercraft miniatures of furniture that inhabit the Harlem-based firm's architectural models. The legs of the accompanying stools jut out awkwardly like cuts of foam core dangling from provisional seats. But the table's glistening paint job reveals a sensibility for finish that Donald Judd could admire; indeed, it shares a similarly purist ethic with his work. The only surface ornament is a galaxy of countersunk holes, some employed to fasten components to one another but most left unfilled.
In another corner of the gallery a freestanding metal curtain ripples like a frozen wave. The partition is the work of the Brooklyn-based duo Andy and Dave, whose two contributions to the show are each inspired by Manhattan locales. The metal partition takes its cue from the undulating flames of the plaster sculpture fireplace by Robert Winthrop Chanler that dominates Gertrude Vanderbilt Whitney's historical studio in Greenwich Village. Andy and Dave's other work, a low bench, is found already occupied by an unsteady stack of vinyl-wrapped shapes. The geometric forms evoke Louise Nevelson's assemblage sculptures in the Chapel of the Good Shepherd at Saint Peter's Church, a jewel-box space under the Citicorp tower in Midtown. The bench playfully suggests a scenario in which parts of Nevelson's sculptures have wrested free of the walls, landing on the chapel's Massimo and Lella Vignelli–designed pews.
Three other pieces stand out for their subtlety. Ania Jaworska's item is a wood bookcase that gracefully resists the commonplaces of the genre. Bending around a gentle concavity, the case won't ever sit flat against a wall, instead always asserting itself as a distinct spatial element. Freestanding, as it is here, it becomes an architectural feature in its own right. Meanwhile, Norman Kelley's "Young Americans" series—two pieces evocative of historical styles, Federal and Chippendale—recalls a time when furniture was made to be pushed up against the wall. The anachronism of these styles forms a smokescreen of respectability that nearly conceals each object's sly subversion. The first appears to be a roll-top desk that, when opened, outs itself as an armchair. The second is an abnormally tall mahogany table whose high-gloss top tilts to become vertical, refashioning the piece as a standing mirror. Surprise is the reward of these strange and wonderful things, and it proves time and again that the effort of design is not for nothing.
Inside the Walls: Architects Design is open at Friedman Benda through February 17.
No-Thing: An Exploration Into Aporetic Architectural Furniture is open at the same gallery through April 14.
---
You may also enjoy "The Top 10 Most-Anticipated Exhibitions of 2018."