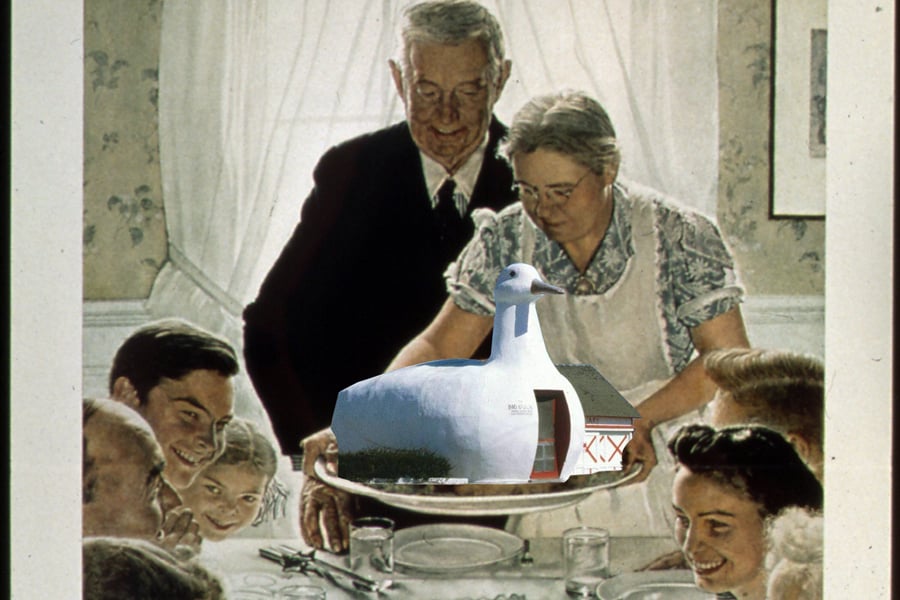 November 22, 2017
10 Architects Talk About Their Thanksgiving Plans
Denise Scott Brown, Richard Meier, Elizabeth Diller, and other architects divulge their Turkey Day traditions, old and new.
---
Renowned chef Alice Waters once told Elle Decor, "If I weren't involved with food, I'd be working in architecture." In that spirit and just in time for Turkey Day, Metropolis asked ten architects to weigh in on what Thanksgiving looks like at their homes. Does form follow function at their table setting? Does their approach to turkey carving resemble a building section? From oxtail stew to secret family cranberry sauce and birthday candles in the pumpkin pie, see their traditions – old and new – below:
Denise Scott Brown—Founder, Venturi Scott Brown Associates 
We will have oxtail stew and vegan food,  including vegetables from our own garden, pumpkin pie from High Point Cafe up the road, and their coffee, torrified by them and seven times strained by us to taste like espresso.
These will be brought together and shared by our "peaceable kingdom" — live-in helpers who work with us in caregiving and architecture.
Richard Meier–Founder, Richard Meier & Partners Architects
[As told to Metropolis]
Are you still in the office?
No, I am at home, reading a newspaper.
What does Thanksgiving with the Meiers look like?
Well, we got a big turkey and I am going to enjoy that with my daughter and son-in-law and my grandchildren [at home in New York]. We are going to have a nice Thanksgiving meal all together.
Do you have a favorite Thanksgiving dish?
Absolutely, the turkey and the stuffing. It's a Pepperidge farm stuffing, with a few chestnuts in it. The table is the same table we use year-round and I enjoy sitting there with my family and look forward to them all being here.

Elizabeth Diller—Co-Founder, Diller Scofidio + Renfro 
Unfortunately Ric [Scofidio] and I are missing the only good American holiday while in Tokyo this week. We'll celebrate Thanksgiving with a 14-course kaiseki dinner and lots of sake—no aunts, no overeating, no tryptophan, no leftovers.
Deborah Berke—Partner, Deborah Berke Partners; Dean of the Yale School of Architecture

My brother does all of the cooking and my sister-in-law all the planning and table-layout design. There will be 18 friends and family (us included) at their house tomorrow. And then I do the family Christmas.
We do have all the wonderful Thanksgiving things one has, and a cranberry relish that's based on a generations-old family recipe.
Marlon Blackwell—Principal, Marlon Blackwell Architects
Ati [Johari Blackwell] and I are typically at my mom's place in Oklahoma City for Thanksgiving so we seldom do it our place. When we have it's pretty traditional with lots of spices (Ati is Malaysian). We get out the Arne Jacobsen silverware and square plates to celebrate. Put on definitive music like The Rolling Stones and Howlin Wolf. Turkey is treated as a longitudinal section with slices carefully placed in layers on an oval platter. Ati makes her own cranberry sauce though we like the kind in a can too. Comes out as a "sauce as solid" diagram. Our dessert is most often a Kentucky butter cake (round with a void center). As we gather around our long oak family table with benches and the kids (and friends not with family), I take out my rubber turkey call and give it a big shake setting off loud successive gobbles and we sit and give thanks and do some gobbling of our own!
Meryati Johari Blackwell—Principal, Marlon Blackwell Architects
Our Thanksgiving food is kinda "strangely familiar" such as it will be turkey as the main event, but it may be fried instead of baked and with additions of lots of spices crusted over the outside and also stuffed inside the bird, basted with coconut milk infused with lemongrass, so it will be American and foreign/Southeast Asian at the same time. I am partial to inviting people that don't have plans to go home, or don't really have a Thanksgiving tradition at their home to go to, like a foreign student or faculty, and friends without family around to celebrate (because I was also a foreign student in my youth so I know what it feels like to feel a bit left out at Thanksgiving). I was raised in Malaysia so I am partial to colors and patterns and strong flavors so I always find myself struggling with this dilemma of keeping things sort of clean and minimal and understated, yet my personality will be doing the complete opposite, so, that's always a challenge, but I just, in the end, sort of let things go where they want to go.
Richard Dattner—Principal, Dattner Architects 
Family, turkey, giving thanks.
Lovely, not notable.
Carol Ross Barney—Design Principal, Ross Barney Architects 
I love Thanksgiving. I love it because it is sweet and to the point…unlike Christmas and, actually, some of our projects. That makes it refreshing. At my house, Thanksgiving is a bit like architecture in that it is always an exploration of new ideas (i.e. recipes) and artfully bringing materials together (ingredients). I am really looking forward to tomorrow!
Claire Weisz—Principal, WXY
It's actually true if I wasn't an architect I would have wanted to be a chef and have a restaurant. It's fun to look at Thanksgiving two ways and I veer between the two.
With your group, make sure to mix friends and family and give plenty of warning and rely on professionals—make a reservation far in advance and go to a restaurant! The other strategy which we deployed when our kids were much younger was creating a volunteer organization and potluck the effort. This also calls for a good design otherwise you will end up with no turkey and all cranberry sauce.
Kate Orff—Founder and Partner, SCAPE
My sister lives on the Severn River in Maryland. We usually eat turkey and then go for a canoe ride. And, it's my birthday! So I usually get a candle in the pumpkin pie.