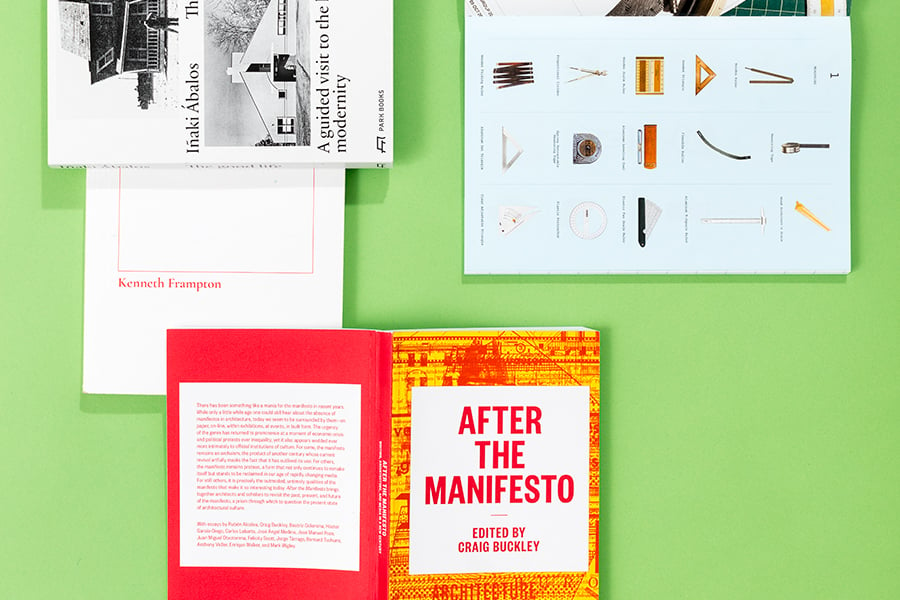 December 15, 2017
The Architecture Book Is Alive But Evolving
Today's architecture books are smaller, timelier, and nimbler.

Seen here, bottom to top: 1. The Incidents: Architectural Ethnography (Harvard University GSD and Sternberg Press, 2017), written by Atelier Bow-Wow with K. Michael Hays and designed by Åbäke 2. The City and the Architecture of Change: The Work and Radical Visions of Cedric Price (Park Books, 2017), written by Tanja Herdt 3. Portman's America & Other Speculations (Harvard University GSD and Lars Müller Publishers, 2017), edited by Mohsen Mostafavi and designed by Integral Lars Müller 4. Social Transparency: Projects on Housing (Columbia Books on Architecture and the City, 2016) from the Transcripts series, written by Michael Maltzan and designed by Neil Donnelly 5. Aranda\Lasch: Trace Elements (Columbia Books on Architecture and the City, 2017), written by Benjamin Aranda and Chris Lasch and designed by HWGL
---
Books hold a special place in the hearts of all architects—as do bookmaking and book buying. This affinity to printed matter runs deep, but on the whole, it can be chalked up to intellectual curiosity and aesthetic appreciation rather than scholarly inquiry. "I'm part of the library committee," says architect and editor Reto Geiser, who teaches at Rice University, "and when I see how people from the engineering department talk about books, they couldn't care less whether it's a nice object or not. They call that 'edutainment.'"
With his partner Noëmi Mollet, Geiser contributed one of the standout works at this year's Chicago Architecture Biennial. The Room for Books was essentially a bookshop, one supplemented with exhibition, installation, and event spaces. During opening weekend, throngs huddled for intimate, soft-spoken powwows in a corner of the space. The chatter, by turns diverting and arid, proved one thing to Geiser: "Book culture is still very much alive."
The prominence given to the topic at the biennial is revealing. Sharon Johnston, architect and co-curator of the biennial, says the event aimed to amplify "precise conversations and feedback through different mediums, which I think is an important relationship to this question of media, and of bookmaking." For Mark Lee, Johnston's partner, the talks—a symposium about book design was also convened during the vernissage—offered an opportunity for generational reflection. After all, many of the architects who took part came of age at a pivotal intellectual moment for the discipline, began building right before the recession, and managed to hold on, even flourish, despite it.

Seen here, clockwise: 1. The Good Life: A Guided Visit to the Houses of Modernity (Park Books, 2017), written by Iñaki Ábalos 2. A spread from OfficeUS Manual (Lars Müller Publishers, 2017), edited by Eva Franch, Ana Miljački, Carlos Mínguez Carrasco, Jacob Reidel, Ashley Schafer and designed by Pentagram 3. After the Manifesto (Columbia Books on Architecture and the City, 2015), edited by Craig Buckley and designed by Adam Michaels, Project Projects 4. Wright's Writings: Reflections on Culture and Politics 1894–1959 (Columbia Books on Architecture and the City, 2017), written by Kenneth Frampton and designed by Luke Bulman
---
The touchstone they share is Rem Koolhaas's 1995 S, M, L, XL, which obliterated the paint-by-numbers template set forth by Arnell and Bicknell's architect monographs for Rizzoli, published over the previous decade and a half. Of course, S, M, L, XL's sheer mass garnered press clippings, but it was also its most easily replicated feature; indeed, a train of "big books" followed for years after its release. But the methodology it helped introduce—analogical, dialogical, interrogative, multivalent—remains potent, borne out by a process that the book's editor Jennifer Sigler likens to self-analysis. "It becomes a process of understanding yourself. It's an articulation of ideas that are still in development," adds Sigler, now head of publications at the Harvard University Graduate School of Design (GSD).
The method, or framing device, becomes both medium and message. Without it, a monograph might as well be a "mausoleum of previous work," Lee suggests. Collaborating with Geiser, who played the role of editorial instigator, Johnston and Lee toiled with the nested schema of their first monograph, House Is a House Is a House Is a House Is a House (Birkhäuser, 2016), for years. The tenor is tentative yet projective, the ambition curatorial. Their peers have also displayed a knack for scrambling the monograph formula. SO-IL's Order, Edge, Aura (Lars Müller Publishers, 2017), the Brooklyn firm's first book, distills moments and attitudes from its still-growing portfolio in an immersive format; the copious photography favors abstraction and claustrophobic, cropped-in details, while the book's design flirts with ostentation. The scattered text flits between moods, from the incendiary ("tabula rasa is for cowards") to adolescent earnestness ("we believe that architecture is one of the greatest forms of art"). David Adjaye's Constructed Narratives (also Lars Müller) uses taxonomies of type and theme to anchor the architect's ruminations. And Aranda\Lasch's Trace Elements (Columbia Books on Architecture and the City, 2017) deploys metaphor to convey the office's unwaning interest in fractalization and crystallization, on the fuzzy edges where order and chance intermingle.

Seen here, clockwise: 1. The Incidents: Architectural Ethnography, 2. Architecture Is All Over (Columbia Books on Architecture and the City, 2017), edited by Esther Choi and Marrikka Trotter and designed by Neil Donnelly and Ben Fehrman-Lee 3. A spread from The City and the Architecture of Change 4. OfficeUS Manual 5. Wherever You Find People: The Radical Schools of Oscar Niemeyer, Darcy Ribeiro and Leonel Brizola (Park Books, 2016), edited by Aberrant Architecture (David Chambers and Kevin Haley)
---
All these titles, it's worth noting, are reasonably wieldy and can be transported, read on the morning subway commute, or slotted into a bookshelf. If architecture is to be understood in an expanded sense—a plane of both ideas and design—then surely this is half the battle; slimmer, smaller volumes are more likely to be picked up and returned to, even completed and shared (not to mention purchased in the first place). "Every now and again we'll have a book where it feels important to us that you can wave it in somebody's face as a gesture of urgency," says James Graham, director of publications at Columbia University Graduate School of Architecture, Planning and Preservation (GSAPP). He points to a recent paperback release, And Now: Architecture Against a Developer Presidency, as proof; the compact book (5″ x 7.5″ x 1″) compiles essays many of which were written over the winter break of 2016–17 and published ahead of Inauguration Day as a show of dissent.
Interestingly, the texts were first made available online before being committed to print and distributed for free at the biennial's mid-September kickoff. Much too much has been made of the print-versus-digital divide, and as this instance shows, there was simply no use in driving a wedge between the two mediums. If, as Geiser suggested in a conversation with Graham in Chicago, discourse (architectural or otherwise) begins online, "the book is the digestion of that discourse, even in some cases, ten years later." Pegged to a conference held in 2010, but not published until earlier this year, Architecture Is All Over (Columbia Books on Architecture and the City, 2017) falls into this category. But rates of digestion vary. At the Canadian Centre for Architecture (CCA), which produces architectural exhibitions and programming, in addition to publishing books, titles may not appear for a year after the show on which they are based has closed. The lag is excusable because exhibition and text "are parallel projects each with its own function," says Albert Ferré, the Montreal institution's associate director of publications. Time, and editorial honing, transforms the mere catalog into book.

Seen here, clockwise: 1. A spread from David Adjaye: Constructed Narratives (Lars Müller Publishers, 2017), written by David Adjaye and designed by Integral Lars Müller 2. When Is the Digital in Architecture? (Canadian Centre for Architecture and Sternberg Press, 2017), edited by Andrew Goodhouse and designed by Studio Katja Gretzinger 3. A spread from Are We Human? Notes on an Archaeology of Design (Lars Müller Publishers, 2016), by Beatriz Colomina and Mark Wigley and designed by Okay Karadayilar
---
Yet quickness, and not just timeliness, remains a source of anxiety. In-house imprints at GSAPP, Harvard University GSD, and Rice, among other schools, offer a workaround to bypass the necessarily sluggish peer-review process built into every university press. "These presses may have a hundred-year perspective—they think of the canon and knowledge valuation," says Lars Müller, the Zurich-based publisher who regularly partners with the GSD and the CCA. "Architecture is not really an academic profession, and so the books I publish with them are not claiming absolute and forever truth and value."
These institutions have also begun experimenting with small print runs of lecture series, which are otherwise filmed and uploaded online, more or less unedited. Publishers such as Müller, Sternberg Press, and Park Books are integral for distribution, while the schools can afford to keep price points low for these runs without dispensing with quality. On the contrary, GSAPP's Transcripts are dense, finely wrought pamphlets, containing essays and glossy color photography in addition to the titular text. By comparison, The Incidents, which memorializes talks hosted at the GSD, is much sparser but also more spatial. The text appears to be in movement, with stretches between questions and responses varying, at times counterintuitively so, while a small selection of black-and-white images is tucked away at the end. "We actually represent listening through white space," explains Sigler. "We are playing with that very intentionally, to capture the energy of the event, the spoken word, and to bring its certain kind of atmosphere into the publication."

Seen here, top to bottom: 1. Solid Objectives: Order, Edge, Aura (Lars Müller Publishers, 2017), by Florian Idenburg, Jing Liu, and Ilias Papageorgiou and designed by Geoff Han 2. David Adjaye: Constructed Narratives 3. Wherever You Find People 4. A spread from Portman's America 5. Are We Human?
---
In this way, the book can be an ambient and orchestrated experience on par with walking through a building. "The architect has a high degree of control in how you move through a book," Sigler notes. Perhaps that, as much as anything, can explain the continued interest in and expenditures lavished on architecture books. At a time when a website suffices, practitioners find themselves extra skeptical of internet archiving. It's true that bespoke websites are unstable depositories. "You almost need to do something completely in HTML to preserve it," Geiser suggests, "because anything more fancy will have a lot of proprietary layers on it, meaning it cannot likely be archived in a particular way."
It might be the digital, then, that requires more attention from architects, Graham offers. Because "at the end of the day, the book will be fine."
You may also enjoy "Metropolis Holiday Gift Guide 2017: Read."