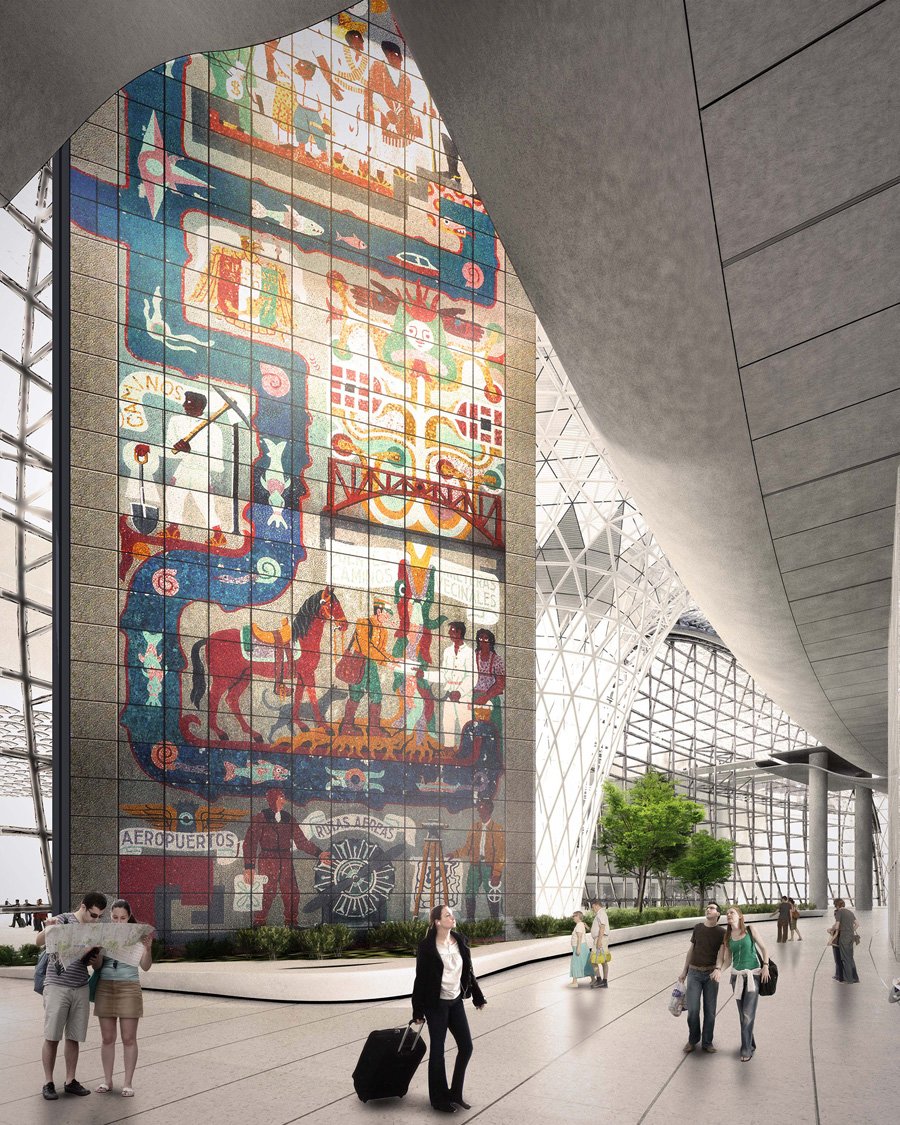 April 26, 2018
How a Small Mexico City Exhibition Fueled a Debate About Preservation and Power
A small yet ambitious exhibition at Archivo presents a proposal to relocate the murals of a Mexico City building to the state's contested airport project.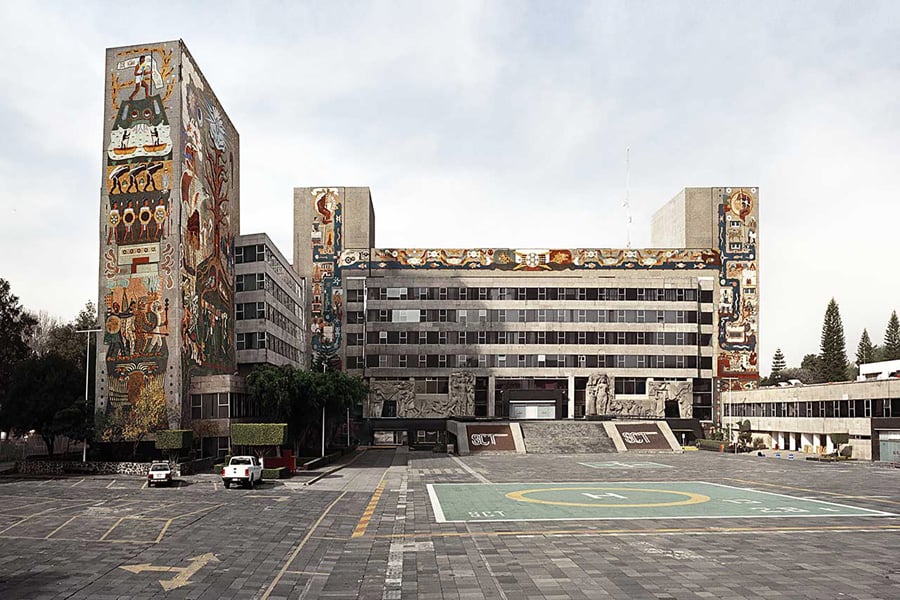 ---
It's a slate-gray day in Mexico City's Colonia Narvarte neighborhood and mounting gusts signal imminent rain. Centro SCOP, a sprawling bureaucratic complex, rises sharply against this bleak backdrop. The building is a masterful, if not intimidating, example of Mexican Modernism, an H-shaped assemblage of muscular concrete volumes designed by architect Carlos Lazo, covered in an acre-and-a-half of vibrant mosaic murals.
At its peak, the building accommodated more than 3,000 workers for the Secretariat of Communications and Transportation (SCT). Today, save a security guard in its gatehouse, it is empty.
Disaster has struck twice at Centro SCOP—first on September 19, 1985, when a deadly 8.0 magnitude earthquake tore through Mexico City and flattened portions of the complex. The building and its murals were quickly rebuilt, but in a freakish twist of fate on September 19, 2017— 32 years to the day of the 1985 catastrophe—another earthquake dealt Centro SCOP its coup de grace.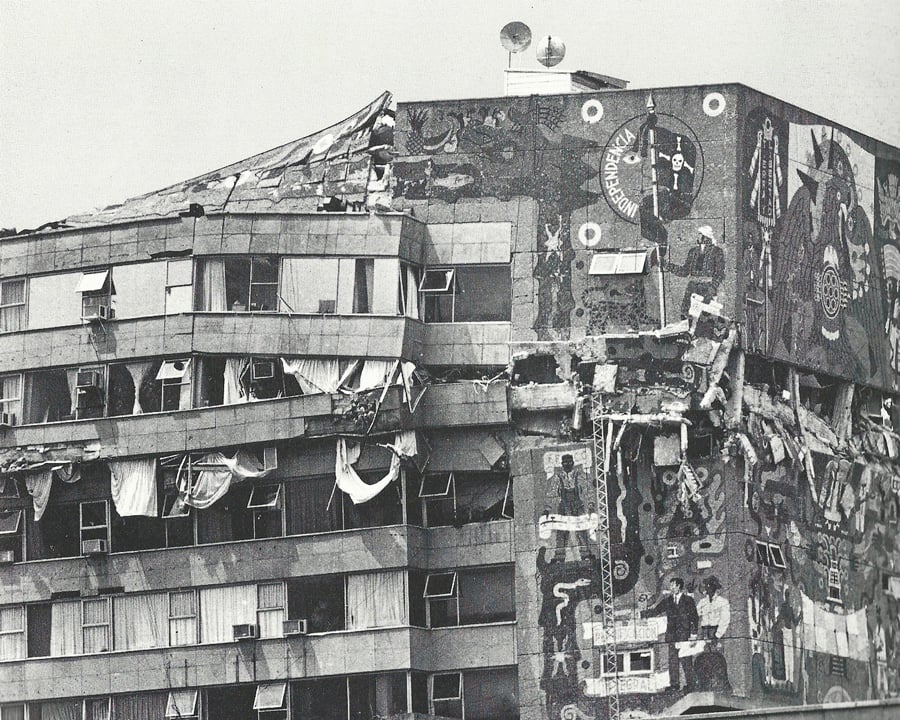 ---
Due to irreversible structural damage, the building has been shuttered and will likely be demolished. The fate of its 15 murals by important Mexican artists such as Juan O'Gorman and José Chavéz Morado remains uncertain.
A small yet potent exhibition at Archivo, a local architecture and design gallery, has delved into the significance of Centro SCOP and its looming future through a series of specially commissioned artworks and installations. The show, named for the building, hinges on a radical proposition to relocate Centro SCOP's murals to Mexico's most ambitious, and controversial, urban project of the last century—its forthcoming $13 billion airport.
"After the earthquake, we really wanted to reorient our programming to think about architectural responses," explains Archivo's director, Mario Ballesteros, "so we decided that we could take a more historic perspective and push that into a very urgent, current issue, which was what would happen to the [SCOP] building."
The exhibition, which closes Saturday after a three-month run, is at once a vigil and a provocation. It showcases artifacts from Centro SCOP, including a '50s-era desk and the original 1986 model of the building post-earthquake. Photographer Isaurio Huizar created Pictorial Absence, a series of images that blot out portions of the building with white paint. Architectural collective Tercerunquinto built a "mural" out of paving stones dislodged from the earthquake. Artist Pedro Reyes, a key force behind the exhibition's organization, employed the same techniques as Centro SCOP's muralists to create a one-meter-by-one-meter mosaic of a red raised fist.
All of these works build up to the exhibition's piece-de-resistance—a 1:300 acrylic model of the new Mexico-City airport, designed by Foster + Partners and FR-EE (not-so-incidentally, Archivo co-founder Fernando Romero's architectural practice). In it, are tiny versions of Centro SCOP's murals, installed within an airy, double-height atrium.
"It's definitely the strongest and most controversial gesture, because it's really a design proposal," says Ballestero of FR-EE's vision. "This could actually be something that could generate response and change."
---
Outside the walls of Archivo, the proposal has certainly generated a response—and its share of controversy.  In mid-March, the current head of SCT Gerardo Ruiz Esparza declared that with the help of the Ministry of Culture, the murals would indeed be transferred to the airport, so "we could be seeing them in the future, in two or three more years, adorning the structures."
But weeks after Esparza's pronouncements, members of the National Autonomous University of Mexico (UNAM)'s Aesthetic Research Institute sent a letter to SCT and cultural officials, arguing that removing the murals from their contexts would fundamentally alter the nature of the work. The UNAM group called for a more thorough, civically minded review.
Others still have different ideas for the Centro SCOP site. Most recently, the Commission of Culture and Cinematography proposed that the murals stay in place, and that the building site become a park—the "lungs" of the Narvarte neighborhood.
Upcoming Mexican presidential elections this July have further complicated matters: populist frontrunner Andrés Manuel López Obrador (who goes by his initials, AMLO) has vowed to halt the airport altogether, an enterprise he deems corrupt.
Ballesteros is doubtful that anything will move with the project before the elections. Regardless of the end result, he sees important parallels between Centro SCOP's era and the present day.
"These buildings are about power, about politics, about identity, about image, and about expectations," he says. "In the end, architecture is so much about how—and especially in a country like Mexico—the country wants to project itself. The same sort of issues that were relevant in the '50s are still relevant today."
You might also like, "This Book Imagines How Cities Let Humanity Survive Cataclysmic Climate Change."