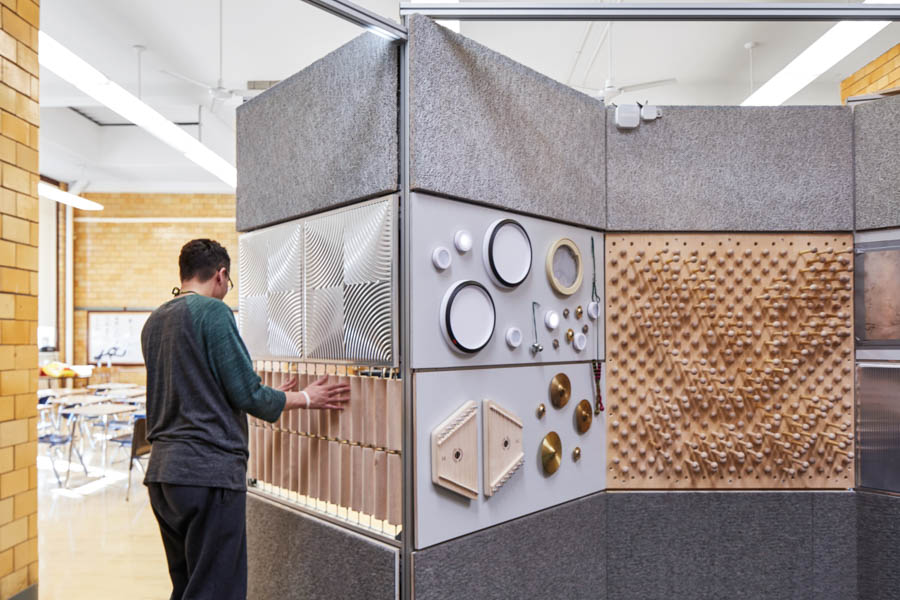 May 4, 2020
ASID's Outcome of Design Awards Honors Data-Driven Interiors
This year, judges recognize projects that highlight cutting-edge ideas in sustainability, wellness, and workplace privacy.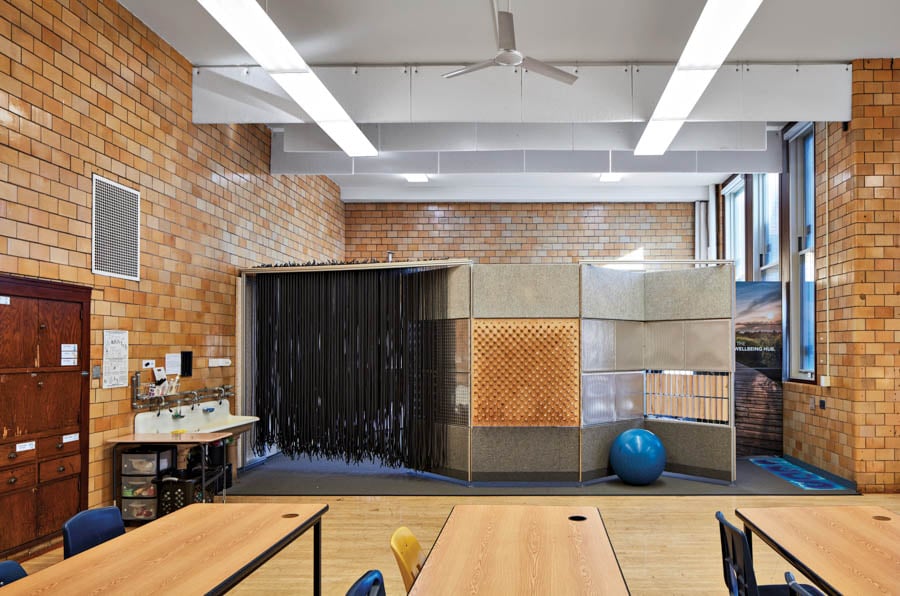 In addition to promoting the value of its members' services, the American Society of Interior Designers (ASID) works to show the world that design can improve everyday life. To that end, last year ASID created the Outcome of Design Awards recognizing individual projects that demonstrate quantifiable effects of design on people through sustainable, human-centric, and socially responsible design solutions. The awards, presented in partnership with sponsors Herman Miller and Mohawk Group,  honor completed projects that have been occupied for at least six months and have proved their impact across a variety of categories including people, space, society, and environment.
The finalists and winners of the second Outcome of Design Awards were selected by a panel of judges including three of the previous year's winners—Bonny Slater, regional health and wellness practice area leader and senior associate, Gensler; David Dimond, design director, principal, Perkins and Will; and Mehrdad Yazdani, design principal, Yazdani Studio of CannonDesign— as well as Sandra Leigh Lester, founder, affecting change; and Shilpi Kumar, founder and innovation catalyst, Khoj Lab.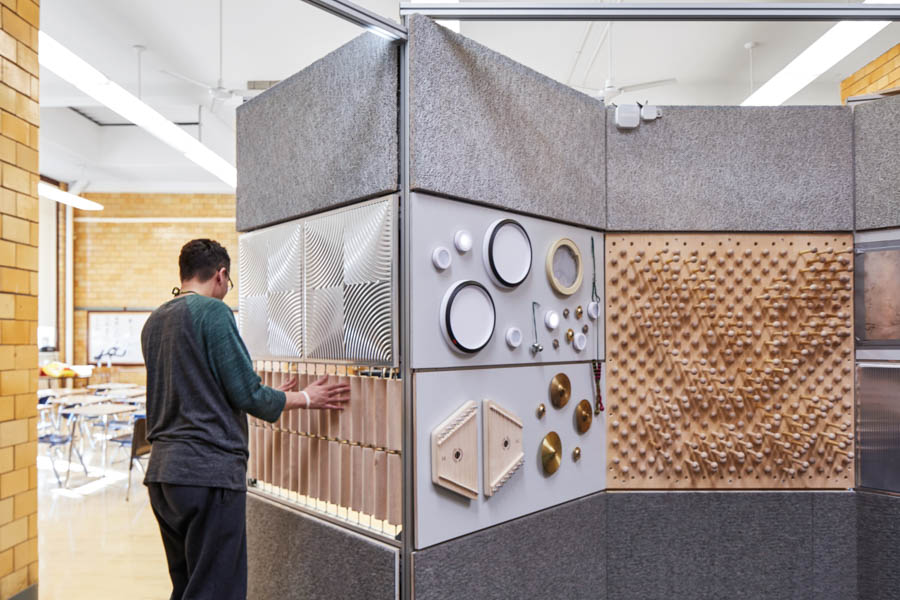 The four projects in this section (two category winners and two finalists) represent the cutting edge of design practice and show how designers are putting new ideas about wellness, sustainability, and the balance between connection and privacy into action across multiple typologies. Above all, these projects show how data collected from users can drive designers toward more intelligent, responsive solutions. From a self-contained suburban corporate headquarters and urban offices that prioritize connection to their city to a compact education space, these projects show that design positively affects lives when designers listen to users.
A SENSE OF CALM
High school is a trying time for most students, let alone those on the autism spectrum. And for diverse learners a physical environment of bright lights, poor acoustics, and crowded classrooms doesn't help.
Former special education teacher Mollie Hart, now an assistant principal at Chicago's Lane Tech College Prep High School, wondered if there might be a way to design some respite for these students. HKS's Chicago office executed her vision by creating a hub, which won ASID's award for "social impact." It measures around 500 square feet, where diverse learners could find relief from their stressors and recuperate before returning to class with increased focus.
To minimize construction, disruption, and expense, HKS developed a modular system that could be easily installed in a typical classroom. Through research, the architects discovered that students have a range of preferences: Some need the opportunity to be active, to fidget and make noise, while others need a noise-free zone. The hub offers space for all, with three differentiated areas offering varied sensory interventions: active, respite, and cocoon.
The active area features musical instruments and a peg wall, while the respite area contains nature scenes, a fidget wall, and soft surfaces. The sensory cocoon is a freestanding structure in the hub that creates a microenvironment with damped down sound and dimmed light, an important amenity for students overwhelmed by the brightness and noise found in the rest of the school. So far, Assistant Principal Hart's vision is panning out. Students with autism-spectrum disorder reported higher emotional well-being after the hub opened. Observations show they are also happier when visiting the hub and return to class more cheerful and focused.
Panelist Shilpi Kumar praised HKS's open-source approach, saying "The overall impact has the potential to reach other schools and spaces like airports and health care. The best part of this project was that by design, it was an open platform that anyone can leverage freely."
CUTTING THE CORD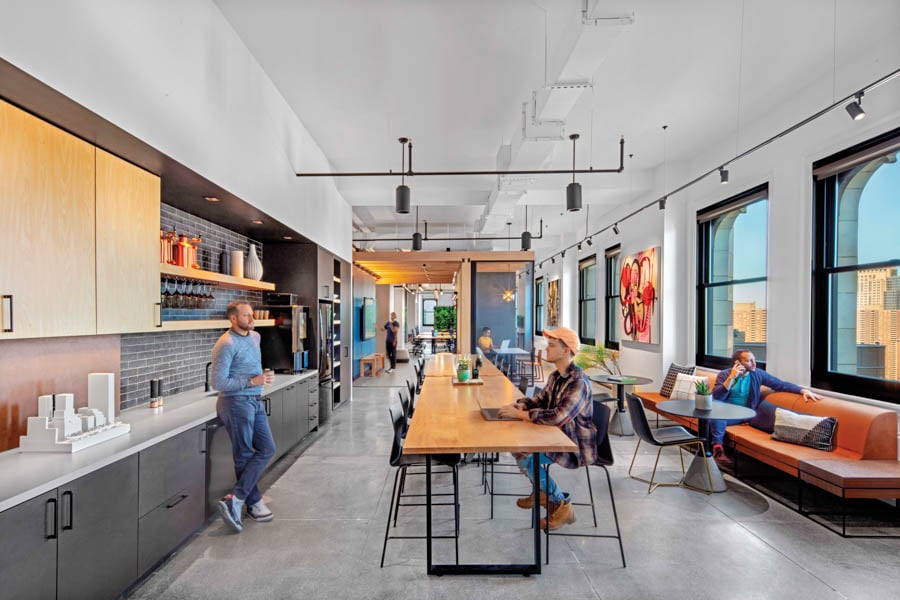 Visitors to M Moser Associates' office in New York City, the winner of ASID's "experimental impact" award, are greeted not by a reception desk, but by a café. For guests and the studio's staff, it's an inviting communal space. Team members have been known to work in it during the day and transform it into a lively venue for talks and events at night.
M Moser is widely recognized as a leader in workplace design, so it's no surprise that its own office is a laboratory full of workplace-design experiments. In a space the studio describes as a "Living Lab," ideas and products are continually tested and explored, in line with M Moser's philosophy that work environments should be dynamic—a management concept that encourages employees to choose where and how they work each day. "The staff simultaneously owns every space, and none," says Charlton Hutton, the project's lead designer. With no assigned seating, workstations on wheels, and portable battery packs to keep laptops powered, the team is tied neither to desks nor outlets. The office is open to constant reinvention. The idea of a "Living Lab" is to have a future-proof workspace that can adapt and adjust as needed.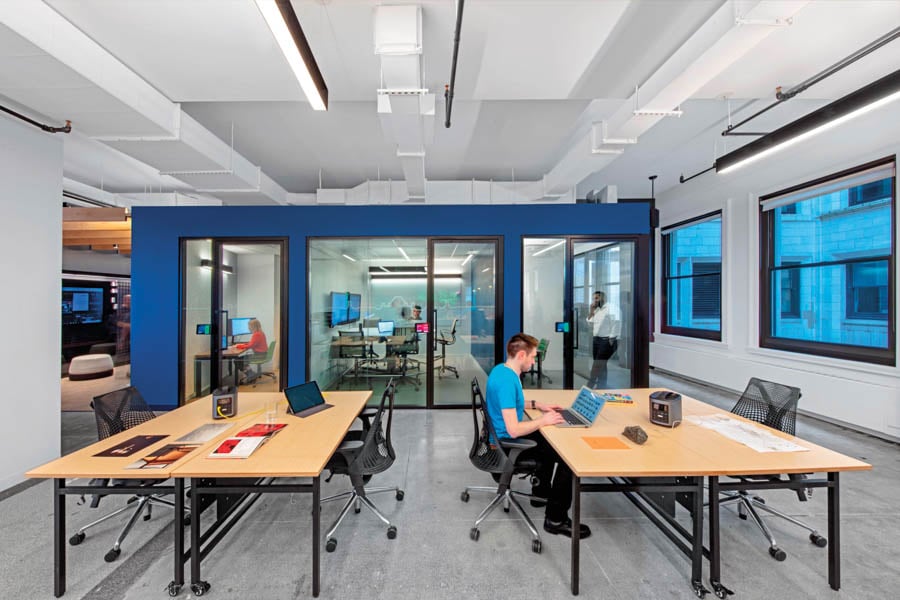 "M Moser is boldly testing the limits of digital technology's influence on how we work, and simultaneously they are investing in well-being technologies—acoustically isolated meeting rooms, circadian lighting, and movable plant walls that actively cleanse air," remarked panelist David Dimond.
Employees are not the only ones who have embraced the space, which is in the iconic Woolworth Building. After the move, M Moser saw a 75 percent increase in client visits to its office as well as a corresponding increase in the number of awarded project bids.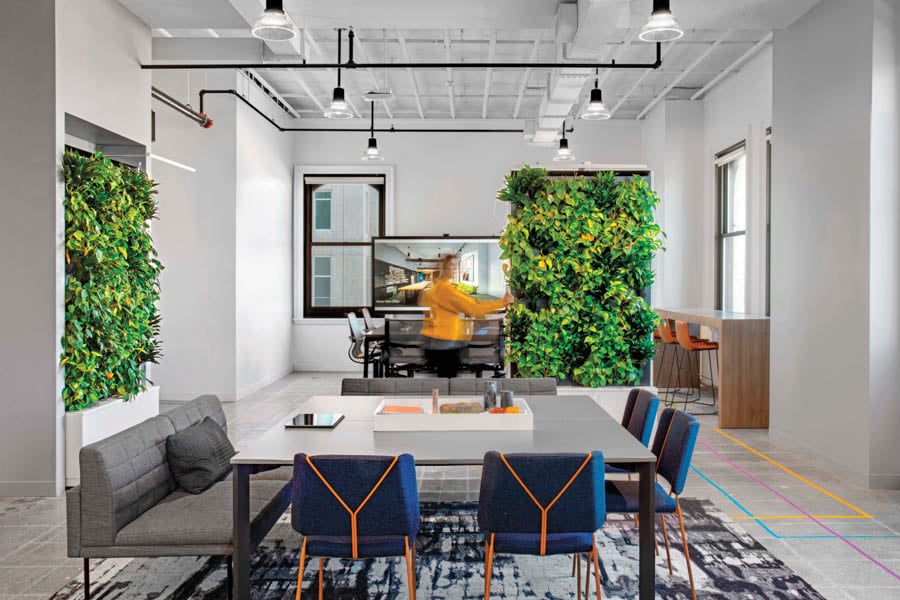 BUILT FOR THE FUTURE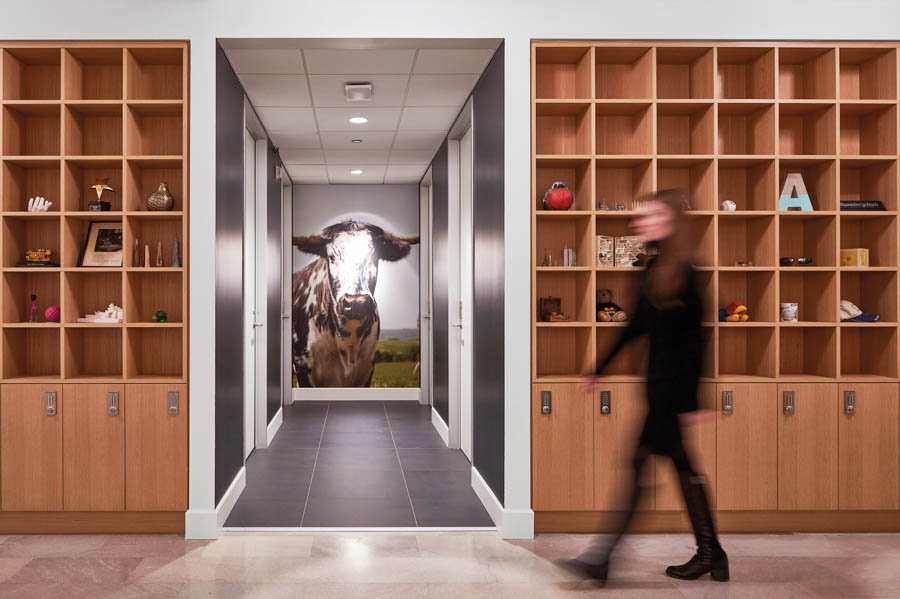 Redesigning its Chicago office, HKS knew it needed to create an outpost that would address the increased complexity and global interconnectedness of its business, but also feel anchored in its home city.
In a spacious multipurpose room referred to as "The Park," workers can unwind at a Ping-Pong table, café counter, maker space, and materials library. The rest of the office is dotted with depictions of midwestern landscapes and personal touches like artifacts from past design projects that help build a sense of identity and community. After the renovation, employees reported feeling 58 percent prouder to be a part of the firm, and 33 percent more motivated at work.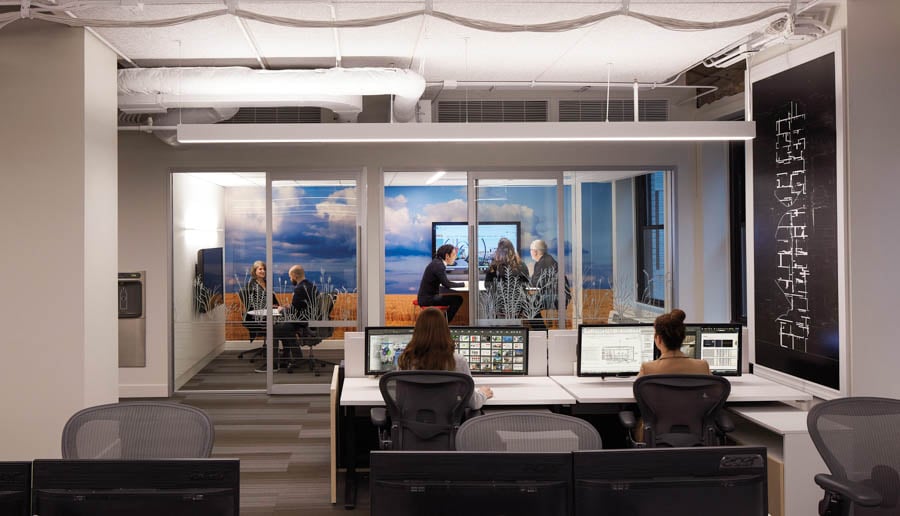 In keeping with a trend among designers to try out ideas on themselves, HKS plans to continually test, evaluate, and evolve its environment. Sensors and surveys monitor data about indoor environmental conditions, energy use, and employee health and satisfaction. So far, they have revealed positive feelings about the new design, but also some missed opportunities like an underutilized collaboration area. With the living lab approach, there's an opportunity to continue iterating and exploring the design.
SOUTHERN EXPOSURE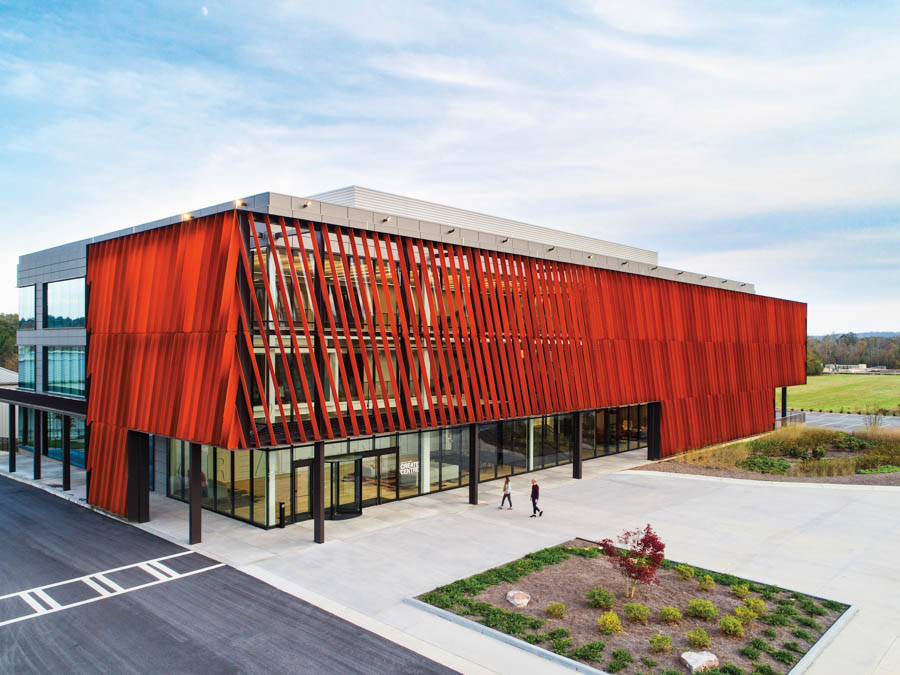 At a time when many businesses are building offices in large cities to attract top talent, Shaw opted to locate its new Create Centre in a suburb, a stone's throw from its Cartersville, Georgia, manufacturing facility. The aim is to form a stronger connection between manufacturing operations and the company's design, marketing, and innovation departments.
On the ground floor a social hub not only provides employees with a place to decompress but also connects them to outdoor workspaces where they can take advantage of the scenic location. Even indoors, more than 90 percent of the regularly occupied areas have a view of nature.
The building is clad with a striking louvered screen that provides shade as well as reduces glare and solar heat gain. That allowed Gensler to install highly transparent glass walls, creating a deeper connection to the surrounding countryside and maximizing exposure to daylight. The shape was chosen using parametric and computational design technologies, which also reduced construction materials by 25 percent.
You may also enjoy "Announcing Winners of the ASID's Outcome of Design Awards"
Would you like to comment on this article? Send your thoughts to: [email protected]