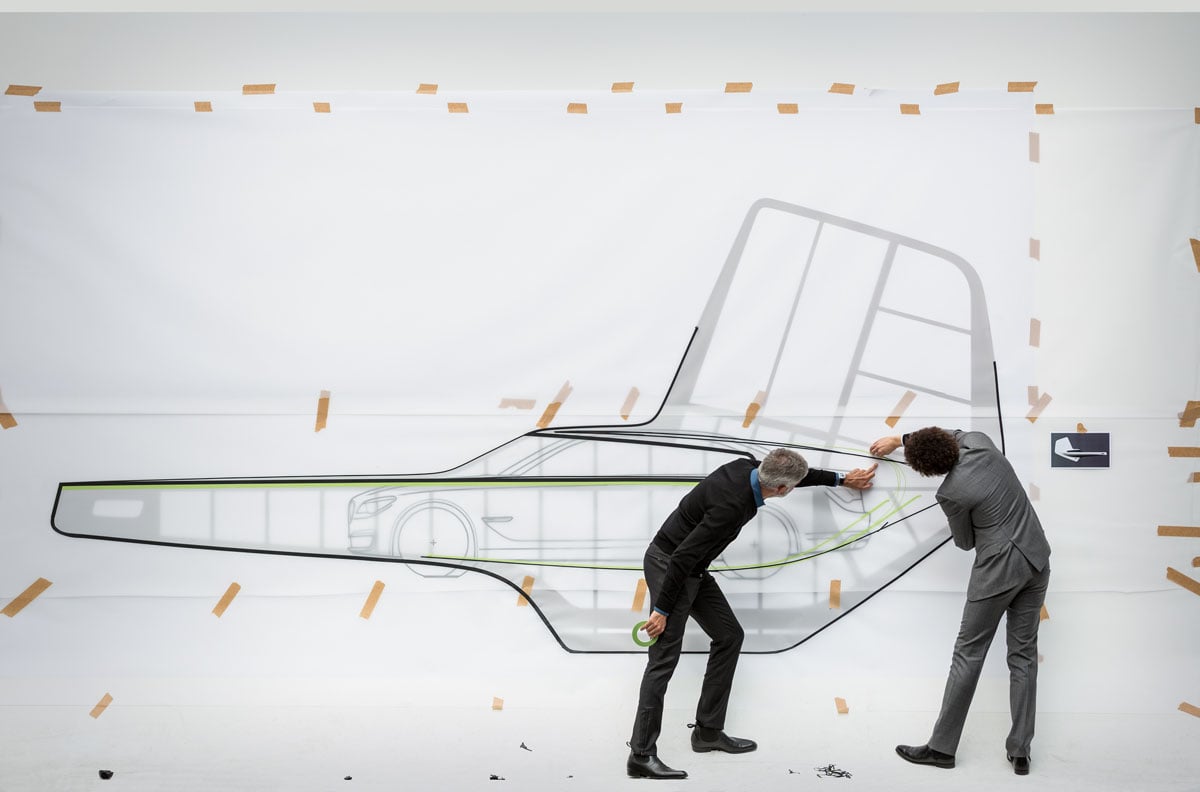 December 8, 2015
Leading Automakers' Hands-On, Interdisciplinary Approach to Design
Dalliances with the worlds of architecture, fashion, and industrial design mean that automobile brands are now creating products for entire lifestyles.
Alfredo Häberli and Oliver Heilmer of BMW discussing the Spheres, Perspectives in Precision & Poetry installation at Salone del Mobile 2015
Courtesy Ford
---
The fusion of automotive design with other creative fields—architecture, fashion, furniture—has a long history. In the 1930s, legendary architect and systems thinker Buckminster Fuller reenvisioned what a car could be with his three-wheeled, streamlined automobile, the Dymaxion. Unfortunately, a fatal collision on the way to the 1933 World's Fair scared off potential investors.
Four decades later, Ferdinand Alexander Porsche launched a new branch of his company: Porsche Design. It would bring the essence of Porsche—masculine, sleek, luxurious—to the lifestyle market with products such as watches, luggage, and eyewear. For Porsche customers (who, whether they admitted it or not, cared as much about the brand's cachet as they did the engine pickup or aerodynamics), this was an irresistible new direction.
Now, more than ever, automotive companies across the industry are examining how cars, architecture, fashion, furniture, and other lifestyle products come together. If you've walked the floor of Salone del Mobile recently, you've likely witnessed this for yourself. In 2015, Ford's designers showcased their skills with other products—a sailboat, guitar, and foosball table along with traditional furniture—and invited architect Attilio Stocchi to curate an immersive exhibition. BMW, MINI, and Lexus also partnered with product designers Alfredo Häberli, Jaime Hayon, and Philippe Nigro, respectively. Meanwhile, Cadillac, which has been lately rethinking its classic and dependable image, is taking aim at a younger demographic by partnering with uber-cool fashion brand Public School.
With Mercedes-Benz's recent announcement that it will unveil luxury hotel apartments in London, it's clear that this trend is continuing to grow. The temporary residences are geared toward the typical lifestyle of a Mercedes owner (or at least one they aspire to). Complete with reading lamps that mimic headlights and smart TVs that connect to a guest's vehicle, these apartments are a vivid display of the influence of car design on interiors.
Such design crossovers make it increasingly evident that automotive design can touch nearly every part of your life, from your clothes to your home. Living in your car never sounded so good.
BMW x Alfredo Häberli
Cadillac x Public School
Ford x Attilio Stocchi
Lexus x Philippe Nigro
MINI x Jamie Hayon
---
BMW x Alfredo Häberli
---
​
Spheres, Perspectives in Precision & Poetry by Alfredo Häberli, Karim Habib, and Martina Starke
Courtesy Ford
What will mobility mean in the immediate future? That was the question BMW posed to Swiss architect Alfredo Häberli when Adrian van Hooydonk, head of group design, approached him to collaborate with in-house designers Karim Habib and Martina Starke. The three began an extensive discourse as they examined mobility beyond the context of the car for Salone del Mobile 2015. The end result was Spheres, Perspectives in Precision & Poetry, an installation divided into four thematic units: Spheres, Dwell, Couch, and Vessel. At the center was a large-format wood-ribbed model of an unspecified vehicle accompanied by a display of the architect's research documents, sources of inspiration, drawings, and sculptural objects. "It was not a boat, not a plane, and not a car," says Häberli. "It's a three-dimensional thought on the theme of mobility and luxury in the future."
This is not the first time that BMW has joined forces with design phenoms for Salone del Mobile. Past partners have included the Bouroullec brothers, Patricia Urquiola, and Paul Cocksedge. The designers' approaches have varied—for example, in contrast to Häberli, Habib, and Starke's conceptual exhibition, Urquiola's 2010 Dwelling Lab was a more literal examination of a BMW's interior and exterior—each providing their own interpretation of the fundamentals of BMW design and mobility as a whole. For Häberli, it was as much about the thought process as it was about the final shape. "I wanted to see how a BMW would look when I implemented my way of examining their DNA," he says. "To me a car looked different."
Whatever the perspective, Häberli feels it's important for corporations to bring in an outside viewpoint. "I heard many times how differently I looked at the details compared to those within BMW," he says. "It's important for all large companies to cooperate with artists, architects, and designers—not just with the car industry."
---
Cadillac x Public School
---
Left: Cadillac XT5. Right: Public School's Spring 2016 collection
Courtesy Public School
In recent years, Cadillac has taken transformative steps to reach an edgier, less traditional clientele—a bold move by a company that has always been associated with old-school luxury. One of Cadillac's most notable decisions was moving its headquarters to downtown New York City, in a grand statement about how the brand now sees itself: forward-thinking, progressive, and risk-taking.
Solidifying its new image, Cadillac partnered with ultra-hip fashion label Public School, founded by Dao-Yi Chow and Maxwell Osborne. The label, which has twice been recognized by the Council of Fashion Designers of America and is known for its smartly tailored street style, serves as the perfect complement to Cadillac's new identity. "Throughout its history the Cadillac has had a natural association with fashion," says Melody Lee, director of brand and reputation strategy. "Design is part of our DNA. We've recently decided to revive that way of thinking in respect to fashion. But we look for partners who are really trying to do something different—people who are really taking some risks and being individualistic."
Cadillac and Public School had a relationship for several years before they began partnering for events in the summer of 2014. Then the car brand hosted a runway show earlier this year for the label's fall/winter 2015 collection at the new Cadillac headquarters. "We are both breaking out of our respective niches and showing consumers that there are alternatives to the status quo," says Chow of why they decided to work with Cadillac. "We felt it matched well with our brand in redefining what it means to be American luxury."
The latest joint project is a dual debut of Cadillac's XT5 and Public School's pre-fall 2016 line at the Dubai Motor Show—Public School's first international fashion show. "It's a great opportunity for our brand to grow internationally," says Osborne. "We think Public School can speak to people in a lot of different places." And of course the label is doing the same for Cadillac. "Public School is the quintessential downtown New York brand," says Lee. "It's not just about them fitting into our world, it's about us fitting into their world as well."
Public School's Spring 2016 collection
Courtesy Public School
---
Ford x Attilio Stocchi
---
​
The Svelte chaise longue by Adrian Magu
​Photos courtesy Ford
Automotive design is a common tool in the arsenal of car creatives. But there is a plethora of car designers who come from a traditional industrial-design background. While displaying its technologically advanced GT supercar at 2015's Salone del Mobile, Ford saw a perfect opportunity to showcase its designers' other talents. "Car designers are used to designing objects," says the company's vice president of design, Moray Callum. "But a lot of our designs never see the light of day. This was a great outlet."
Furniture was among the nonautomotive objects that the company's in-house designers created, but there were also more exciting things such as a foosball table, a guitar, and—showcasing the team's aerodynamic expertise—a racing sailboat. Architectural and environmental influences were also on full display with the immersive installation Favilla, to Every Light a Voice, curated by Milan-based architect Attilio Stocchi. Unfolding inside two large boxes, the exhibition looked at light first via a glowing sculpture and then, in the second box, a projected animation created by Ford's in-house studio. "It really showed how light can impact things in different ways," says Callum. "We were using light and video to change the perception of what things look like."
Brooklyn–based The Principals created an installation for Ford at this year's Sight Unseen Offsite.
Ford continues to extend its reach. In May, the company commissioned Brooklyn design studio The Principals to create an installation for Sight Unseen Offsite during NYCxDesign. Inspired by the new 2015 Ford Edge's concept of "dynamic sanctuary," The Principals designed a new type of architectural space. Using a pulse sensor (much like the Edge sensors that alert drivers that they are drifting between lanes) to link users' biorhythms to the space, the exhibition took a deeper look at environmental design and how it affects people. "Quite frankly," says Callum, "design has become much more important to everyone out there."
---
Lexus x Philippe Nigro
---
​
Philippe Nigro designed an installation at Lexus's display in Milan that surrounded Masamichi Katayama's LF-SA Concept car.
Courtesy Lexus
To say that Lexus has made forays into art and design is an understatement—the company's pursuits run the gamut from spatial design to artisanal goods and films. Culture plays an important role for the brand, evident in initiatives like Intersect by Lexus, for which interior designer Masamichi Katayama created spaces in Tokyo, Dubai, and New York where people could "experience" Lexus—through spatial design, food, and community interaction—without actually getting into a car. Other creative undertakings include Lexus Short Films, Crafted for Lexus (products designed by traditional Japanese artists), and the Lexus Design Award, which spotlights up-and-coming creators from around the world.
The design award finalists' creations acted as one section of the car company's display in Milan, A Journey of the Senses, which explored the interaction of the senses through materials, light, space, and food. Using an "inside-out" theme, product and space designer Philippe Nigro created an installation that began with a concept car encased in mirrors, then led to an exhibition of the finalists' prototypes, and ended with a series of lattice cocoons designed to heighten the senses. Michelin-starred chef Hajime Yoneda prepared food to accompany the experience. "When Lexus approached me to work together, I listened to their design philosophy, and a lot of it resonates with mine," says Nigro of why the partnership was a natural pairing. "I was greatly impressed by how much care goes into not just the exteriors but the invisible internal details."
The fact that creative partnerships with car companies are happening more frequently, Nigro says, is a positive indication not only of technological innovation in cars, but also of how we are becoming a more culturally vibrant world. "Mixing competencies between the different artistic fields is a good way to speak about the changing world," he observes. "It helps create a surprising collaboration that serves not just the brands, but also the designers andarchitects."
---
MINI x Jaime Hayon
---
​
The Citysurfer Concept for MINI was designed by Jaime Hayon and debuted at this year's Salone del Mobile.
Images courtesy MINI
---
How design and art play into mobility is an ongoing conversation in the car industry. Spanish artist and designer Jaime Hayon brought his own ideas to a multifaceted installation for MINI (also owned by the BMW Group) at Salone del Mobile 2015. "For me mobility means change and discovery," says Hayon of the installation, Urban Perspectives. "I wanted to explore this world of being on the move with my very own vision." To this end, Hayon looked at the idea from two perspectives—the vehicle and the metropolis the vehicle moves within.
Hayon imagined two distinct versions of MINI's Citysurfer Concept—a compact kick scooter with an auxiliary electric drive—one a playful blue-and-white porcelain with graphic dots and stripes, the other a more elegant version with copper and subdued greens. The scooters were displayed alongside Hayon's sketches and accessories in what the designer describes as his idea of the urban jungle. Clean lines and dots, copper lamps, and bright colors set against marble gave a graphic feel to the space, creating a fantastical world that fit with MINI's playful branding. "Driving a MINI is an urban statement. It is unconventional and creative—yet also visionary in its functionality and technology," says Anders Warming, head of MINI Design. "Jaime instantly grasped our identity and swept us off into his inspiring design universe."
The colorful installation also looked at the bigger issue of city transportation infrastructure. With increasing urbanization come greater traffic congestion and fewer parking spaces—impairing both quality of life and the environment. The emissions-free MINI Citysurfer Concept addresses these issues with its compactness and electric power, and it serves as an example of how small-scale design can address large-scale problems. "Automotive design is not an autonomous discipline," says Warming. "It is embedded in a person's social environment and connected to the other products that surround them."
This cartoonish helmet was among the accessories Hayon designed for the Citysurfer Concept kick scooter.